Hello HODLers!
Bad news from the markets for those hoping for a return of the bull-run over the next few weeks...
Yesterday's words from Fed chairman Jerome Powell made it clear rather clearly that the US central bank's tight monetary policy will continue for many months, at least until the Fed reaches its target of a stable inflation at 2%.
We are therefore far from the prospect of an expansionary monetary policy, such as the one launched in March 2020 to combat the problems caused by the pandemic and lockdown, and which lasted just under two years. Bitcoin, like all high-risk assets, thrives during periods of expansive monetary policy, and in fact between 2020 and 2021 there was the splendid bull-run that brought all the best crypto projects to All Time High.
But as we have seen over the past few months, the crypto ecosystem suffers during periods of restrictive monetary policy.
According to Goldman Sachs, it is likely that a 75-point hike will be decided at the next Fed meeting and that rates are set to rise above 4%, from the current 2.25-2.50% and remain at these levels throughout. 2023.
Well if the macroeconomic conditions remain these also during 2023 (and it is very probable), that is with a prolongation of restrictive monetary policies, inflation that does not return to the 2% target and the prolongation of the war between Russia and Ukraine -> we will have very little chance of seeing a return of the bull-run as early as 2023. Obviously if the macroeconomic conditions I have listed were to change, then we would have a new chance of seeing the crypto markets return to growth.
What do you think of it? When do you think bull-run will return?
My Favorite Earning Opportunities:
1. Torum – The #SocialFi ecosystem for crypto enthusiasts where you can earn everyday!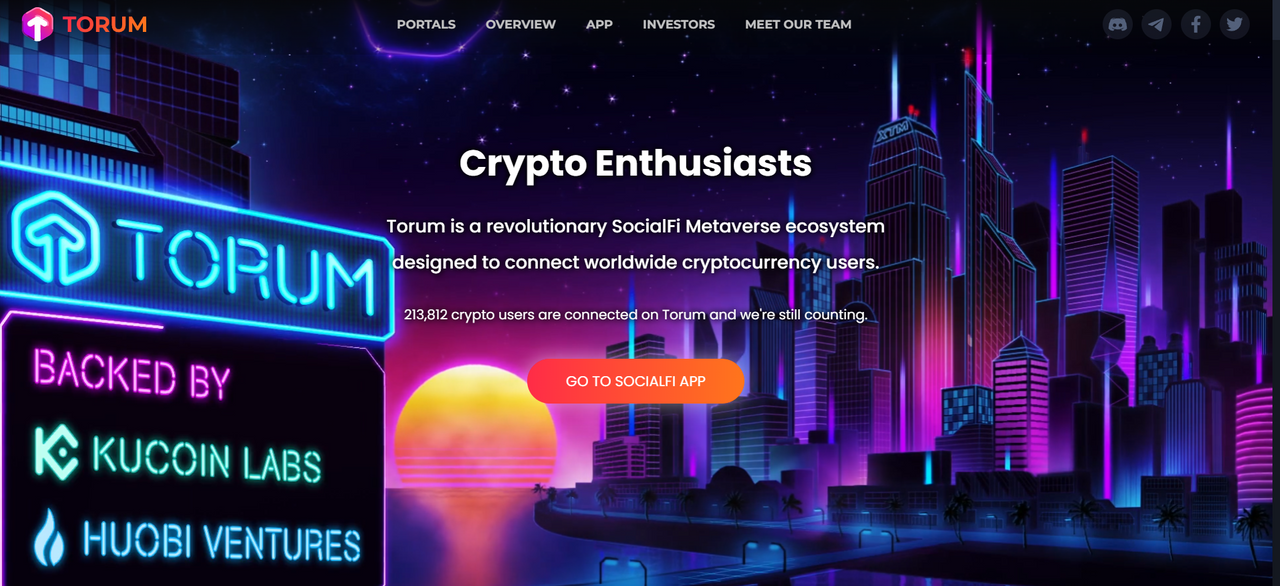 Torum is the world's largest SocialFi ecosystem (Social Network + NFT + DeFi + Metaverse) that is specially designed to connect cryptocurrency users.
The Web3.0 ecosystem is built on a social media platform, integrated with a yield farming platform for DeFi investors (Torum Finance), an NFT marketplace for crypto artists and Avatar NFT for Metaverse enthusiasts.
You can earn XTM daily on Torum Social Network completing missions like "write a post", "like 5 posts", "daily login", "interact with the platform for 7 days straight", "accumulate 50 followers" and many others!
XTM is the multichain utility token (Ethereum + Binance Smart Chain + HECO Chain + Polygon) of Torum ecosystem and it's now listed on Kucoin, Huobi, Uniswap and Pancakeswap.
✅#SocialFi Metaverse Pioneer;
✅Backed by Huobi Ventures & Kucoin Labs;
✅Big community of more than 200,000 users;
✅Earn XTM everyday claiming Missions in the Social Network;
✅Sign up with my referral link and complete the verification to earn 7,5 XTM airdrop: https://www.torum.com/?referral_code=makeitreal
2. Earn crypto by walking and not only... Young Platform Step is going to be huge!
What if I told you that you can earn crypto by walking (#Move2Earn), answering to crypto quizzes (#Learn2Earn) and playing #Play2Earn)?
Thanks to Young Platform Step you can accumulate crypto without investing money!
The Italian exchange Young Platform is growing fast and is going to be one of the next giant in the crypto space. That's why I'm accumulating free YNG on Young Platform Step by walking, learning and playing.
You will thank me during the next bull run because these are free tokens and the young platform project has great potential in my personal opinion!
Link Download Young Platform Step App: https://youngplatform.page.link/1kzW1WT6QEKe1CR8A