Hello HODLers!
Torum, the largest #SocialFi ecosystem for crypto enthusiasts, has just announced the Torum Exclusive Access Program, a special initiative that provides the community a chance to use and experience the alpha products of the Torum ecosystem.
By joining this program, you will be granted exclusive access to all future alpha products of the ecosystem, including Mobile App and Torum Lounge.
The program is designed to empower committed Torum communities to share feedback and bug reports to the team, while providing everyone an exclusive access to early stage features of Torum, as long as the contribution is maintained from time to time.
To be eligible for the program, members will need to achieve and maintain a certain contribution level throughout the program.
The program consists of two evaluation stages:
Backend Migration
Mobile App
Each applicant will be evaluated based on the overall contribution, consistency and other related qualities during the Backend Migration and Mobile App beta period.
The application is open from March 25th to 28th, where shortlisted applicants will be invited to a private Discord channel with the follow-up instructions.
To learn how to join and more info, please continue reading below.
Torum Exclusive Access Program
Event Flow
i. Backend Migration
Mar 26 - Announcing Program
Mar 26 to 28 - Reviewing Application & Finalizing Applicants
Mar 29 - Closing Application & Initiating Discord Invite and Briefing
Mar 30 to Apr 5 (Planned) - Backend Migration Beta Begins
Apr 6 - Beta Ends
Note: The backend migration beta period might be extended, subject to the bug amount, community feedback and other relevant factors.
ii. Mobile App (TBA)
How to Contribute?
Reporting bugs
Providing feedback and suggestions
Who Should Apply?
If you wish to join the program, you must:
Have a Torum & Discord account
Love SocialFi, Blockchain & Web3
Be Active, Passionate, Sociable & Committed
How to Apply?
Fill up and submit the Google Form here https://forms.gle/8nvbjRLujUzRSoW56
The Torum Exclusive Access Program is an excellent opportunity for the community to participate in the development of the Torum Mobile App and other early stage features.
If you firmly believe in SocialFi as the great future of the blockchain ecosystem and the Metaverse in general, this is your opportunity to participate and help build a solid product while gaining early access to the great qualities of Torum SocialFi.
Introduction to Torum – The largest #SocialFi ecosystem for crypto enthusiasts!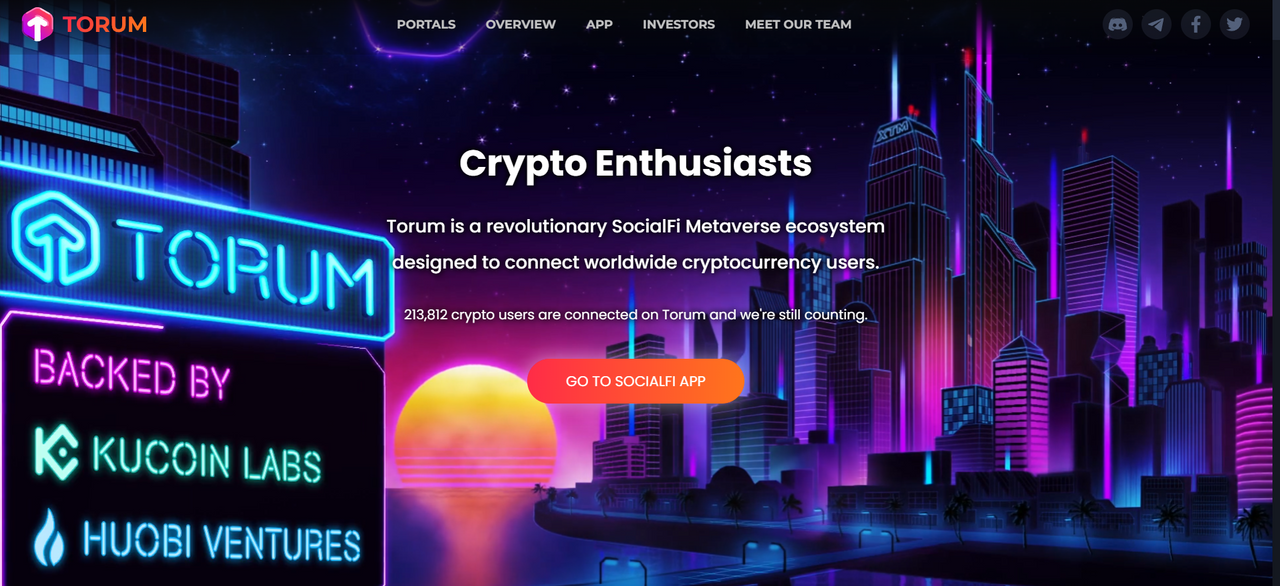 Torum is the world's largest SocialFi ecosystem (Social + NFT + DeFi + Metaverse) that is specially designed to connect cryptocurrency users.
The Web3.0 ecosystem is built on a social media platform, integrated with a yield farming platform for DeFi investors, an NFT marketplace for crypto artists and Avatar NFT for Metaverse enthusiasts.
XTM is the multichain utility token (Ethereum + Binance Smart Chain + HECO Chain + Polygon) of Torum ecosystem and it's now listed on Kucoin, Huobi, Uniswap and Pancakeswap.
Here you can find the Whitepaper: https://whitepaper.s3.us-east-2.amazonaws.com/torum-whitepaper-V4.0-EN.pdf
✅#SocialFi Metaverse Pioneer;
✅Backed by Huobi & Kucoin;
✅Big community of more than 200,000 users;
✅Earn XTM everyday claiming Missions in the Social Network;
✅Sign up with my referral link and complete identity verification to earn 7,5 XTM airdrop: https://www.torum.com/?referral_code=makeitreal