Time to build
I've been playing dCrops for quite some time now and I have to admit that I'm very happy to see all the progress being made and everything currently in the works. The Beta edition will roll out soon and make everything about the game a lot more interesting, so I'm planning to grow my crop factory as much as possible till then.
This is why I've changed my strategy and am now buying Alpha edition NFTs directly from the market.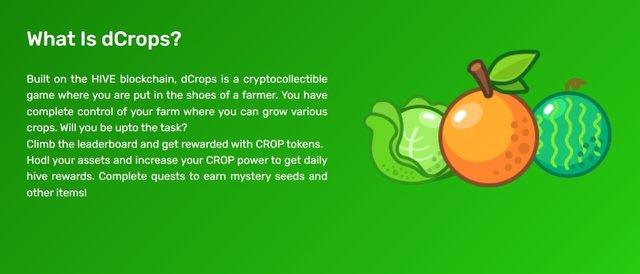 Source: dcrops.com
So far I've bought only seeds, common and rare in particular, in an effort to maximize the output of my farmlands and keep them all occupied across the entire span of each season. Taking into consideration the attributes of my seed NFTs, there's still plenty of room for the right seeds, so I will keep adding a few to my stack every couple of days or so.
Let's get down to business
The truth is that I managed to hit some good prices the last couple of days, so I hope things will remain that way for the next couple of weeks, which by the way is the most likely scenario.
Season 27 is currently underway and it's fall season, so I added 3 Rare Pumpkin NFTs for 0.9 HIVE each, paying 2.7 HIVE or roughly $1.51.

As of today, I own 54 Pumpkin NFTs and will be focusing on Carrot and Garlic NFTs for future purchases of fall season seeds, as pumpkins take 12 days to produce. That kind of messes up my crop factory's potential as it basically means that 54 plots of land will have to remain idle for 3 out of 15 days of this season. Unless there will be significant farmland expansion on my end, I don't think I will be picking up another Pumpkin NFT.
Winter season is starting in less than 3 days, so I thought I would prepare better this time around. Managed to bag 9 Cabbage NFTs for less than 0.8 HIVE each, at an average price of 0.775 HIVE. That cost me 6.975 HIVE or roughly $3.9.

I am now the rightful owner of 44 Cabbage NFTs and I may consider adding another 10 or 20 to my collection, as they work quite well with Peas NFTs, so there's plenty of room for growth as far as my crop factory's output for this season is concerned. Pumpkin NFTs are a bit more expensive as we speak, which means that now is a good chance to buy up more cabbage. I will probably add a few of those over the next 48 hours.
This is going to be a fantastic Winter season for my crop factory, as I also bagged another 40 Radish NFTs to make the most of the situation. I paid less than 0.5 HIVE for each radish seed, as I managed to score an average price of 0.465 HIVE. That was 18.6 HIVE, or roughly $10.4.

I will definitely be buying more Radish NFTs as there is still plenty of room for seeds of this sort. They currently cost 0.5 HIVE each and I own 79 of those bad boys. As a matter of fact, I can buy another 106 Radish NFTs and still manage to put them all to work, so I will most certainly be grabbing another 50 of those in the next couple of days.
Another Rare NFT addition to my stack, as I went ahead and bought another 23 of those babies at an average price of 0.784 HIVE per Cauliflower NFT. 18.032 HIVE or roughly $10.1 is what I had to pay for my loot. Well worth it.

Spring season is still more than 17 days away, but I'm already preparing. That said, I don't think I will be adding more Cauliflower NFTs to my collection unless I decide to buy more land first. 64 of those babies is good enough considering the size of my crop factory, so I will focus on Kale and Broccoli NFTs instead, as Potato NFTs have already become quite expensive. I guess I should have known better.
I'm telling you, Common Alpha NFTs are underrated. I now own another 20 Kale NFTs which I acquired at an average price of 0.355 HIVE, paying 7.1 HIVE or approximately $3.98. I think it was a good deal.

Another Spring season addition here, and the truth is there's not enough space for many more Kale NFTs, so I will probably focus on Broccoli seeds. After all, Potato and Strawberry NFTs are kind of spicy these days, plus I need to eliminate the need for Mystery Seeds. I prefer to just accumulate my CROP rewards instead of using some of those to get my hands on more boosters.
More Spring season Common NFTs for me, but not that many this time. I will be sure to add more of those though. Bought just 2 Broccoli NFTs for 0.39 HIVE each. Cost me 0.78 HIVE or roughly $0.43.

It goes without saying that I will be grabbing a bunch of those before next Spring season is here, as they are relatively cheap and work well with Potato and Kale seeds. These are probably the only Spring season NFTs I will be looking to acquire through market purchases from now on.
Conclusion
Over the last couple of days I added another 97 dCrops Alpha NFTs to my collection. I spent 54.187 HIVE or roughly $30.3. Looks like a solid deal to me, and I plan to keep building my collection as I'm convinced there's a long way to go. One thing is certain: we will never run out of food!
Have you tried the game? Let me know your thoughts in the comments below.
---
Join the fun
Haven't tried dCrops yet? You can sign up using my referral link - it's mandatory! xD
Want to stay tuned with the latest developments? Follow the game's official blog on the Hive blockchain.
Looking for more info? Join the game's official discord server.
---
Never forget!
NFA - DYOR
I'm just a random guy with opinions. This is by no means financial advice. Just my personal thoughts and experiences.
Have a good one everyone!
@lordneroo
---
Best Faucets to Earn Crypto with Zero Risk (Affiliate Links):
Best Exchanges to Trade Crypto (Affiliate Links):
Best Platforms to Earn Crypto for your Content (Affiliate Links):
Best Blockchain-Based Play-to-Earn games (Affiliate Links):
Connect with me Here: