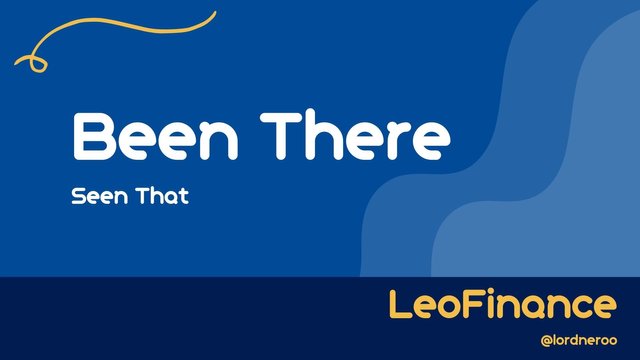 Seen that.
With BTC moving towards the $30k mark, there's a lot of fear, uncertainty and doubt in the air at the moment. Understandable, this is human nature, and even though we have seen it all before, it sure doesn't feel great to watch your portfolio shrink. In terms of USD value that is.
Because 1 BTC is still BTC, and the same goes for the rest of your favourite magic internet tokens. So why worry if you're looking to accumulate more and play the long-term game? Opportunity season is upon us once again. I hate to say I told y'all, but I told y'all.
That's why I love bearish predictions. If I'm right I can brag, and if I'm wrong everyone is too busy ordering lambos and stuff to notice.
In it for the tech.
Flipping burgers is underrated.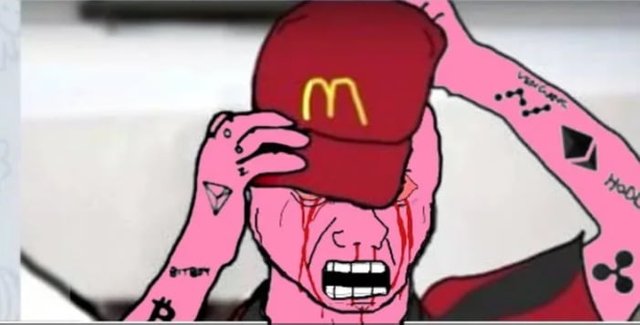 Source: 9gag
Jokes aside, I think we all saw that coming. The market pumped really hard last year, yeah?
Russia's central bank wants to ban crypto.
Lotta shady stuff going on with the use of crypto they say. Crime, fraud, money-laundering, drugs, weapons. Damn I miss those 2008 days when crypto wasn't around and you didn't have to worry about a thing. The world was such a peaceful, safe place back then. Smh.
Expect more FUD until they change their mind a few months down the road and fuel another round of successive green candles. Translation: Russia wants in and is looking for better entry points. A bunch of suckers will happily hand them over their crypto for peanuts only to regret it later. In other words, water is wet.
Nothing to see here, let's move on.
Let's P2E through the winter.
Managed to hit 1,804 rating in Splinterlands with just 15k power thanks to some awesome cards delegated by @digital-fortress. Thank you, you legend!
Now gimme more cards. Kidding. Or maybe not.
Trapped in Silver III and that won't change any time soon, as I need another 25k power to get there and I don't like renting cards. I'm all about stacking that DEC for the time being.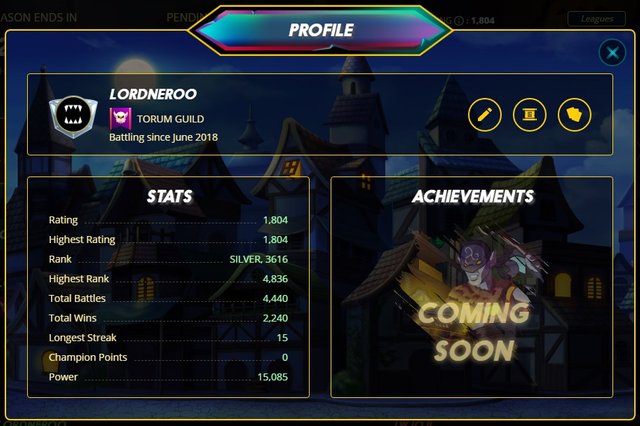 I bought up a bunch of cheap legendaries from the market the other day as well, and these cards have helped a lot so far. Should have waited a bit more before investing some of my BUSD holdings, but hey, you can never make the perfect trade.
I've also bought roughly 100 Chaos Legion packs so far, and am currently holding 58 of those unopened. I don't feel like gambling with packs this time around, so I will keep accumulating more of those with no intention of opening. Just gonna play the resale game when the opportunity arises, and make the most of the daily SPS airdrop in the process.
Besides, if like a card I can just pick it up from the market.
Winter plans.
Gonna try to keep posting on a regular basis and work for more fiat which I will use to increase my position in some of my favourite projects. The time has not come yet; I see dead charts in my dreams. Learned my lesson last time around so I can say I enjoy those dips because I'm better prepared.
Volatility brought us all here in the first place, do not deny it. Stables are your best friends. Invite them over for dinner. I hope Khal and Dan give us ProjectBlank and Ragnarok soon. I'm gonna need more money making toys now that discount season is here.
Let's all keep building. People get rich during the bear market but only realize it once everything starts rallying again. You know the drill, we've got work to do.
That sums it all up for now.
---
Never forget!
NFA - DYOR
---
Have a good one everyone!
@lordneroo
---
Best Faucets to Earn Crypto with Zero Risk (Affiliate Links):
Best Exchanges to Trade Crypto (Affiliate Links):
Best Platforms to Earn Crypto for your Content (Affiliate Links):
Best Blockchain-Based Play-to-Earn games (Affiliate Links):
Connect with me Here:
Posted Using LeoFinance Beta