Admittedly, while I do enjoy some anime, I've not heard of Porco Rosso before, maybe because its an oldie. Apart from Evangelion and Cowboy Bebop, I've not familiarised myself with these classical animes. It's for that reason, among others, that I was excited to write this post, as it gives me ever the more incentive to watch it, which is what I plan to do once this is done.
It's a mix of the things that I enjoy watching, some fighting and shooting, with historical themes, and warfare thrown into the mix. Based on a very quick synopsis found on Google, and without much spoilers - it's a movie where a human-turned pig ace pilot fights against sky pirates, in the backdrop of a 1930s Italy. Neat!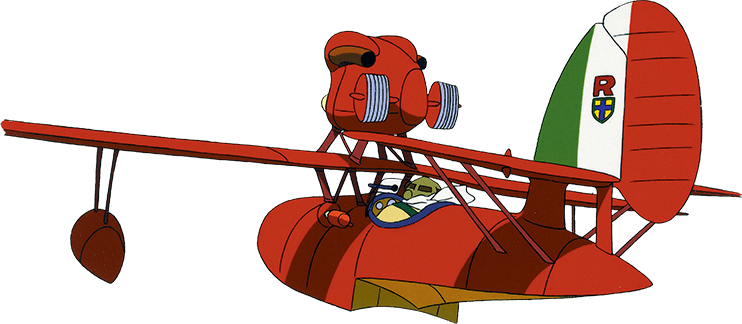 Credits to: Seiko (Studio Ghibli Porco Rosso Collab)
As for the actual intention of this post, it's me sharing my thoughts on a couple of watches that caught my eye some days ago, and it certainly takes something special to stop me scrolling profusely through Feedly. They're a collaboration between two companies that mark their respective cornerstones for Japanese culture - Seiko, and Studio Ghibli.
If you've read some of my previous posts, then you'll know that I have an affinity for Japanese watchmaking, especially those connected to Seiko. Now, they've collaborated with the makers of Porco Rosso to release two stunning, limited-edition watches - both offering eye-catching enamel dials.
---
Red With Envy - Seiko SNR047.
The first one that I'm going to talk about, is the Seiko Ref. SNR047. It's a simple automatic, time-only model with a date, and power-reserve indicator functions built-in. From the offset, it's very striking to look at, not least by the strap colour.
One reason to explain this, might be Seiko's use of a hand-made, enamel dial - a process that sees the fusion of powdered glass and metal, helped by firing it in a furnace at temperatures as high as 800°C. The result is this creamy texture as you glance at it, where its depressions give it a 3-dimensional depth, with natural imperfections providing distinction.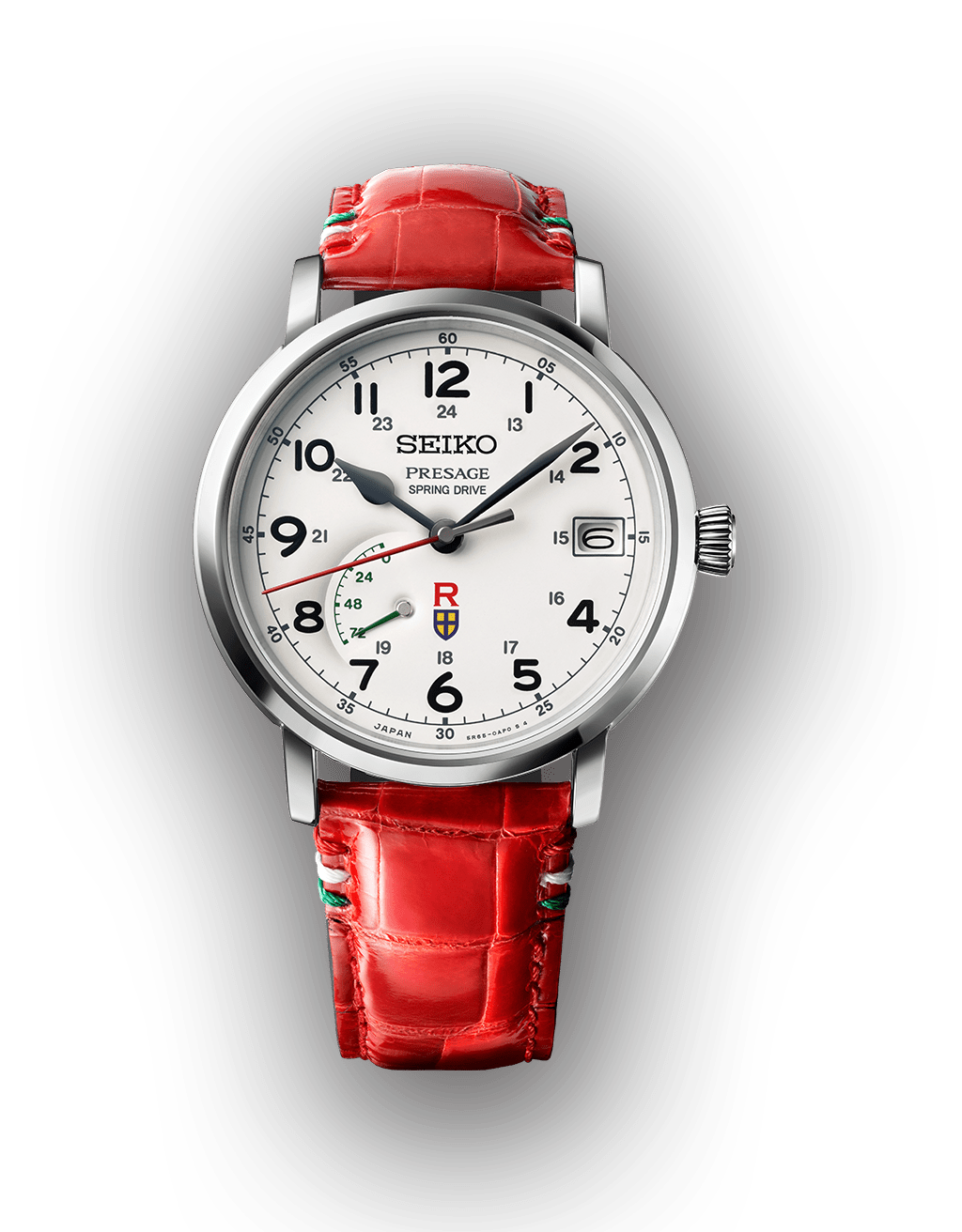 Credits to: Seiko (Studio Ghibli Porco Rosso Collab)
This makes the dial a warm treat to look at, in contrast to other watches, and this is something Seiko does well at. Here, you'll also find black, bold Arabic numerals, which I personally prefer than batons. You'll find a seconds track on the outer ring, with a 24-hour indices underneath the main hour markers - all inspired by instrumentations found on early aircraft.
The 3 o'clock marker has been replaced with a date window, and you'll find a handy power-reserve indicator between the 7 and 9 o'clock. Note, the slight indentations on both these sections, as a result of the enamelling process. On the 6 o'clock, you'll see a small crest and a red "R" - both of these are personal emblems of Porco Rosso, and can be found on the rudder of his seaplane.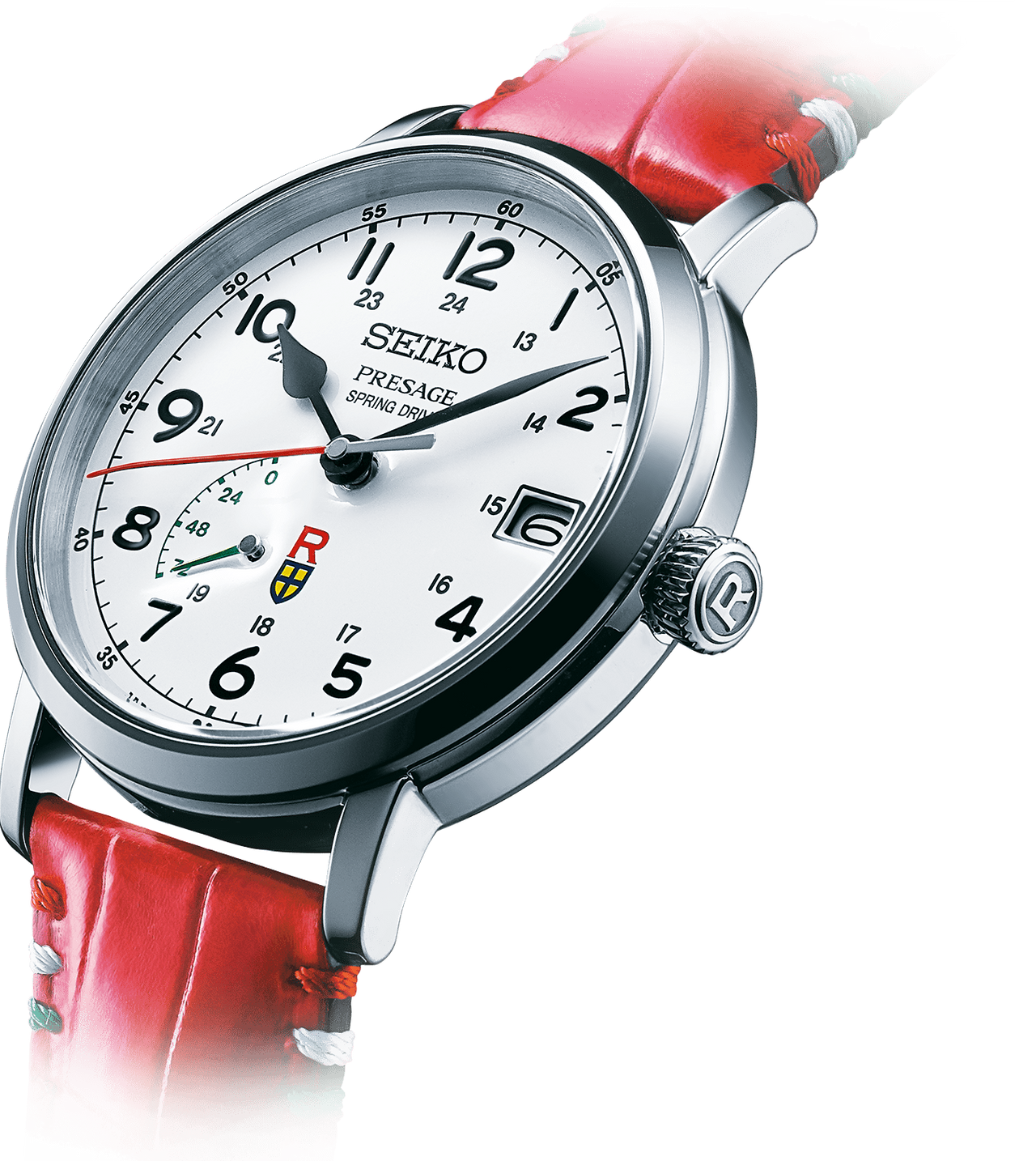 Credits to: Seiko (Studio Ghibli Porco Rosso Collab)
As for the minimalistic-styled stainless steel case, the dimensions are small by modern standards, siting with a 40mm diameter, and a 13.1mm thickness - certainly suitable for many sizes of wrists. On the right-hand side, you'll find the crown, stamped with the "R" emblem. Meanwhile on the other side, you'll find an engraving for the model of Porco's seaplane, the Savoia S-21.
Both are neat little touches, and I don't find that it detracts from the watch's overall looks. The bottom reveals a clear case-back, which is always nice to see. Engraved here are some of the specifications of the watch, such as its 100m water-resistance, and that it's limited to 500 pieces.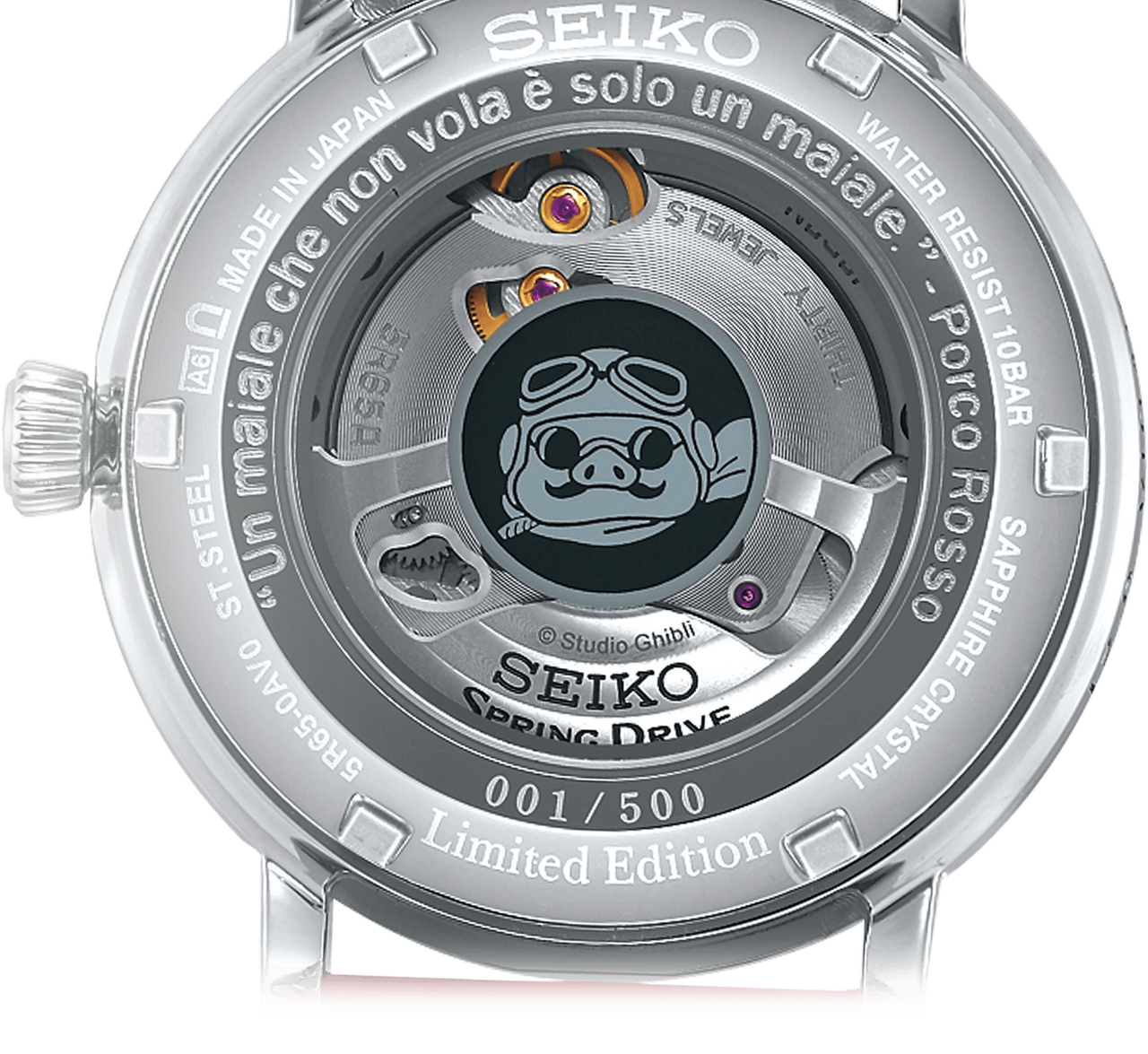 Credits to: Seiko (Studio Ghibli Porco Rosso Collab)
It also displays a famous quote from the movie - "un maiale che non vola è solo un maiale ", which translates to "a pig that doesn't fly is just a pig ", engraved along the rim of the case-back. The SNR047 comes with a bright-red leather strap, while a black leather strap is also included. One neat little detail here, is the Italian tri-colour green, white, and red sewn onto the strap, which is a small, but appreciated attention to detail.
The movement is also something to celebrate, it runs on a 5R65 calibre, which uses their magnificent Spring Drive technology. Previously only limited to Grand Seiko and Credor, it has now made it into Seiko's regular line-up. If you don't know, Spring Drive is basically a mechanical movement, but using a Quartz regulator.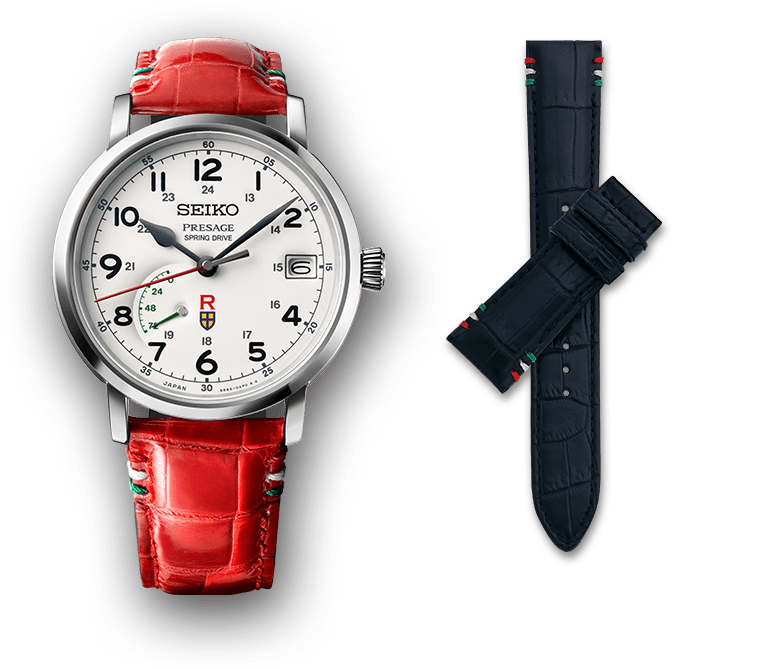 Credits to: Seiko (Studio Ghibli Porco Rosso Collab)
This hybrid system thus inherits the smooth sweeping hands of a mechanical timepiece, while keeping the superb accuracy of Quartz watches, ±1 second per day or ±15 seconds per month in this case. As seen on the power-reserve indicator, this movement can last for 72 hours on a wind, and through the case-back, the automatic rotor-wheel has Porco's face engraved within. While this is a nice tribute, I find that it's a bit too big, and it somewhat obscures the movement.
---
Marking In Precision - Seiko SRQ033.
Now, we have the Ref. SRQ033, which has an equally unattractive name, and we get an automatic chronograph, with a date function. Unlike the contemporary SNR047, the dial design here is more akin to traditional pilot's watches, and I find it a better tribute to Porco Rosso.
The black enamel dial, and large white markers are more adequate for a pilot's work. The hour markers are designed slightly differently. At every 3 hours, the Arabic numerals have been replaced by batons, while the 12 o'clock is a very visible triangle, which helps the user to orient themselves better.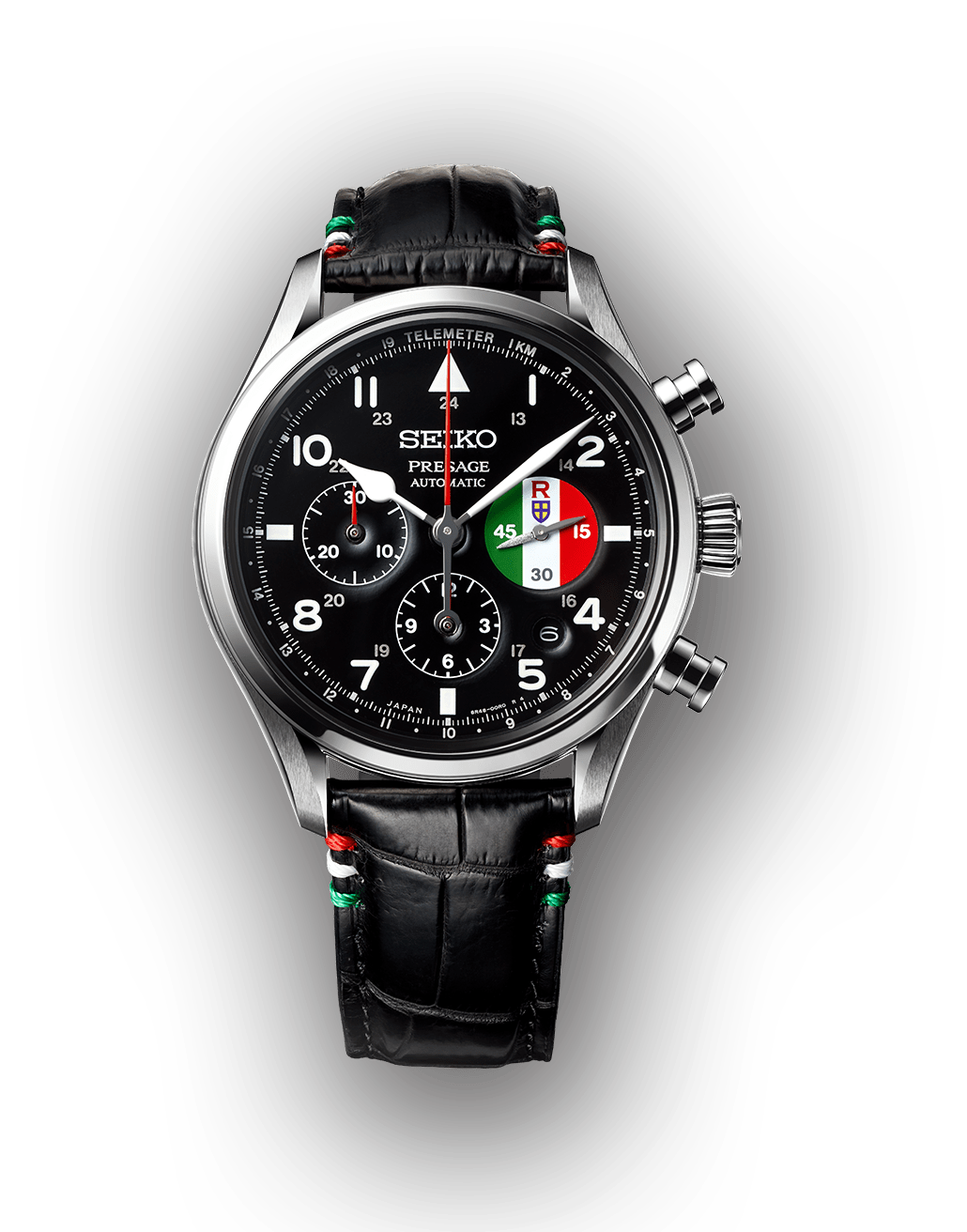 Credits to: Seiko (Studio Ghibli Porco Rosso Collab)
The outer seconds track has been replaced with a Telemeter scale, which was originally designed for military use, acting as a range-finding tool, commonly applied for surveying. As for the layout, you'll find 3 sub-counters - small-seconds at 3 o'clock (the primary seconds hand has been replaced for chronograph duty ), chronograph-minutes at 9 o'clock, and chronograph-hours at 6 o'clock.
Other small details, you'll find the date window at the 4.30 mark, a position that I don't personally like. You'll note that the small-seconds counter has been coloured-in with the Italian flag, along with Porco's crest and emblem. The hands used in that sub-counter has also been specially designed after a plane's propeller.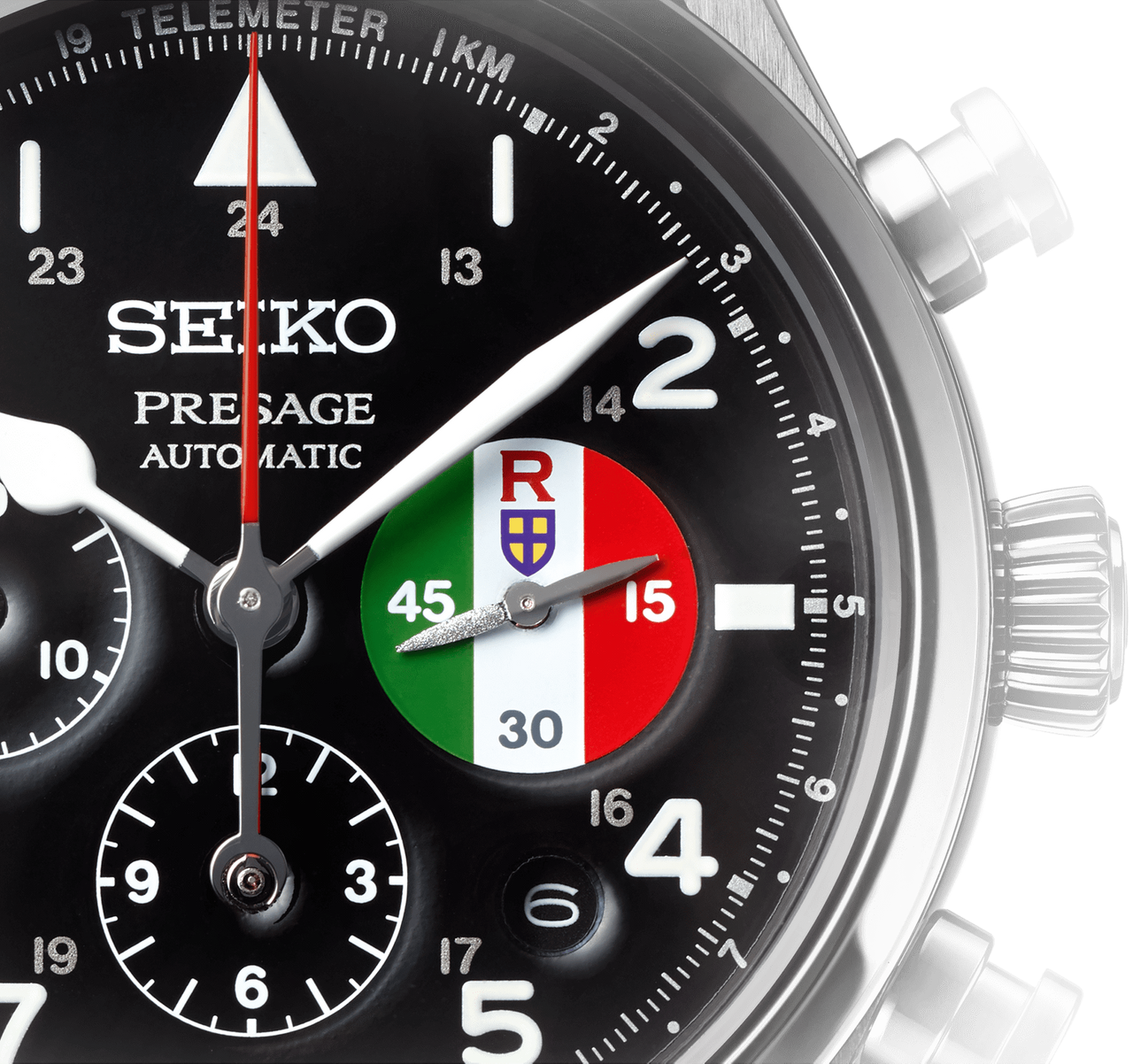 Credits to: Seiko (Studio Ghibli Porco Rosso Collab)
The stainless steel case is similar, albeit the additional functionalities have made it larger - with a 42mm diameter, and a 14.9mm thickness, which may be a struggle for some wrists. The side shows similar engravings, while the chronograph pushers are piston-shaped, which is a design trait shared with aeronautical watches. This makes it easier to press, and feel a tactile "click", especially if you're wearing thick gloves.
Along the case-back, similar markings are found, including 100m of water-resistance, and Porco's famous quote. The only change, is that the SRQ033 is limited to 600 pieces in total. The strap options are inverted, and it comes standard with black leather, while the bright-red leather strap is included as an extra.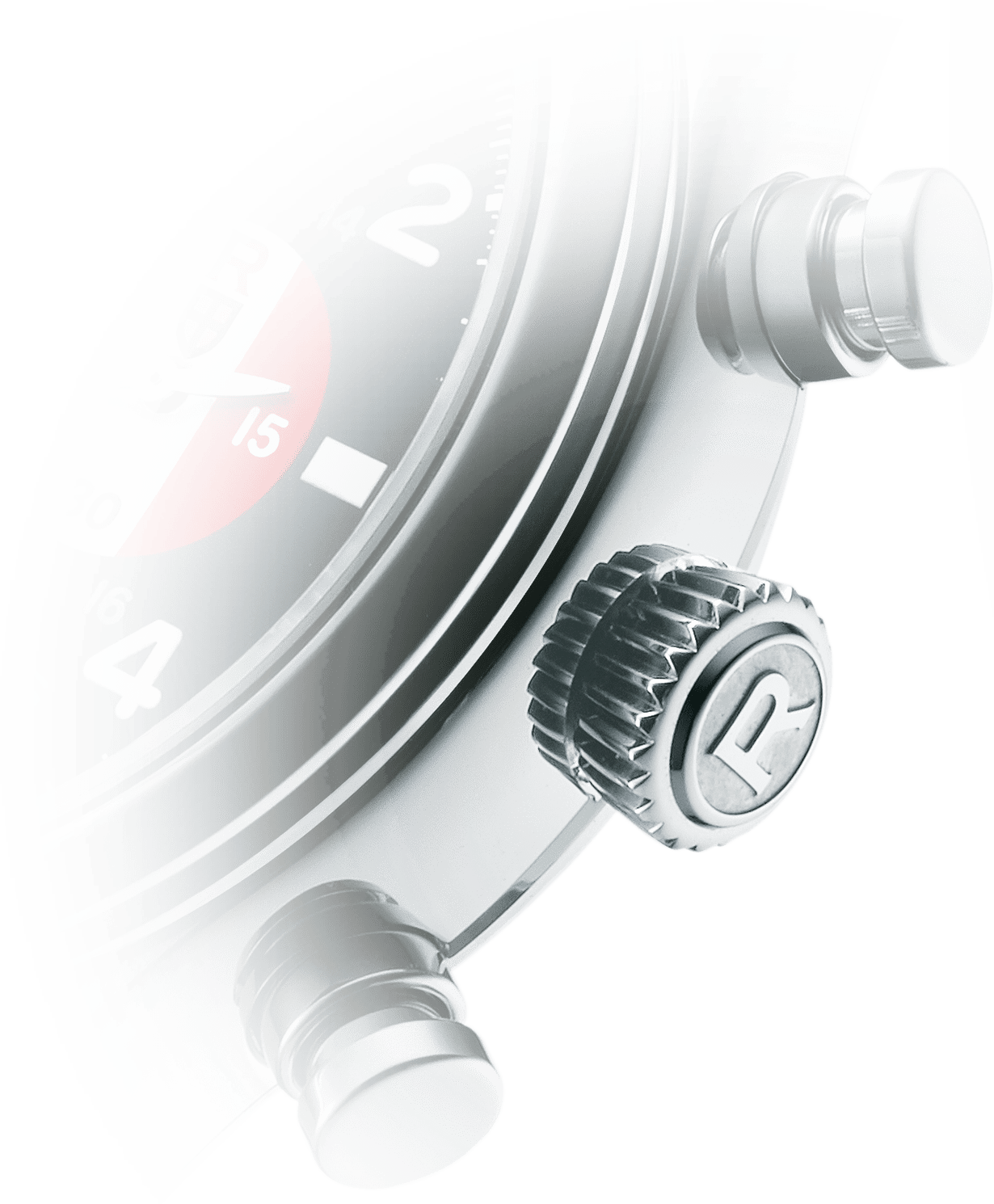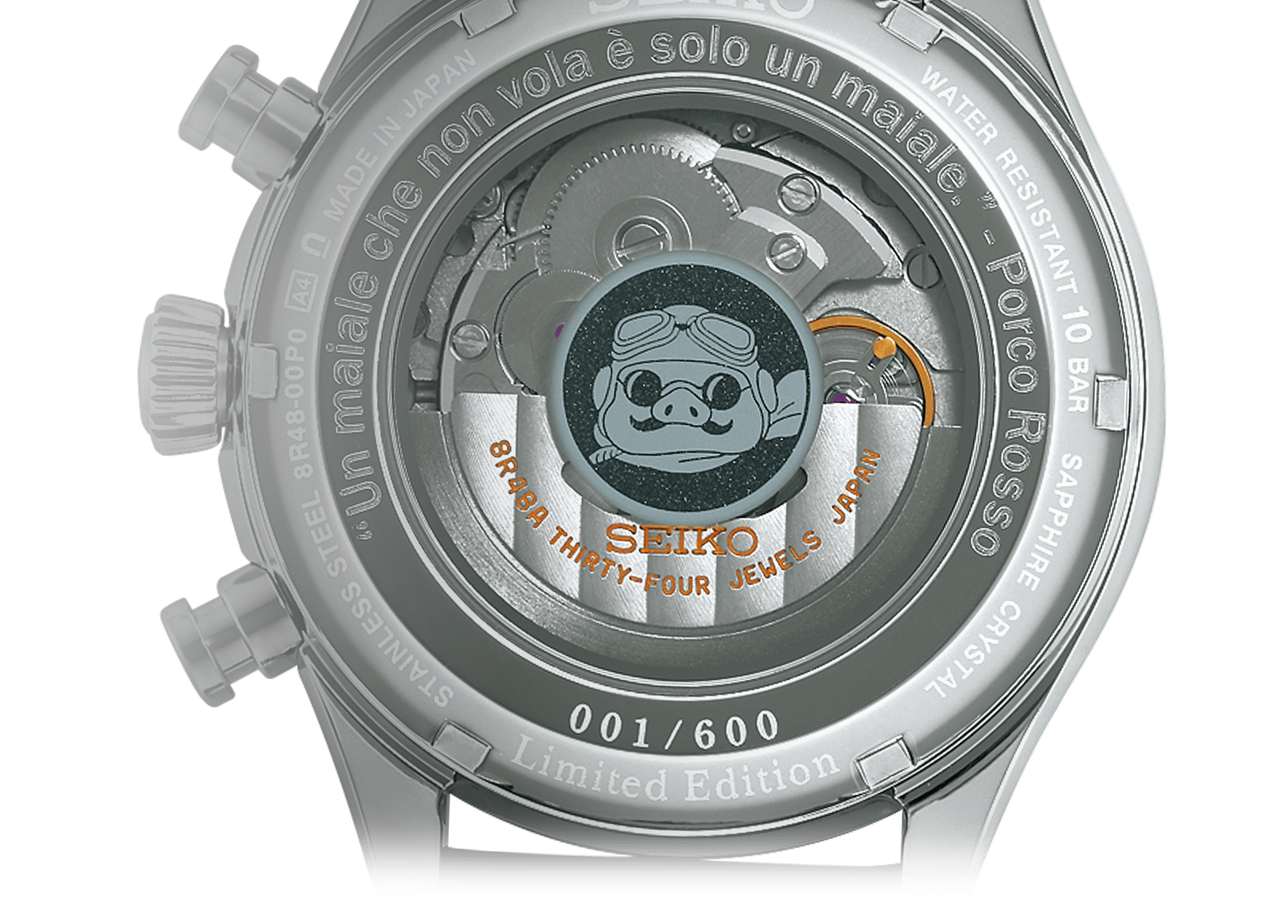 Credits to: Seiko (Studio Ghibli Porco Rosso Collab)
The watch is powered by Seiko's advanced 8R48 chronograph calibre, which beats at 28,800vph, and has a power reserve of 45 hours. As there's no Spring Drive, the accuracy would be in line with traditional mechanical timepieces. Yet, the amazing bit is the inclusion of additional mechanisms that you'd normally find on more expensive watches.
Operating the chronograph, is a vertical clutch and a column wheel. Column wheels are normally found in high-end pieces, and this mechanism allows the starting and stopping of the chronograph to be smooth, without the seconds hand jerking. You also get Seiko's 3-pointed hammer, and a heart-shaped cam - making sure the hands are synchronised perfectly every time you reset the chronograph.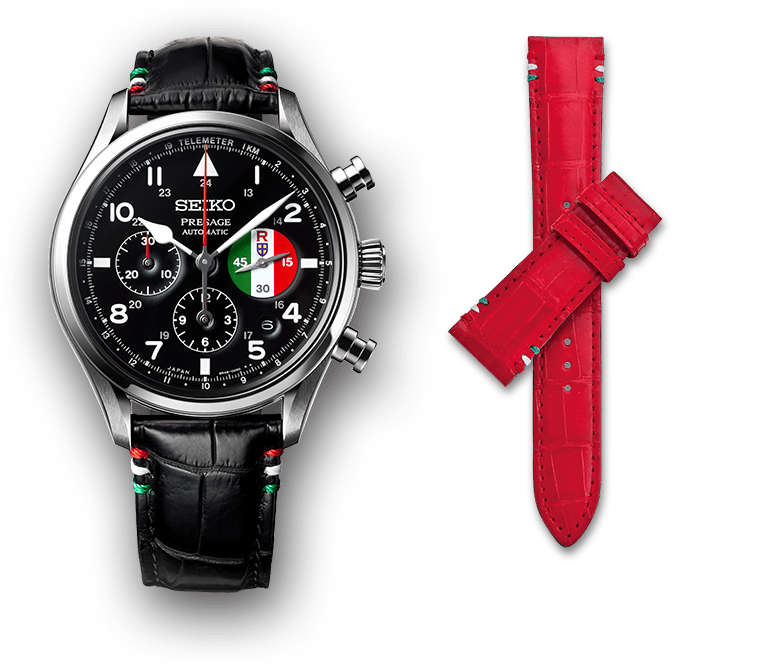 Credits to: Seiko (Studio Ghibli Porco Rosso Collab)
---
Should I Buy This?
In my opinion, yes - but only if you can afford it. They're limited, and they both include technologies that most people don't necessarily need, and somethings that many watches don't have. The SNR047 costs EUR 5,800, while the SRQ033 costs EUR 4,100.
This certainly makes them more expensive than most of Seiko's line-up, but for what you get, especially that amazing enamel dial, and the inclusion of an extra leather strap, I think it's worth it. You don't even have to be a Studio Ghibli fan to get one.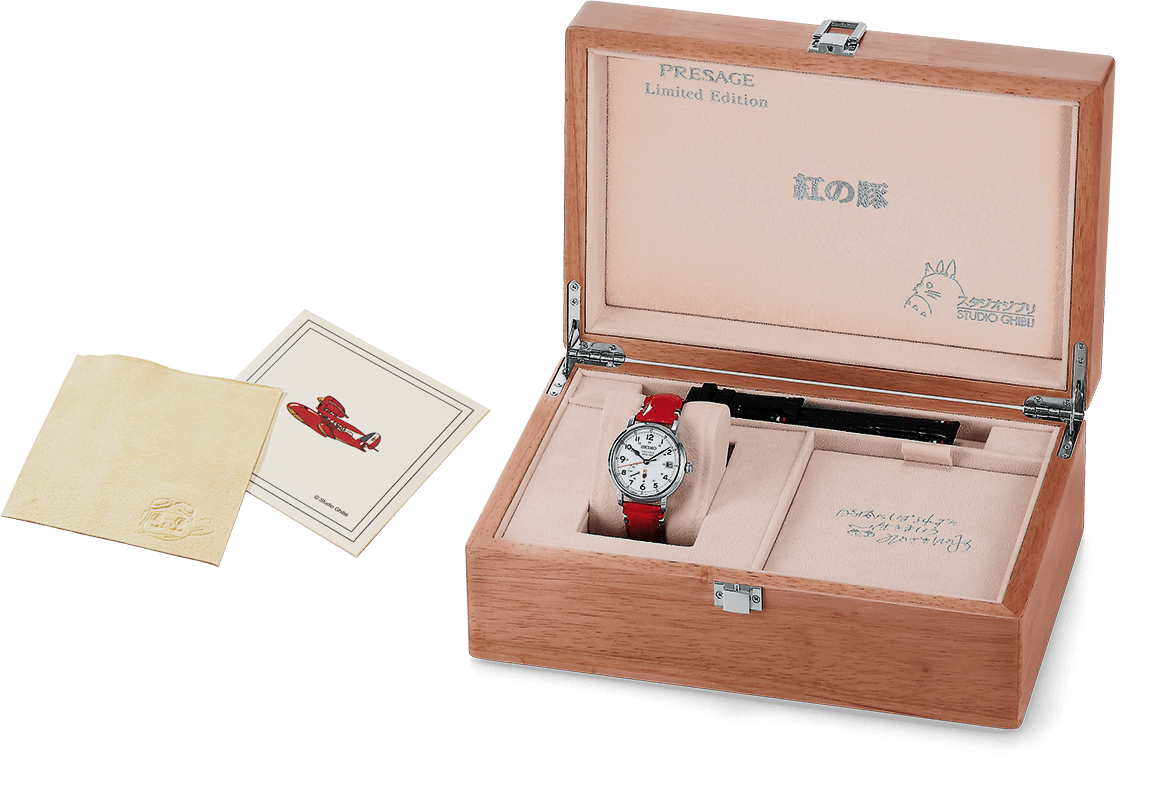 Credits to: Seiko (Studio Ghibli Porco Rosso Collab)
Both are eye-catching timepieces, and you probably won't find something like it anywhere else. That said, if you're into enamel dials, Seiko's Presage line makes a few others, and for half the price too! What do you think about these two special-editions, would you consider one, or would you stay away?
---
Thanks for reading! For more updates on my blogs, or the more minute things in life, feel free to follow me on Twitter and LinkedIn, and maybe give a shout there as well!
While you're at it, follow along ZackNorman97 for more, coming soon :-)