HBD liquidity for everyone : Everyone need to work together for Hive future.
How HBD is a stable coin.
Long back Hive witness did a code change so that HBD can get to the peg value of $1, it is insured by guaranteeing the user can get $1 equivalent of Hive (Market rate) by burning 1 HBD, so if HBD market value start get tanking then users can burn HBD for $1 of Hive that will push the price of HBD up.
if price of HBD start moving up of $1 peg, then reverse cab be done as Blockchain will produce 1 HBD by burning $1 of Hive, This will cause HBD to close to its peg value.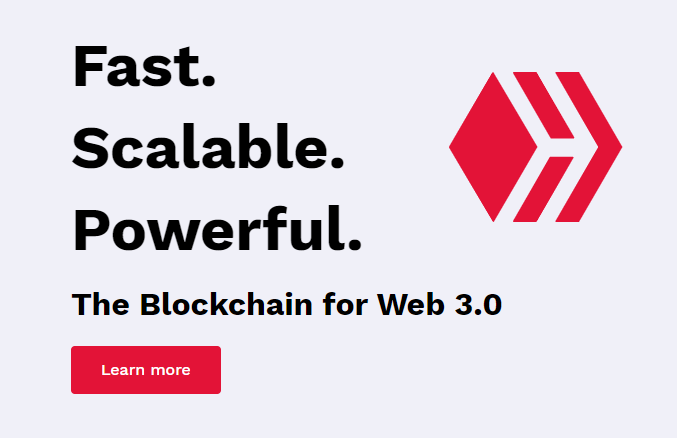 How you can earn using HBD.
HBD when "transferred to savings" in Hive Blockchain (having lock period of 3 days) give 20% APR returns payable monthly. This is a very nice income if you have HBD and it come as passive , without any headache and it is payable in HBD , so it is not a fluctuating income based on token price as interest is also paid using HBD i.e Stable coin.
How easily you can get HBD ?
Unfortunately there are 2 issues with HBD , firstly it is not available on exchanges as such as only Upbit and Bittrex have HBD as listed in them. Secondly, Supply of HBD /Circulating HBD is also not in very high numbers. So coupled with these 2 issues, entry barrier for any whale is very high where they move funds worth millions of Dollars.
Solving HBD liquidity issue.
Since there is limited or non existent Exchanges for HBD, it make it very necessary that a Dex with sufficient liquidity should be existing so that anyone who want to buy HBD , can buy easily and can also be able to buy in the large quantities without worrying about the slippage.
To solve this issue Leofinance team dedicated itself and decided to use their own defi platform in Polygon Network i.e https://polycub.com and created one farm (https://polycub.com/farms) i.e paired with USDC.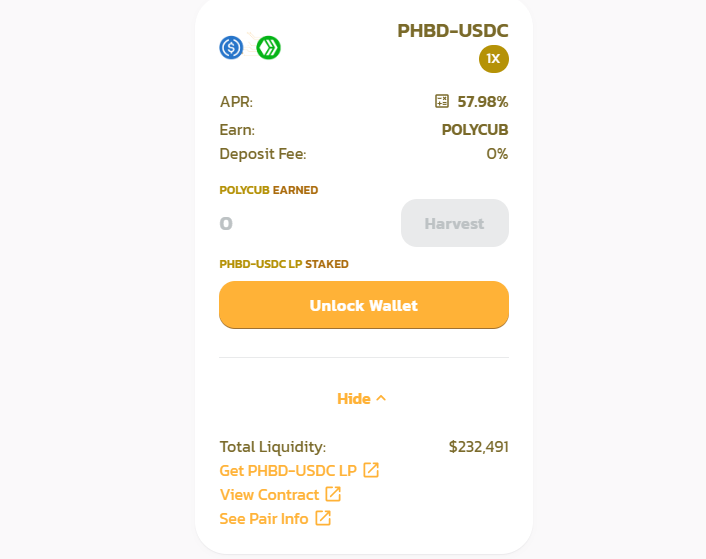 Is PHBD-USDC liquidity farm should be your choice.
It all depends from which side you are looking at pool, whether you are thinking to provide liquidity or you are thinking to buy HBD, if you are thinking to buy HBD then it definitely look a bigger pool to buy in.
If you are looking at to providing the liquidity , again you can see from screenshot the APR is almost 58% that is really a juicy APR and if you are willing to enter in this pool then Guide to add HBD in polycub farm by @ph1102 will definitely help you but I will suggest you to go on at @revisesociology post to understand the Pros and Cons od pHBD nd USDC pool before making a decision.
Bringing Confidence to HBD investor.
Not only HBD is a stablecoin by the algo , I explained above, there is also talk that back HBD using BTC that will really make a nice asset for HBD to fall back on.
My feel is that if you are mot in Hive/HBD, you are really missing the opportunities that are currently present.
My 2 cents for solving Liquidity and availability issue.
Khal is already started talking about 2% premium and looking up to buying 250K oh HBD.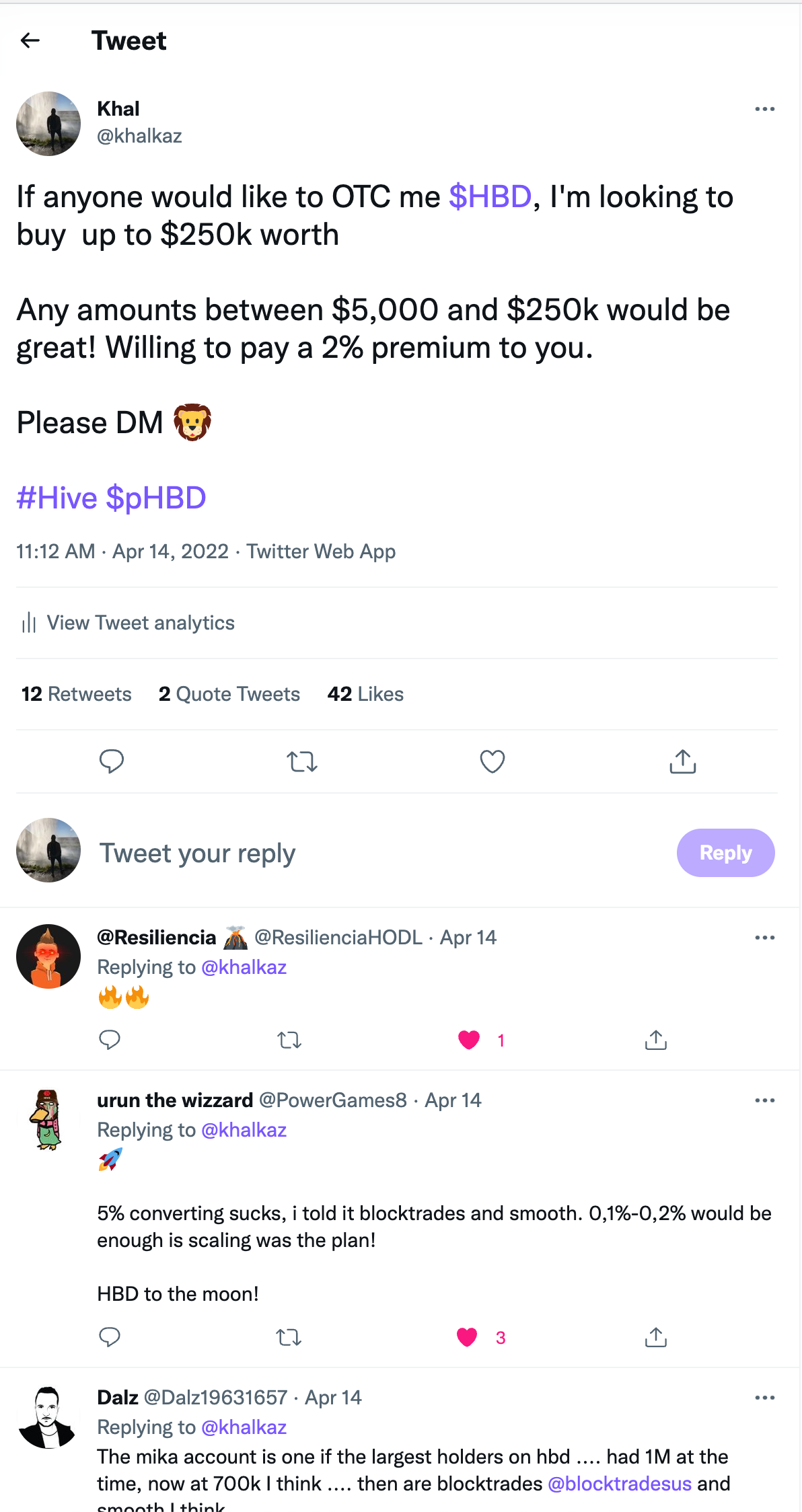 I feel it is a good step but better it is Automated using site that might able to put 2% above on the bid order of the internal market, By this way even small player that have 20 to 50 HBD can get the some premium and when many small users HBD combine, it will become substantial.
I also feel, even how good is APR in defi pool, I am not sure that someone having some 50 HBD only might be interested in doing to and fro of it's HBD.
Many has to sell HBD/HIVE to put food in table, so what better if they get a premium market from Leofinance team.
We also know that Hive DAO is one of the major holder of the HBD and if Hive witness and Leofinance team can decide in some formula that how HBD from DAO can be used for liquidity in defi pool of polycub so that it's availability do not become issue.
I also feel that till then we do not ascertain enough liquidity, we might give option of post payout in fully HBD or reduce burn fees for converting Hive to HBD ( I feel it little risky , because more Hive value increase , more user will try to burn Hive for HBD, making it deflationary and may shift focus all together towards HBD savings from Hive.)
Unless and until liquidity and availability issues are not resolved, HBD 20% APR will not be going to drawing masses in Hive ecosystem and broader goal of raising HBD APR will remain unfullfilled.
So ,at this time, we all should work together for HBD liquidity and availability and this will definitely going to be fruitful for the future.
Please share you views in comments and all upvotes and reblogs are welcome.
Posted Using LeoFinance Beta