Sister company to FTX, Alameda Research withdrew over $200 million from FTX.US before the bankruptcy filing. This revelation in the FTX saga resulted from an analysis conducted by Arkham Intelligence made public in a tweet on November 25, 2022.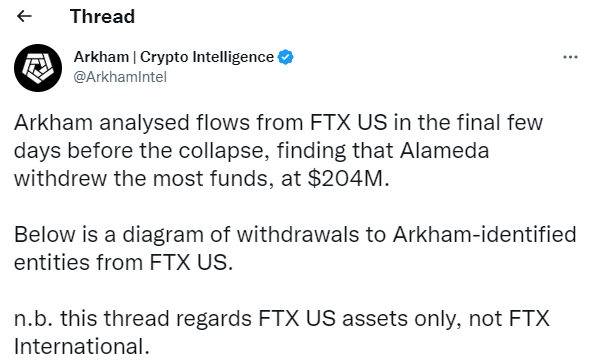 Photo Source
More specifically, Arkham found that Alameda withdrew $204 Million from eight differing FTX.US addresses, with the majority of the assets withdrawn being comprised of stablecoins pegged to the US Dollar. These withdrawals conveniently occurred just prior to the FTX ecosystem implosion. Out of the $204 Million total withdrawal on and after November 6, 2022, $142.4 Million (or 69.8% of the withdrawal total) was directed to addresses owned solely by FTX International, which fact leads to the conclusion that Alameda was being used to bridge assets between the companies.
Breaking down these withdrawals demonstrates the following:
$38.06M was in Wrapped BTC (18.7%) - which when traced went to Alameda's WBTC Merchant wallet and entirely bridged to the BTC blockchain.
$49.39M was in ETH (24.2%) - of this total, $35.52M was sent to FTX, and per Arkham, $13.87M was sent to a large active trading wallet: 0xa20. And regarding this almost $14M, Arkham disclosed that it is unknown whether it was sent as part of a trade, or, was an Alameda internal transfer.
$116.52M was in USD-denominated stables (57.1%) - these stables were split between USDT, USDC, BUSD and TUSD, and were distributed as follows:
$10.04M USDT sent to Binance

$32.17M USDT swapped to USDC and sent to FTX

$47.379M USDT sent directly to FTX
$10.151M USDC sent directly to FTX
$16.285M BUSD sent to FTX
$500K TUSD sent to FTX
[Arkham Intelligence. Tweet. (Accessed November 26, 2022)
Arkham nicely summarizes this information for us within its conclusion of this matter, to wit: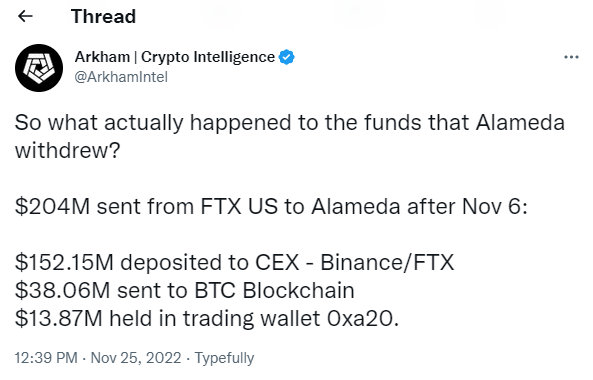 Photo Source
From within the FTX umbrella, 130 companies filed Bankruptcy in the United States on November 11, 2022. This filing was allegedly necessitated by a 'liquidity' crunch resulting from a series of tweets commencing a sell-off of the FTX token. Within the initial Bankruptcy filing (United States Bankruptcy Court for the District of Delaware) the new CEO of FTX, John Ray III, shared his description of the FTX situation as being 'the worst he had seen in his corporate career', highlighting a 'complete failure of corporate controls' within FTX and 'an absence of trustworthy financial information' [See, e.g. Pereira, A.P. Alameda Research withdrew $204M ahead of bankruptcy filing - Arkham Intelligence. (Accessed November 26, 2022)].
In Ray's own words:
From compromised systems integrity and faulty regulatory oversight abroad, to the concentration of control in the hands of a very small group of inexperienced, unsophisticated and potentially compromised individuals, this situation is unprecedented.
[Jenkinsen, G. SBF received $1B in personal loans from Alameda: FTX bankruptcy filing. (Accessed November 26, 2022)].
And Mr. Ray definitely knows what he is talking about - in his past, Ray was tasked with cleaning up the pieces following the notorious collapse of Enron.