I have always been testing social media platforms and writing about them, so it is really unbelievable that I have not yet decided to try out and write about read.cash
What is read.cash?
Read.cash is a blogging platform which rewards its users with Bitcoin Cash.
But today it was the day!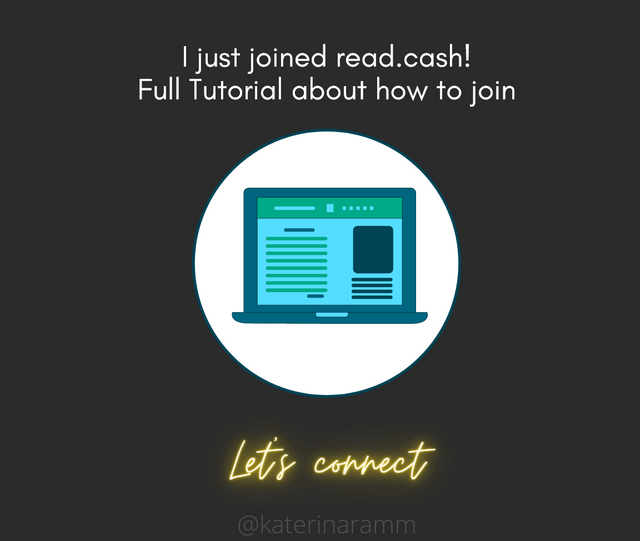 The tagline of read.cash is ...
Join 48,965 users and earn money for participation
(Amazing that it has less users than its baby brother noise.cash ;))
Sign up process
You will need a username, a password and also an email (optional)
If you use an email address you will be asked to verify it.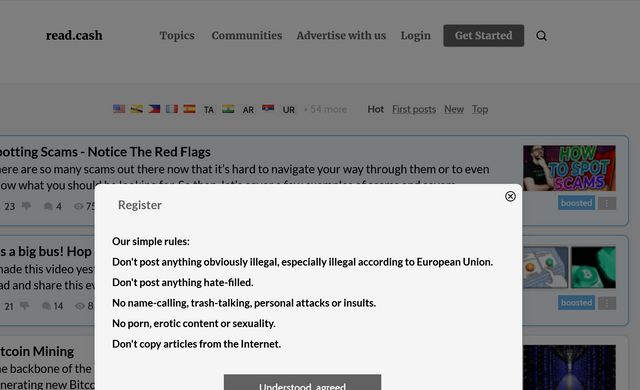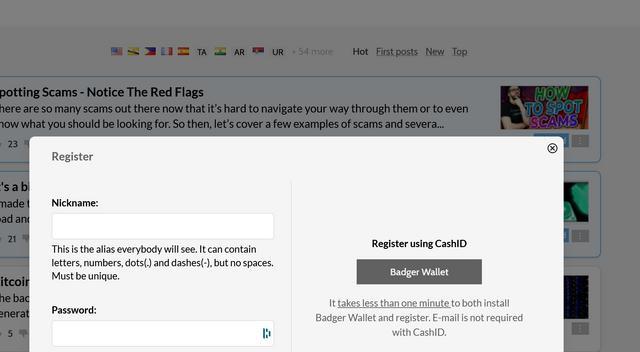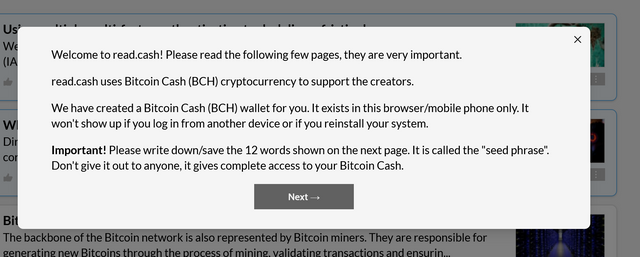 Make sure you write down your seed phrase! Seriously - this is very important.
I wrote it down, screen shot it and took its photo :)
---

As you continue, you are advised not to keep more than $20 in an online wallet .. Thanks for the reminder
---
You then are greeted by your bitcoin address (which is of course always available on the settings so no need to do anything else :)
---
At the end, you receive a message
"You can also [import your seed phrase to Bitcoin.com wallet](https://read.cash/@Telesfor/how-to-integrate-readcash-wallet-into-bitcoincom-wallet-80747c24 and see your money in real-time (recommended to avoid losing seed phrase and it's really cool)"
I am not sure about that but I ll check it out :)
---
Logging in read.cash
After signing up - the screen changes to this

We see an amount as the read.cash fund and also a per day spending amount and a pledge
Clicking the pledge I get this information which I dont yet understand
"Important:
Your pledge will be used to sponsor read.cash writers, it will be spent over the next few months, according to the fund spending schedule.
This address is controlled only by your browser.
You can cancel your pledge at any time (you control the address).
The address is made from your seed phrase"
Content
It seems crypto related, it has some interesting titles and I see that there are also promoted posts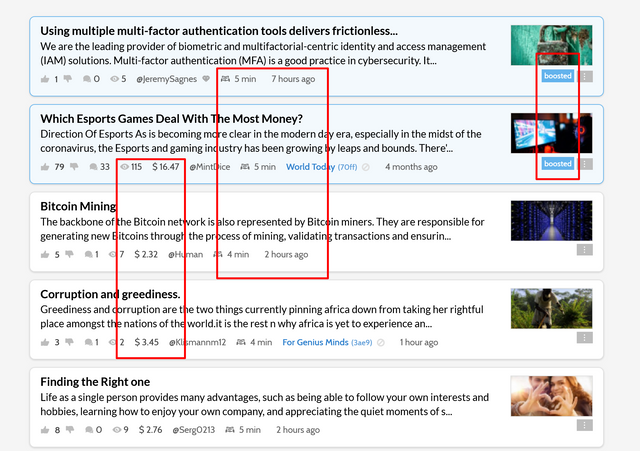 There are a variety of topics that are clickable (functioning as tags) and also communities that you can write in or create your own if you wish.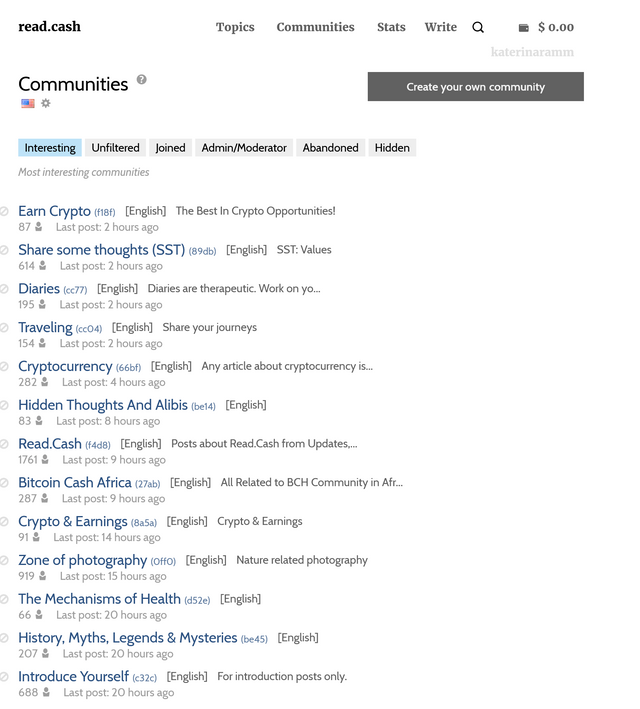 Stats
The stats section is very interesting, it shows you the total users and some other info such as top tippers, articles per day etc (I ll post more in a future post)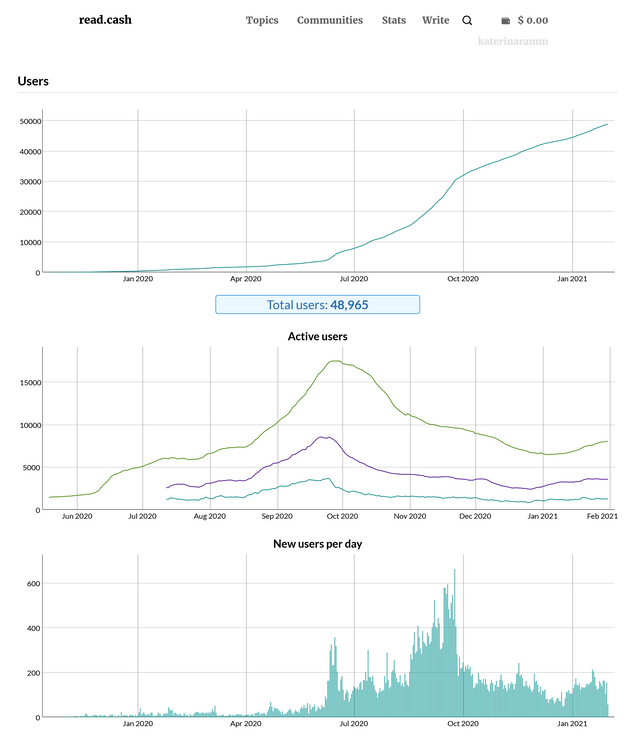 Write
When you start writing you see that you may choose between a short post or a full article
For my first post I will choose the Introduce Yourself Community
https://read.cash/c/introduce-yourself-c32c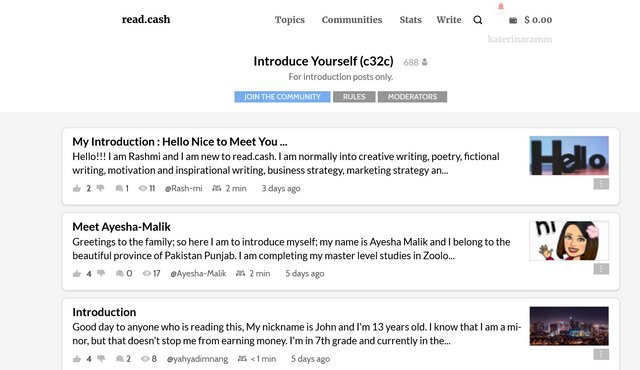 To write in a community, we need to join first and second, to agree to the rules.
This is what I see when I join
Do you agree to the rules?
Rules from September 22, 2020 on
Read.cash is a platform for writers!
Your introduction post is advertisement for you.
You introduce yourself in English.
You share what you like to share.
You write a decent text of at least 300 words and take care of what you write.
We comment, advice and wish you luck.
No plagiarism.
Exclusive content only.
This is a very important aspect for read.cash.
If you join you need to make sure that your posts there are exclusive to their platform.
I liked their editor very much, very easy and quick.
When you write an article, it needs to be moderated so I am waiting for my introduce post to be accepted in the community!
More about all of this -- soon!
If you are on read.cash - do let me know - let's connect!!
https://read.cash/@katerinaramm/what-took-me-so-long-17e7fc66
My account: https://read.cash/@katerinaramm
Thank you for visiting!
Who am I?
I am Katerina from Crete, Greece. An enthusiastic content creator with a passion for photography. Interested in the blockchain technology, in new social media platforms and in trying to educate new users who wish to explore the blockchain social media world and its possibilities!
LENSY.IO - NFTs on the hive blockhain
Posted Using LeoFinance Beta