Hello everyone!
I downloaded this new hive based dApp yesterday evening - I got so excited that I really did not know what to say!
It seems to be whatever a  hive user needs from an app.
First of all let me share with you a short video (from my city, project also on the blockchain @aboutheraklion)
An emblematic Fortress, existing hundreds of years in my town. It has protected us many times from conquerors, it still stands proudly reminding us to fight for what we believe in
It is evident that the creators of this app have devoted plenty of time, to have everything in place.
(Videos appearing in the dapplr app but not in other platforms/sharing here also the .gif format)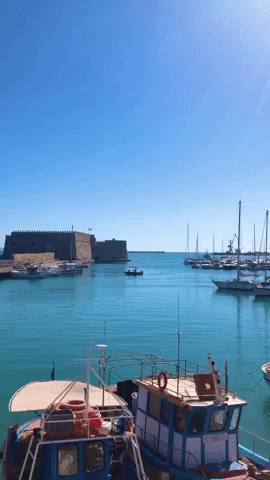 ---
A full review will follow but in the meantime ...
General Impression about Dapplr App
It is fast

It is pretty to look at

It has notifications and easy list or grid view

you can see my feed / communities right in the interface as well as check out the posts balance/comments/featured image

you can easily upvote as you see your Voting Power and easily adjust the % of your vote

you can easily search, change theme, go to your profile or add a post
Crafting a post
you can easily choose between media only or editor

you can draft a number of posts

it has an easy editor

you can easily tag people
Managing your account - Wallet
to manage your account, drag the little curb on the down side of your screen

you can easily transfer, delegate, power up/down, check your transactions and referrals
Important question! How to join?
They have a great referral programm in place! Feel free to join through my referral link here https://app.dapplr.in/k8zC91qVyGFZ91MF6 or join their Discord server to ask early access :)
At the moment Android 6.0 or later devices are eligible. IOS is waiting for approval, but I am sure it is coming out very soon!
Note
I don't see any serious bugs, some little things that will be for sure fixed asap. There has been a great work prior to its publication
The @dapplr is set as a 5% beneficiary for their posts, which is fine by me!
Check out the below short clips 
&
I hope you found this informative, stay tuned for more. soon.
Thank you so much for visiting!
---
Follow me on twitter for crypto stuff: https://twitter.com/katerinaramm1
My personal discoveries and every day experiences: https://www.instagram.com/katycrete/
My city's account and lovely community: https://www.instagram.com/aboutheraklion/
And let's not forget my giphy channels
For my city: https://giphy.com/channel/aboutheraklion
My personal account: https://giphy.com/channel/katyramm
Original Content - All rights reserved
Posted using Dapplr
https://leofinance.io/ocd/@katerinaramm/dapprlsdebutexcitingsl-38m74e12e35r356g0ie21er313ypn787