Tron CEO Justin Sun announced the launch of three new products in the field of decentralized financing (DeFi): JUST Lend, JUST Swap and JUST BTC.
From his explanations, it follows that JUST Lend is a landing platform that will provide Tron users with an opportunity to receive passive earnings on interest and receive loans on bail.
JUST Swap will be a fully decentralized protocol for the exchange of digital assets. JUST BTC is a TRC-20 token tied to bitcoin in a 1: 1 ratio.
Sun added that JUST BTC (JST) will be a key token for the entire Tron DeFi ecosystem.
"We look forward to seeing the full capabilities of JUST products, community management and fully distributed dividends integrated into the Tron decentralized finance ecosystem," Sun said.
Users in the comments have mixed comments on Justin Sun's new initiative. Many called it a new scam from an entrepreneur with a conflicting reputation, and some suggested that this was an attempt to use hype around DeFi.

The volume of assets blocked in the protocols of decentralized financing has almost doubled since mid-June and reached $ 1.81 billion ( DeFi Pulse data ).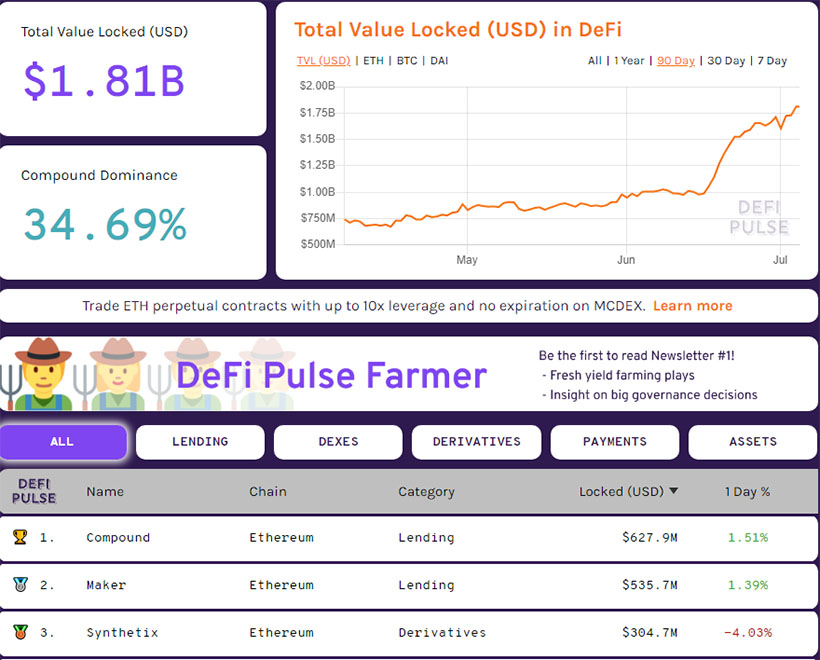 The growth was mainly driven by the inflow of funds to Compound, which increased sharply after the start of the distribution of COMP management tokens. As early as June 15, assets of approximately $ 98 million were blocked on the platform.
Within a few days, the protocol came out on top, overtaking the Maker DAO for a long time in terms of volume. Almost $ 628 million is blocked at Compound now.
Justin Sun's tweet shows that Tron got his own emoji on Twitter. As the independent developer and bitcoin activist Udi Verheimer noted, in this crypto project, Sana was ahead of Ethereum. Twitter bitcoin emoji added in February.
Recall that Tron entered the DeFi sphere in the spring of this year with the launch of the emission system for the USDJ-linked stablecoin USDJ secured by TRX.