Here's me in today's Navy Enlisted dress uniform nicknamed after the popular "Crackerjacks" snack.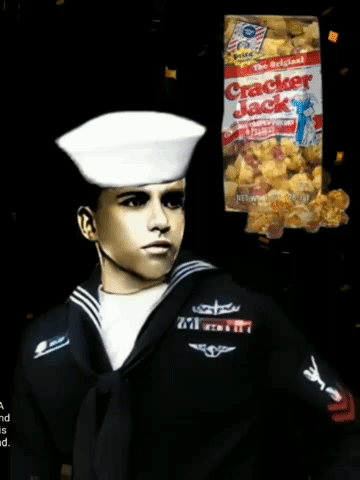 "Crackerjacks" 3D.gif
*A rare, signed, higher resolution and non-watermarked version of this image is available for download.l at: https://creary.net/digitalart/@jaichai/crackerjack-uniform-navy-heritage
About the uniform -
In the 19th century, sailors would tie their hair in a ponytail and use a tar-like adhesive to keep it plastered down during labor.
The long collar flap kept the heavy pomade off the sailor's back.
During heavy labor, the ponytail was tied up to keep sweat and tar from being slung around; and thus came the trademark neckerchief.
The bell bottom pants legs were easily rolled up during long sessions of swabbing decks.
The 13 button fly symbolizes the first 13 colonies.
The "Dixie Cup" resulted more from cheap convenience than some kind of historical reference. Evidently, canvas from irreparable sails makes for economical hat material.
Submitted FYI.
May you and yours be well and loving life today.
In Lak'ech, JaiChai
(JaiChai 19 Apr 2022. Simultaneous multi-site submissions posted. All rights reserved.)