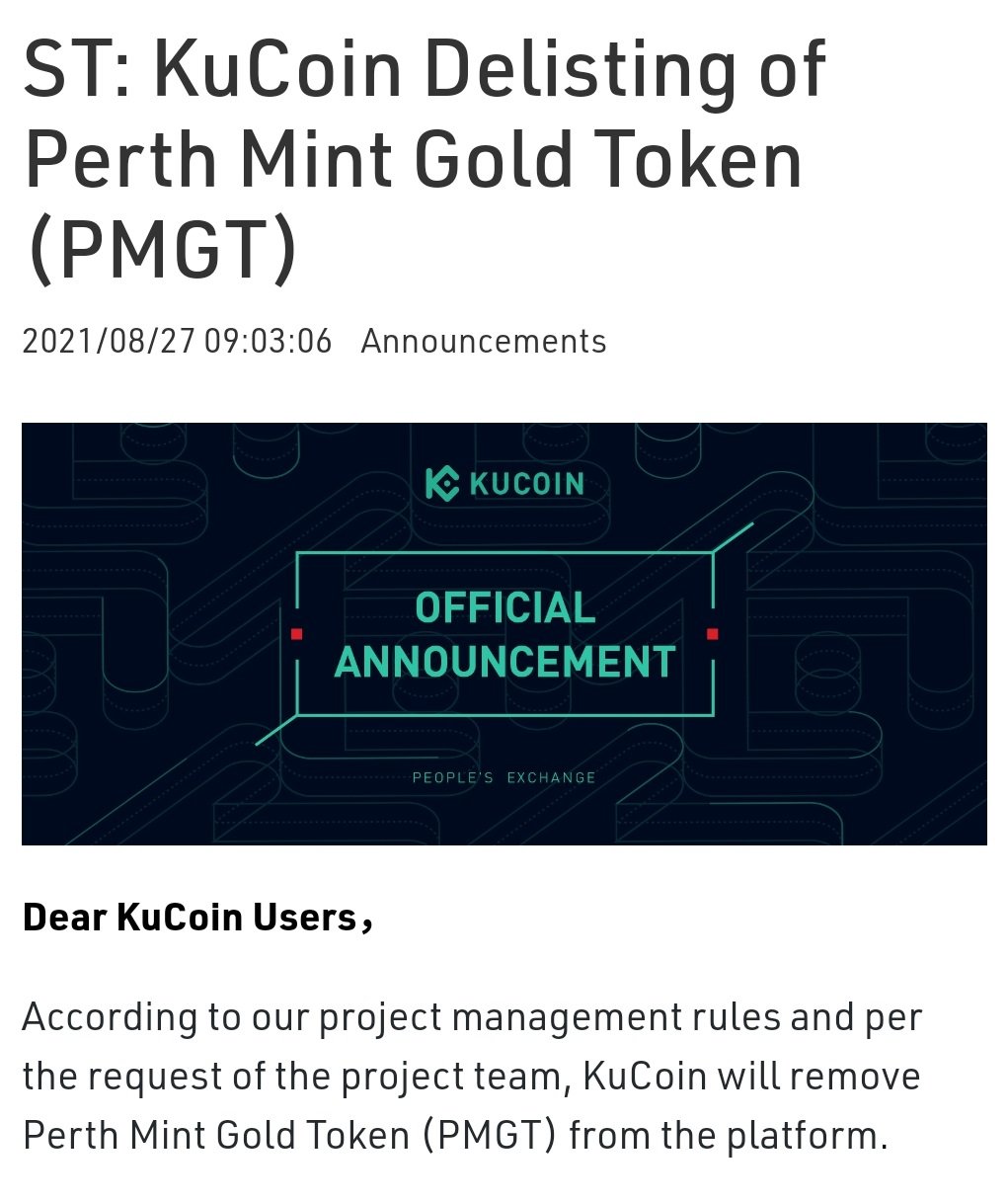 In what was a bit of interesting piece of news, I saw that the Perth Mint Gold Token (PMGT) was being delisted this week from Kucoin. I'm a bit unsure as to exactly why, as the annoucement is a bit cryptic... saying that it was according to the management of Kucoin and also at the request of the project team. Sounds like an amicable breakup, but generally these things in business, love and life are often not quite as pretty as it sounds from the press release!
If I had to make a bit of a conjecture... it might be that the Perth Mint via the PMGT run by their digital partner Tovio might have needed to operate on a strictly Australian regulated exchange. So, the token seems to still be available on a regulated Australian crypto exchange... but seeing as the project is built upon the Ethereum blockchain, I'm still not entirely sure how that prevents secondary sales, unless they are not recognised by the Perth Mint... in which case, the blockchain is DEFINITELY the wrong solution for this digitalisation of physical gold!
When PMGT first launched on Kucoin, I was quite interested as it was a different type of "stable-coin", one that was tied not to a fiat currency but instead to an age old store of value (gold). Each token represented a physical claim on an ounce of gold being held at the Perth Mint. There were many other projects that proclaimed similar physical claims for their digital tokens, but most of them smelled scammy at best... in that they would hope that the owners of the digital tokens would never ACTUALLY make a claim against the physical gold. However, if you have to trust someone... the Perth Mint has pretty good reputation!
... and at the time, I had won a price prediction contest through Kucoin and had picked up some PMGT. Around that time, the price of gold was slowly rising and Bitcoin and crypto were in the throes of a bear market. I remember talking about it with my wife, and I was leaning to the idea that I would just cash in the tokens for Bitcoin... as I would never really have the opportunity to actually make the claim in physical gold without a direct trip to Perth... and that wasn't on the cards in the near future!
So, from that point of view, the PMGT tokens were actually worth less than the value of gold to me personally... and it was decided that I would just cash them in exchange for Bitcoin. Of course, in hindsight, that was a fortunate decision... I guess if you make enough unlucky choices, you sometimes land on a lucky one!
... and with this announcement that decision seems even better. What is more useless than a token that isn't physically redeemable. Well, a token that is stuck on exchange that is an ERC20 token being delisted at a time high high high Ethereum gas fees! I don't even want to know what it would have cost to have it moved to a non-custodial wallet! I'm pretty sure that if I lived near the Perth Mint, I would have taken the opportunity to get some nice and shiny physical gold, so sometimes good choices come from sheer luck and circumstance!
So... the moral of the story. Get your crypto off exchange and into your own private wallets. This is rule number one of crypto... not your keys! This is something that I have been slowly doing as I have moved crypto off Kucoin and Binance as I'm not an active trader and the staking rewards are better on chain than using a middleman... I will write about those experiences in the near future, as each chain has different requirements and minefields to step into, and so I have been doing it slowly but steadily, just to make sure that I don't step on every single little trap!
... and moral two of the story. This entire episode starts to highlight the benefits of digital stores of value over physical ones. Of course, nothing will ever beat holding a shiny piece of silver or gold in your hands... but I start to think that more of that is starting to be worth more in sentimental value as opposed to "real".
I can also be found cross-posting at:
Hive
Steem
Publish0x
Handy Crypto Tools
Ledger Nano S/X: Keep your crypto safe and offline with the leading hardware wallet provider. Not your keys, not your crypto!
Binance: My first choice of centralised exchange, featuring a wide variety of crypto and savings products.
Kucoin: My second choice in exchanges, many tokens listed here that you can't get on Binance!
MXC: Listings of lots of interesting tokens that are usually only available on DEXs. Avoid high gas prices!
Coinbase: If you need a regulated and safe environment to trade, this is the first exchange for most newcomers!
Crypto.com: Mixed feelings, but they have the BEST looking VISA debit card in existence! Seriously, it is beautiful!
CoinList: Access to early investor and crowdsale of vetted and reserached projects.
Cointracking: Automated or manual tracking of crypto for accounting and taxation reports.