If the idea of the new bull market, that we are currently in at the moment, actually the beginning of it, hasn't found its sediment in your vision towards the crypto market, you should know that there's still plenty of time for that to happen, so don't rush on selling anything or setting any stop losses. My gut feeling tells me that any correction from now on is only a breathing moment for the market and supper time for whales, buying every dip on the way up, so they can dump at way higher prices.
Yes, Bitcoin is down a few hundred bucks from yesterday, ETH also is on a slightly decline and almost all of the major altcoins that pumped like hell a few days ago, but now it's time for the small cap coins to gain momentum. And who's a small cap coin with a fixed supply, a working product/blockchain and a ton of growing potential? Steem is... and what does Steem right now? Is actually holding gloriously the 18 cents that it's conquered recently. I know that I sound like it's been doing that for months, when it's actually just conquered the 18 cents, but you end nowhere without a vision.
Well, in crypto everything is possible, and that's why all sort of so called experts make money selling worthless courses on how to trade or invest in crypto, collect thousands of dollars in add revenues from youtube every month, and rape the rewards pool with their worthless TA. You know who I'm talking about, right? If you look at Steem's chart you're gonna notice that it's playing a flat game for months and it has even become hard to imagine it above 14 cents, while quite a few were expecting it to fall again to 9 cents or even lower. I don't want to disappoint anyone, but I doubt it will ever get back under 10 cents, so if you were planning on buying some, now might be a good time.
You know, some have bought it, in quite large quantities, at over a dollar, so you can consider yourself lucky to stack at less than a quarter. Analyzing the uptrend for most of the cryptocurrencies it is crystal clear that most of them are being dragged by BTC and its halving in May, although I could not overlook the fact that BTC is loosing dominance lately. Probably some investors are expecting higher revenues from cheap altcoins than they do from BTC. I'm not holding any BTC but I am smiling every time it pumps because I know its effect on the whole market.
I mentioned above about TA experts and rewards pools rapists, and in the screenshot below you have one example of such person, and his lame and shitty TA. Two months have passed since this post was uploaded and he's probably still waiting for that 6 cents Steem and even lower. You're gonna grow mold on your forehead waiting for that price for Steem. He didn't seem to have the same vision about this token that he earned by the tons, before the HF22, but now he's changed it drastically, when he no longer could jerk and win.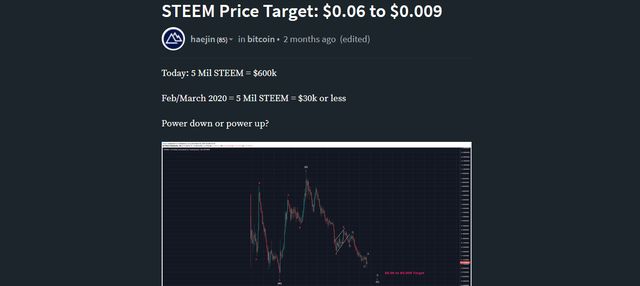 It's the typical coward attitude, that spits on whatever project/person, that he once loved and believed in, when no longer needs it, or can't benefit anymore from it. Thinking back at the previous bull market I can't believe how often that guy was hitting the trending page with his Technical Analysis and how high he was seeing Steem price wise. Now that he doesn't earn any token anymore, that he got burned with that bad Steem store business, and that he no longer needs Steem, to dump his lame analysis, he's expecting it to under appreciate at even less than a cent. I'll say it again: bad math, lousy TA and the attitude of a coward it's what describes this guy and his vision for Steem.
Ending this post I will honestly admit that I'm not expecting Steem to get to as high as $10 in this bull market, for a new ATH, but I can clearly see it appreciating and getting well over one dollar. I don't want to get over optimistic and neither doom a project that is far from being doomed. It is a good working project, the total circulating supply is almost maxed out, and this new cycle that we have entered, for a few months, is about growth and revenue. Blogging wise, if my views and opinions in this post will get me some downvotes, I really don't give a fuck. At least I spelled my guts out and welcome both appreciation and criticism with arms open. That's what I consider growth. Hold on tight this year, and don't sell too soon. Steem on!
Thanks for attention,
Adrian