---
A few hours ago Splinterlands' official Twitter account published the latest roadmap from Q2, 2022 till Q1, 2023 & the current status of the development. You can get a clear idea about where we stand right now and what's coming. Normally I don't get too excited because roadmaps are hardly followed which is quite normal when it comes to software development. Unexpected things happen and we don't want a half-cooked, buggy product to go live. Nevertheless, I am quite optimistic about Splinterlands & believe that their dev team can handle this very well. Maybe a few small hiccups here and there but overall we should be doing okay. Please check out the below image they shared: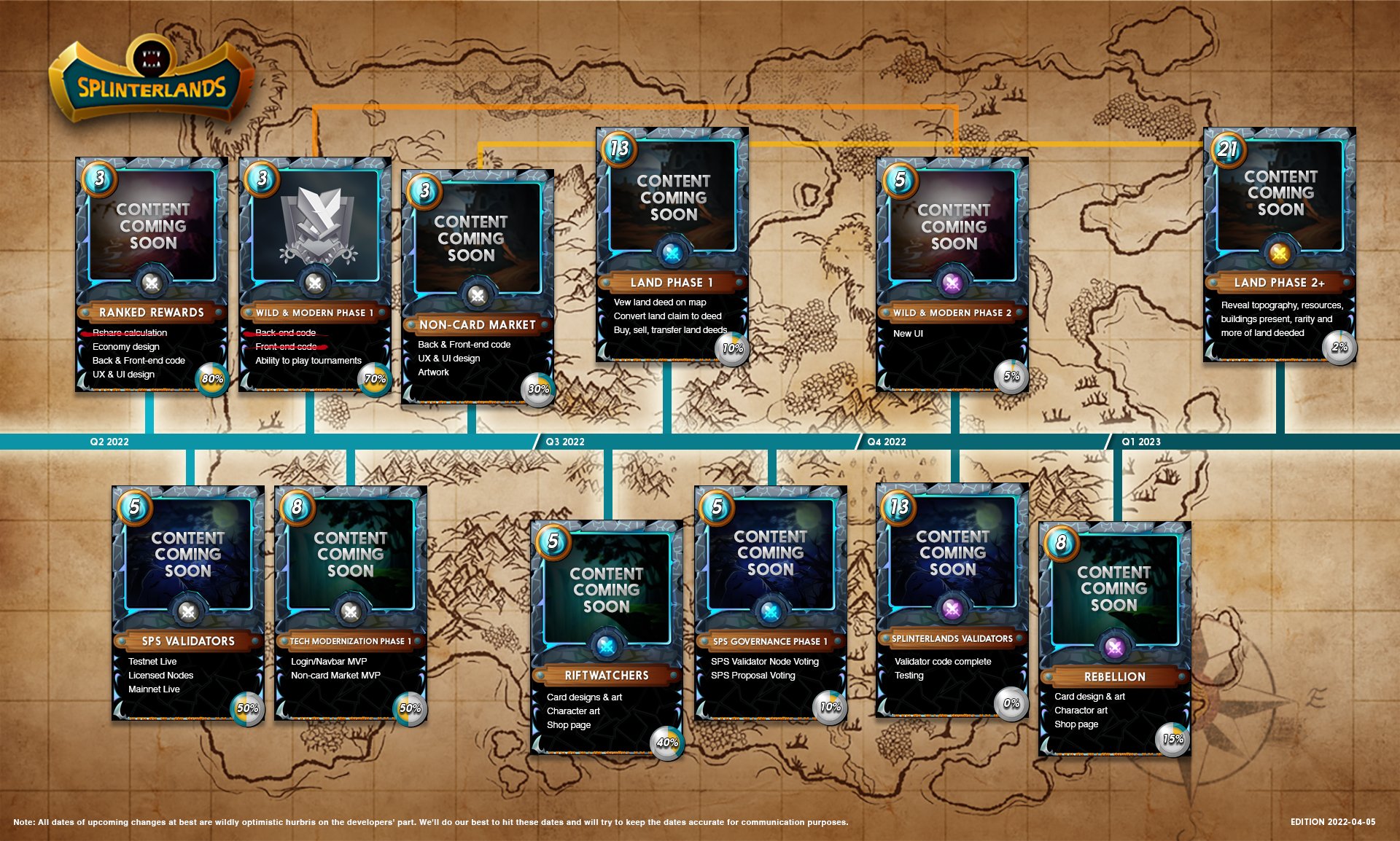 Source: https://docs.splinterlands.com/platform/roadmap
I don't know why it looks blurry as it is but when you zoom in, it is readable. So make sure you download it or zoom inside your browser/app. After scanning it through, I got so excited. There is some juicy stuff planned ahead and I can't keep calm. Let's look at each quarter one by one.
Q2 2022
We are already 7 days into the quarter. There are the following things for which the current development is going on:
Ranked Rewards (80%): Rshare Calculation is done. I am not sure what it is but it has something to do with the rewards players win as per their rankings in ranked battles. Let's hope this change would increase what they earn. Economy design, back, and front end code, UI/UX design are still pending. Since 80% of the task is completed, this shouldn't take much time to complete.
SPS Validator Nodes (50%): Splinterlands validator software is an open-source protocol that will help users to verify the transactions. SPS Stakers can vote on these validator nodes just like we do on HIVE and vote for witnesses. The amount of SPS votes will decide how much SPS a validator will earn. Top 10 votes validators will basically control the whole ecosystem for the community. They will also be signatories on the multi-sig that controls the SPS Foundation funds. Development is 50% done. We still don't know when will they launch the mainnet. I think even the testnet is not live yet.
Wild & Modern Phase I (70%): Splinterlands ranked leagues will two versions: modern and wild. Modern is Untamed, Dice, Chaos Legion, and a few reward cards. Whereas, Wild will include all existing cards. Should be out soon.
Tech Modernization Phase I (50%): In this phase, we will get (Minimum Viable Product) versions of login/navigation bar and non-card market. The non-card market will obviously allow you to trade non-card items but what are they? PLOTs? PACKs? Comment below!
Non-Card Market (30%): Back end and front code, UI/UX Design, and artwork, all pending.
Q2 will be over in about 3 months. DUH! It seems like a lot of major updates are planned in this quarter. As an investor, I am most excited about the SPS Validator nodes.
Q3 2022
Land Phase I (10%): Q3 is going to be my favorite quarter for this particular reason. We will be able to view the Land deed on the map. Is there a MAP? 😮 Thanks to blockchain tech, we don't need third-party intervention to create these deeds for us. We will be able to sell and purchase these deeds on the market. But how is it different from trading PLOT/LAND on Hive-Engine? Still no mentions about LAND gameplay.
RIFTWATCHERS (40%): A new mini edition of cards similar to Essence Orbs and Azmare Dice. It was supposed to go live in Q2 of 2022 as per the previous roadmap. Now pushed to Q3. You will be able to buy them with SPS and not via DEC or CREDITS. Not sure if the vouchers are required.
SPS Governance Phase I (10%): This is a very important update and has the potential to change the game for SPS stakers. SPS node validator voting and SPS proposal voting will play a crucial role in the governance of Splinterlands.
Q4 2022
Wild & Modern Phase II (5%): New UI for tournaments. Extension to phase I in Q2, 2022.
Splinterlands Validators (0%): I don't get this. It says that the validator code will be completed and testing will commence but that is happening in Q2 right?
Q1 2023
REBELLION (15%): Another mini edition of cards like RIFTWATCHERS? :')
Land Phase I (2%): This is where Splinterlands will expand its Metaverse to the next level. Different kinds of Lands, resources, and buildings will be revealed.
2022: The Year of SPS
Looking at the roadmap, it is clear that this year, the major focus of the team is to produce more utilities for SPS Token. Lauch of SPS Validator nodes and SPS governance phase I would put enough buying pressure of the token and its staking. Right now we are getting around 27% APR for SPS staking which is going to reduce further as we move towards the end of the airdrop. More and more people will stake to take part in the governance process and hopefully get rewarded for their actions. I am not sure what will happen to DEC because of this major shift but I read it somewhere that they will release a new utility for it after the airdrop finishes in about three and a half months. Soon I will buy 1 PLOT, have been saving for it. I am hoping that the price won't rise quickly in the upcoming days and I will have a good opportunity to get it for cheap. Splinterlands has been developing for more than 3 years now I guess and major gameplay has not been revealed yet. Land Phase II is so far so there's a good chance to sweep them right now. Also, did you see the price of SPS? 11 cents only! Is it a sign? ;)
What are you guys thinking? Buying more SPS or cards? What is your favorite part of this roadmap? Comment below!
---

https://leofinance.io/@finguru


---

Not financial advice. For infotainment purposes only.