So here comes the second of the series concerning the Watch list that will begin with a very short reminder of Gold actual movement. For more information about Gold itself I began my previous article about it.
---
Plan
Gold short update - XAU
Tanzanian Gold Corp. - TNX
Kirkland Lake Gold - KL
Yamana Gold Inc. - YRI
Eldorado Gold Corp. - ELD
Agnico Eagle Mines Limited - AEM
Final word
---
Gold short update - XAU
Weekly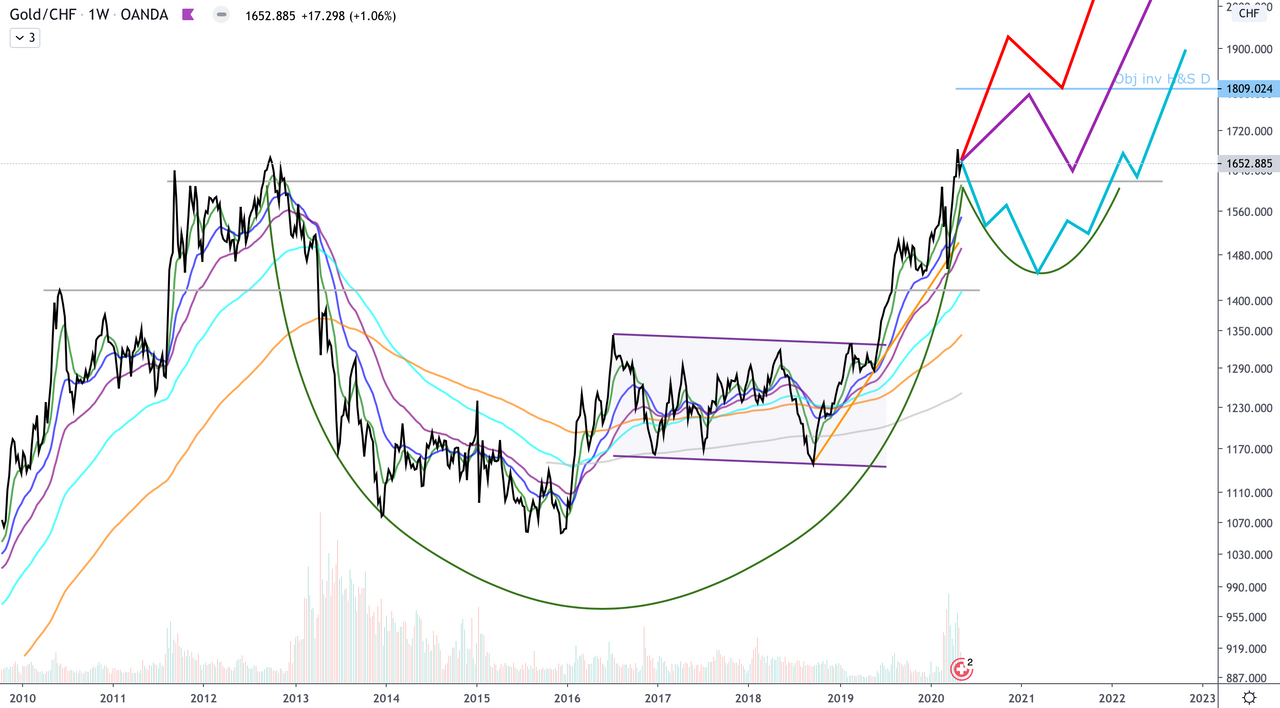 Daily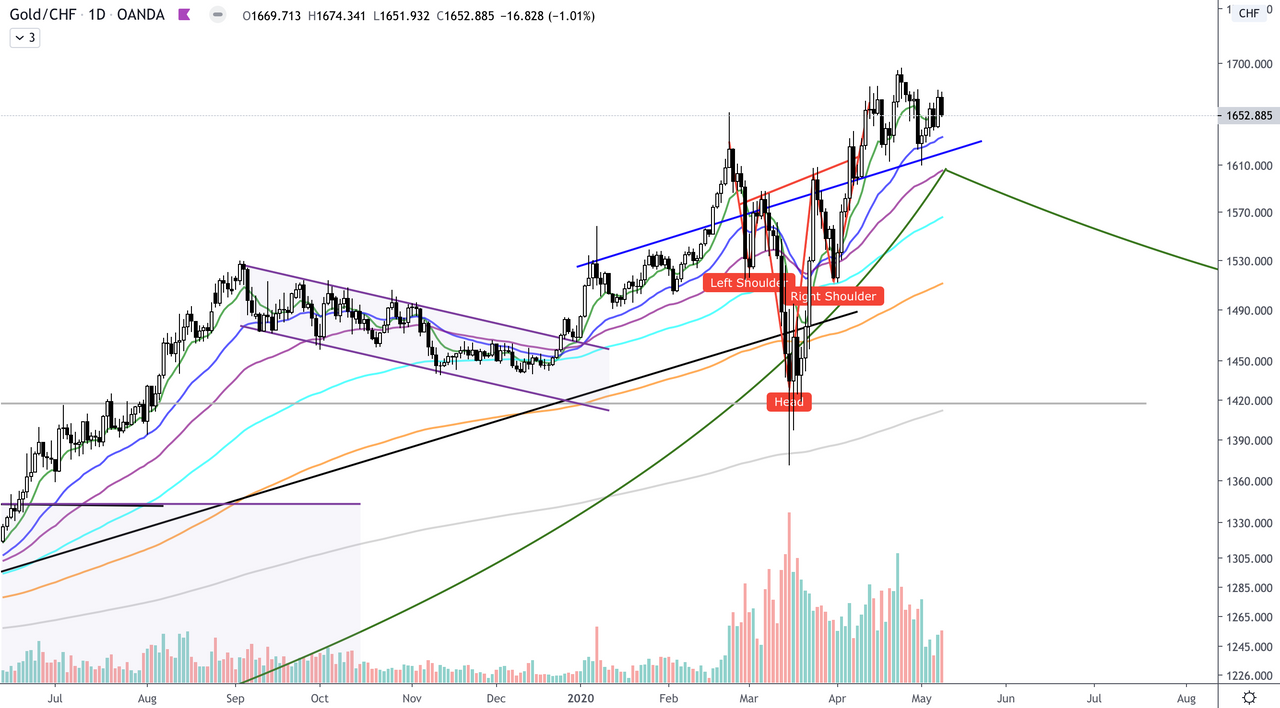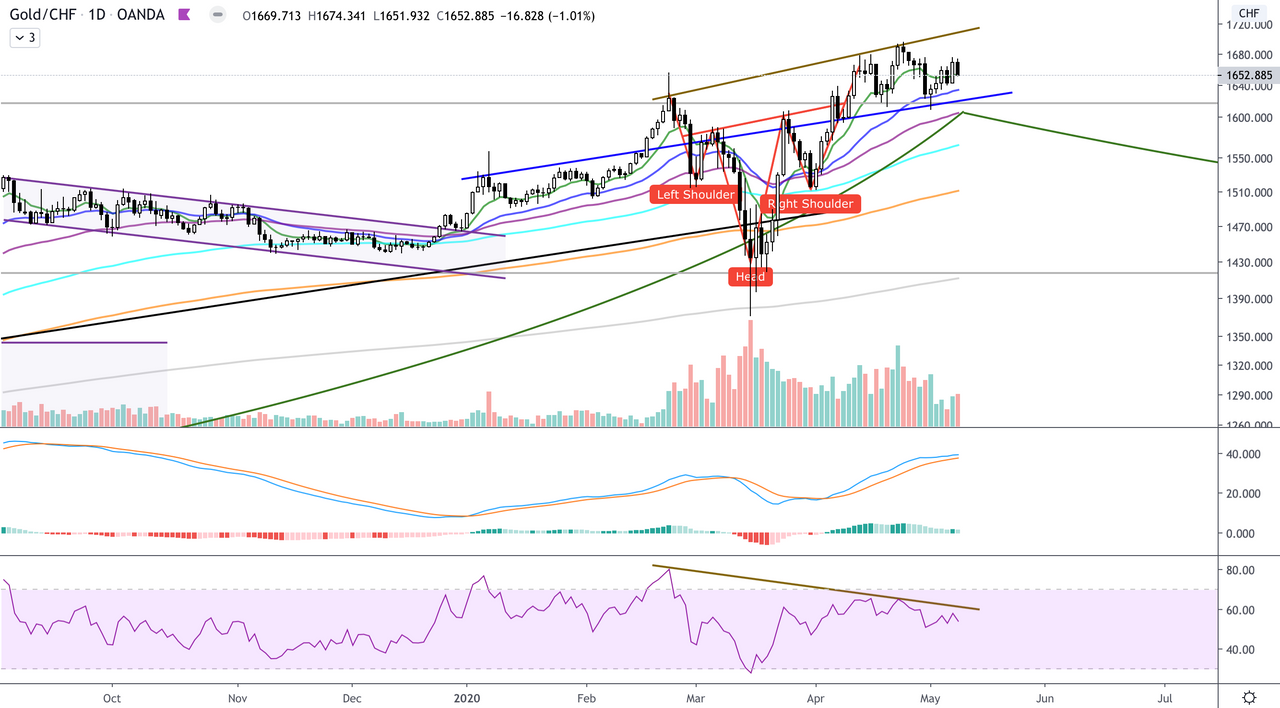 Projections : if you're interested into my gold analysis I strongly recommend you read Gold miners - Favorites list [May Update] which contains much more informations market related. However here're several possibilities I see coming.
Gold follows H&S daily as it is sustaining it until now and climbs up directly until 1'800 $ where it could meet resistance (violet projection) or support (red projection) before tracing its new route.
Daily divergence (brown trend lines) takes the advantage and it goes for the handle whose bottom should stand around 1'400 $ before climbing again (turquoise projection).
Tanzanian Gold Corp. - TNX
Monthly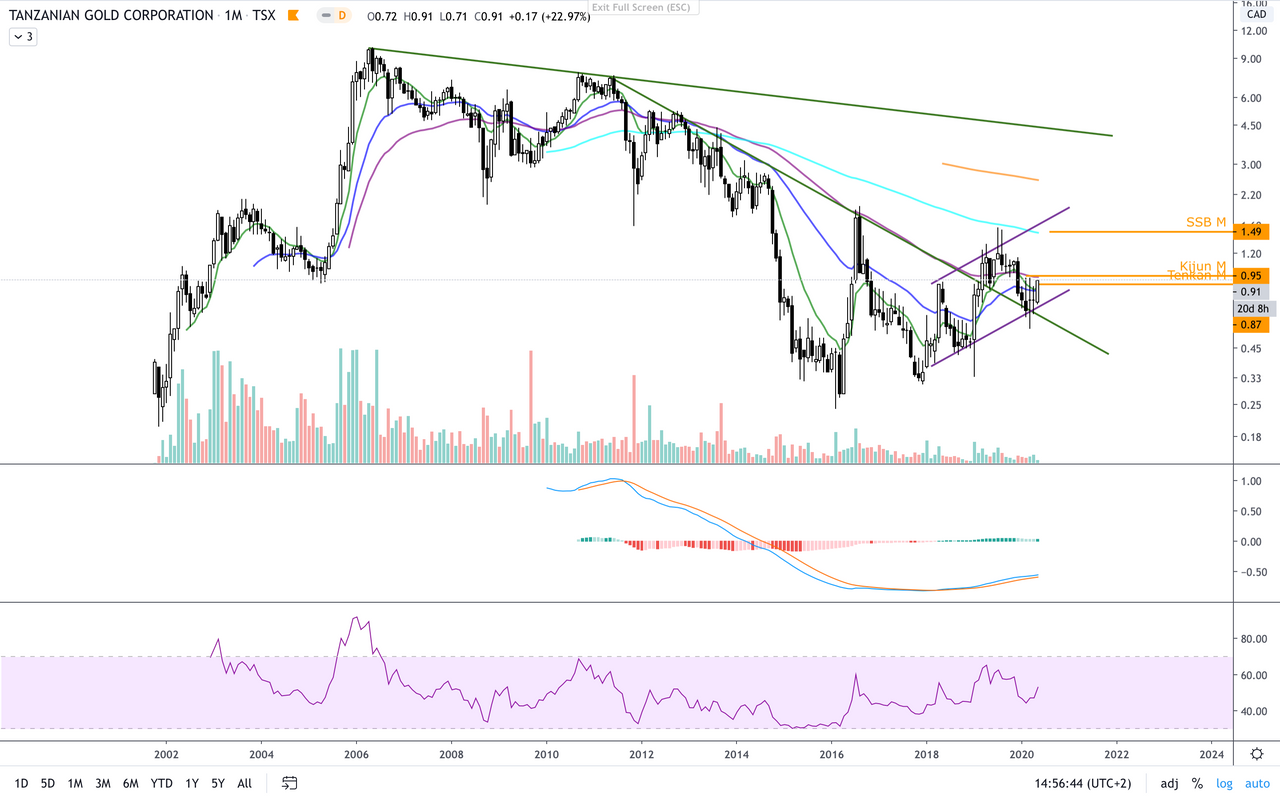 Weekly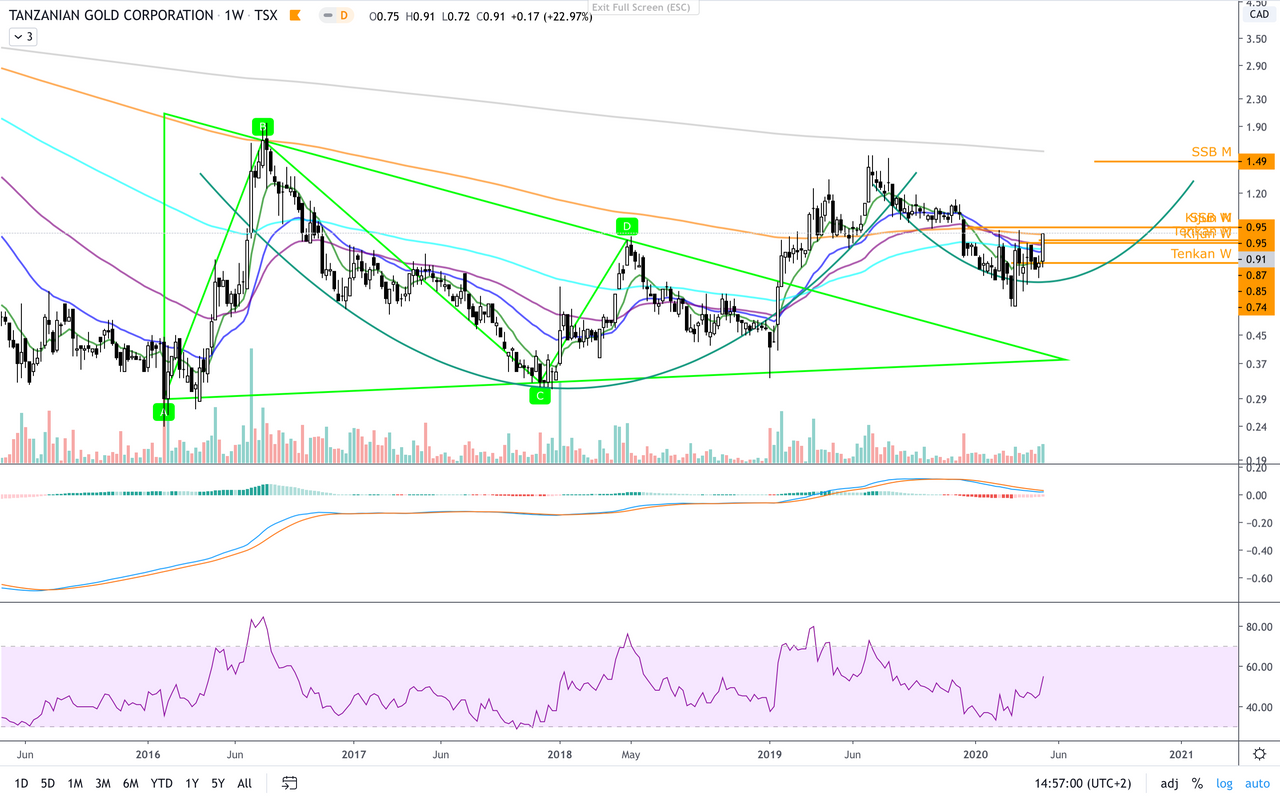 Daily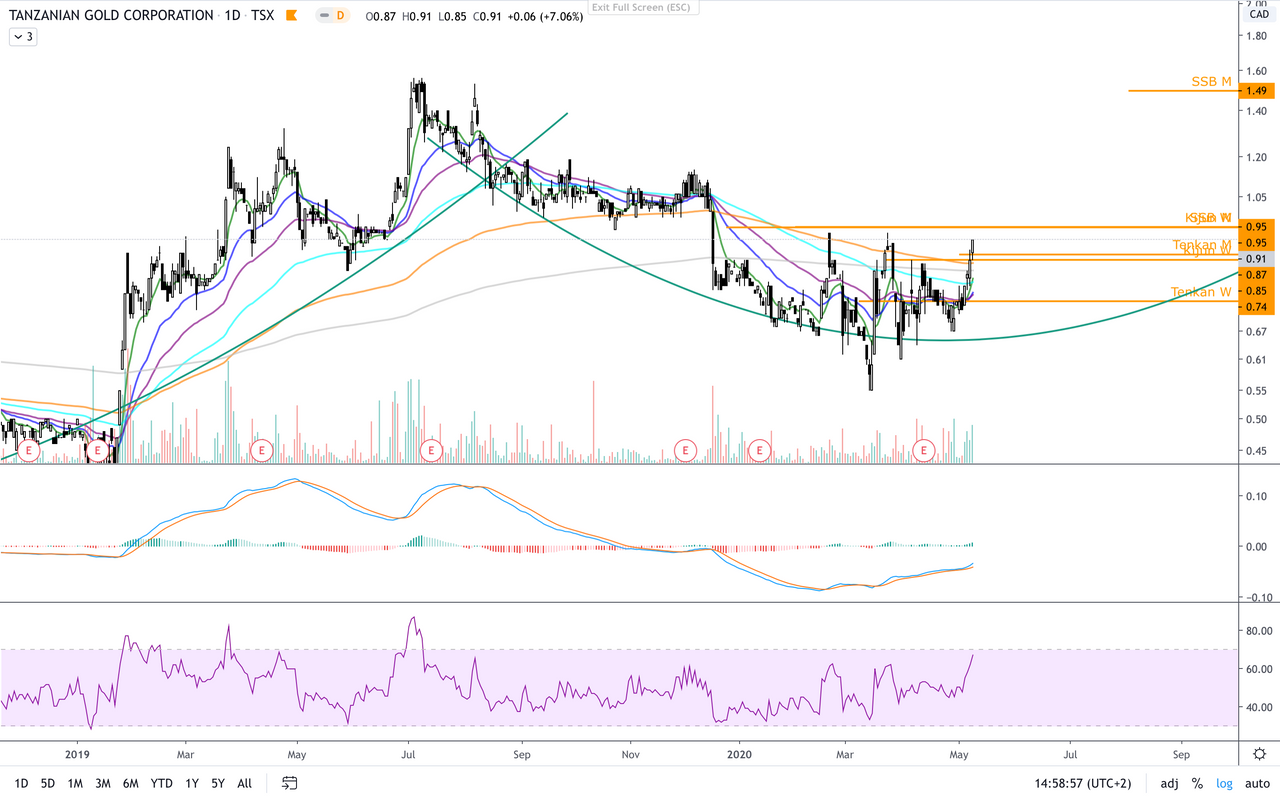 Conclusion : this asset is slowly building its handle but I wouldn't buy too soon for short term as daily RSI comes to an overbought region at the same time price is closing to Ichimoku's strong resistances. We may still have one push back before the beginning of the climb. To insure a long term investment I'll still wait for the handle to more defined. But the objectives remain the same : +500% on the weekly triangle and +350% on the C&H formation.
Kirkland Lake Gold - KL
Monthly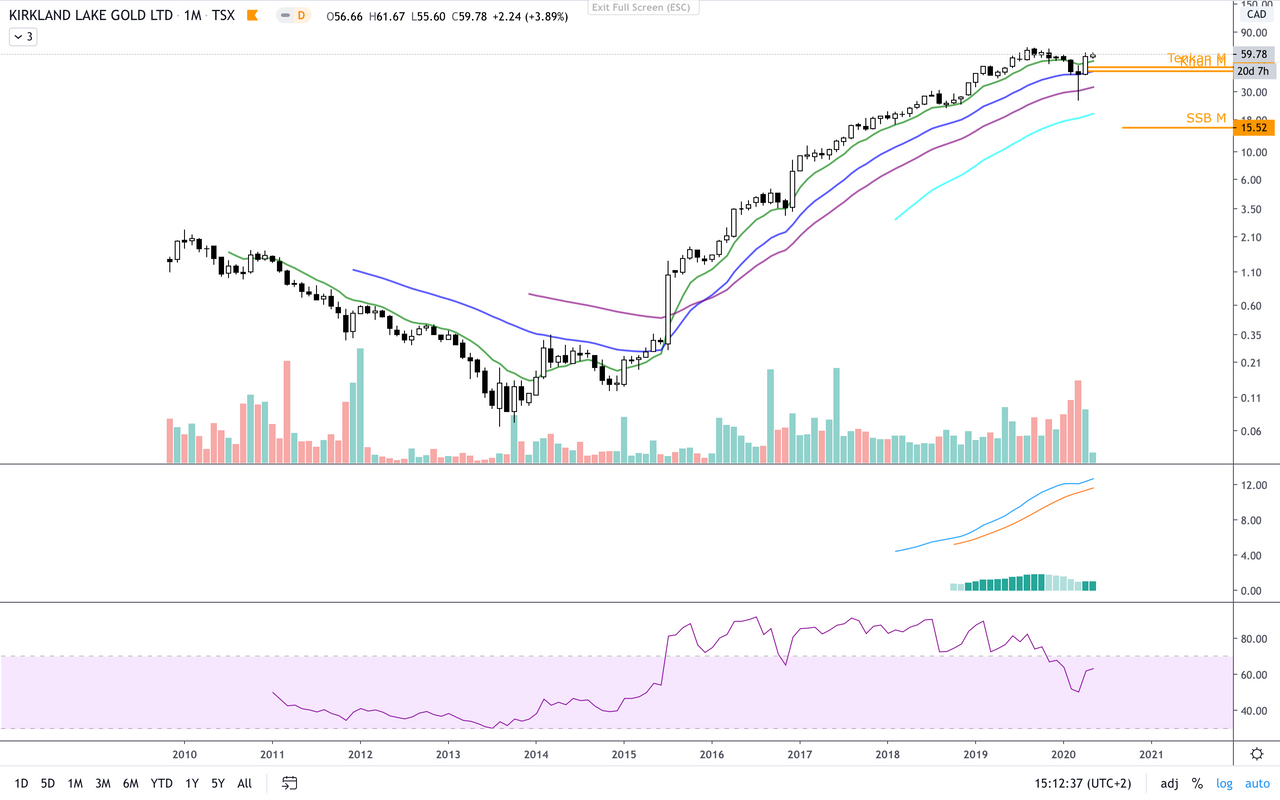 Weekly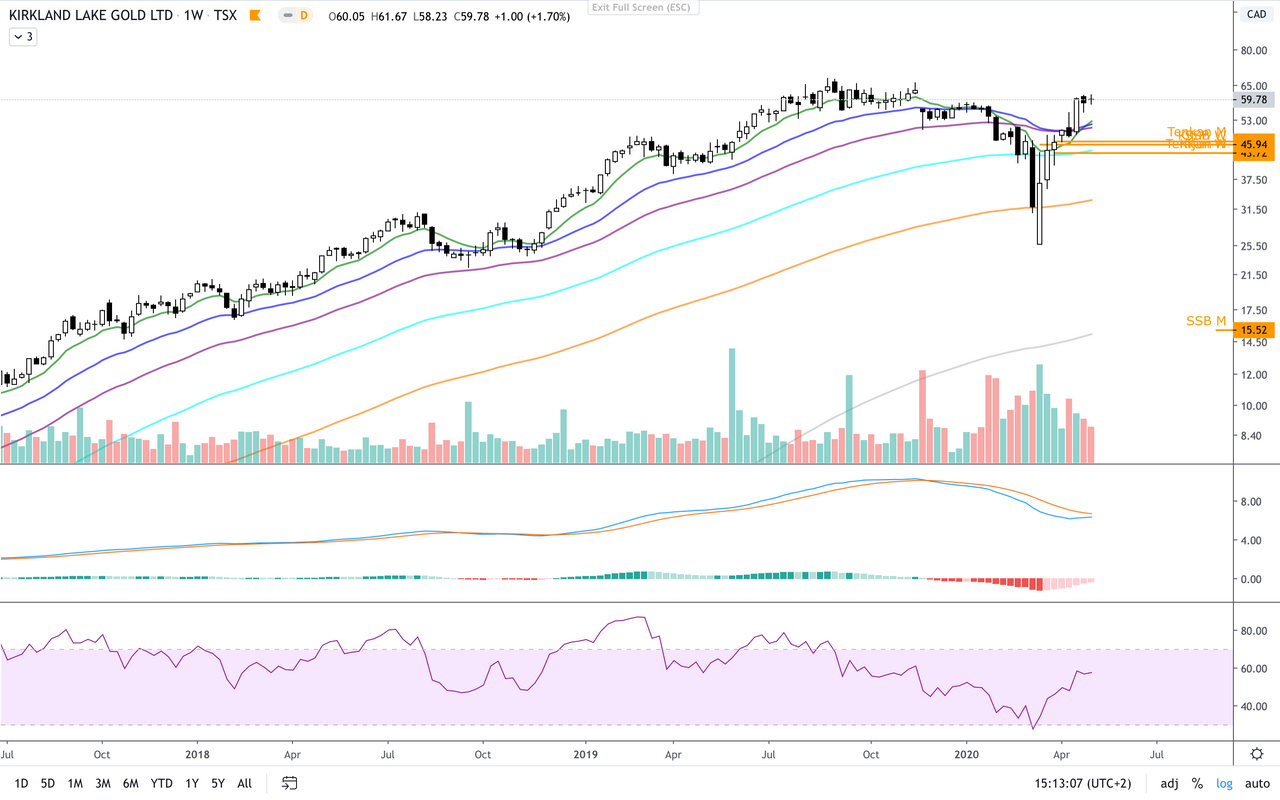 Daily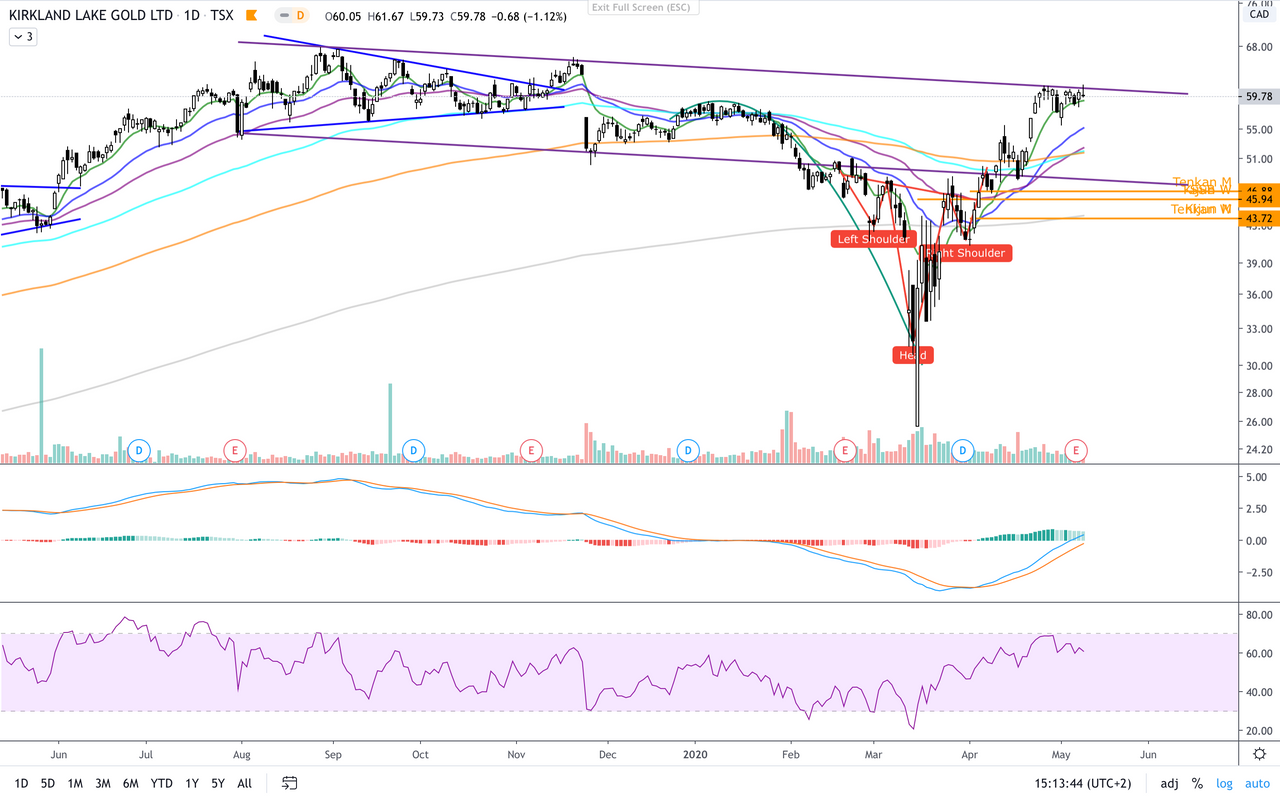 Conclusion : first objective in the previous letter was to reach back top of parallel channel, and it did perfectly. For now price is stuck into that channel. Regarding news published about Kirkland Lake, it is very likely that the price should now not fall back. But as miners are always linked to gold price, I still keep it into my watch list waiting for a strong buy signal as long as Gold isn't completely decided on the way it is going to take.
Yamana Gold Inc. - YRI
Monthly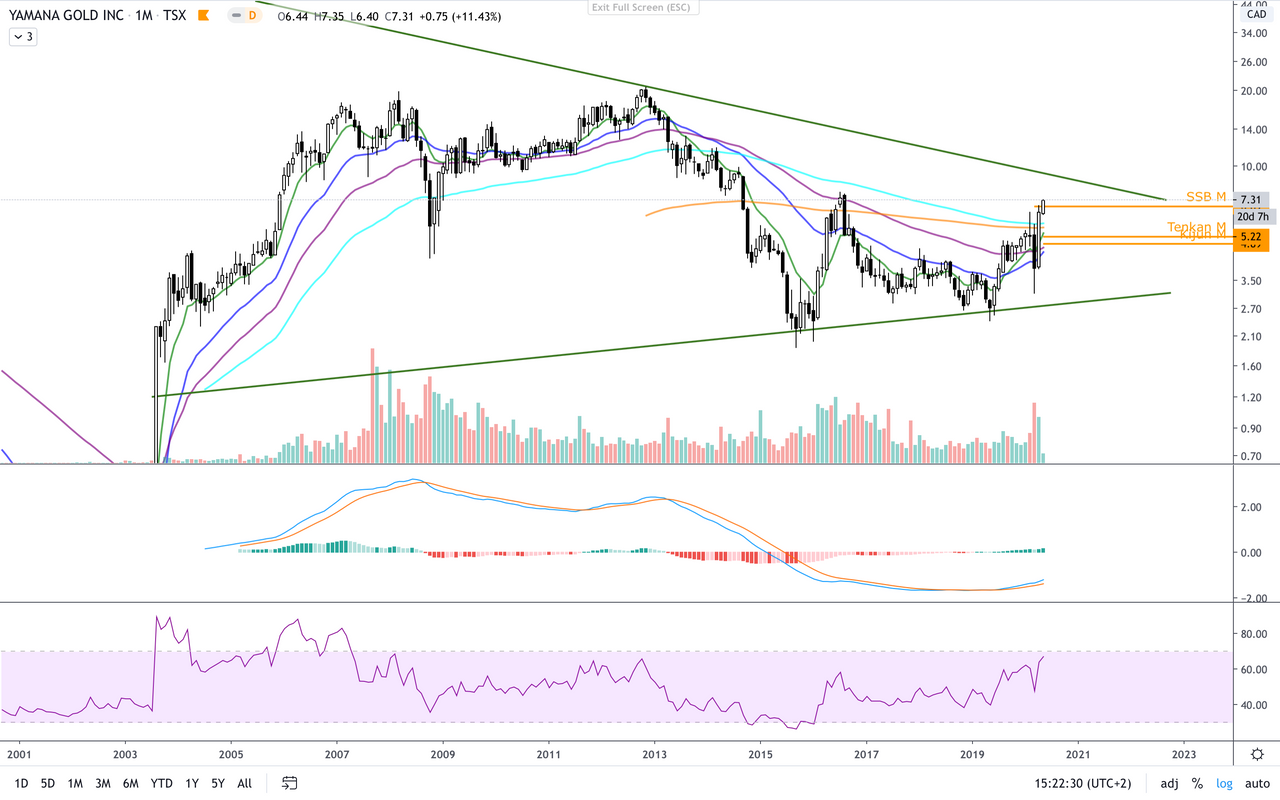 Weekly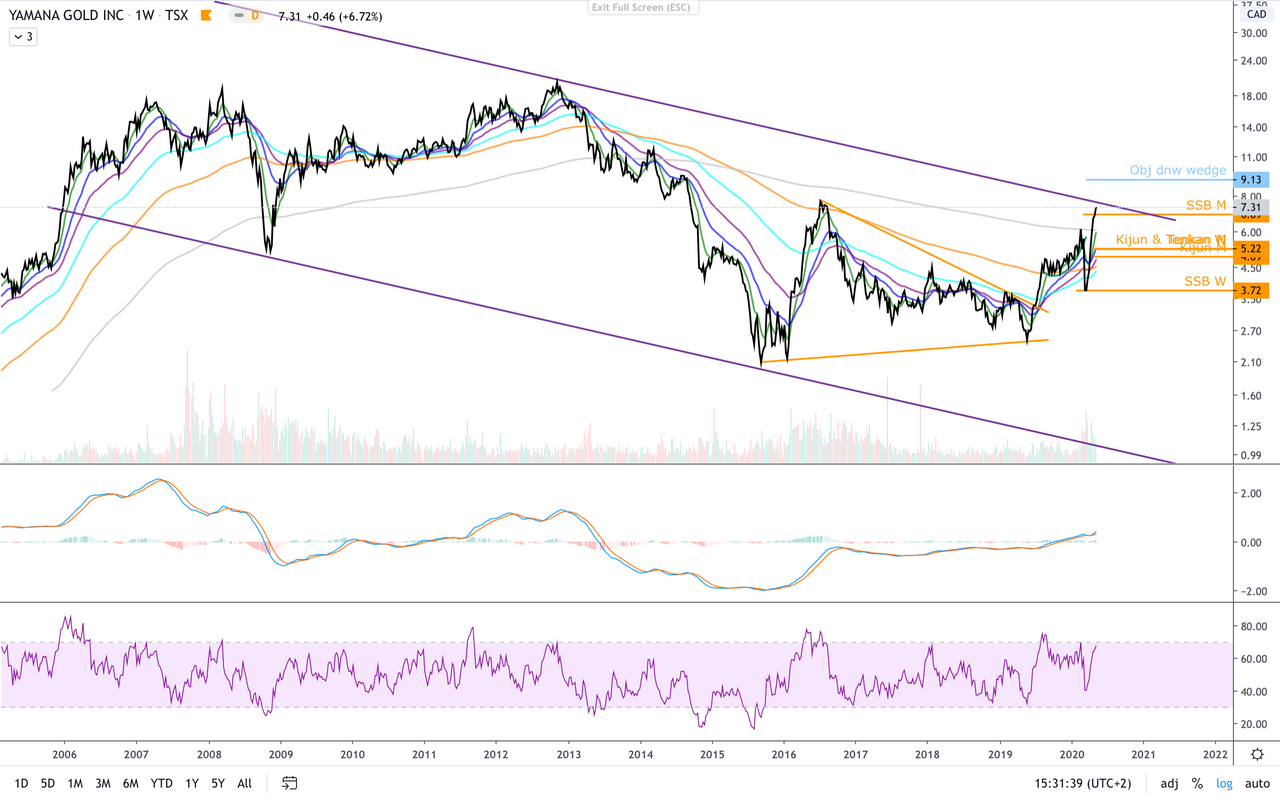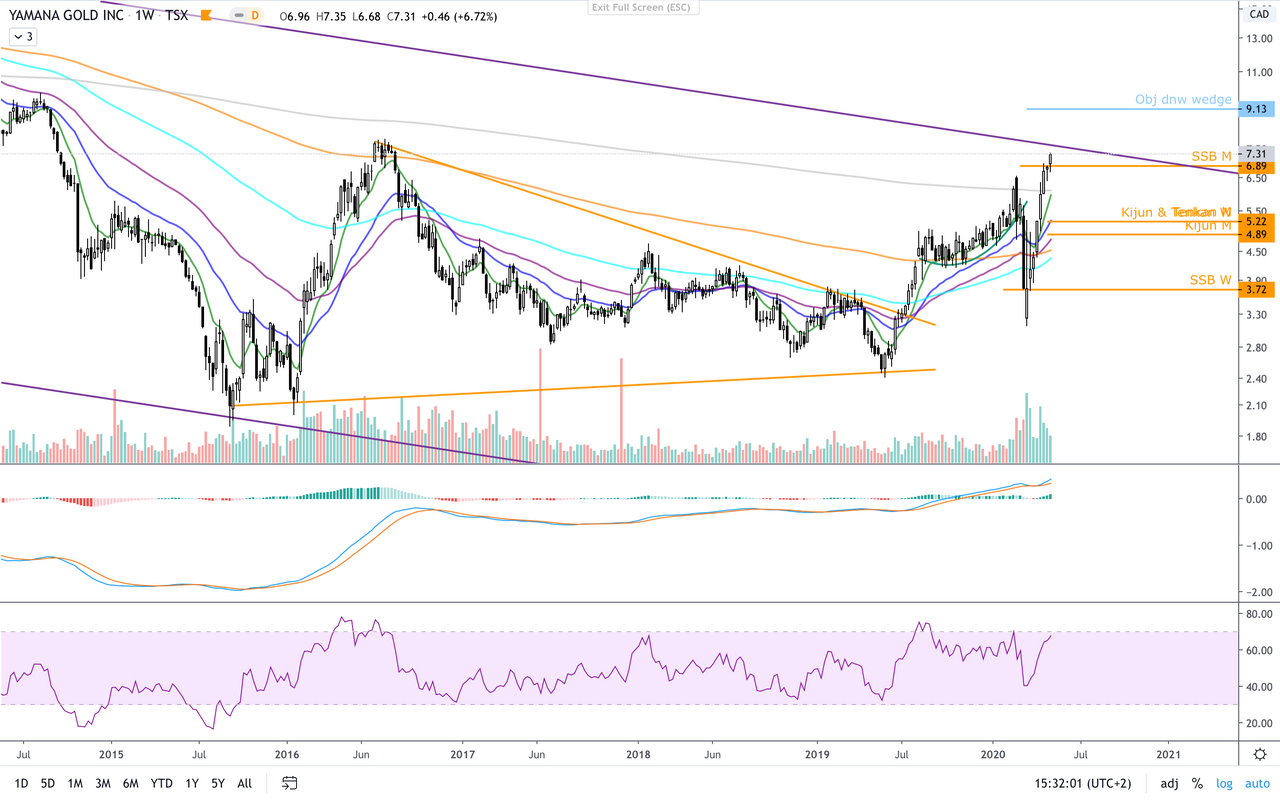 Daily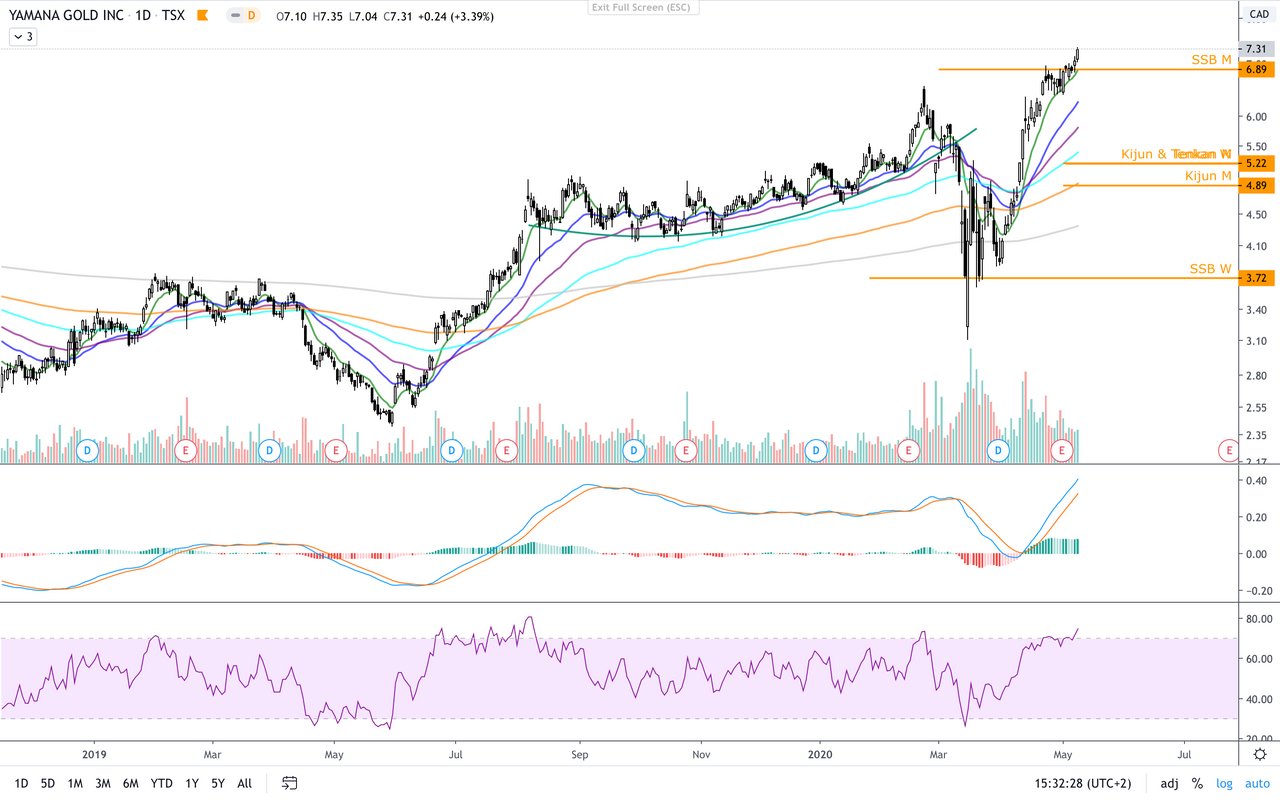 Conclusion : in the last article about the watch list we discussed two possible strategies.
First was to buy as soon as the price crossed EMAs 26 & 50 and those EMAs reverse into growth position (26 above 50). For those who followed this strategy you should have now be in position with between 25% and 45% return into your investment. Then congrats ! At this point I wouldn't sell as the long term is now nearer but some signs must be closely followed (see in the second strategy).
Second strategy was to wait for the monthly price to close above the symmetrical wedge. This strategy still stands. And if the weekly dnw wedge confirms its objective with strong supports than the price breaks above the monthly symmetrical wedge.
Eldorado Gold Corp. - ELD
Monthly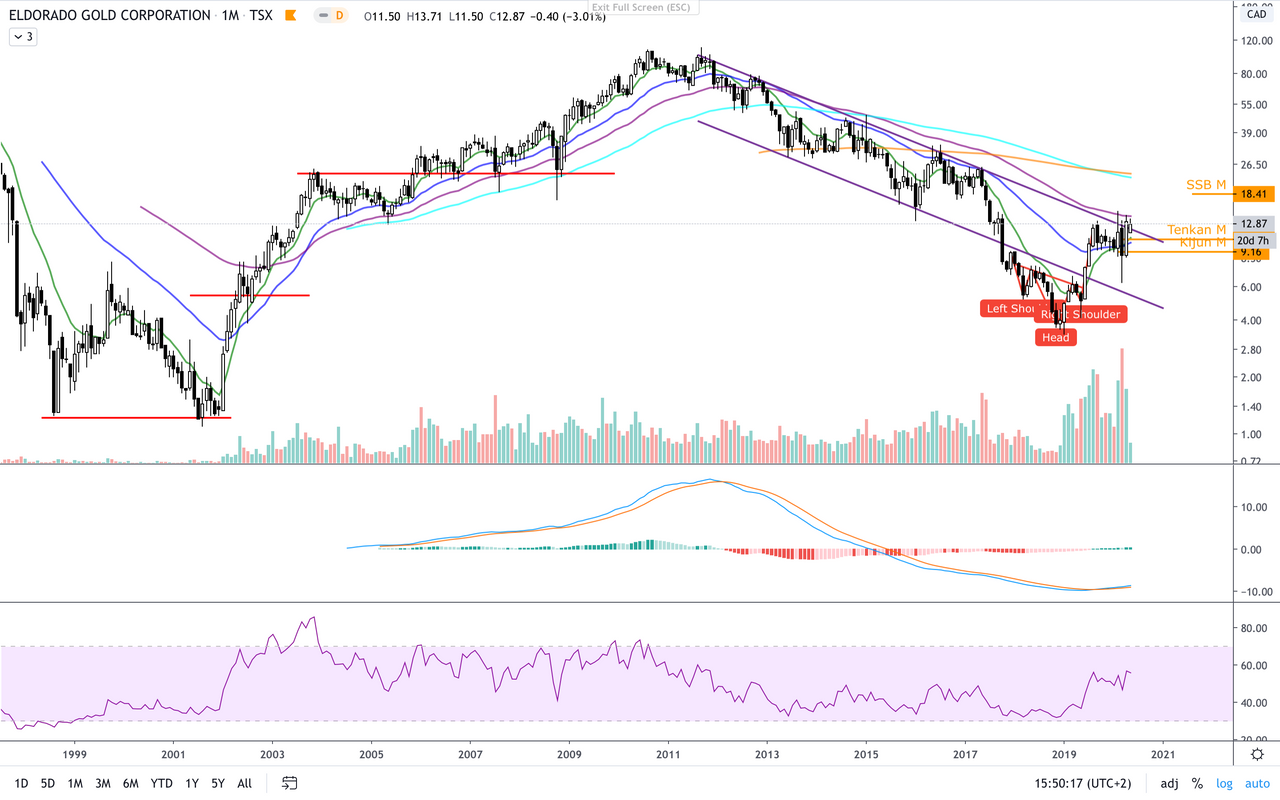 Weekly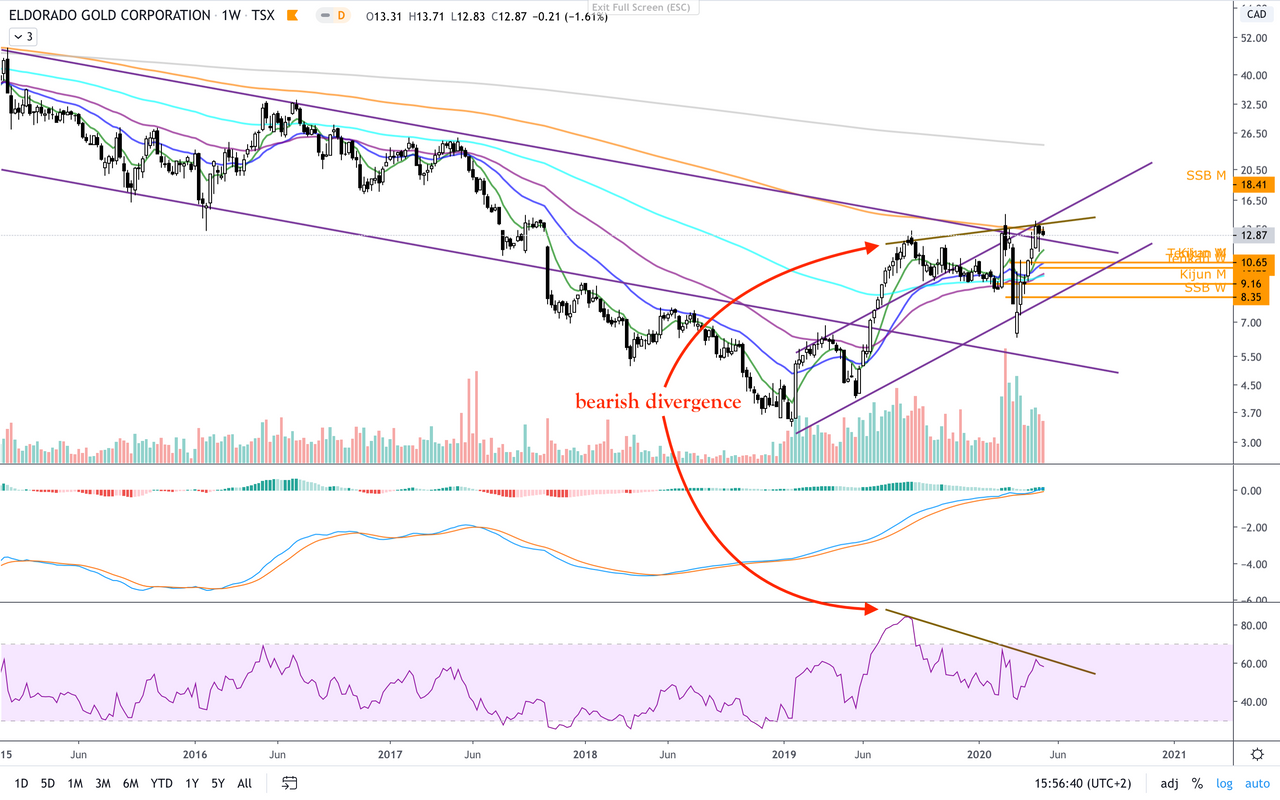 Daily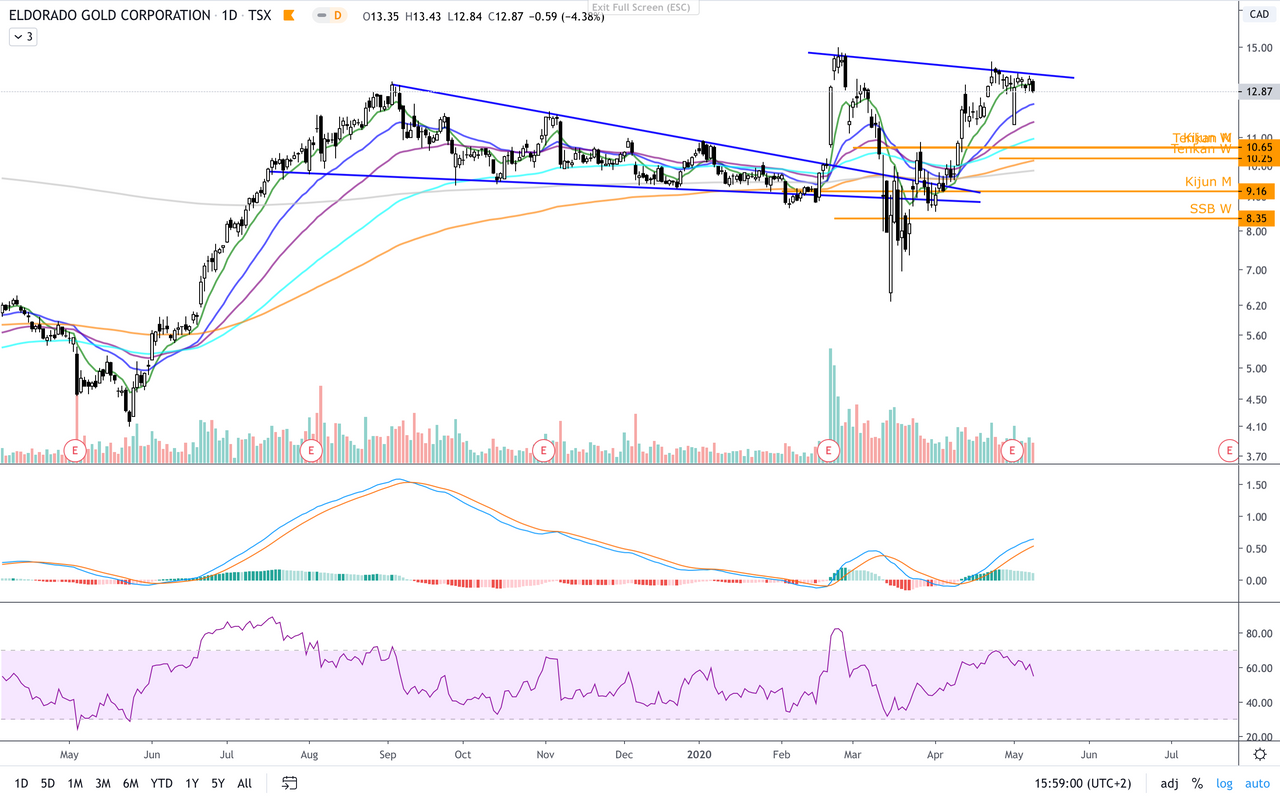 Conclusion : for Eldorado Gold Corp. the objective was to re-evaluate the investment as the price came above the parallel channel. Honestly I didn't expect it to come so soon. Monthly & Weekly prices broke above this channel and are now standing above it but the bearish divergence somehow disturbs me a little and prevent me for taking a shot at this point. I prefer to keep it into the watch list and still carefully analyse what comes.
Agnico Eagle Mines Limited - AEM
Monthly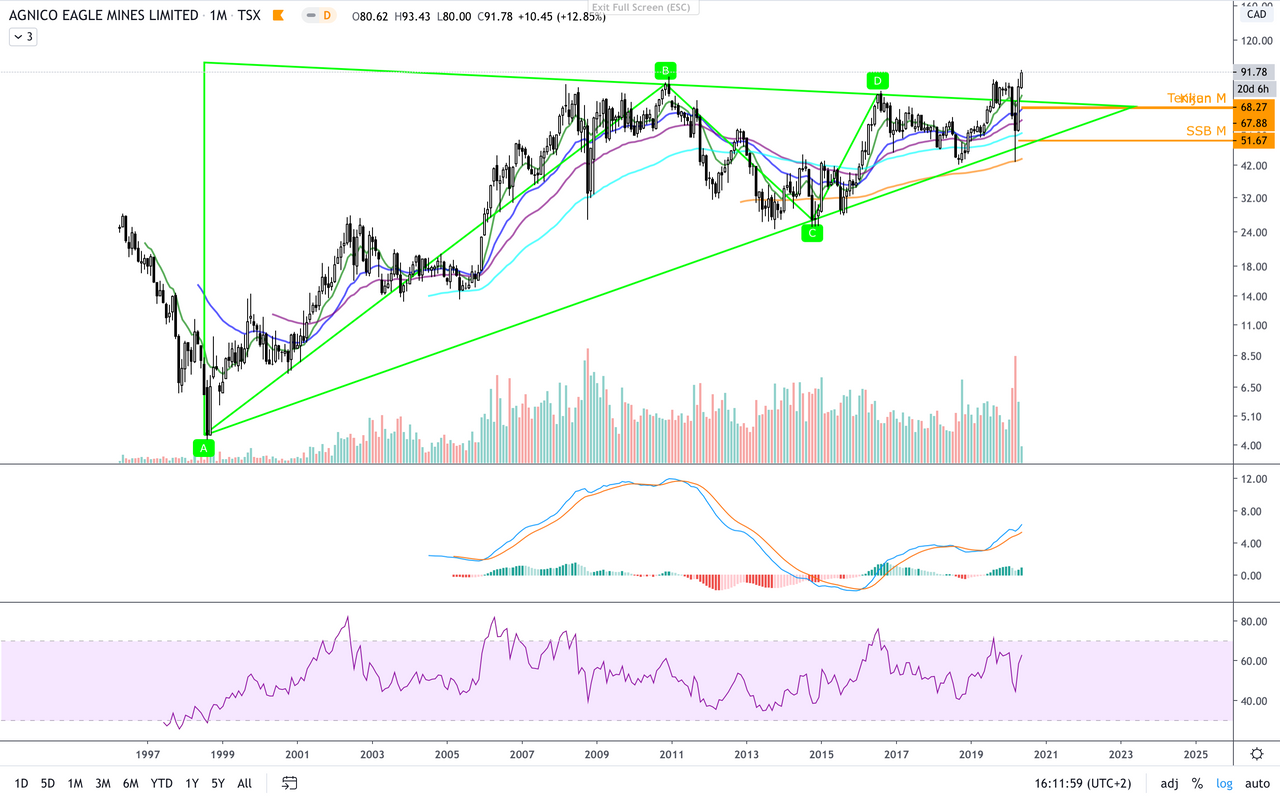 So for this mine to remember the last analysis we were waiting for the monthly price to break up the upw wedge. And again I didn't expect a so quick movement but it did it !
Weekly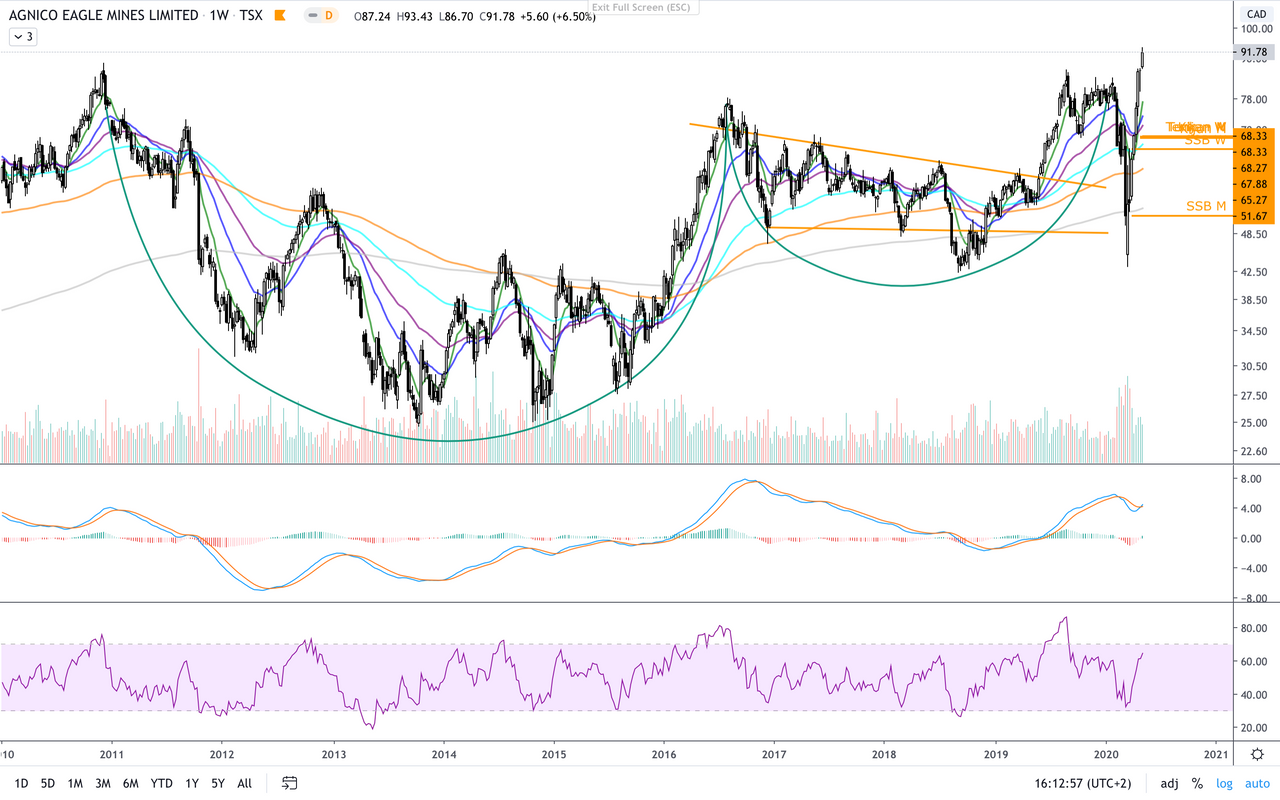 Also the weekly price came above C&H again and ignored the crisis shot bringing back in the game the weekly objectives.
Daily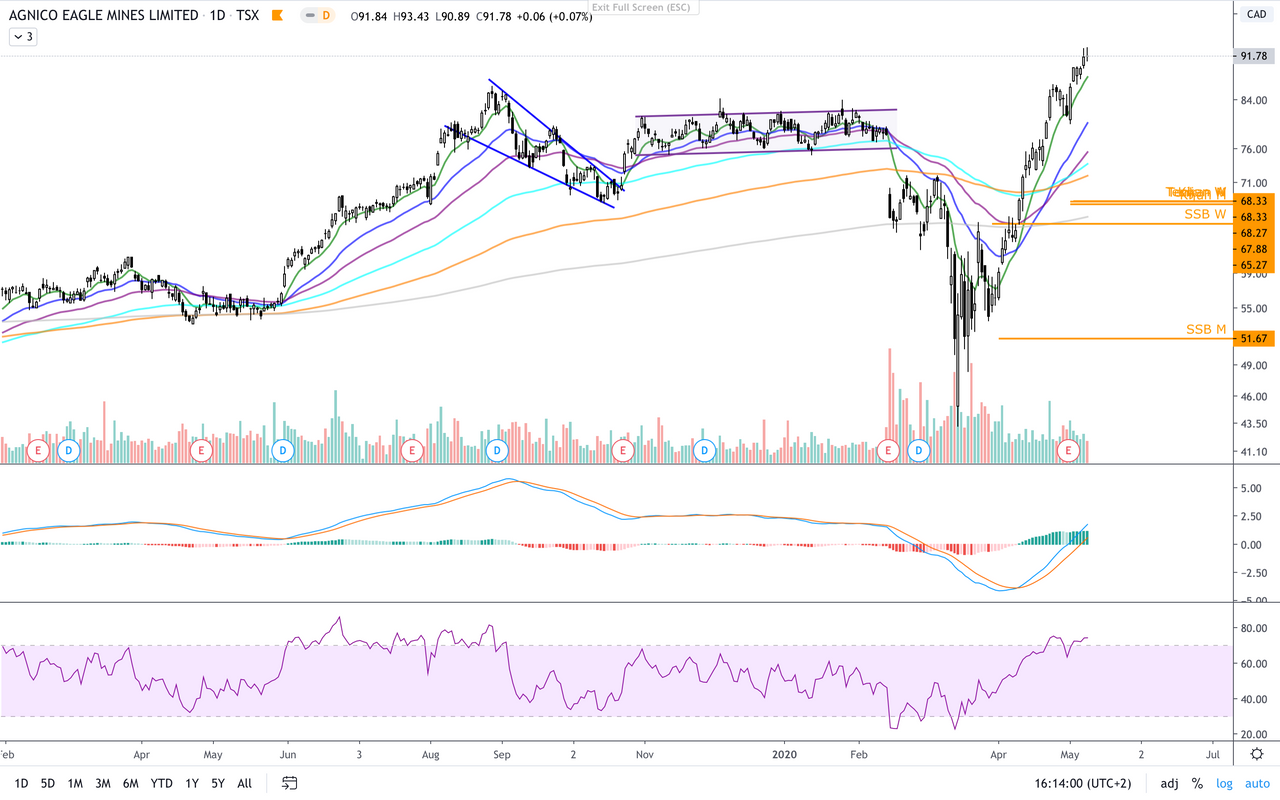 The daily price may be a little overbought meaning we could have a week of correction coming upon but gold holds then it should not stop its run.
Objectives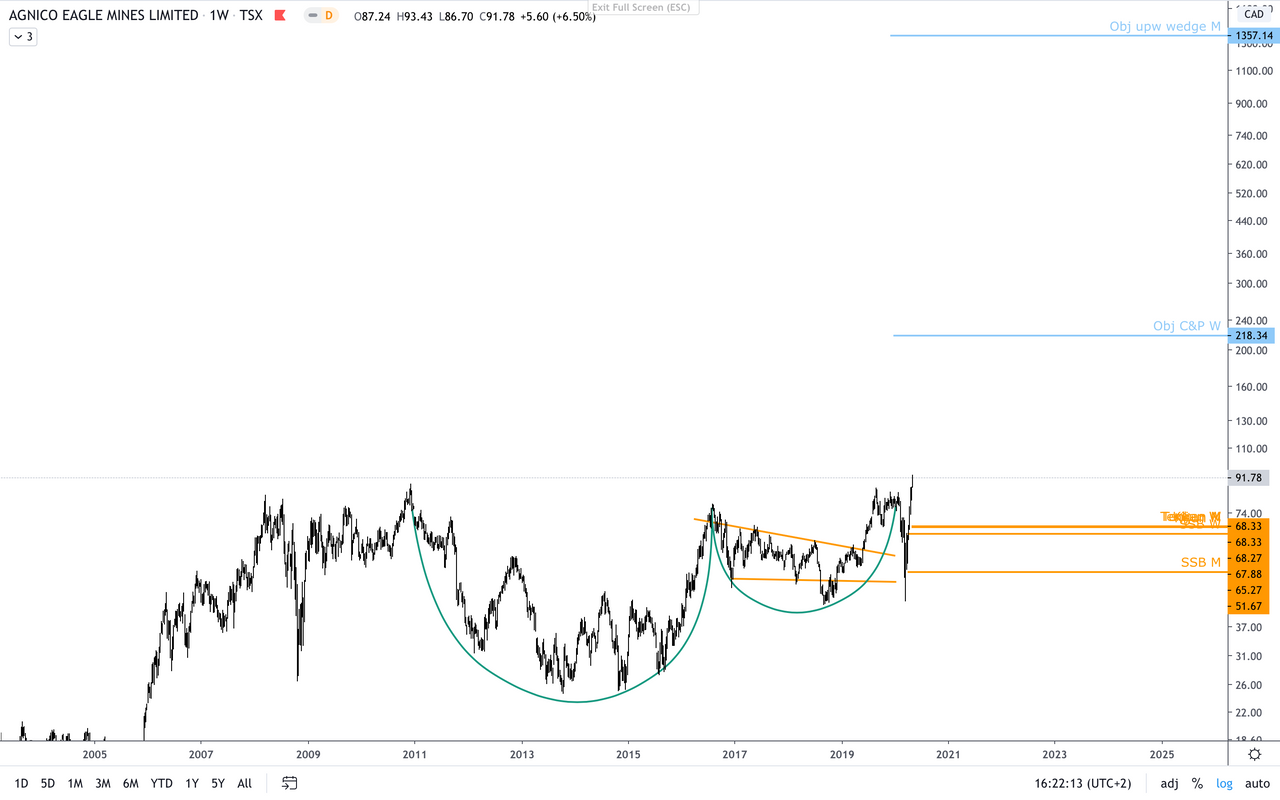 This picture is the price in monthly TU but with the monthly upw wedge and the weekly C&H objectives. Next stop should then be around 220 $CAD !
Conclusion : AEM is going to leave the watch list for the next article if it keeps its position and will enter the favourites list. It is now time to buy and hold !
---
Final word
Quite a few changes happened during the month. Some mines appeared to be stronger than expected and even became actual investment opportunities. I will now have to re-evaluate all the positions to try to bring some newbies that could replace the ones leaving the watch list. I'll try to keep the amount of investment opportunities in every article around a number of 5. In the actual version of the Favourites list we already reached 6 different positions. I will concentrate on keeping those lists simple and efficient.
Next articles in line for publication :
ETH & BTC - Pre-halving update

Actual market and how it is behaving right before the Bitcoin halving.

Gold vs. Silver - Any preference ?
Stay updated threw the different channels :
---
Don't hesitate to tip to support my work and help my researches. For donations, here's my ETH address :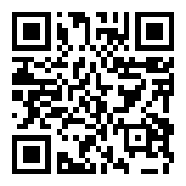 0x3afdd2FEdd6F2DA6Bb7EB8fc5F901eC12dE8B239
---
Previous editions of the Gold miners - Watch list :