This article is an update of the one written on Wednesday 25th of March, Gold miners - Is the crisis over on their side ?

From now on, I'll share an update of my Favorites list every first week of the month. Those articles will always contain the list updated (as some may join and others may leave the list) and the analysis updated. At the end of those articles will be listed the history of the article for those catching up in the middle and wishing the origins of one or an other of the listed mines.
---
Plan
Metalla Royalty - MTA
Kinross Gold Corp. - K
K92 Mining Inc. - KNT
Barrick Gold Corp. - ABX
Newmont Corp. - NGT (NEM in the US)
Final word
---
Metalla Royalty - MTA
Weekly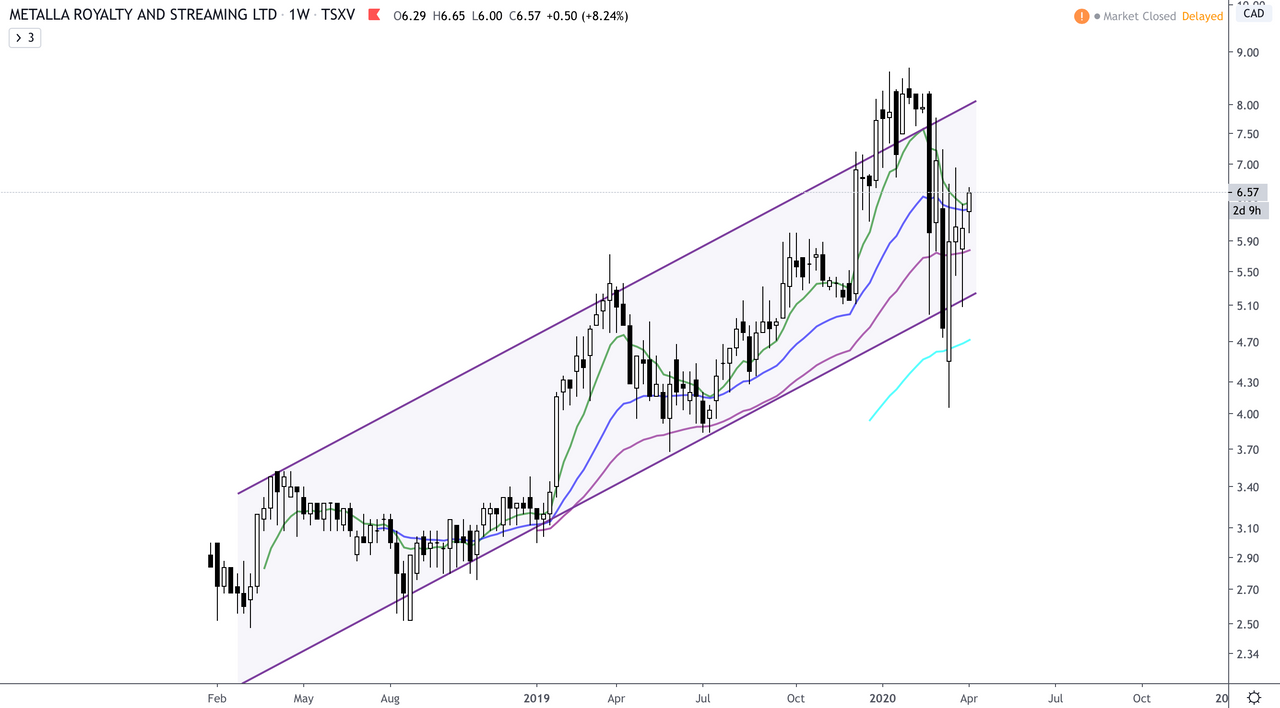 On the overall movement, weekly graph keeps its position into the upward parallel channel.
Daily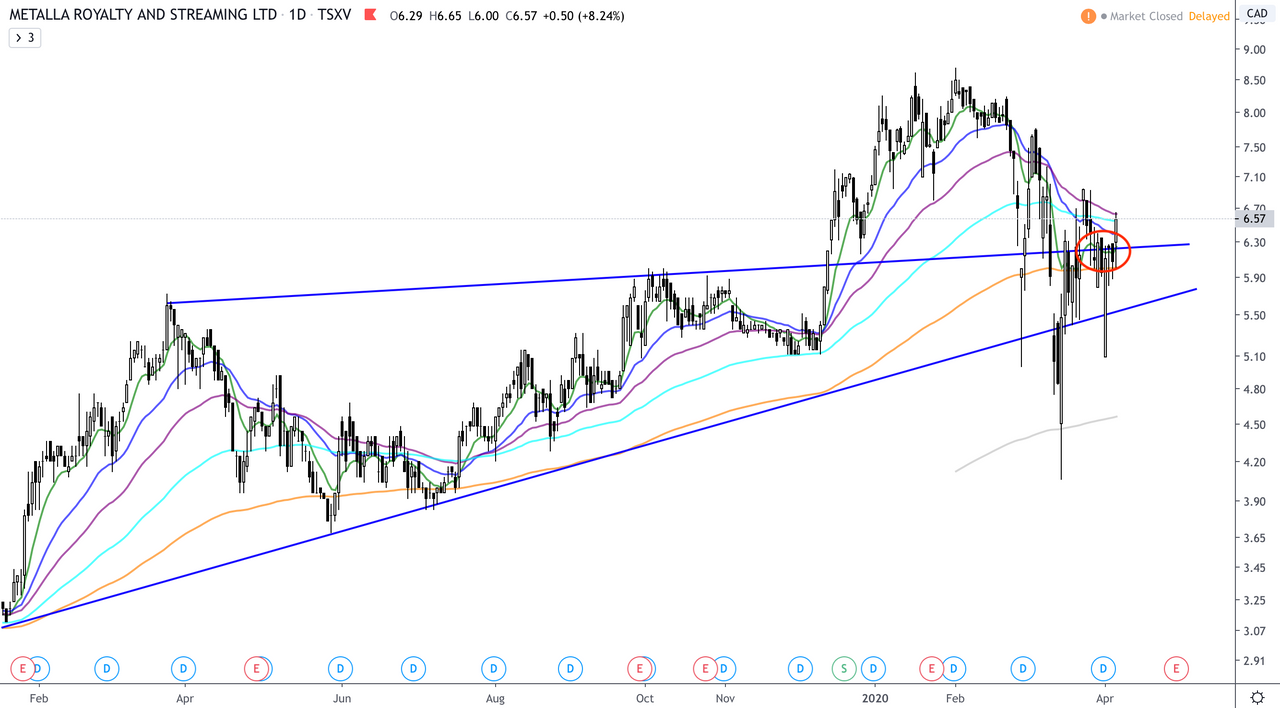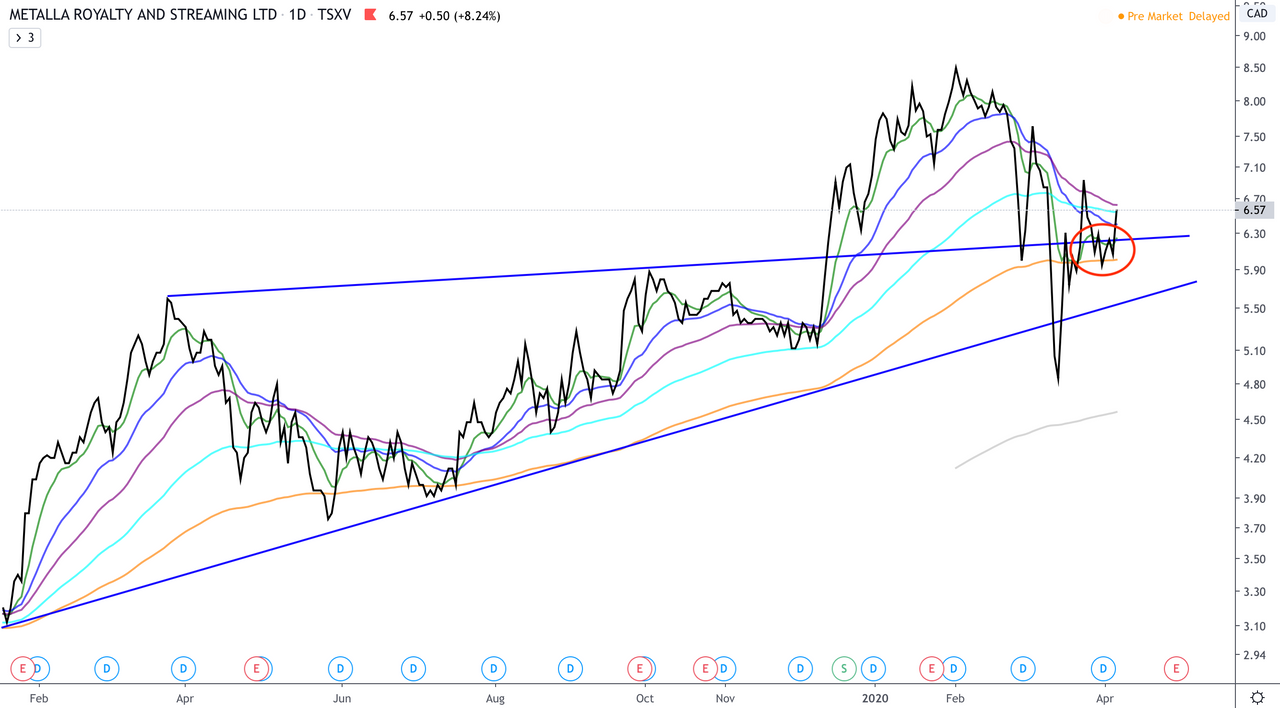 The daily movement retested the upward angle's limit (better seen in the linear graph). Target of +120% in a 6 month time lapse designed by the angle stays actual.
However, growth is confirmed by EMAs 26 - 50 crossing (royal blue and purple lines respectively). For now they're still upside down.
Conclusion : buy zone is active on the technical drawings but for more secure investment I'ld wait for the EMAs to give the signal. It all depends on how you trust gold to continue its ascent.
Kinross Gold Corp. - K
Weekly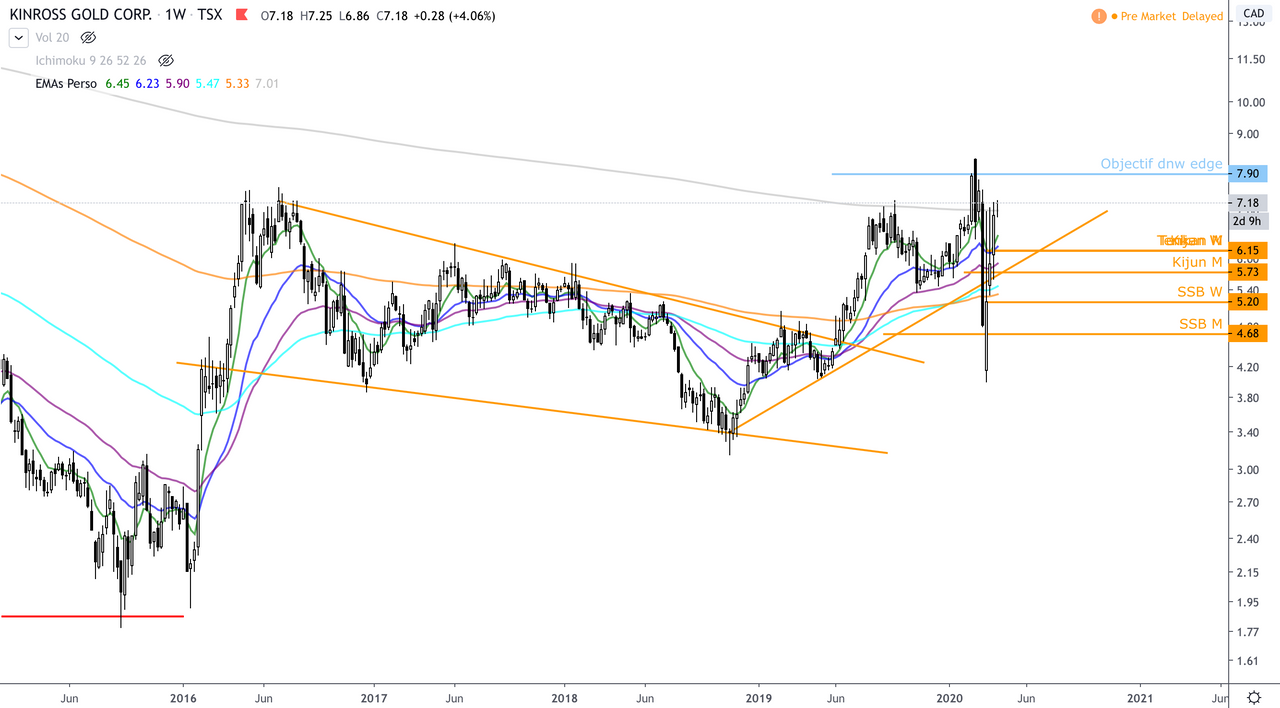 If you remember well, Kinross Gold Corp had to close some office in Canada due to a virus outbreak among their employees. I was somehow in anticipation waiting to see how would the market react to such news. I couldn't know if gold's power would be stronger than fear. But it sustained its very good position.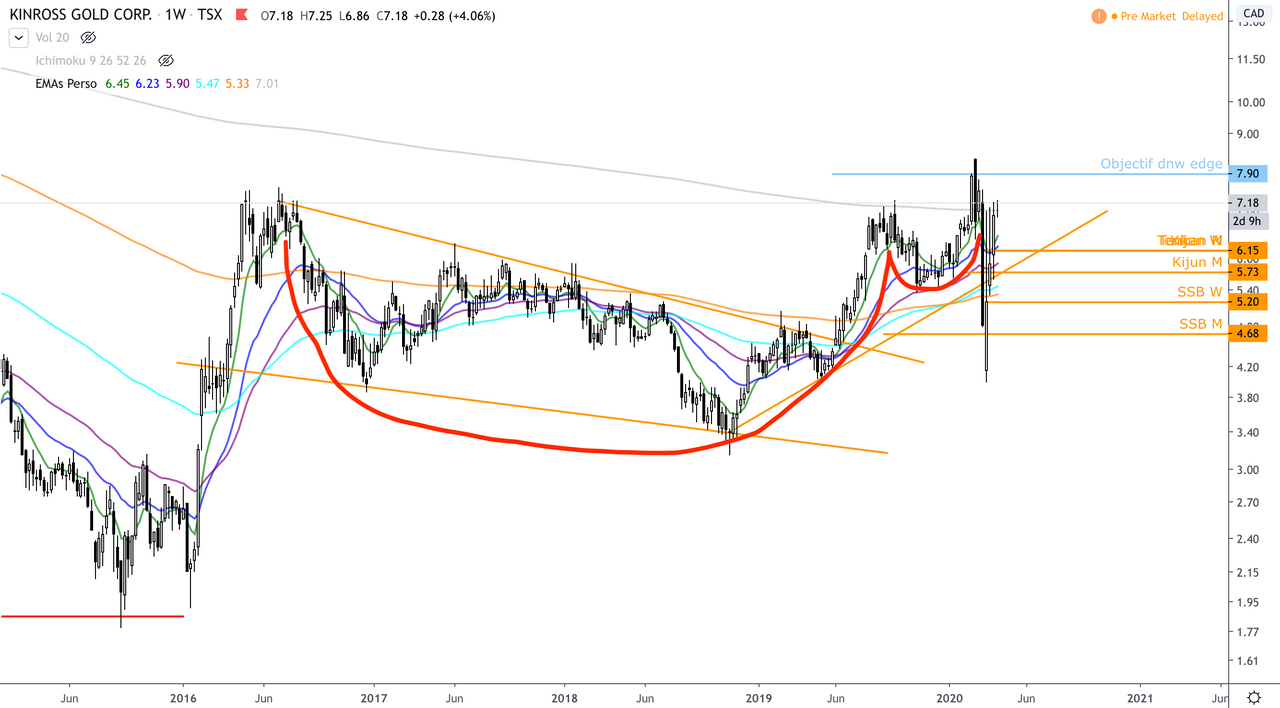 Also in my last article it was hard to find a new goal for this mine. I think now that we can take in consideration the monthly graph if the price closes above its angle's top. But also I should have taken in consideration the cup & handle formation with an expected target of +110%.
Daily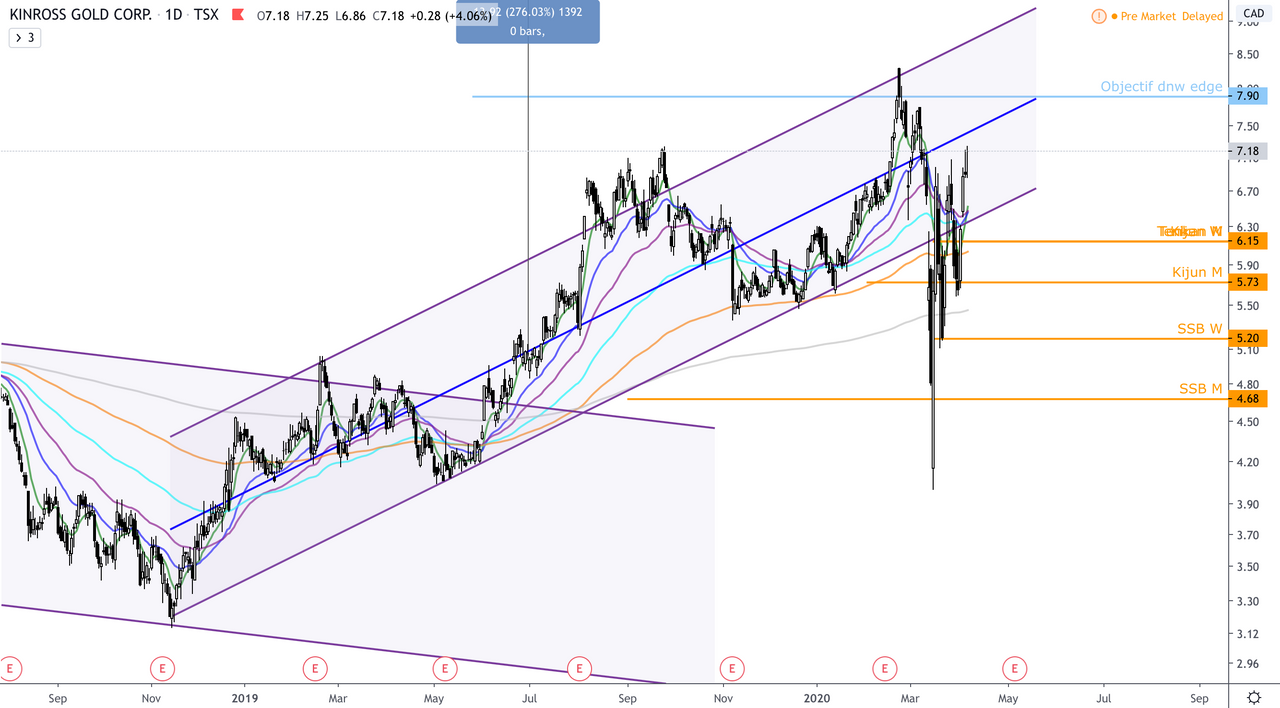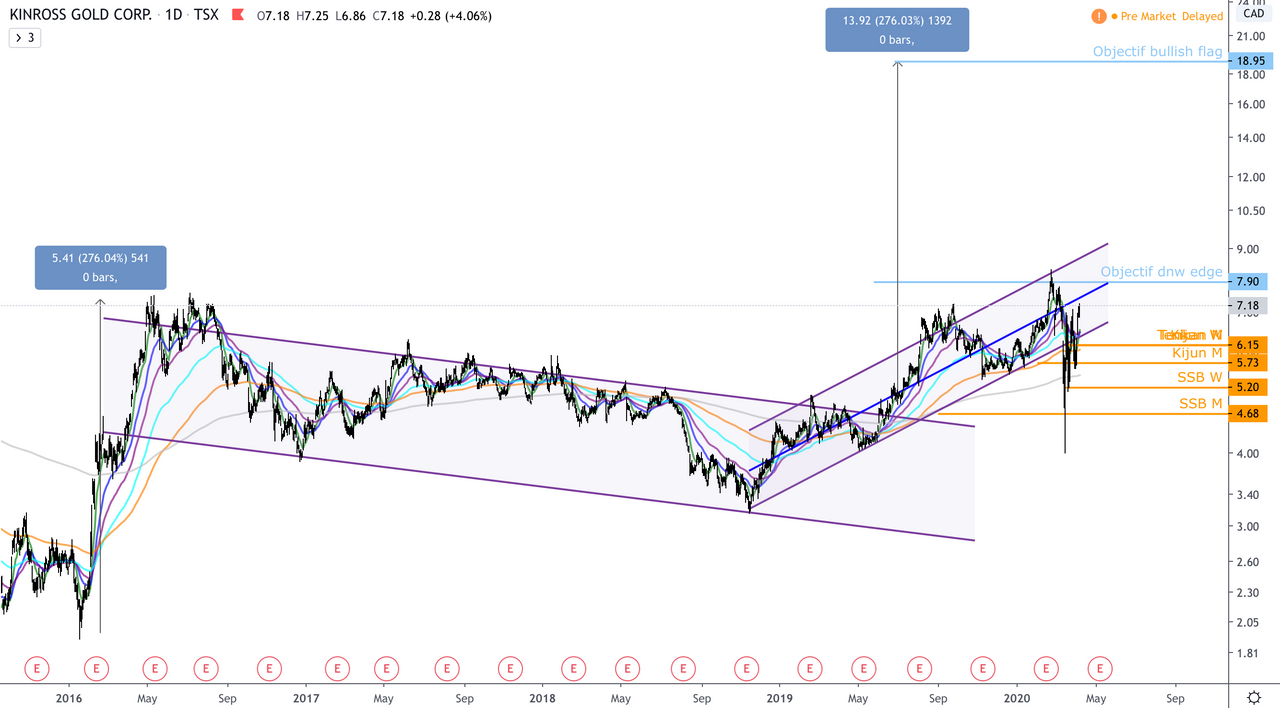 On the daily time unit, bullish position is now confirmed with EMAs 26 - 50 crossing and the price back in the upward triangle without ever cancelling the bullish flag objective of +280%.
Conclusion : the buy zone is now and for a long term hold.
K92 Mining Inc. - KNT
Weekly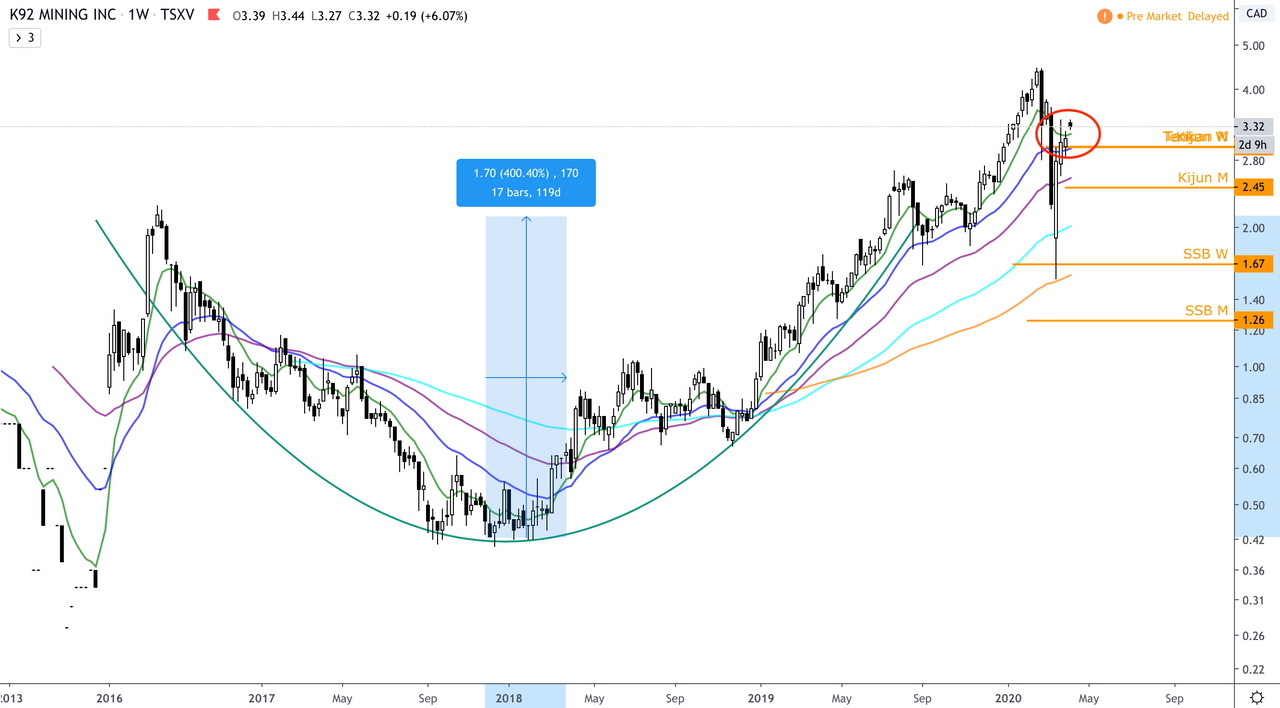 Weekly price managed to stay above Ichimoku's supports and for now stays on the run for a massive +400% due C&H catapulting effect.
Daily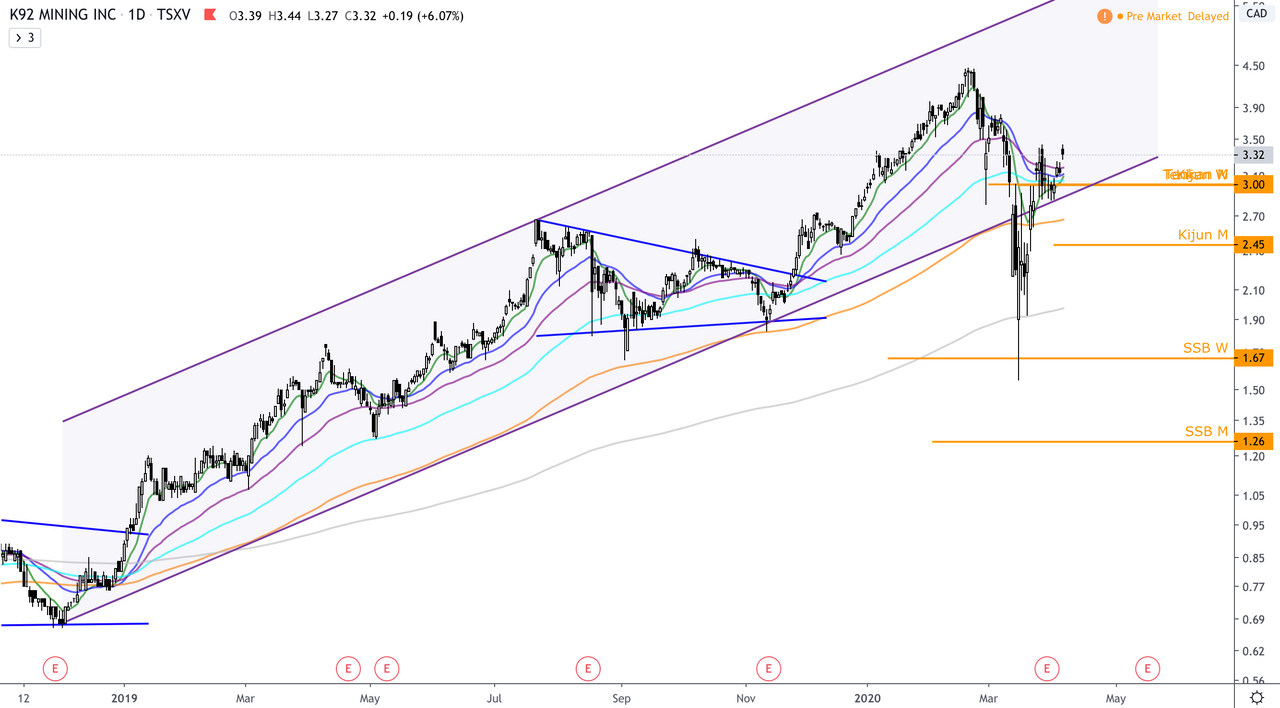 Price climbed above EMAs 26 - 50 but still retested Ichimoku's supports. EMAs 26 - 50 are still upside down but if the movement continues this position should last long.
Conclusion : EMA 26 crossing over EMA 50 daily will be the signal to buy and hold.
Barrick Gold Corp. - ABX
Weekly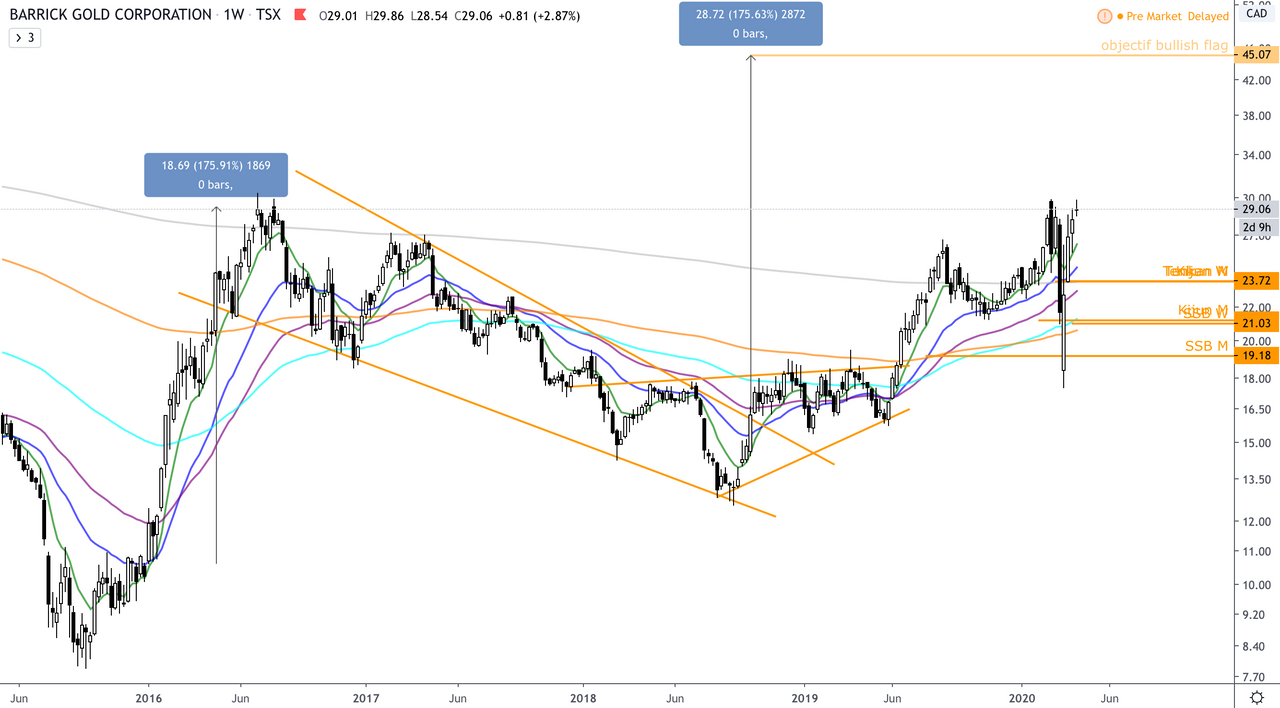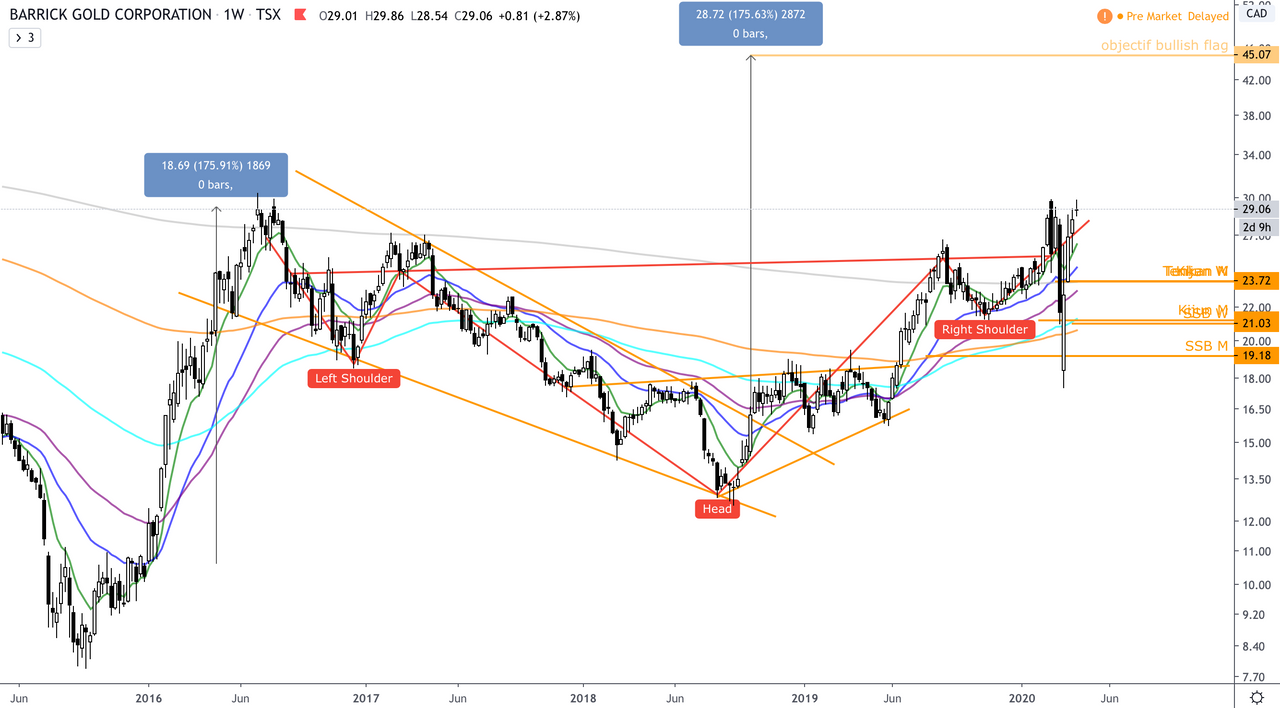 First important point is that ABX maintained its position above Ichimoku's supports with less variabilities in the price. This confirms its position into the bullish fanion objective of +175%.
Second, it formed an inverted head & shoulder formation reinforcing the objective.
Daily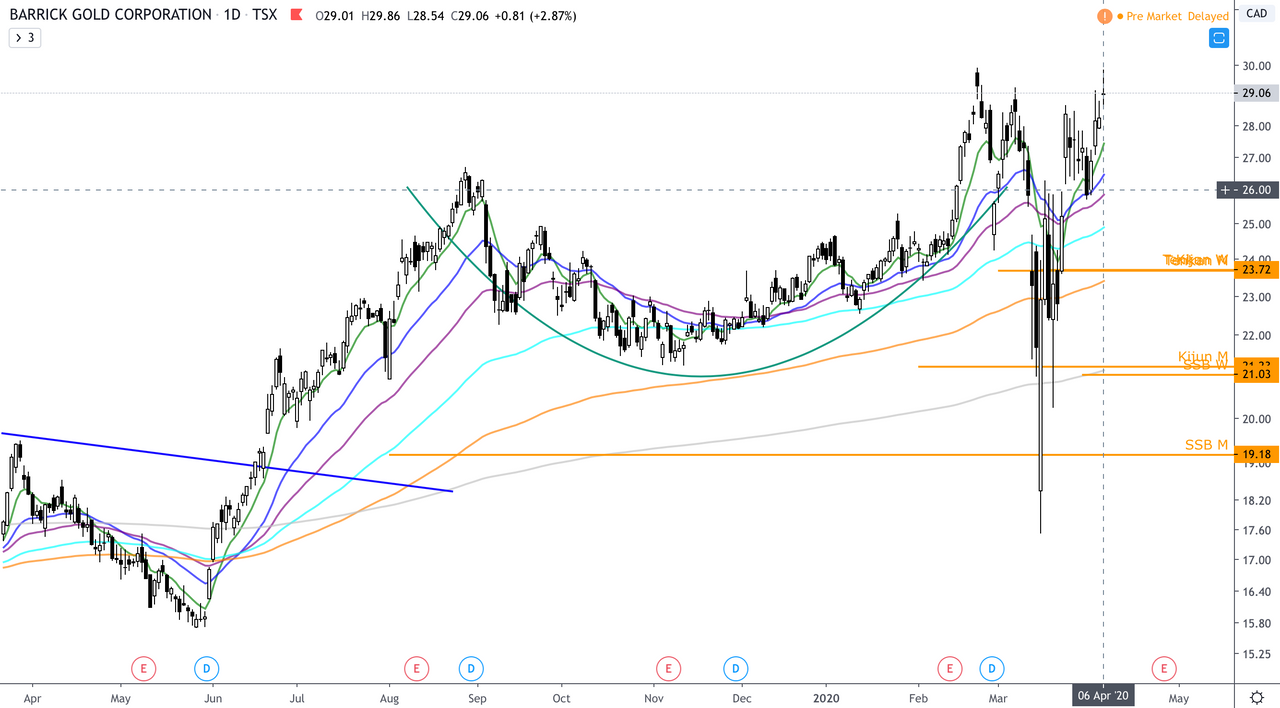 The daily graph came back down a little and confirmed the 26 $ support that is also the top of the cup.
Conclusion : on the short term we have a C&H formation offering a +24% effect, and on the middle term a bullish flag and an inverted H&S offering +175% effect. We are now into the buy zone with all signs on green. Buy & hold.
Newmont Corp. - NGT (NEM in the US)
Weekly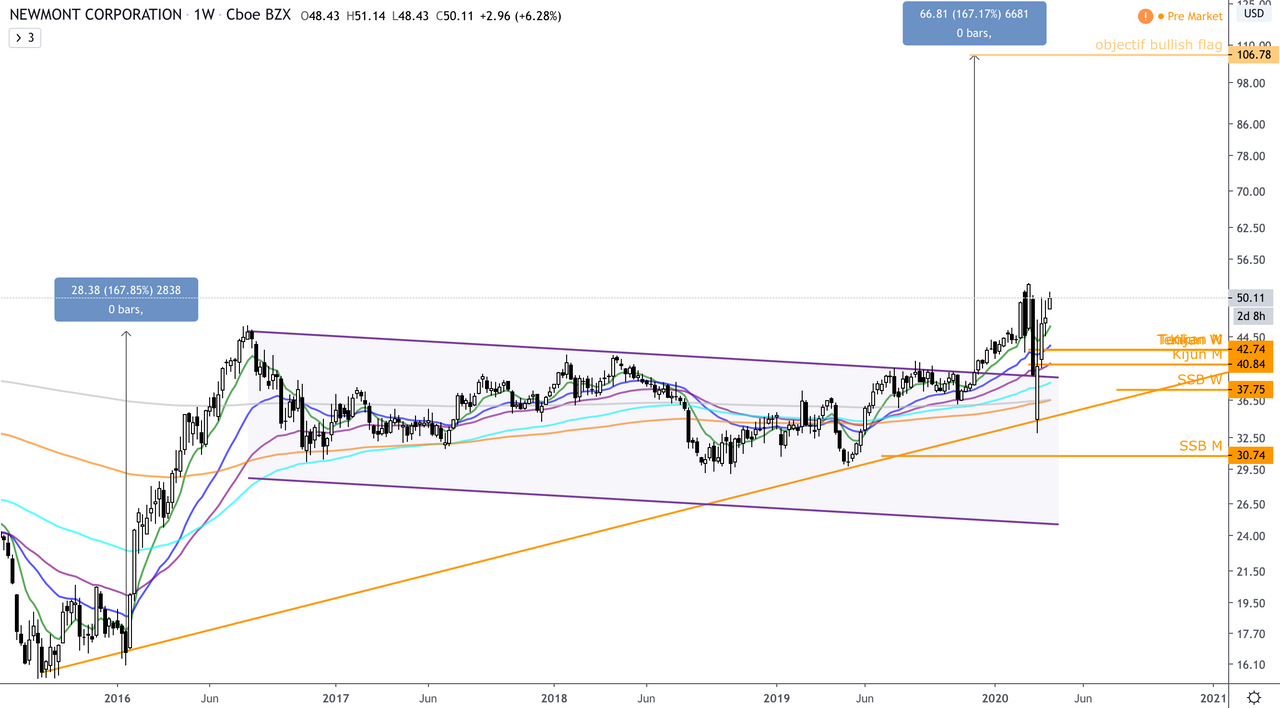 On the long term Newmont US has retaken its way with the bullish flag and confirms its objective of +167%.
Daily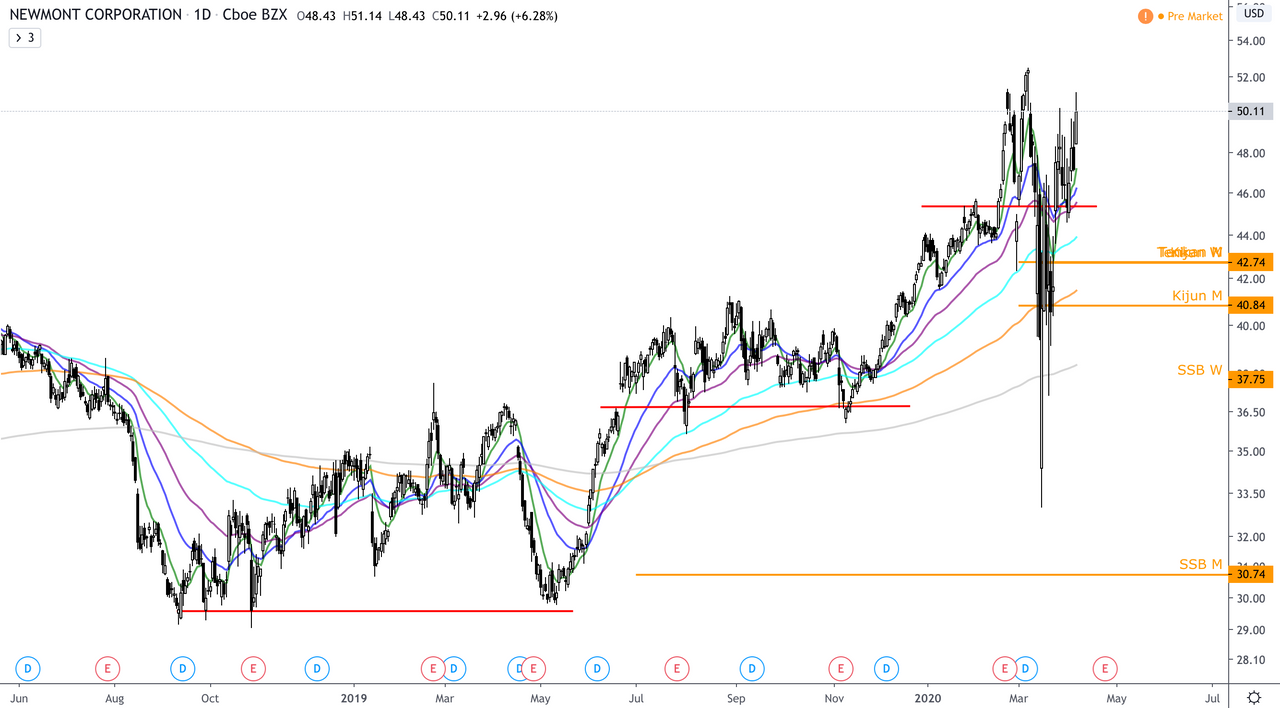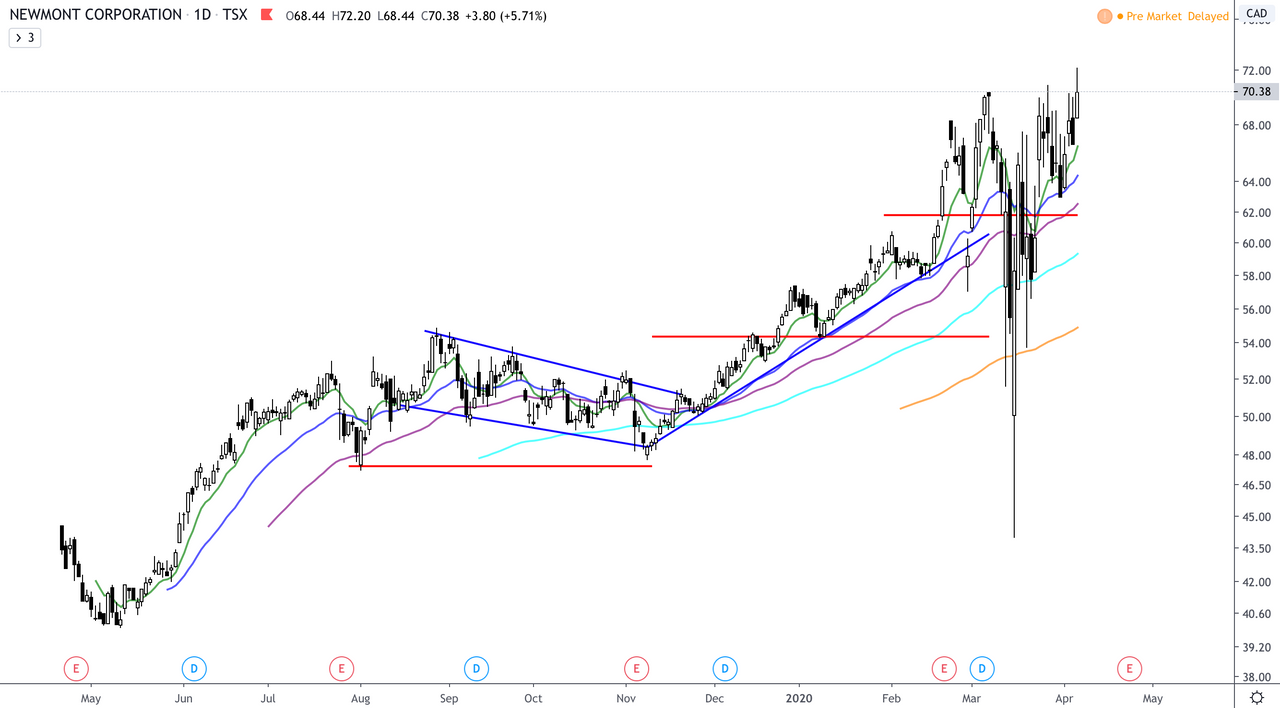 The first one above is Newmont US daily and the second one is Newmont CAD daily. Both confirms the long term position of the long term and offers perfect entry points at this very moment as they made a perfect rebound on their double bottom objective.
Conclusion : all signals are green today. EMAs are on the right side, price is evolving above them and above Ichimoku's support, and gold is running up. Buy & hold now.
---
Final word
As promised, some series of article began and will be followed from now on. For me this is a new massive project that will take lot of time and energy but this project to share investment strategies to protect portfolios really worth it. Don't hesitate to tip to support my work and help my researches. For donations, here's my ETH address :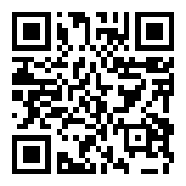 0x3afdd2FEdd6F2DA6Bb7EB8fc5F901eC12dE8B239
The first series concerns gold and gold miners (all articles included into the series are listed at the end of this article). From now on this series will be called Gold miners - Favorites list [Month Update] and will be completed by an other one : Gold miners - The ones you want to keep an eye on. An other series will follow on the silver market and miners. Also the articles about crypto investment will continue to be written and published.
In the next days will come two articles :
Gold miners - The ones you want to keep an eye on [April update]

This will be the beginning of the complementary series of the present article. I will share with you some coming opportunities into the gold miners world that you don't want to miss when they come up.

Silver - How is it behaving during crisis

This will represent the beginning of the series about silver investment. Goal will be to understand how to track silver during historical crisis and during Covid-19/Over-indebtedness crisis. It will be followed by a similar series about silver miners.
Stay updated threw the different channels :
Twitter where are shared my articles, those from my coworkers and other article I find very interesting
You can also join the Crypto/GoldLeoSwitzerland's discord. This project is quite new but if you're interested into precious metals' analysis or DeFi it would be a pleasure to count you among our investors ! For more informations you can read this article : Major moves forward for CryptoSwitzerland and GoldLeoSwitzerland
---
Previous editions of the Gold miners - Favorites list :
March 2020 : Gold/Covid-19 - Good time to invest ?

March 2020 : Gold miners - Is the crisis over on their side ?