This is a cross post from my post on splintertalk.io  
Allright fellow Gamers and #Splinterlands players, welcome to my execution of the weekly Share Your Battle...
With our main performer the....
Crystal Jaguar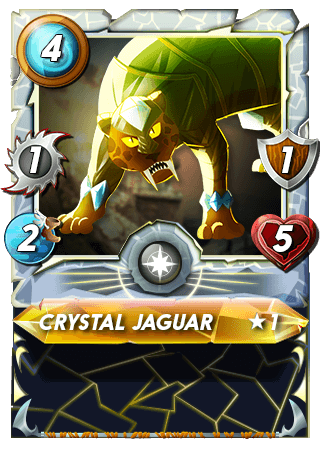 The Challenge

Playing with the Crystal Jaguar card (and trying to win a few battles!)
Normaly i wont play this card, because Life is my least favorite splinter. I am more of a Death/Fire/Water type of player, but fortunatly for me, today my quest battle approved for using this card. I needed to win 5 Battles with the Life splinter. Here i will try to analyse some of my battles with the Crystal Jaguar and why i think you should play this card or not.
So without further delay, here we go:
---
Battle 1
As you can see, i lost against the Fire team. As they played the living lava as tank, i didn't stand a chance against his deflect. The 1 attack of our Crystal Jaguar friend just couldn't hurt him.
Battle 2

Because of the lack of attack of the Crystal Jaguar, i decided to add the Silvershield Knight, to get an additional attack, and because this was a higher mana game, use the luminous eagle as wel on the second position.
Also lost this game. Despite of what i think was a better setup then the first battle, it didn't work against the great Shieldbearer card. This is card, is in my opinion, one of the better tank cards in combination with the divine healer.
As for my last entry with the jaguar, which you can see here i added the Armorsmith card, because of his repair abillity. But as you can see, i didn't win this battle either. Did i win at least 1 battle with the Crystal Jaguar?
Yes i did but it was the only one.
Did i complete the daily challenge?

Yes i did, but not with the Jaguar. As i mentioned above in Battle 2, the Shieldbearer is a better tank card for the life splinter. Here are some of the battles with this card:
Summary

Will i use the Jaguar anytime soon? The answer would be: No. And thats because of its low attack. Also i play in bronze with only level 1 cards, so perhaps if i can get my hands on higher level card, i would try it again.  
Referral links
Other games and stuff