El Presidente has been at the forefront of the banana republic for years, and more or less regularly returns to the scene with a new sequel. And we still haven't gotten tired of it, even though we already know in advance what is waiting for us. And even the six is ​​not deviating from the established standard, which does not mean that it does not include any improvements that could persuade fans to buy this episode as well.

El Presidente is once again housed in a palace, which you can edit along with the character of the dictator and his bonus feature in the game's basic menu. It is also possible to change sex if you would rather conduct the islanders in the role of a ruling woman. This time, however, the dictator is more secluded and you don't even care about his family. He is still preparing a pre-election speech, highlighting certain priorities so that citizens can give him enough votes again - but if they don't, less manipulation of the results will help. And you can also send him to wander around the island and visit a building, but basically you don't have to worry about it at all, because the six is ​​focused on something else.

Tutorial with a series of missions shows classic gameplay and a few novelties, but basically nothing surprising. You are ready for a sandbox with endless construction and lots of settings and multiplayer. The most imaginative, however, are the missions, this time fifteen, and each is essentially separate and unique. Management on the various islands awaits you, providing sufficient space for construction and accessible through ports and piers as well as bridges. The bridge is quite simple, like most game activities. All you have to do is pull the road further across the sea to the other side and the bridge is finished. Of course, if you have enough money to do this. The missions penetrate deep enough to reveal some practical improvements and possibilities that you don't see so much at a glance. Here, however, they often play a key role and creators artfully incorporate them into assignments that lead to diverse goals.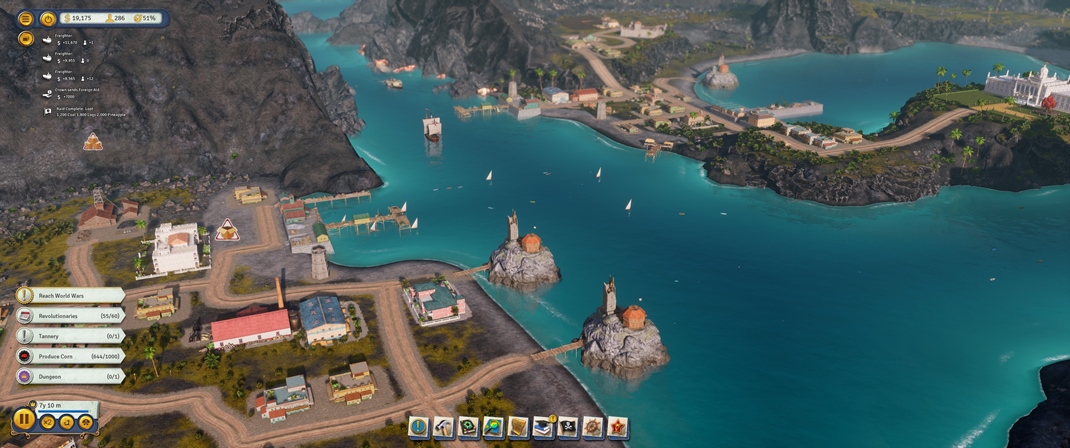 In missions, you are constantly driven forward by tasks from different factions. For example, in the first scenario, you are a governor who has to fulfill the crown's requirements and the main reward is extending his mandate. If you run out of time, you quit and lose. At the same time, however, you are cooperating with rebels who are preparing to take over the country. This leads to a declaration of independence and means an opportunity for you to take the lead of the Republic as a great leader. When you do, you unlock several more missions with significantly different goals and progress.

For example, there is an adventure with an emphasis on pirate raids or the pursuit of economic expansion. And you will also enjoy building a communist paradise, where the priority is to meet the requirements of the red with a focus on the Soviet - Eastern Bloc. The opposition is the capitalist West, whose influence must be minimized at all costs. Therefore, you will not only build, but also demolish - you will be ordered to abolish banks, temples and expensive villas and replace them with prefab and mausoleum. In another scenario, you are doing the opposite, or you have to deal with frequent natural disasters, or build a tropical paradise without any residential buildings. That is, in a country full of homeless people who, at most, will arbitrarily build primitive shelters. At the same time, not only the conditions of victory change, but also the country - terrain and islands. Once they are large areas with lush vegetation, sometimes desert area where there is a threat of frequent fires or rocky cove with volcano.

In all of this, the developmental periods in which you find yourself play a role. From the colonial era you progress to World War II, where you are influenced by the Nazis and allies, followed by the Cold War era, which we have already indicated, and finally you will find yourself in modern times. Each era brings with it new factions, and besides the main ones, there are often a few others with which you can build good relationships - the Greens, militarists, industrialists, capitalists, believers ... but also election support. With the major powers, you can conduct diplomatic negotiations after the embassy has been built and form an alliance after meeting the requirements. Conversely, inclined parties may engage in malicious activity and cause rebellion. That is why sometimes the police, army, defensive towers and patrol posts need to be considered. And you can persecute opponents, try to influence them, or imprison them or destroy them, but everything also has some impact and consequences. Looping out of some situations is not easy because you will never satisfy everyone.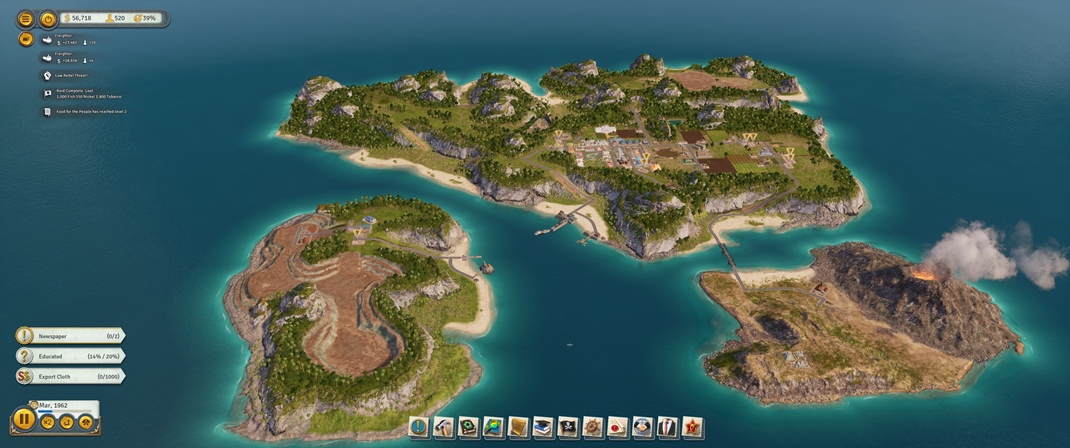 Each era also unlocks new buildings and knowledge for which you need cumulated knowledge and then apply it in the form of edicts and statements that govern your republic. The country is modernizing, opening up new diplomatic opportunities, and you have an increasingly large currency of construction. Still, you have to build a functioning economy and pay at least the basic demands of the population. You build farms, plantations, mines, factories, tourist attractions, military buildings, schools, power plants, hospitals.

Radio and other media are also important, you may have a ministry where you elect the chiefs of each department and now you will also get the wonders of the world and the most famous buildings literally stolen from other countries. Pirates, special units, agents and hackers will help you do that. Each of them has its own center, which you can build and then choose mostly unfair activities to perform. This means finding treasures, stealing money, plans, knowledge, sabotaging selected factions, "rescuing" people for reward and, ultimately, alienating these unique buildings. then proudly place on your islands.

As far as the population is concerned, it is important to provide housing, where possible in not very noisy places, work, it is appropriate to provide public transport, cultural and religious activities. With all this and building improvements, it should be a good fit in the country and you will have plenty of food and other needs. Finance is provided mainly by tourists and sea transports, to whom you conveniently choose contracts for import and export of commodities. But if you are in great need, you can use a loan edict or test a nuclear bomb in the country. The nuclear experiment will bring you a lot of greasy sum to the cash register, but it will disgust the inhabitants and it also brings some sanctions. You can also use the services of a broker to buy building plans or improve relations with selected parties at a discounted price in Switzerland.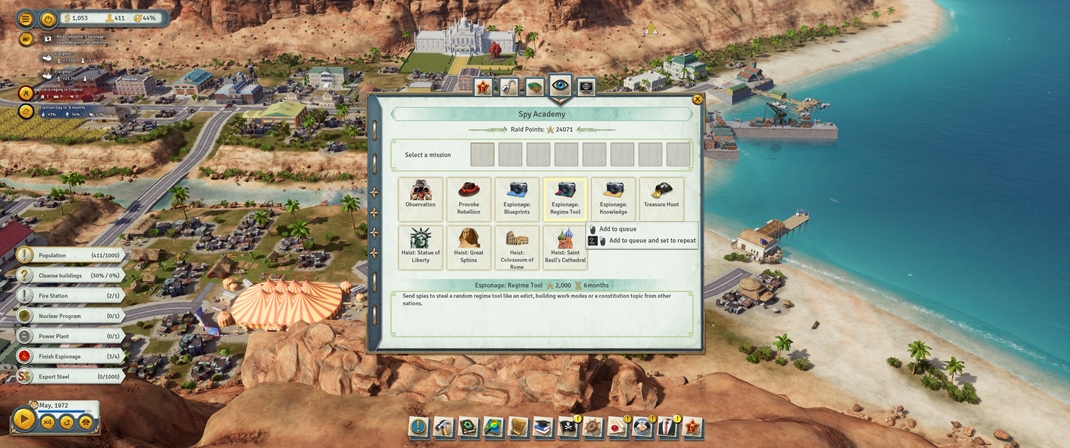 Individual requirements, statistics and balances can be found in several menus and almanac, but I personally lacked a better overview of individual raw materials and certain items. However, the user interface is intuitive, the operation and manipulation in the game is very simple and practical. And you can set everything comfortably during a pause, which also activates when scrolling through tabs, but the game can also be quadrupled to speed up processes.

Tropico 6 is easy to see, you can zoom and rotate, all islands that differ in terrain and conditions can be viewed from a great height at the touch of a single key. The design of pop-up windows with tasks and bookmarks with sufficiently transparent construction is also attractive. You can have it in high definition and on ultra-wide monitors. And that's what stylish latino music plays, which inherently belongs to the banana islands. In short, the pleasure of playing and watching and listening.

Tropico 6 continues in the well-known style, but the six also brings some impressive additions and enhancements. It artfully uses them in various missions. Together with a successful audio-visual processing and convenient operation, it creates one of the best parts of the Tropico series, but also one of the best management games on the market. So if you like to build houses and want to put yourself in the role of a dictator, this is the perfect opportunity.