Do you like strategies that need to overcome opponents in the arena? One of them is the unfinished Tabletop Gods, where nothing less than the highest god's throne, which may be yours. But, of course, you must fight it first. We tried it and while we lie and celebrate the first victories, we will bring you closer to the content of the upcoming game.

It is therefore a table-game arena, which predestines the game especially to multiplayer skirmishes. However, you will not enjoy the test version very much because it does not have a built-in community yet. Anyway, this option is already there, and in addition, the crossplatform multiplayer is being considered, in which players of the traditional and VR versions for Oculus Rift or HTC Vive are fighting together. And the PSR will also be added. However, we will tell you what we have learned in singleplayer so far.

The solo offer is supposed to be a preparation for the duels of the players, but it already has a decent four-packed refill where dozens of challenges are priced according to the player's performance with the appropriate number of stars. Indeed, the individual modes are peeling on the same maps and differ in the victory conditions. In the first case, as a rule, in three rounds, you must generally destroy more of your opponents' lookout towers than you. The second mode is different in that you have to destroy the selected towers by the specified order and you can ignore the others.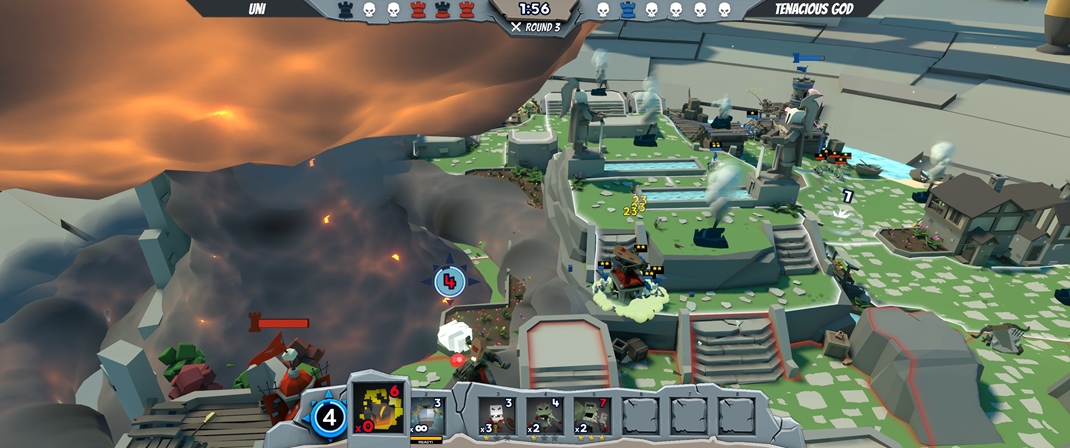 The third regime is aimed at killing a king who is hiding in a hostile tower. And you will reveal the right one by destroying one by one, if necessary, at least halfway through until you find the correct crown. Then just focus on its complete disposal and it's won. Finally, there is an analogy to the basic regime, where a computer adversary is much more advantageous and produces units faster.

How's it going? Each round consists of two phases - preparatory and combat. So first in the arena you will use your points to set traps (with spines, lightning ...) and defensive towers (artillery, poison or catapult) that you can place in your or neutral sectors (these are where your or your opponents once stood) patrol towers until the other party destroyed them). In the combat phase, you just produce units and cast spells. You can play for people or undead, and each party has a different range of fighters, but with a similar meaning.

You buy units on an ongoing basis and are placed in the field. People are based on knights who automatically fight enemies, protect your nearby buildings and keep moving forward. Archers serve mainly for defense, standing where you create them and attacking everything in their range. Slow but strong giants are mainly intended to destroy enemy towers. The assortment is complemented by wizards, a tough champion and suicide bombers. The assortment of undead for change consists of skeletons, zombies or lich.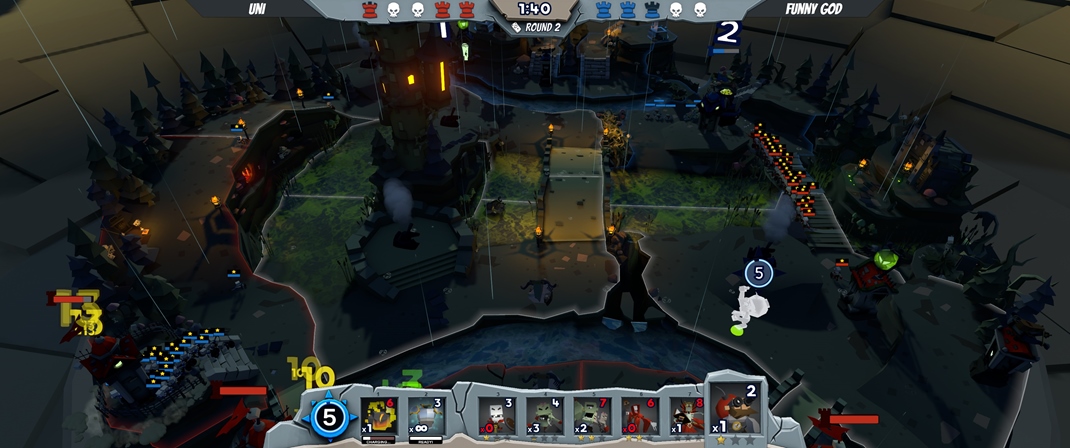 Characters can be enhanced with a protective spell with extra armor and enemies fired with a fireball. It is accompanied by a very powerful explosion, which is in the form of a fiery mushroom like an atomic bomb. However, you need points for everything and you also have certain limits of units that are gradually being added and the levels represented by the stars are increasing. Therefore, you need to consider well what and when to use to drive a successful offensive while defending your lookout towers.

The principles of the game are simple and get used to it quickly. In the first battles, everything seems unpretentious, but with a more advanced AI, it needs to be turned and live players will be really dramatic. So far, there are only a few maps in the game - one with a lush landscape during the day, the other dark, rainy, fits mainly to the undead. In full version, we naturally expect more, and there will be ladder matches and probably something more.
 
We should not wait for the final product for a very long time, it is rather a matter of weeks than months, and then we will see if the content of the game is sufficient and attractive for those interested. But it does not look bad, Tabletop Gods everyone quickly adopts and fighting for turrets with a good opponent can be dynamic and fun. Refreshing it can be mainly in virtual reality. Coming soon.