Billiards, or snooker, are not games that we would see too often in a large version. It is present and served in a tremendous number of ways in the mobile versions, but creating a sufficiently comprehensive game to be worthy of release on large platforms has certainly been a challenge. Therefore, the creators had to carefully focus on the essence of this sport, what really interesting offers and how to get it in a strong concentration into one game. And to some extent, they have managed to do it brilliantly, but some aspects are still far behind.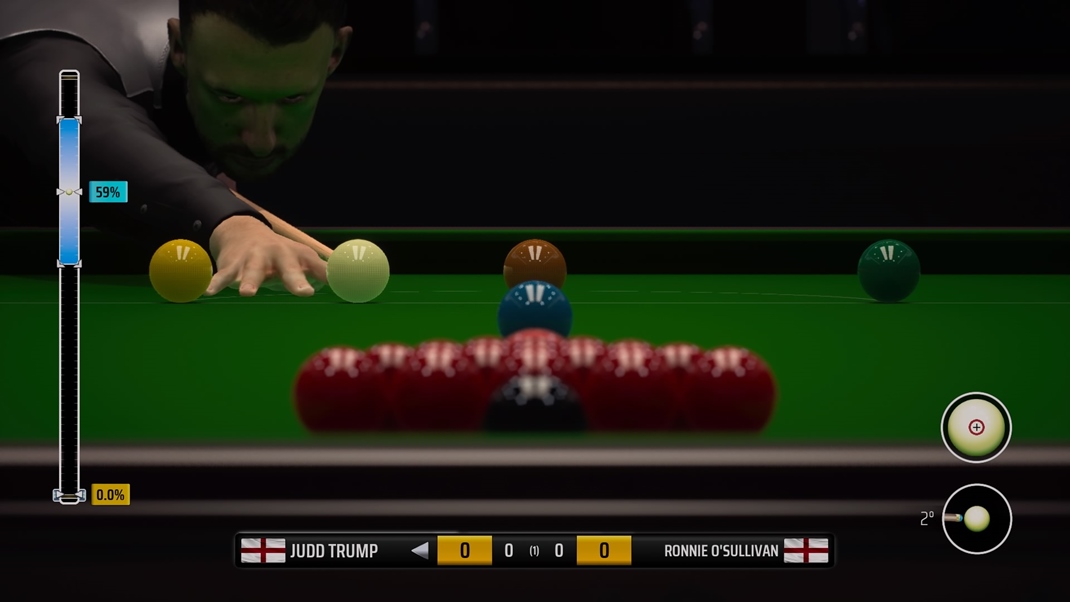 All the advantages and disadvantages of creating a virtual version of this British-favorite sport, the developers were certainly aware of, as this is evident from the first minutes spent with the game. Just as sport itself wants to be serious and maintain a certain level, so does Snooker 19, so the authors did not focus on quantity, but rather on quality and attention to the game itself. The tinsel around had rather ignored and hadn't tried to break records in the availability of various game modes or options. In the game they bring only what is necessary for the game itself and at the same time, what the players, or staunch snooker fans, can appreciate. So if you don't have a keener relationship with billiards or snooker, it's definitely not a game for you. While you can sit with your friends and have some matches, this is, of course, fun and has its typical charm of split screen games. But the question is whether it would not be better to go out and play it in reality. On another occasion, you wouldn't pull this game out of the shelf.

Those with a much closer relationship to snooker can notice and appreciate the details. Snooker 19 contains all 26 arenas from the world tournament as well as the whole ranking of 128 ranked players. Each arena is, of course, fully modeled together with a specific table. Each player is also processed into a virtual form, which tries to at least somehow respond to the real visual of the player. Models certainly do not excel in maximum detail, but if you have an overview, you will certainly recognize them. However, this does not end when licensing all players and arenas - licensed tournaments are included. In addition, the game tries to copy what is currently playing in the world. Of course, you will see this connection, especially in my career, which brings me to specific game modes.

However, there are not many game modes, the authors largely reflect the reality, and so they did not have the incentive to play with something that the target group might not even be interested in. Right from the start screen, there is a quick game where you and your opponent can choose, difficulty, arena, and one of three game modes. There's classic snooker, six red and shoutout. In layman's terms, either a full game, a shortened game, or a full game limited by time. A very important setting is the number of laps - it is always an odd number and can be as many as tens. Each round can take up to twenty minutes, so it would be a really exhausting match. In addition to the fast-paced game, a simple online game is also available, where you can also choose the player, basic conditions and matchmaking. For fans, however, are certainly interesting online tournaments organized by the studio itself and also the aforementioned career.
During your career you traditionally choose a player, you can adjust his clothes and also a cue. However, there are no options for setting difficulty or length. There are two modes in your career that determine the direction you want to take as a player. You can be a beginner who wants to get to the top or an established professional who wants to win big competitions. Anyone who is serious about snooker can be found in the career, but amateurs who are motivated to improve are also interested. This is a good combination of options that also motivate you with rewards in the form of trophies. Your profile has a "showcase" of all the trophies you collect, which you can gradually add to the most valuable. The seriousness I mentioned at the beginning of the review is really present in every match. On-site play looks like a real TV broadcast. with everything that goes with it, it's done really well, which is complemented by a decent commentator and the surrounding sounds of the viewers, responding well to your successes or mistakes, complementing the atmosphere and giving the impression of being the most banal sound effects - coughing.

Thanks to such little things, it plays well. Visual processing is quite good on the PS4, but considering the minimum space the console needs to process, the graphics could be pulled a little higher. Especially the smoothing of the edges, in particular the balls suffer. The whole realistic impression of playing the whole line is spoiled by character animations. They are very machine, static and sometimes do not fully correspond to the force that the ball fired forward.

In terms of gameplay, you can also adjust the level of the line that shows the direction of your ball - if you believe, you can reduce the displayed track or turn it off completely. However, solving gameplay in a game like billiards is a consideration, as the vast majority of gameplay is built on physics that they have mastered at a very good level of computers a few decades ago. So I will not be surprised if I say that current hardware can handle it without any problems. Anyway, here we are talking about 3D game, which still brings little extra possibilities to the gameplay - you can see the direction of your ball from different directions. You can walk around the table, but unfortunately the operation of this drive is not even fluent. However, it still fulfills its function.
Snooker 19 is based on expectations. Although this sport is not very popular with us, it is not related to the quality of the game. Knowing what they were up to, the authors went on a proven track record, creating a standard game with campaign, online features, and above all fully licensed content. This is its biggest asset, which fans will appreciate the most. The gameplay is not surprising and offers a standard that looks good. For Snooker 19 fans, this is ideal and basically the only choice.