While we are still waiting patiently for some positive news concerning the coronavirus problems and the return of footballing actions, it is great to feed ourselves with some exciting talking points that have surfaced a few months ago in the Chelsea fanbase…
This comparison exploded and became a talking point ever since the young Gilmor made his mark in the Chelsea team, all thanks to Jorginho's absence due to suspension - with two clear back-to-back man of the match awards in two straight tough games for Chelsea. While a lot of people knew about Gilmor's qualities on the pitch, no one actually saw this coming, academy player to win 2 back-to-back man of the match awards in a row and not only that, to even be a strong competitor to Chelsea's vice-captain.
As we already know, Jorginho was a Sarri signing last season, a player that knows the regista role at the tip of his fingers and fully understood the Sarri ball system. Sarri wanted him at Chelsea to help make his work easier and also to be the same engine room for his system to work effectively. Jorginho was regarded as a great signing by many of the Chelsea fans due to his immense leadership qualities and his ability to control the game and dictate the play. With the departure of Sarri and the arrival of Lampard as the new Chelsea manager, a lot of concerns were shown by the Chelsea and Jorginho fans concerning the future of Jorginho and how he will fit into Lampard's high-energy and fast-attacking style of play. However, Jorginho proved a lot of people wrong as he was able to adjust his gameplay from his usual restricted Sarriball Regista style of play that he was used to, to a more freedom-based regista style of play, all thanks to Frank Lampard who allows his midfielders to have freedom on the pitch and to express themselves. This has allowed Jorginho to greatly improve his overall gameplay and also affect the game more since he can now do more on the pitch rather than only dictating play and recycling passes. These improvements in his gameplay coupled with his fun personality and leadership on the pitch has made him one of the fans favorites and also one of the sure starters for Frank Lampard system.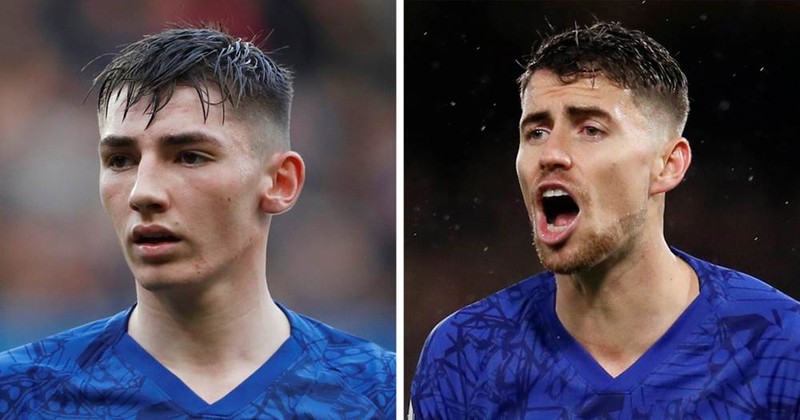 Image Source
The rise of Gilmour
Like I said above, Gilmor light began to shine really bright after receiving the man of the match award in Chelsea's 2-0 win against Liverpool, a game that made everyone see how special he is and his qualities on the pitch, especially against a top side like Liverpool where he totally ran that show. While some section of the Chelsea fans believed that he was special and has what it takes to be a starter for Chelsea, some section of the Chelsea fans still thought it was a fluke and that it was one of those games that was made for him. However, Gilmour proved these section of the fans wrong with another man of the match award, making it 2 straight man of the match awards in a row. It was after the second man of the match awards that a lot started to take this kid seriously and saw the huge potential in him to even displace Jorginho off the first 11. His playing style which is more like a combination of Fabregas (which is his role model) and Jorginho (who he learns from a lot) has made him a very effective player in Lampard's system. His ability to dictate the play, control the game and still move the ball forward and always looks to play forward passes each time he receives the ball, has made a some of the Chelsea fans turn off their likeness for Jorginho and turn it on for Gilmor. However, this rise of Gilmor has raised a lot of questions on between him and Jorginho, who is a better fit for Frank Lampard's system (bearing in mind that we all know what Jorginho can do on the pitch, and his tremendous penalty talking ability).
For me, I think both players offer something different even though they are both similar in their style of play and either player can be used and still offer similar results. However, since both players are quite different in how they play, it means that each will be a better fit deepening on the opponent…a team that likes to attack and are quick might suit Gilmor more due to his dynamic style of play and ability to track back and defend, while Jorginho is a better fit for slower teams that wants to come out and play football. With this, both players are extremely useful and will be great assets for Chelsea next season when a few other top-quality plays join that team. This post can also be found on my scorum blog
What do you think of these players and the comparison?