The number 9 is probably one of the most recognized shirt numbers in football, especially back in the days when almost every striker wants to have that number at the back of their shirt. The shirt number is a really reputable one as it is not only meant for strikers only but also represents goals, meaning any striker who demands the number 9 shirt should be able to back it up with goals. This number is mostly worn by players in teams who utilizes and all-out striker whose main responsibility is to score most of the goals for the team. However, football has massively developed over the past years as there are teams who prefer to play with a false 9 rather than a traditional number 9. After all said, the number 9 still remains one of the reputable shirt numbers in football and has a lot of weight on it as lots of expectations are on any player who wears the number to deliver goals for the team.
The Chelsea number 9 has been a subject of a lot of talking points over the past couple of years and has been a number that has been associated with failure since the current Abramovic era at Chelsea, as most of the strikers who have worn the number at Chelsea have all failed to live up to the expectations from a number 9. However, things are beginning to look like it is turning around for good under Frank Lampard as the transfer ban which was thought to be bad news for Chelsea is looking like it has already become a blessing in disguise.
Tammy Abraham, a product of the Chelsea academy, a player who has been on loan to various clubs in the country and has proven to be a natural goal scorer in all the clubs he has been to. Currently one of the youngest players in the Chelsea squad at the moment, Tammy Abraham is living his dreams to play for a club that he really loves.
After Frank Lampard was appointed as the Chelsea manager and it was clear that Tammy Abraham would be part of the team, Tammy made it known to the manager that he would love to take the number 9 shirt and take the responsibility as the Chelsea number 9. This raised a lot of concerns and talking points whether he could live up to the number 9 expectations and also considering that the number 9 shirt at Chelsea has been branded as cursed by most of the fans since no striker who has worn it since Abramovic took over at Chelsea has succeeded to live up to the expectations.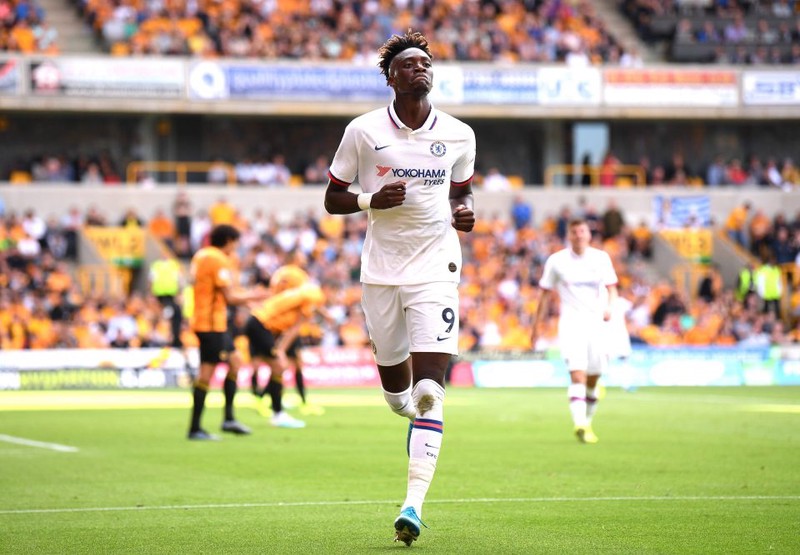 Image Source
This season, things are looking very different for Chelsea and for Tammy Abraham as he is not only the highest goalscorer at Chelsea but also joint highest goal scorer in the premier league with Man City Aguero, as both are currently on 8 goals each. Chelsea's last match against Southampton saw Tammy Abraham score a fantastic improvised goal that was awarded all thanks to goal-line technology after the Southampton defender seemed to have cleared the ball off the line. Not only the goals Tammy Abraham has scored for Chelsea but also his performances and contributions to the team. His work ethics with and without the ball has been very good so far, as his all-round play has helped the team win games this season.
Like we have seen so far, he is not only a goal scorer, his hold up play is really good and his ability to hold the ball and lay it off to the other attacking players makes him a real threat to any team in the premier league. Not only that, he has a lot of pace for a player his size and his ability to make runs in-behind has seen him flourish in most of the games he has played in this season, including the champions league games. Above all, Tammy Abraham has shown once again that he is not only able to score goals in the championship but also able to do it where the big boys are in the premier league.
What do you think of this player?
Header Image Source