Hello, everyone!! Another weekend and another review. So, here we gooo~
Laughing out so hard that you begin to tear up and feel your stomach aching. That sums up what this series is all about. It is a pure slice of life with one humongous comedy tag. It doesn't have a lot of feel good moments but come on, nothing like a good laugh, right?
!! Slight Spoilers Included !!
This is one of my go-to series whenever I am feeling down. It will make you forget about all the worries in the world and will tickle… no! It will smash the hell out of your funny bone. Don't watch it on the night before the exam.
Plot
Oh!! Right~ how can I forget that? ( ͡° ͜ʖ ͡°)
Again~ just kidding. It's kind of a slice of life show where a guy who doesn't know swimming slowly opens up to the wonders of diving. There is a running gag throughout the show where they repeatedly affirm you that the series is about diving and not some other thing that they are doing. And, they definitely do a lot of things. There will be plot development and character development, but the main focus will be the jokes and gags, which is absolutely worth it.
Characters
Of course, there is our male protagonist, female protagonist and a bunch of fun and cool characters. But there are two characters who will be the most involved throughout the progression of the series.
Anyone would not want anyone to deny our likes. We want other people to be interested in what we like. Because it's more fun when many friends also like the things we like.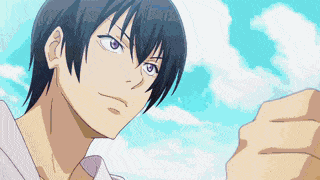 A guy with a whole world of expectations and wanting a colorful university experience filled with rich and enjoyable moments ends up facing the truth when he opens the door of his new living place. Somehow he ends up getting the things he wanted but in a totally different way, which makes a fun watch for us. And yeah, he is our protagonist.
Damn! Why? Why isn't there a club with a harem of high school girls who worship me?
You were expecting the female protagonist, but you got him (Dio reference intended). Someone our protagonist didn't want to do anything with at first. Well, they both didn't want to get involved with the other. But, through the twist of fate, they end up becoming the best of buds and an awesome comedic duo. Also, he is an otaku which makes him really relatable.
Art & Music
The art of this series is like it is on steroids. At moments, it can go from being normal to full attack on titan mode. This really adds on more flair to the humor and jokes. It really fits well with the overall atmosphere of the show.
The music in this one maybe kinda forgettable due to how busy you'll be laughing, but it definitely does fit in there. The opening song specifically is a catchy one. Do you know of those songs that creep into your mind when you wake up in the morning, and you end up replaying that song over and over again throughout the day? Yeah, the opening song is one of those songs.
Overall
So, yeah~ to wrap it up, this is one really cool and fun series. It is not warm and relaxing. It will make you cry out with laughter and fall off your chair. And, its re-watchable. Even if you know how the scene will play out, it is really hard to hold in the laughter because those are just golden moments. 
And, don't worry. It has zero drama and is only filled with funny moments. Have a blast with it!!
See you all in the next one!! Enjoy!!!