After the amazing performance of Bitcoin becoming a trend setter, I must say that I couldn't get my eyes off my wallet. I usually depend on my baby crypto wallet to provide me updates on the world of Crypto and it as been doing just that!
I made a precise post this morning expressing my feelings on Bitcoin price booming while carry a long other Cryptocurrencies.
Cryptocurrencies Including Ethereum, Bitcoin Cash, Binance, Dash, Litecoin, , Tron, And Even Doge coin and Ripple Coin had a trip up from it's usual standards..
Precisely Bitcoin Cash is Slowly making it's way to hit and probably cross $300. Reflecting to my wallet at about 6pm Nigerian time, Bitcoin Cash had an increase of +16.84% which moved it from being at $256.25 as posted this morning, to $298.05, that's barely two dollars away...
Holders of this currency like myself, will really be hoping for a much bigger bloom from it, being that the price of BCH had be dancing round a certain circle for quite sometime, compared to the activities of other Cryptocurrencies, Bitcoin Cash taking charge now? Let's see...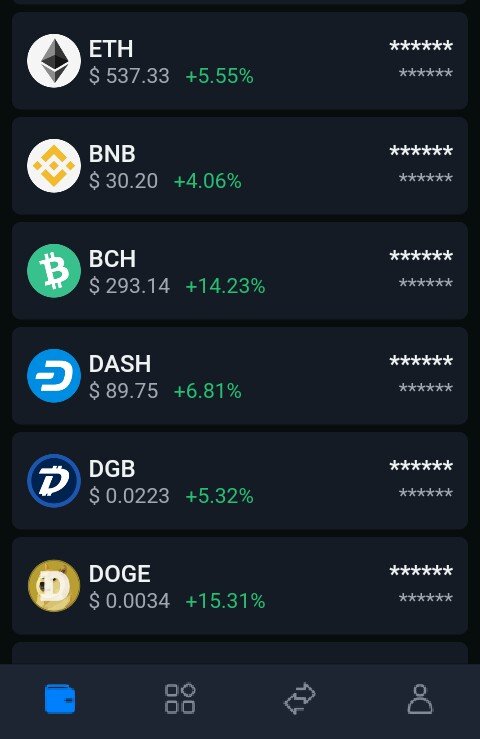 On another Crypto related news, Ripple Coin has made a run of +31.5% which has brought it's price to $0.4158 per coin. I remember making a post about ripple coin, and at that time it was around $0.265051 on coin gecko. Right now it's rising to a peak if am to say, and looking at this coin it's already yeilding a ton of profits within a short while...
A coin as Doge had a rise of +15.05 shooting it up to $0.0034 per coin. Lots of investors don't really seem to have much interest in this coin, looking at the number of supplies which has rendered the coin a less chances of strong growth. But I rather have hope on it!
All this Crypto fever be getting me obsessed with my wallet and Crypto charts...
I really can't get my eyes off all this, and the excitement around me is just unmeasurable!
Note: This screenshot was taken about 30mins later, so there was a slight change in figures...
Article Originally Posted Here By me!
Earn Crypto Blogging on:
Leofinance Sign up with your hive account or use metamask wallet to earn Leo tokens