This week's Splinterlands Challenge of the Week was to showcase the Naga Fire Wizard from the Fire Splinter.
I don't play Fire, and so I use the Fire Splinter challenges to just showcase an interesting battle for the week, and here's one featuring melee monsters can attack from any position in which my opponent's shield cards prove ineffective, and in which this bad boy plays a major role in the victory: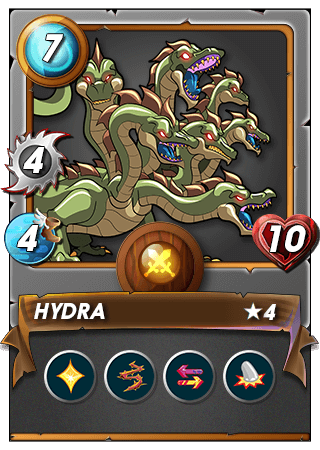 This has to be one of the best monster cards out there, especially in the melee monsters can attack from any position rule set - relatively high manna, but decent damage and speed, huge health and just look at all those awesome buffs. If the retaliate and trample BOTH trigger, he's doing triple damage!
The battle below features the Hydra and some other melee monsters in an epic victory against that silly Dragon Summoner - the dude who gives plus one to every attack!
I also showcase 6/6 legendary cards!
The Rule Set and Line Up
Mana 99
Melee monsters attack from any position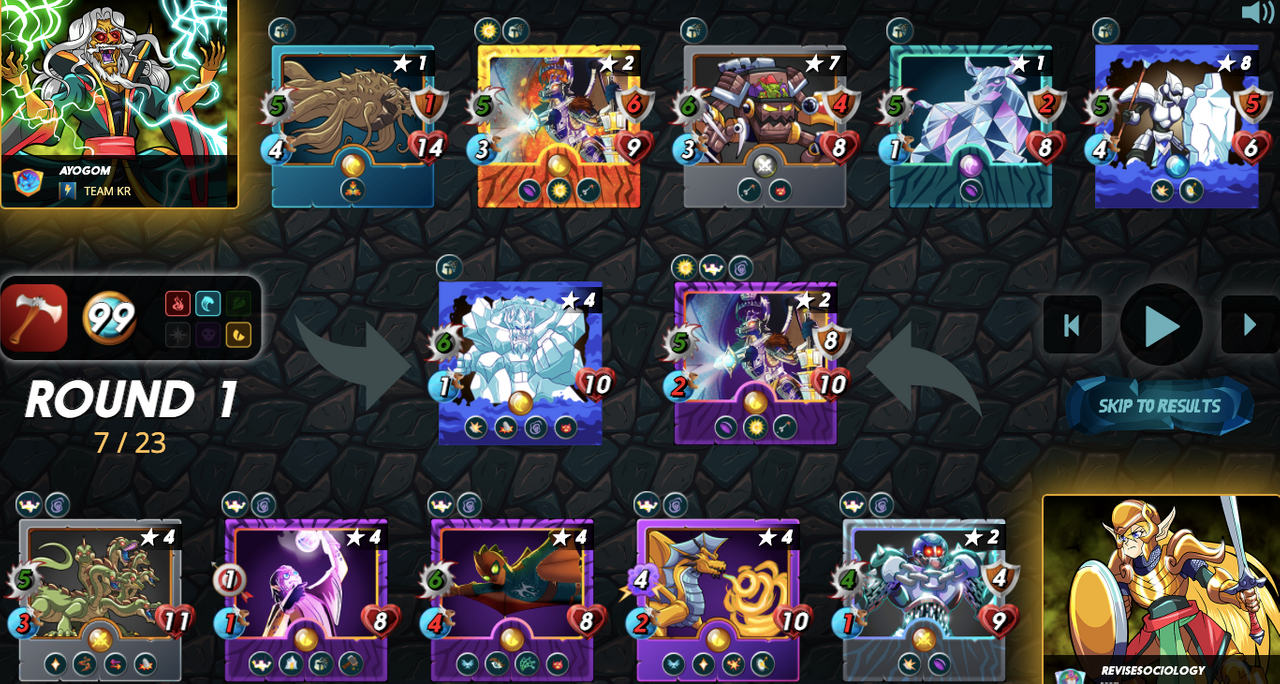 Summoner - Darla - for the plus one melee attack
Robo Dragon - awesome shields, great against melee or ranged and high health with void to defend against magic.
Chain Golem - shields for second tank!
Gold dragon - i wanted one decent non melee attack, protected mid range.
Dragon Jumper - just an awesome melee card
Scale Doctor - useful because of repair, rust and triage
The hydra - a MUST play in this rule set!
Did my strategy work?
Beautifully, to see it in action click here!
Round 1 - My opponent gets off to a good start by taking out my Robo Dragon Knight, damn!
Round 2 - But straight off I take out his Kraken, back to level pegging! No losses besides this, seems like the tide is turning
Round 3 - I take out his Frost Giant, he takes out my Golem AND my Gold Dragon, Ouch
Round 4 - Dragon Jumper immediately takes out his Dragon Knight, and two misses on my DJ from his SLOW cards! Back to me again!
Round 5 - DJ takes out his Mech, nice! But he then takes out my DJ, again: OUCH!
Round 6 - he takes out my Scale Doctor, OUCH AGAIN! But then the Hydra comes to like - thorns and retaliate take out his Tortilo and then a trample weakens his Frost Giant
Round 7 - The Hydra goes first, then thorns, heal, RETALIATE AND TRAMPLE again beat down those shields!
Round 8 - it's all over, the Hydra takes out the Frozen Soldier!
Battle Analysis
I think this battle is a lesson in not just picking very high mana cards like my opponent did - he just went all out.
There are some lower mana cards which work just fine!
The Dragon Jumper and Hydra at the end made an awesome combination, but also essential was their support - a couple of decent tanks, and the magic blast from the gold dragon all contributed to the win!
And it's also a lesson in the importance of speed in victory - my FASTER DJ with flying meant two crucial misses from my opponent!
To be honest, I SHOULD have one with 6/6 legendary cards selected!
If you don't yet play Splinterlands, why not give it a go?
Anyone using my referral link will receive a free rare card!