---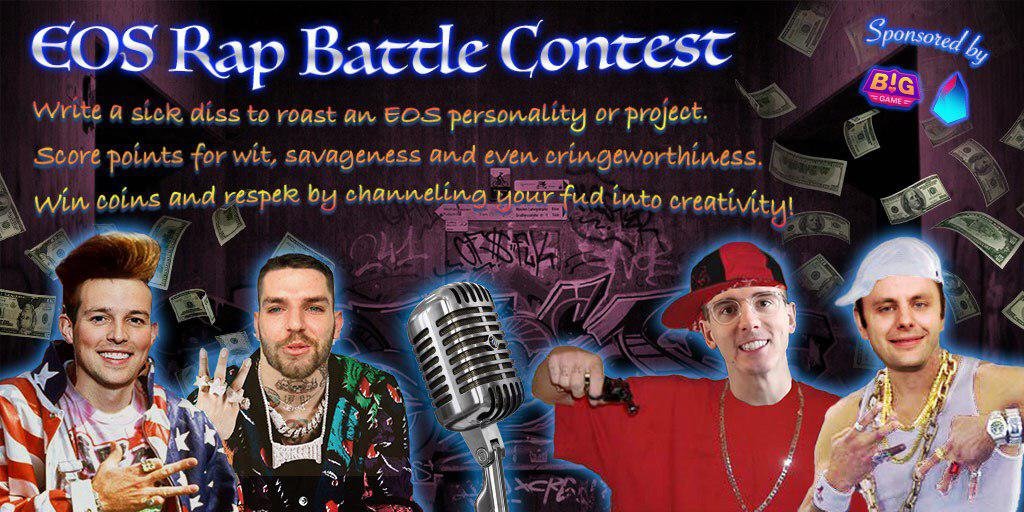 Image Source:t.me/EOSIODapps
EOSIO Dapps Telegram is hosting a Rap Battle / Roast Competition!
Diss your favorite EOS personality or project and win prizes in EOS, BG (thanks to Big.Game) and other tokens. Also, expect loads of tips from our generous community!
"I gave negativity a creative outlet and made riches" - Ja Rule
Participants are suggested to write a short rap verse or non-rhyming roast. However, submissions of any length and format will be accepted. Just make sure your diss is relevant to EOS and its community.
Entries will be judged on wit, savageness, humorousness, and even cringeworthiness (if it's so-bad-it's-good). Just like with real rappers of today, talent and rhyme-skills are completely optional!
Drop your sick lines in chat, or tweet and link to them. Make sure an admin acknowledges your submission to be included in the contest.
The competition will end on October 16, 2019. The winners will be announced and awarded their prizes after the judging is complete.
1st Place: 6 EOS + 1000 BG + 2000 SOV + 12000 KING
2nd Place: 2 EOS + 600 BG + 600 SOV + 6000 KING
3rd Place: 1 EOS + 400 BG + 400 SOV + 4000 KING
Source:t.me/EOSIODapps