Welcome to the Daily Crypto News: A complete News Review, Coin Calendar and Analysis.
Enjoy!
On Friday Bitcoin (BTC) price finally managed to break above the symmetrical triangle where the price had been compressing for the last 30 days. After holding the $11,000 level into the daily close, the price rallied to $11,448 on multiple high volume surges.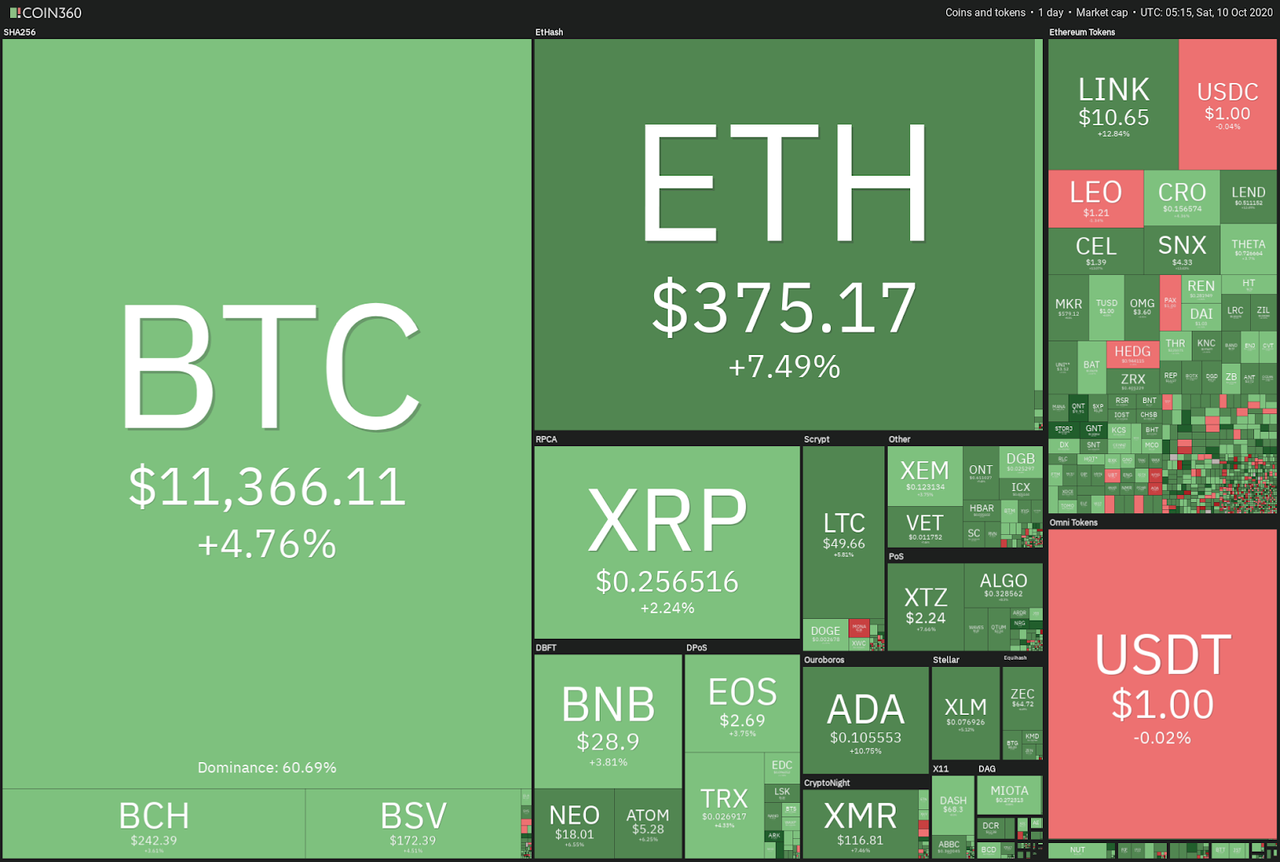 "If the price of Bitcoin breaks through the $11,100-$11,300 resistance zone, further bullishness can be expected towards $12,000. This makes the $11,100-$11,300 area is a critical zone for continuation."
Currently the price is holding above $11,400 and meeting resistance at $11,489 which is right at the top of the Sept. 3 candle which saw BTC drop 13% to $9,960. This level aligns with the VPVR node extending from $11,400-$11,740, but if the bulls are able to push through this resistance cluster another run at the $12K mark is on the cards.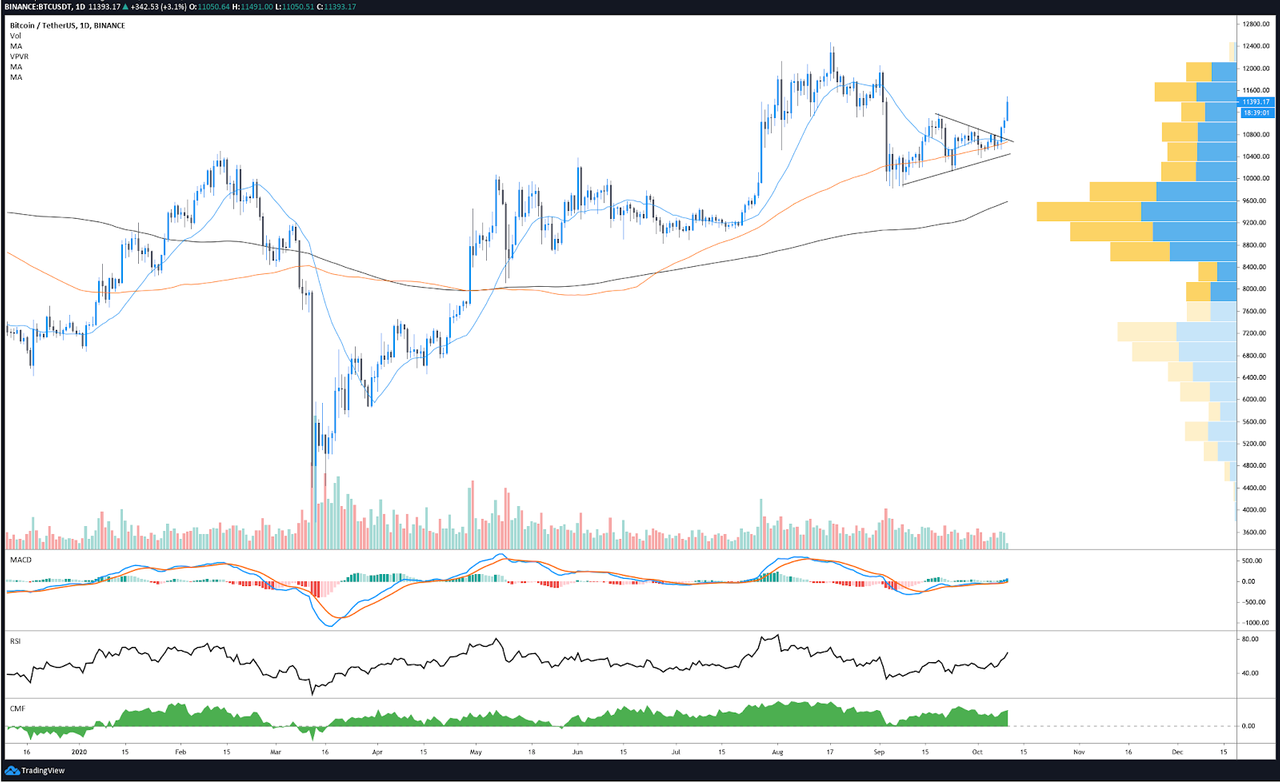 Ether (ETH) price also took a bullish turn, by piercing a key descending trendline to rally 3.08% to $378.
Yearn.Finance is managing a leadership transition right now and appears to be doing so effectively.
Andre Cronje, the prolific coder and creator of Yearn, said he's quit the project – and decentralized finance (DeFi) altogether – out of frustration with its realities.
"I'm not building anything at all anymore," he told CoinDesk over Telegram on Oct. 1. "I do it because I'm passionate, but if people are going to use my test environments, then lose money, and then hold me liable, it means there is 0 upside and only risk for me."
Yearn.Finance is the leading robo-adviser for yield in DeFi and the progenitor of the "fair launch" concept that has proved so powerful this summer. However, when users piled into a smart contract he was building in late September that wasn't ready, got hit by an exploit and then blamed Cronje, that proved too much for the developer.
This is a complicated piece of news for a reporter to share. Cronje told CoinDesk of his decision over Telegram on Oct. 1, but then asked us not to report it. This falls outside of the typical protocol for reporters and sources ("off the record" has to be stipulated up front), and yet we also appreciate that Cronje felt himself under enormous stress. Thus, we held off reporting.
In early September, the official Yearn.Finance Twitter account shared some members of that core team: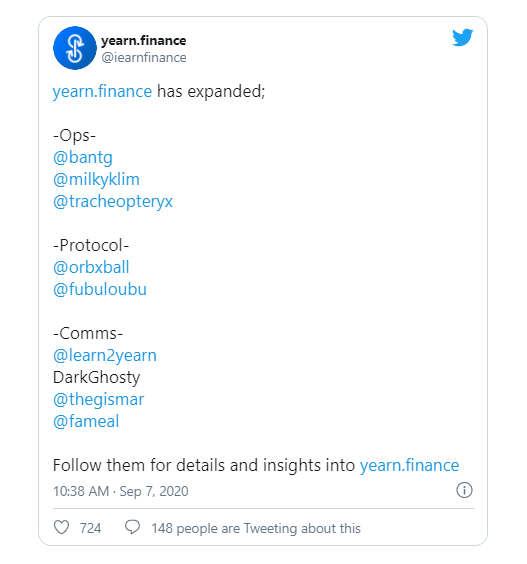 A handful of Robinhood users who said their accounts had been liquidated by thieves recounted less-than-helpful responses by the personal investing fintech in a Friday report by Bloomberg News.
Five customers interviewed by Bloomberg claimed Robinhood acted slowly and responded inadequately to heists against their trading accounts, in part because Robinhood has no emergency support line.
One user, Bill Hurley, a Connecticut metal worker who told Bloomberg he lost $5,000 in stock and bitcoin in a theft, said it took Robinhood two weeks to respond to his requests for assistance.
Hurley told Bloomberg he had reached out to Robinhood while the thieves were still transferring his funds to a Revolut account. But he said he heard nothing back until Thursday.
A Spanish cryptocurrency company is sending Spanish legislators Bitcoin.
The project is similar to Crypto for Congress, an educational campaign to teach US lawmakers about digital currency.
The Spanish campaign may have sent too little to be useful.
Earlier this week, the Chamber of Digital Commerce sent every US representative and senator $50 in Bitcoin. Now, Spanish cryptocurrency advocates are getting in on the act.
Spanish newspaper ABC reported yesterday that all 350 deputies in Spain's lower house, the Congress of Deputies, are due to receive 1 euro worth of Bitcoin as part of a campaign by tokenized education technology platform Tutellus and crypto news site Observatorio Blockchain.
As the 2020 U.S. presidential election draws near, two crypto traders on Twitter shared their predictions for how Bitcoin's price could react to the event.
"If we have a clear winner and an easy transition of power, I do not see much of an impact on the price per coin," trader "BigCheds" told Cointelegraph. "On the other hand, if we have a close and/or contested election, we should see a bounce in risk-off assets like gold and Bitcoin."
The election is a summation of 2020's wild year, with a number of other factors also remaining at play. "This election year is certainly different considering what we have seen in the past due to the pandemic and the global economy taking a toll," Twitter trader "CryptoWendyO" told Cointelegraph. "With an event like Covid, one would assume that Bitcoin would pump due to financial market uncertainty, however we are not seeing that," she said.
🗞 Daily Crypto Calendar, October, 10th💰

CCUniverse launches debut of their own CCKADEH exchange. Debut deadline estimated for October 15th.
"The 2nd $WRX burn event is scheduled to happen next week!"
"This will be happening as soon as our audits are complete. Expect this to be done within 2 weeks, please be patient."
"#STREAM is going be delisted from Crex24 on 10.10.20 as the developers appeared to have abandoned this project."
Join 'BinanceSpanish' on Telegram for an AMA with NULS West Director 'Berzeck'.
"Stay strong $LINK marines, we'll reveal what we've built using this #Chainlink feed next week!"
"#ARI is going be delisted from Crex24 on 10.10.20 as the developers appeared to have abandoned this project."
Last Updates


➡️ Be paid daily to browse with Brave Internet Browser
➡️ A secure and easy wallet to use: Atomic Wallet
➡️ Invest and Trade on Binance and get a % of fees back
➡️ Youtube
➡️ Twitter
➡️ Hive
➡️ Publish0x
➡️ UpTrennd
➡️ Read.cash
➡️ LBRY
➡️ Check out my video on Unstoppable Domains and get 10$ off a 40$ domain purchase
➡️ Get 50$ free by ordering a free Visa Card on Crypto.com using this link or using this code qs4ha45pvh