Welcome to the Daily Crypto News: A complete News Review, Coin Calendar and Analysis.
Enjoy!
Bitcoin (BTC) starts a new week still at $13,000 and wholly unfazed by problems in the global economy — what's in store next?
Cointelegraph takes a look at the potential issues at stake for Bitcoin in the coming days.
Banks to follow PayPal BTC adoption
Last week's announcement that payment giant PayPal would support Bitcoin and three altcoins from 2021 continues to have an impact on price action.
When the news hit last week, Bitcoin abruptly surged beyond $12,500 to hit highs of $13,200, subsequently reaching $13,370 over the weekend.
Nonetheless, consensus remains that Bitcoin has crossed a major adoption hurdle. Even David Marcus, co-creator of Facebook's Libra digital currency scheme which PayPal previously abandoned, was bullish.
"Many banks now pursuing #BTC and stablecoins support after this week's announcement by @PayPal . We're turning a corner."
Bitcoin sees 6th best weekly close in history
At $13,070, Bitcoin sealed its second-highest weekly close since January 2018 on Sunday and its sixth-highest ever.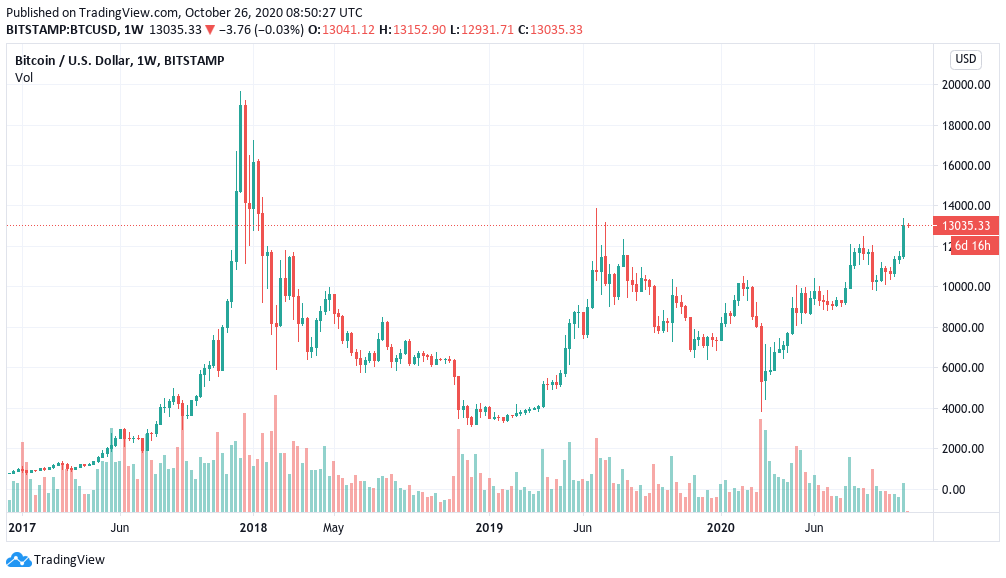 Central banks expected to expand stimulus worldwide
,Across macro markets, meanwhile, the mood is decidedly less buoyant as the week begins.
A combination of tightening coronavirus restrictions, moves to inflate fiat currencies by multiple central banks and U.S. election uncertainty is weighing on sentiment.
Just a week before polling day, a fresh spat over Washington agreeing Coronavirus stimulus has added to market skittishness.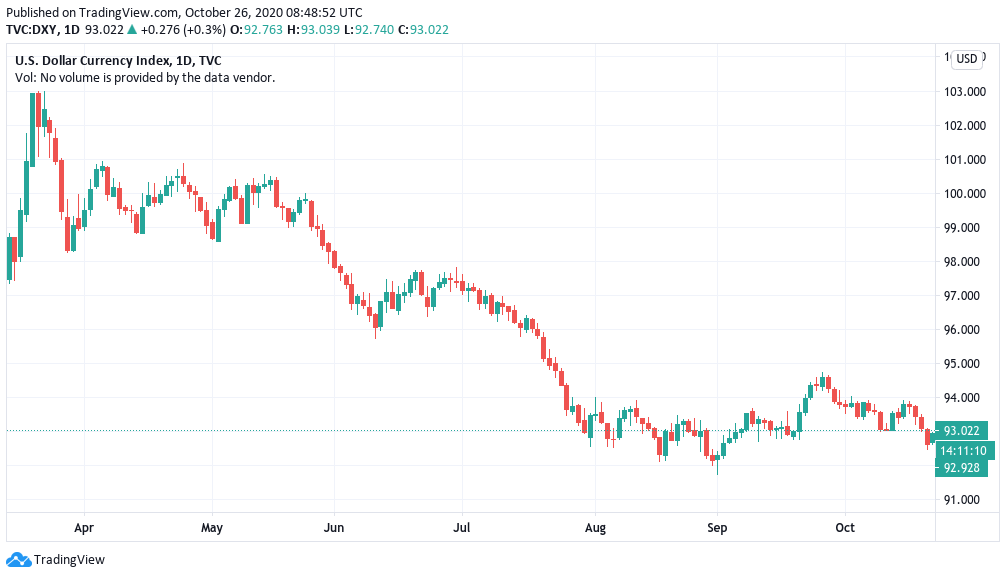 Fundamentals come off record highs
In a further suggestion that Bitcoin may take a breather in the coming weeks, network fundamentals are showing signs of cooling off after recent growth.
According to data from resources including BTC.com and Blockchain, difficulty and hash rate are or will be trending down in the short term.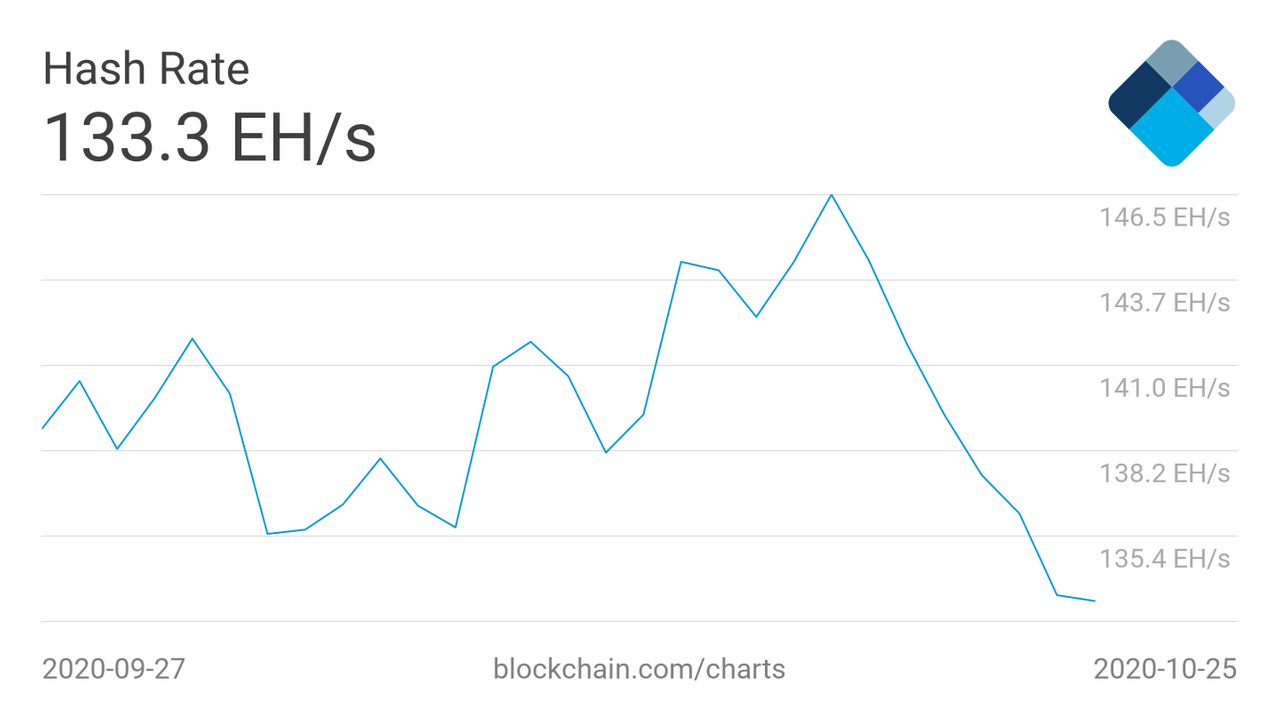 A possible exploit in decentralized finance (DeFi) protocol Harvest Finance has sent the platform's native token, FARM, tumbling by 65% in less than an hour, according to CoinGecko.
According to reports surfacing early Monday, upwards of $25 million in value has been drained from Harvest Finance pools and swapped for renBTC (rBTC) by an unknown attacker. Other funds have been mixed through Tornado Cash, an Ethereum obfuscation software. Following the attack, investors appear to have pulled roughly $350 million from the site.
The team further said the "economic attack" was made possible by manipulating stablecoin prices on Curve Finance, another DeFi protocol that Harvest Finance contracts interact with.
The project's admins claim to have withdrawn "100% of stablecoin and BTC curve strategy funds" to the vault and "are moving to block deposits to the Stablecoin and BTC vault," the Harvest Team said in the project's Discord at 4:45 UTC.
The U.S. government is pursuing a civil forfeiture claim on more than 300,000 units of the tether (USDT) cryptocurrency after they were reported stolen in a hack earlier this year.
The funds, co-owned by Shixuan Cai and business partner Lin Jian Chen, were later frozen by operator Tether Ltd. after Cai reported the theft to the Los Angeles Police Department (LAPD) in April, court documents filed on Thursday show.
Now the U.S. government wants to finalize the legal seizure of those assets, saying they are in violation of section 1030 of the Civil Forfeiture code, for "fraud and related activity in connection with computers."
Back in February, Cai purchased 300,900 USDT – a stablecoin linked to the price of the U.S. dollar – through the cryptocurrency exchange Binance. Cai then transferred those funds to a personal wallet co-owned and managed with Chen.
Just four minutes after Cai had transferred the tether from Binance to the personal wallet, the funds were transferred again, but without the business pair's permission, to a wallet address ending in 8869.
Bitcoin's performance continued to attract plaudits.
Bitcoin spinoffs have also benefitted from gains in BTC's market cap.
Stock markets are hoping this week's earning reports will give them something to cheer about.
Over the weekend, superlatives continued to pour in for Bitcoin's performance. Leading the charge was Michael Saylor, the MicroStrategy CEO who recently snapped up $425 million in Bitcoin.
In an interview with financial news outlet Real Vision, the multimillionaire boss of the business intelligence firm also said that when investing in Bitcoin, one is always worried that they are not investing enough.
"If it's not 100 times better than gold, it's a million times better than gold and there's nothing close to it," said Saylor. Here at Market Report we like to think Bitcoin is more akin to fine wines, whisky and watches, but people are entitled to their own views.
🗞 Daily Crypto Calendar, October, 26th💰
"Our Crowdcube crowdfunding campaign will kick off on Monday October 26th"
Team updates at 3:30 PM UTC/ 11:30 AM EDT: Engineering, Node network, Product/UX, Helpdesk, Legal, BD, Marketing, CEO Closing thoughts, AMA.
"SparkDeFi AMA with CTO and CEO"
"YFIII/USDT Trading (DeFi Zone) - 16:16 October 26, 2020 (UTC+8);"
"@Latokens will list GoalTime N (GTX) on 26th October,2020"
Crypto.com Coin (CRO), VeChain (VET)
"Our CEO & Co-Founder @sunshinelu24 will be joining a special YouTube live AMA hosted by @cryptocom on 26 Oct 2020!"
Last Updates
➡️ Be paid daily to browse with Brave Internet Browser
➡️ A secure and easy wallet to use: Atomic Wallet
➡️ Invest and Trade on Binance and get a % of fees back
➡️ Youtube
➡️ Twitter
➡️ Hive
➡️ Publish0x
➡️ UpTrennd
➡️ Read.cash
➡️ LBRY
➡️ Check out my video on Unstoppable Domains and get 10$ off a 40$ domain purchase
➡️ Get 50$ free by ordering a free Visa Card on Crypto.com using this link or using this code qs4ha45pvh