Welcome to the Daily Crypto News: A complete News Review, Coin Calendar and Analysis. Enjoy!
Video coming up in a few hours, while waiting, here is yesterday's 😉!
The price of bitcoin is trending up in a low-volume environment. Meanwhile, some rebalancing from bitcoin into ether has been occurring on exchanges since late November.
Bitcoin (BTC) trading around $19,363 as of 21:00 UTC (4 p.m. ET). Gaining 1.4% over the previous 24 hours.
Bitcoin's 24-hour range: $18,809-$19,607
BTC above its 10-day and 50-day moving averages, a bullish signal for market technicians.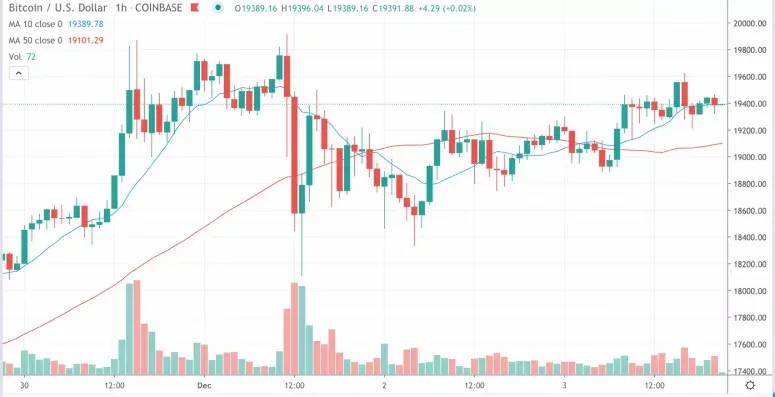 Thursday's even tighter range than the previous 24 hours is a symptom of lower-than-average volume. According to exchange data from the CoinDesk 20, daily volume was at $990 million as of press time, lower than Wednesday's $1.3 billion daily volume and the past month's $1.5 billion average.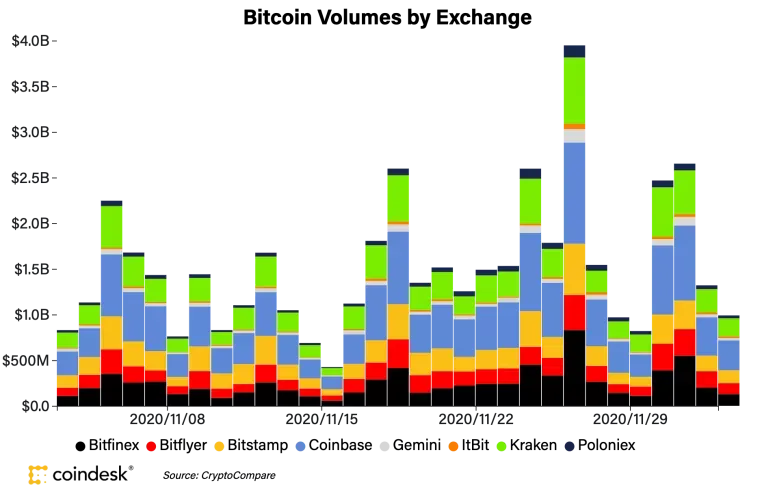 ""I was explaining to my non-crypto colleagues today that the supply and demand imbalance is just incredible," said Chris Thomas, head of digital assets for Swissquote Bank. "We're seeing some institutional buyers pick up large amounts fairly frequently, so the others will also be seeing that [and asking] where are they getting the coins from?""
The dry powder is out there in the form of miner wallets. Their balances have increased over the course of 2020, with Lubian.com, F2Pool, BinancePool and Poolin collectively holding over 33,000 BTC, according to data aggregator Glassnode.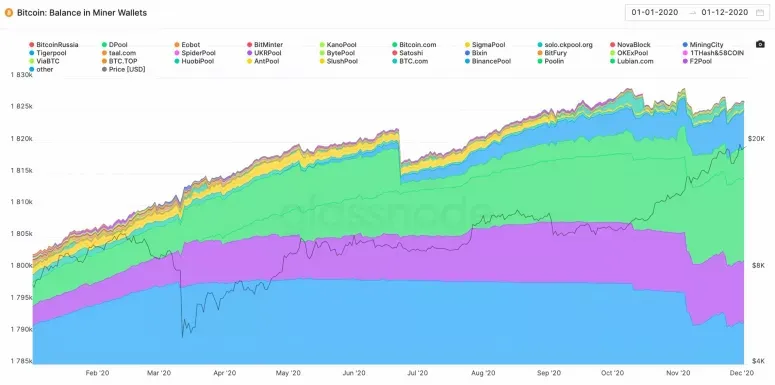 Bitcoin's overall volatility has been creeping upward since October and traders will continue to keep an eye on that metric in this overall bull market.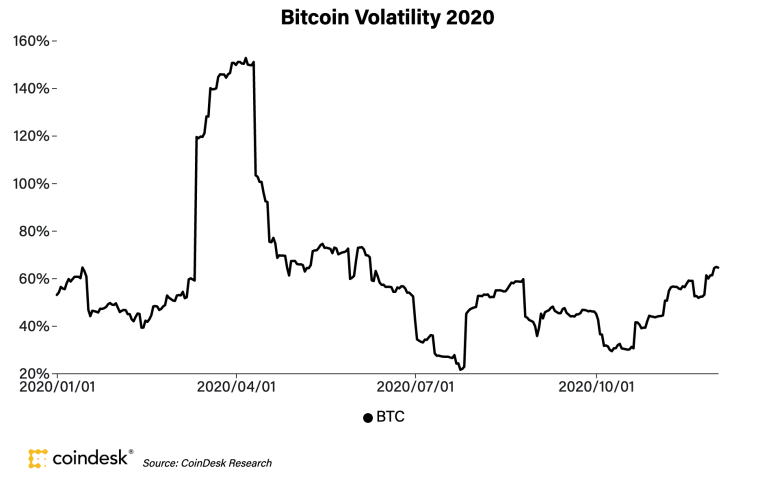 ETH/BTC goes bullish
""With regards to ETH and BTC, we strongly believe that BTC is the overall market driver," Rabkin told CoinDesk. "You will have outlier days for sure where BTC is down and ETH is up but mostly BTC drives the price of the overall crypto market, ether included.""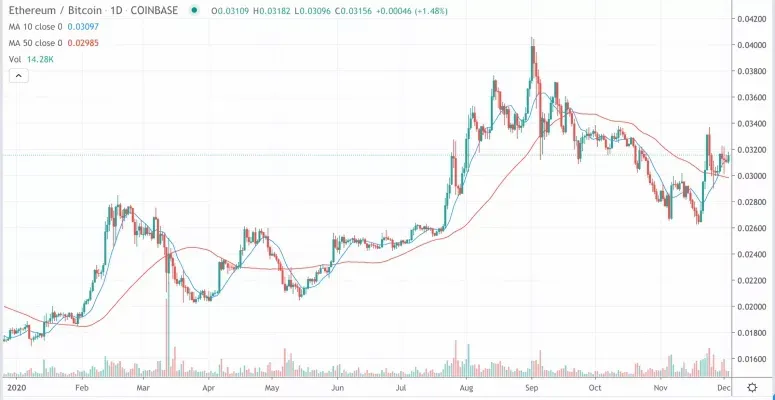 S&P Dow Jones Indices, a major financial data firm, said Thursday it will launch a customizable cryptocurrency indexing service in partnership with crypto data provider Lukka in 2021.
The coming product is poised to become a hub for cryptocurrency pricing data at a time when more Wall Street investors than ever are searching. This year's bull run is said to be driven by institutions angling for exposure to bitcoin (BTC, +0.78%).
"We've been watching [the digital asset space] and we feel it's at a point of institutional interest in maturity, where companies such as ours wants to get in and contribute to the transparency of the marketplace," said Peter Roffman, global head of innovation and strategy at S&P Dow Jones Indices.
Announced on Dec. 3, the alliance aims to overcome the decentralized nature of the Polkadot ecosystem, providing a platform for its community to discuss using the Polkadot Network and its underlying Substrate technology stack for DeFi.
Oracle network Chainlink is among the alliance's founding members. The company's global head of business development, Dan Kochis, said:
"Chainlink is excited to help steer the direction of Polkadot's growing ecosystem of decentralized financial applications. By promoting developer best practices for DeFi protocols, the Polkadot ecosystem can become stronger than ever."
KuCoin was hacked on September 25, with most funds recovered by November 11.
During that time, the price of Bitcoin went from $10,739 to $16,284.
KuCoin's trading volume is down 21% from the previous year.
Leading exchange Binance has watched its trading volume skyrocket—it's up 133% in the last month and over 400% from the previous year, according to data from Nomics. Coinbase Pro is also up—over 200% for the month and 92% for the year. Kraken has had smooth sailing as well with 163% and 54% jumps for the month and year, respectively.
KuCoin has done $3.97 billion in transaction volume in the past month, according to Nomics. While that's good for a 78% improvement from last month, the Singapore exchange is still doing smaller volumes than it had been doing for parts of July through September. Its volumes are down 21% from the previous year.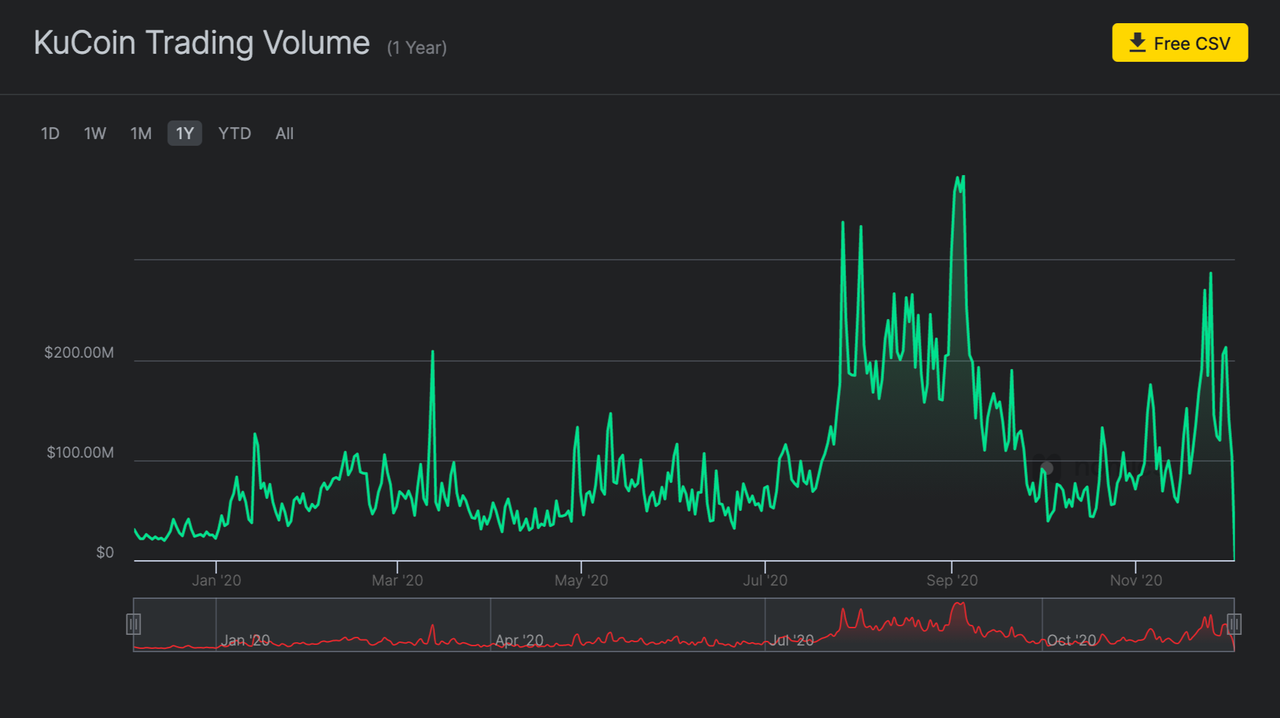 It got hacked on September 25 to the tune of $281 million worth of tokens (mostly altcoins). And although it was able to recover over 80% of the tokens by November 11, the timing of the hack couldn't have been much worse for the exchange from a consumer confidence standpoint.
In between those two dates, Bitcoin's price went from $10,739 to $16,284, but KuCoin's trading volume was stuck in Q1, perhaps due to user concerns about the security of their funds.
Indeed, the number of Bitcoin reserves in Kucoin wallets plummeted from 1,059 on September 24 to under 50 the following day, according to data from CryptoQuant. That number has slowly ticked up to 403 BTC.
🗞 Daily Crypto Calendar, December, 4th💰
Investment Partnership. The upcoming investment partnership will open up great opportunities for the development of the project and open up.
AidCoin (AID), Dether (DTH), FUSION (FSN), Mithril (MITH), Polymath Network (POLY), SpankChain (SPANK), Upfiring (UFR)
"... We are delisting the following tokens: $AID, $ATM, $DTH, $FOA, $FSN, $LOO, $MITH, $POLY, $SPANK, and $UFR."
"$SNT Trading | Available from 4 December 12:00 PM (UTC)"
Wabi masternodes rewards distribution.
"Trading begins Dec 4th at 4 PM KST. Trading pairs: UFT/KRW & UFT/USDT."
"$ZRX Trading | Available from 4 December 12:00 PM (UTC)"
Last Updates
➡️ Youtube
➡️ Twitter
➡️ Hive
➡️ Publish0x
➡️ UpTrennd
➡️ Read.cash
➡️ LBRY
➡️ Spotify
➡️ Be paid daily to browse with Brave Internet Browser
➡️ A secure and easy wallet to use: Atomic Wallet
➡️ Invest and Trade on Binance and get a % of fees back
➡️ Check out my video on Unstoppable Domains and get 10$ off a 40$ domain purchase
➡️ Get 50$ free by ordering a free Visa Card on Crypto.com using this link or using this code qs4ha45pvh