Welcome to the Daily Crypto News: A complete News Review, Coin Calendar and Analysis.
Enjoy!
Low volumes are keeping the bitcoin market in the $19,000 neighborhood; option traders expect a high ether price in December but aren't so convinced about next year.
Bitcoin (BTC) trading around $19,110 as of 21:10 UTC (4:10 p.m. ET). Gaining 0.60% over the previous 24 hours.
Bitcoin's 24-hour range: $18,360-$19,357
BTC near its 10-day and 50-day moving averages, a sideways signal for market technicians.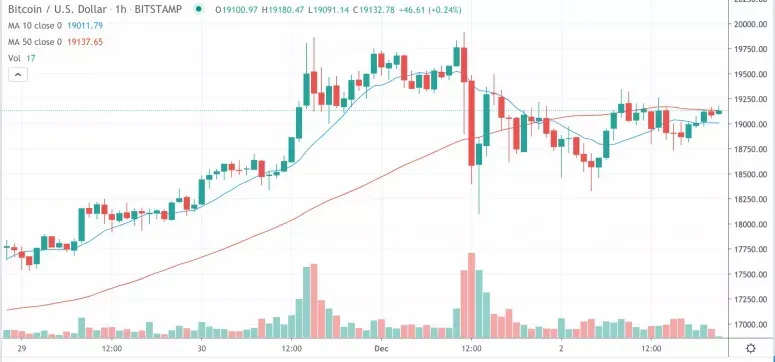 "Consolidation continues, judging by the signals from the RSI indicators and Bollinger Bands," noted Constantin Kogan, partner at crypto-focused investment firm Wave Financial.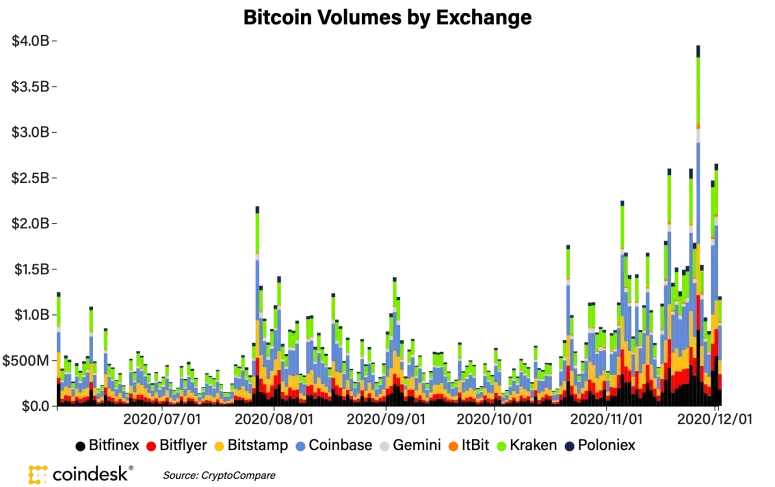 "Drops happened multiple times during the 2017 rally and we expect them to happen several times again this bull run as part of the natural market cycle," said Andrew Tu, a representative from quant trading firm Efficient Frontier.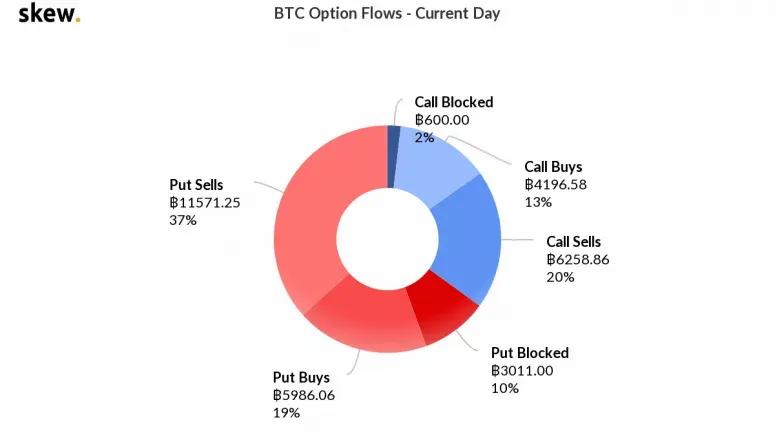 Ether options traders see a 91% chance of ether over $400 for December 2020 expiration. However, into 2021 those price probabilities drop quite a bit, with traders seeing a 91% chance of ether only over $280 by March 2021 expiration, according to date from aggregator Skew.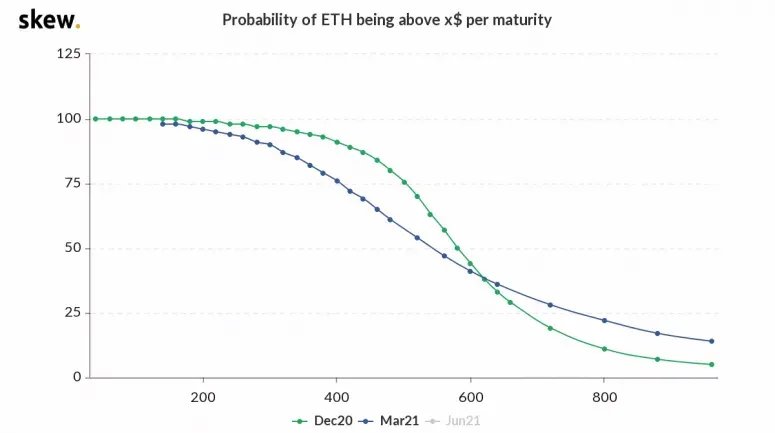 Three members of Congress have proposed a bill to regulate stablecoins.
The STABLE Act would hold stablecoin issuers to some of the same standards as banks.
Some cryptocurrency advocates think it will stifle innovation and further marginalize underbanked communities.
Today, Congresswoman Rashida Tlaib announced the Stablecoin Tethering and Bank Licensing Enforcement (STABLE) Act, which is co-sponsored by Representative Jesús "Chuy" García and Representative Stephen Lynch.
The proposed bill, which has almost no shot of becoming law, riled up cryptocurrency enthusiasts on Wednesday night.
That's because the bill, which takes direct aim at stablecoin companies such as Tether as well as the SC-curious Facebook, would require any company issuing a stablecoin to have a banking charter and be approved by the Federal Reserve and FDIC—no small feat for digital asset firms.
"Cryptocurrencies LOWER the cost of servicing populations that have historically been excluded from the banking sector," she wrote. "Raising costs and compliance obligations forces companies to cut access for unprofitable clientele."
It's alive! Welcome, everyone, to the first edition of Valid Points, CoinDesk's ongoing effort to chronicle the evolution of Ethereum 2.0. You can sign up for the newsletter here.
Today we're commemorating the launch of Ethereum 2.0, which marks the beginning of Ethereum's live transformation into a proof-of-stake blockchain. The new blockchain is said to be several times more efficient, scalable and secure than the current decentralized application network.
While Ethereum 2.0 will take years to build out fully, its first phase of development, phase 0, is now officially underway. With the activation of phase 0, there's a new use case for Ethereum's native cryptocurrency, ether. It's called staking.
Pulse check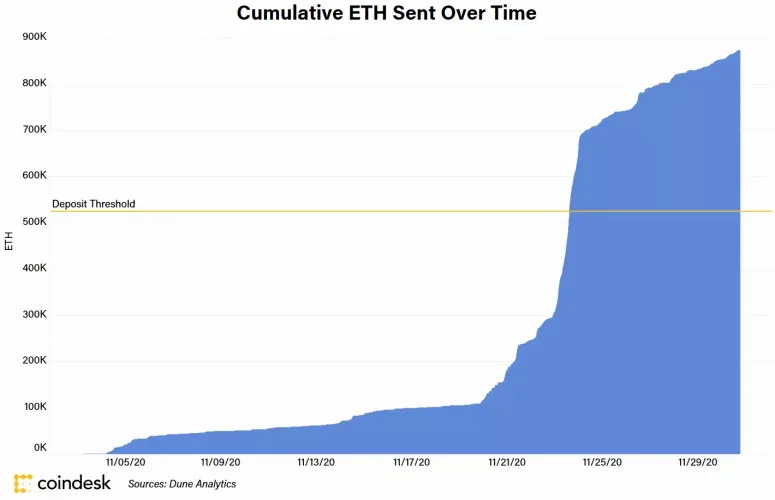 Active validators on Ethereum 2.0 are, on average, earning 0.00403 ETH/day, or $2.36/day at time of writing, for their participation on the network. This amount will likely decrease as the number of validators on the network rises.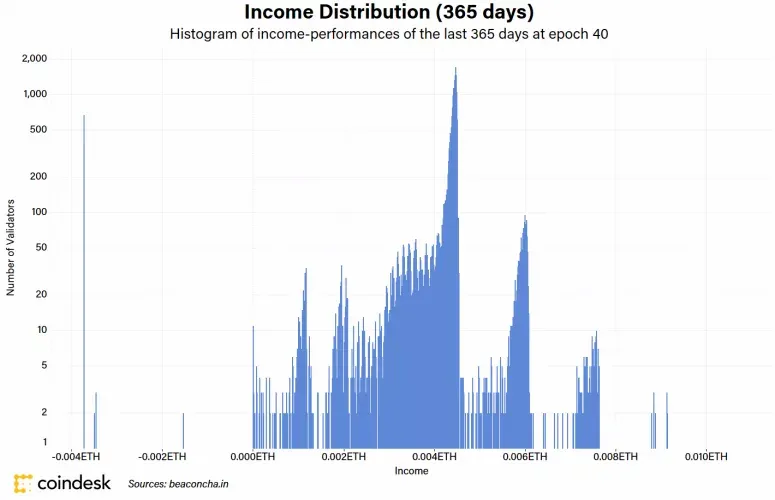 Eth 2.0: Risk and reward
Staking is risky as well, complete with different trade-offs from DeFi. Not only can your initial deposit be slashed for failing to keep up with the network, but hidden software risks still exist.
Each Eth 2.0 validator has to choose its own specification to work with from five different teams that programmed Eth 2.0 in various languages. Those specifications could have exploitable flaws, regardless of how smoothly testing went throughout the second half of 2020. That's one reason staking rewards are set so high by developers.
While the Eth2 roll-out was believed to be occurring in strictly regimented 'phases,' Lubin emphasized that the other aspects of Eth2's roll-out are "proceeding in parallel" — meaning upgrades to the protocol may come much sooner than many onlookers are expecting:
"It is very likely will get a tremendous amount of data availability in the form of shards, as well as move lots of the important functionality from Ethereum 1 to Ethereum 2.0, and essentially see Ethereum 2.0 absorb Ethereum 1 in the not too distant future."
"Essentially Ethereum 2.0 represents a massive increase in scalability, so we're already achieving tremendous scalability with layer 2 networks."
Lubin also noted that ConsenSys has recently been working on "cutting edge" CBDC and payments projects in partnership with various central banks, including the Hong Kong Monetary Authority, Bank of Thailand, and the Reserve Bank of Australia.
"Retail payments is incredibly exciting. ConsenSys has built architectures that can handle nearly 20,000 transactions per second on an Ethereum-based network."
🗞 Daily Crypto Calendar, December, 3rd💰
Wabi CEO sharing updates and announcements. Twitter @alex_taelpay.
"Pirate Chain's (ARRR) 3rd halving!"
"$MATIC Trading | Available from 3 December 12:00 PM (UTC) | MATIC/USD | MATIC/BTC | MATIC/ETH"
"HYDRO/USDT Pair will be live on CoinEx on 3rd December, 2020 by 9:00 UTC."
"Vite Developer Committee kickoff meeting (video) will take place on Dec 3, 3pm UTC"
Status (SNT), Synthetix Network Token (SNX)
"Announcing the Status AMA with the DeFi Titan @synthetix_io... Join us LIVE on Dec 3, 21:00 UTC in the public #status channel."
Last Updates
➡️ Be paid daily to browse with Brave Internet Browser
➡️ A secure and easy wallet to use: Atomic Wallet
➡️ Invest and Trade on Binance and get a % of fees back
➡️ Youtube
➡️ Twitter
➡️ Hive
➡️ Publish0x
➡️ UpTrennd
➡️ Read.cash
➡️ LBRY
➡️ Check out my video on Unstoppable Domains and get 10$ off a 40$ domain purchase
➡️ Get 50$ free by ordering a free Visa Card on Crypto.com using this link or using this code qs4ha45pvh