Grasshopper Farm officially joined the Enjin Multiverse Program and now the community-based telegram game is received greater exposure than ever.
The new text-based Enjin game is all about collecting Grasshoppers through the telegram chat application. This new simple game follows the "play to earn" model with ERC-1155 NFTs that you can send out on missions and battle against opponents.
Since it's on telegram, you can play Grasshopper using Android, iOS, desktop, or even a web browser. Reading the Enjin's official announcement, ERC-1155 tokens allow Grasshopper developer to mirror token upgrades in the metadata, a feature that is expected to come soon.
Grasshopper has received heaps of support from the Enjin Community, one of the most engaging and active blockchain gaming communities around.
What can you do in Grasshopper?
Collect Grasshoppers: Recruit as much as you can. Each hopper has a role, and it may be a teacher, lumberjack, swordsman, etc.
Complete Quests: Send the hopper on various quests and improve your farm.
Join Swarms: Team up with other players and complete objectives as well as group quests.
Battle Opponents: Send hoppers to timed missions and raid other farms for rewards.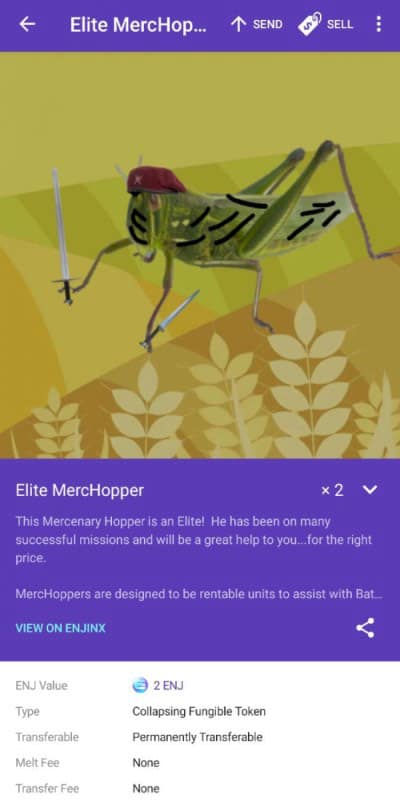 Follow up integrations with other Multiverse Games
The Enjin Multiverse is more than an initiative of connected games. It's a community of endless possibilities with like-minded developers. Every member of the Gaming Multiverse can utilize different assets and share progression, quests, and much more.
Shortly, Grasshopper Farm will integrate items from Enjin games like Dissolution, Forgotten Artifacts, CryptoNOM, and Spirit Clash.
Grasshopper Farm joins a team of well-crafted games, with the majority being under-development for almost two years. Delivering a good game takes time and a lot of effort, the best is yet to come!
We are excited for all of the potentials this has for us, making management of our assets and resources that much easier. The Enjin Team support has been superb, and the tools available are excellent to help every dev create and use their own blockchain items in their games! – Hoppertrophy, developer.