You are reading an excerpt from our free but shortened abridged report! While still packed with incredible research and data, for just $20/month you can upgrade to our FULL library of 50+ reports (including this one) and complete industry-leading analysis on the top crypto assets. 
Becoming a Premium member means enjoying all the perks of a Basic membership PLUS:
Full-length CORE Reports: More technical, in-depth research, actionable insights, and potential market alpha for serious crypto users
Early access to future CORE ratings: Being early is sometimes just as important as being right!
Premium Member CORE+ Reports: Coverage on the top issues pertaining to crypto users like bridge security, layer two solutions, DeFi plays, and more
CORE report Audio playback: Don't want to read? No problem! Listen on the go.
Overview
Aptos is a Layer 1 blockchain network built on the Move programming language with a focus on scalability, reliability, and security. The project is a continuation of the original Diem blockchain project through Meta (formerly Facebook), which was founded in October 2022 by Mo Shaikh and Avery Ching.
Aptos functions through its own native currency, APT, and is being developed by a complementary company called Aptos Labs. By focusing on scalability and throughput, Aptos Labs has claimed that the project can theoretically process up to 10,000 TPS with a target goal of reaching 100,000 TPS without compromising reliability (i.e., network uptime) and security. This is made possible through the implementation of different novel technologies, including that of Block-STM technology.
With the success showcased in the Aptos testnet, the project quickly attracted significant capital investments only a few months after launch. By March 2022, Aptos had secured over $200 million in venture capital from funds such as FTX Ventures, Multicoin, Three Arrows Capital (3AC), and more. In 2023, many of these ventures have failed or been riddled with controversy. Aptos itself hasn't been free of this controversy either, with users and industry experts addressing concerns in relation to decentralization, performance, and the APT token's initial distribution. Nevertheless, the project has quickly risen to become a top-40 cryptocurrency project by market capitalization as of Q3 2023.
Value Proposition
The Aptos blockchain's core value proposition is found within its usability and security innovations. For instance, Aptos allows for the creation and management of multiple independent wallet addresses through a single controlling account. These wallets can't be traced to the controller account, ensuring that the user has complete privacy and autonomy over their blockchain activities. Additionally, Aptos also incorporates a built-in auditing feature known as the Move Prover. The Move Prover is tasked with mitigating potential vulnerabilities in network security by verifying the legitimacy of Move modules deployed on the Aptos blockchain and ensuring the correct execution of the associated smart contracts.
There's a high degree of emphasis placed on delegation as well, giving users flexibility in their overall management and involvement on the Aptos blockchain. Besides the APT serving as a delegation token to validators, Aptos also supports private key delegation that allows for the temporary transfer of control over a wallet to a third party. The third party that the wallet has been delegated to holds a specified level of authority over the wallet, but the original user ultimately has full control and ownership over the wallet and all associated assets.
Overall, these features point to Aptos-targeted blockchain economy participants who are actively looking for an L1 network that favors usability and security over other distinct features.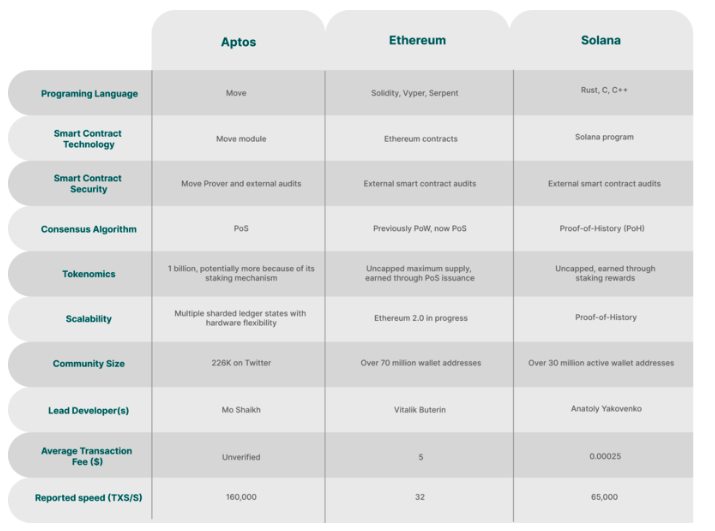 Source
Competition and Adoption Challenges
Aptos aims to compete with other established Layer 1 blockchains in what has become a saturated market over the past few years. Launching in 2022, Aptos is significantly behind other comparable competitors in terms of market share, ecosystem development, user acquisition, and more. This includes projects like Solana (SOL), BNB, Cardano (ADA), and Avalanche (AVAX). With the recent successes of L2 projects on Ethereum, Aptos also now has to compete with the likes of Arbitrum, Optimism, and Polgyon's zkEVM efforts. 
Aptos is also in direct competition with its sister project, Sui, another Move programming language-based project that also stemmed from former Meta developers. Sui Network has had a less explosive entrance into the market of L1 networks but remains a natural competitor all the same.
Source: Xangle
The good news for Aptos is, that despite the controversies and substantial competition the project faces, it does have notable differentiators in terms of technology. This point is particularly strong with its innovations in security and privacy technology outlined in the section above.