CryptoEQ 2020 CORE Rating Performance
It is our mission to provide you with the most up-to-date and accurate information in crypto and our 2020 CORE Rating Performance visualizes just that. Note the correlation between the quality of a given assets CORE Rating and the ROI of each digitalasset!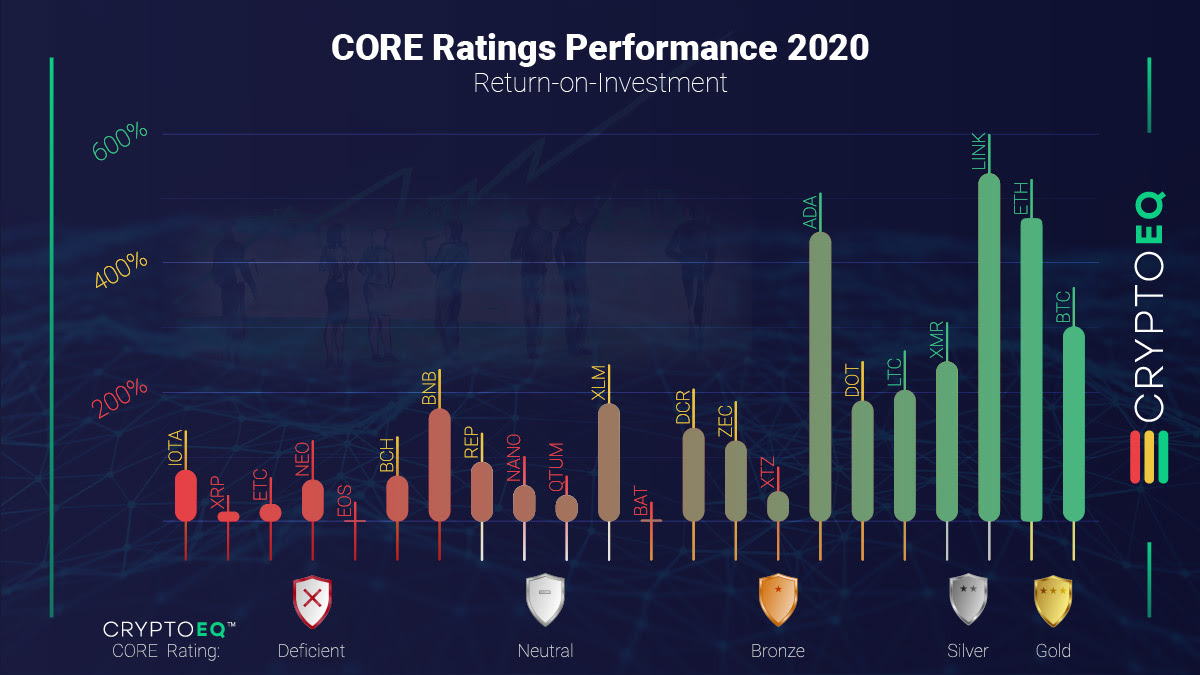 ETH 2.0 Staking
Over $1.5b worth of ETH has now been staked! Some stats on network progress:
ETH deposited to deposit contract: 
1,600,000+ (~1.5% of all ETH)
Current staking yield: 11.4%
Active validators: 50,801
Pending validators: ~20,000
Network participation rate: 99.2%

Notable entities that have been identified in the staking pool include Vitalik (6,976 ETH or 0.8%), Staked (104,224 ETH or 12.0%), Stake Fish (65,664 ETH or 7.6%), Cream Finance (16,000 ETH or 1.8%), Bitcoin Suisse (reported to deposit a total of 71,891 ETH), and CanETH (reported to deposit a total of 21,984 ETH).
Image credit: Delphi Digital
Staking yields from ETH 2.0 began at ~25% and trends down as more validators participate. In these early stages, over $1.6B in ETH has already been deposited for staking and yields ~11.7%. With PoS, ETH becomes more institutionally friendly given it's robust infrastructure.
Image credit: StakingRewards.com
ETH staking diversification/decentralization is critically important to the network security just like miners in PoW. If one group, company, or pool gains too much influence over the stake, it could create issues for the network. So far, ETH distribution is fairly evenly spread out among big holders (companies) and smaller validators (individuals). Several projects and services are rolling out staking solutions for holders with less than 32 ETH, which should help further decentralize the staking pool makeup.
Bitcoin 
As the Bitcoin bull market raged on to close out 2020, the mainstream headlines did not stop! Inarguably, Bitcoin (BTC) has become an increasingly accepted asset to own among institutional investors, money managers, corporations, and, well, everyone. Take a look below at major headlines from December 2020 as well as the growing list of companies that now gold bitcoin.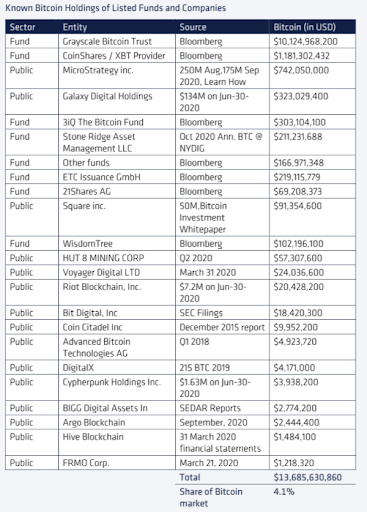 As bitcoin's price continued to rise on the bullish headlines from above, so too did its fundamentals. Overall retail interest and sentiment in bitcoin increased in December, with the number of address holding a non-zero amount of BTC reaching an all-time high of over 33 million.
Bitcoin liquidity continues to dry up as long-term holders take their funds off of exchanges and store them away. Illiquid BTC is measured by BTC that has not moved in over 1 year i.e. the velocity of BTC falls. This is bullish for prices as there is less bitcoin on the market and less being sold on a day to day basis.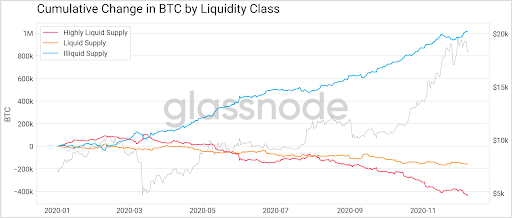 Ripple (XRP)
XRP has not had such a great month. In the wake of the SEC's lawsuit against Ripple Inc over the accusation of selling an unregistered security, exchanges have begun delisting the coin at a rapid pace. Coinbase, Beaxy, and Okcoin all suspended trading of the asset globally, while others like Bitstamp and Etoro suspended trading of XRP  in the US only. Bittrex, Crypto.com, and Binance US made the move to delist XRP entirely to US customers.  

The case is ongoing but the SEC's stance is clear below:

Ripple Labs raised at least $1.38 billion "over a years-long unregistered offering of securities. Ripple used this money to fund its operations without disclosing how it was doing so, or the full extent of its payments to others to assist in its efforts to develop a 'use' for XRP and maintain XRP secondary trading markets."

It is expected that the SEC will make its case for XRP to be deemed a security based on the common definition and interpretation of the Howey Test, the most common legal test applied to securities. The four component questions of the test are listed below:

1. Is there an investment of money?
2. Is there an expectation of future profits?
3. Is the investment of money in a common enterprise?
4. Do any profits come from the efforts of a promoter or third party?