The importance of choosing the right funds will be available and a comparison of the returns on key investment categories. The scenario for beastly gains or scary damage to cryptocurrencies.
The crypto space is very promising, but still in infancy . There are many "maybe", "will", "wait", "target", "calculate", "guess". Those who participate may make a lucrative profit, but they may also suffer terrible losses. Many people think that if you do not feel comfortable with this perspective, you are not the right person for the job.
Error! There is an alternative. Place only a small portion of your portfolio.
"The biggest investment mistake you can make is putting a lot of money into bitcoin that you can't stand to lose . The second biggest mistake you can make is not owning one at all. If you put a small percentage of your portfolio in the bad scenario, you will not be ruined. The overall performance of your portfolio will not be seriously affected. In the good case scenario, however, they will be overshadowed by the profits that will give you all your other assets. Maybe it will change your life.
Instead of going on a romantic weekend with your wife, say you went for it and use that money to buy bitcoin. Keep it and look after it for 5 years. Either you will have thrown away one weekend or your children will thank you. "
This is the advice of Wences Casares , founder and CEO of the Xapo e-wallet.
Is Casares right? First of all, he is absolutely right: You need to allocate an amount that you do not need. The expression may not be entirely correct, because no one has more money. Of course, you don't have to put in the money you need right away.
The amount of cash at your disposal is NOT necessarily available for investment. One of the unacceptable mistakes is to confuse the capital you have access with the capital to be invested. Money that you lose will not negatively affect your life.
If you are going to spend the money with which you buy your family's food, then you are not just daring. You are stupid. Yes, stupid. We do not mention it from his moral point of view. This is the surest way to lose your money, because out of anxiety you will make panicked moves. It is law-abiding. It happens to everyone. You are no exception!
Now that we've clarified that, let's take a look at how we put our money together:
S&P 500, the top 500 companies in the world's largest economy
Eurostoxx 50, the 50 selected European companies
China A50, the most dynamic and promising economy on the planet
Athens General Stock Exchange Index, for reasons of locality and familiarity
Gold, the absolute timeless value and
bitcoin
As we can see, the profits in bitcoin are from another planet. We multiplied our money by 42.6 times. If we had put in $ 1,000, we would have had $ 460,000. In other cases, the returns were. Earthly. From -19.6% to + 52.2%
To implement what Casares suggests. The same goes for the legendary manager Paul Tudor Jones. Wich one; Put only 2% of our portfolio in bitcoin. What is the overwhelming advantage of this investment strategy?
That in the worst case scenario, if for some reason the value of bitcoin is zero, our losses are clear, predetermined and of course minimal . Just 2%.
But even in this scenario, the profits over the past 5 years would be almost double what the S&P 500 achieved! We would have a return of 85.3%. And the even more beautiful? With much less risk. If we had put all our money in the winner, that is, the American index, in August, which had reached 1,810 points, we would have lost 14%.

What does this mean; How at some point we would see our money fall by 14%. In fact, if we had the misfortune to be placed in February 2020, we would see our money evaporate close to 40%. If we had divided our money into the first 5 conventional options, our profits would have been 23.7%. Almost ¼ from what we would have achieved in bitcoin with the tactic of 2%. 
So is bitcoin and crypto space in general a good investment? This is an answer that everyone should give themselves. Whenever we talk about investments, the key word is "it depends" . The microcosm of cryptocurrencies is an object that often shows pitfalls, but also unique opportunities. The point is to single them out.
What we can assure you is that when we did the exact same experiment a year ago, what results did we get? The same!
* For the past two weeks, bitcoin has been in neither rising nor falling in the US. It seems to have become autonomous. As the 4-hour diagram reveals, it accumulates force between the narrow strip, between the blue parallel lines.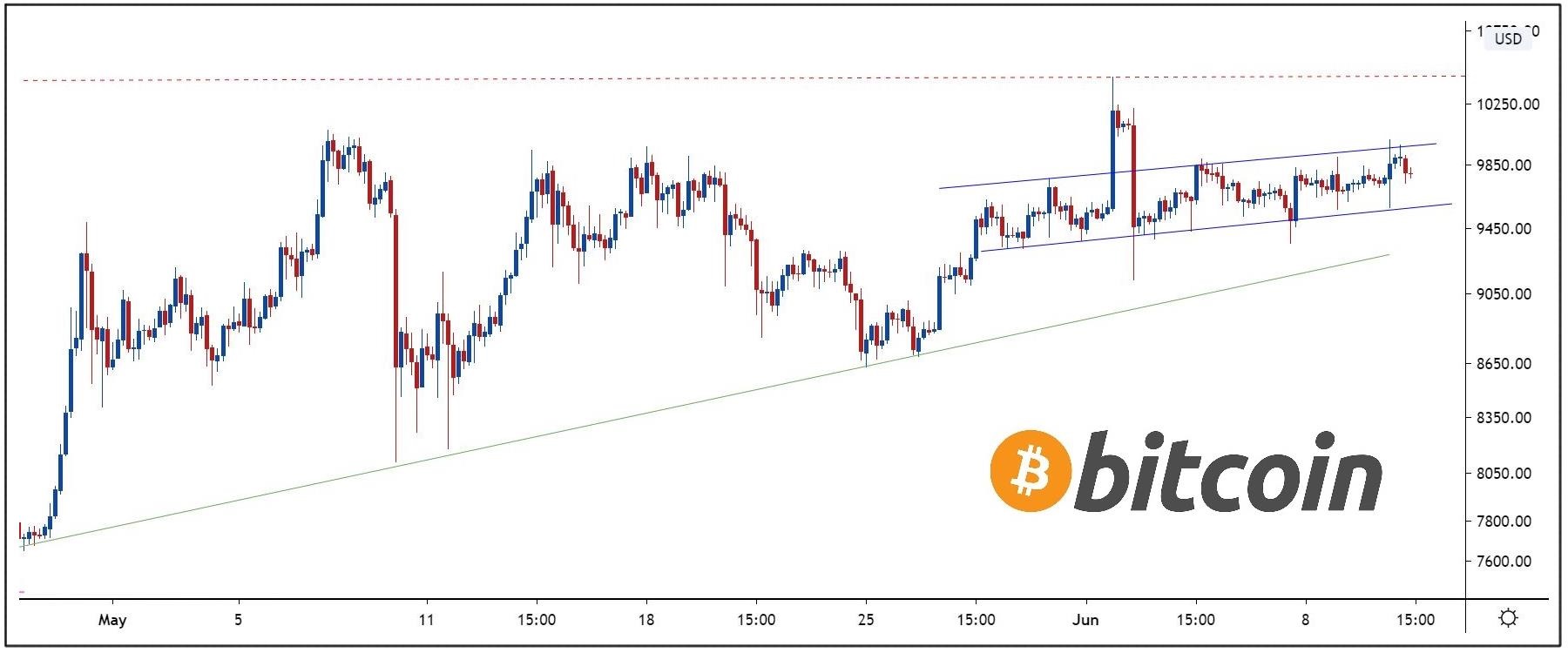 You can support my work also from my referral links.
---
Pitacoin is a simple game app with bitcoin prizes. It's 100% free. Let's earn bitcoin starting today.
Use this code and win 1000 satoshi CweWBM
---
BFast BFree is an app that is only available for Android
Before you start using the app you will be asked for a referral code. Here's mine: 9YE0A7
-----------------------------------------------------------------------------------------------------------------------------------------------------------------
EFast BFree: a mobile app to earn Ethereum for free
Before you start using the app you will be asked for a referral code. Here's mine: RJEB3N
-----------------------------------------------------------------------------------------------------------------
SwissBorg. 
Not ready to invest in cryptos yet?
Try our Community App to learn and earn Bitcoin with zero risk.
Use this code T2BK6AQ and win 3000 points. Just predict BTC price goes Up or Down
--------------------------------------------------------------------------------------------------------------------------------
StromPlay.
Make every day payday. With Storm's apps you can complete quick microtasks to earn Storm, Bitcoin, Ethereum, Litecoin, or Dai. Seriously, it's that simple. Use this code DYUA1HGL
Cryptomine Game +5% in mining
redbuble.com Crypto t-shirts and more kinds of stuff for you.