Only a month ago, all I knew about the WAX blockchain was that it supposedly existed. I never was too interested in NFTs so I really felt no need to interact with it. I had taken a look at Prospectors a while ago but found it to be pretty underwhelming. In recent weeks, things obviously changed quite a bit thanks to Alien Worlds's emergence. Ever since, I've been constantly learning more stuff about WAX and I slowly start to feel at home.
Turns out there are a lot of interesting projects running on the chain and much like Hive, a lot of it is still in its infancy but has huge potential if seen through. One such project I found to be extremely intriguing is R-Planet, a service that allows you to stake your WAX-NFTs for rewards!

So how exactly does that work? When you log into R-Planet with your WAX wallet, you can choose from a list of currently 6 different projects running on WAX. The one that caught my eye obviously was Alien Worlds which they just recently added to the list of supported projects. Clicking the corresponding project, you get a list of all NFTs you own in that category and with yet another click, you can choose to stake each of these NFTs.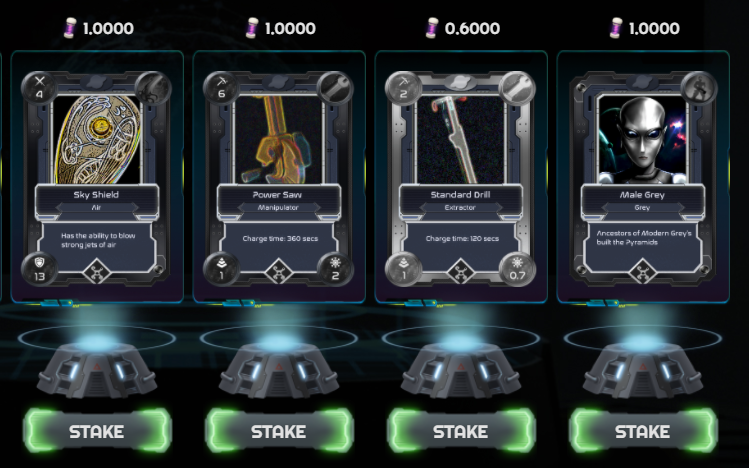 Depending on the NFTs rarity, you get a differing amount of rewards for it. R-Planet uses its own token, called Aether for rewards. As you can see from the image above, abundant NFTs provide 0.6 Aether while common ones provide 1 Aether. Aether is paid out every 60 minutes and has to be claimed through R-Planet's interface. As long as the NFTs are staked you can't use them in the game they are coming from. So in the case of Alien Worlds, you obviously don't want to stake the tools you are using for your mining endeavor.
So what can you do with the Aether you gain that way? Well, right now? Nothing. But obviously, there are a lot of plans for it in the future. There's not too much information available how this is all going to play out in the end, but according to their Twitter we are close to seeing the first iteration of their first gamification stage. Sometimes an image says more than thousand words, so taken from their homepage, that's how they envision it: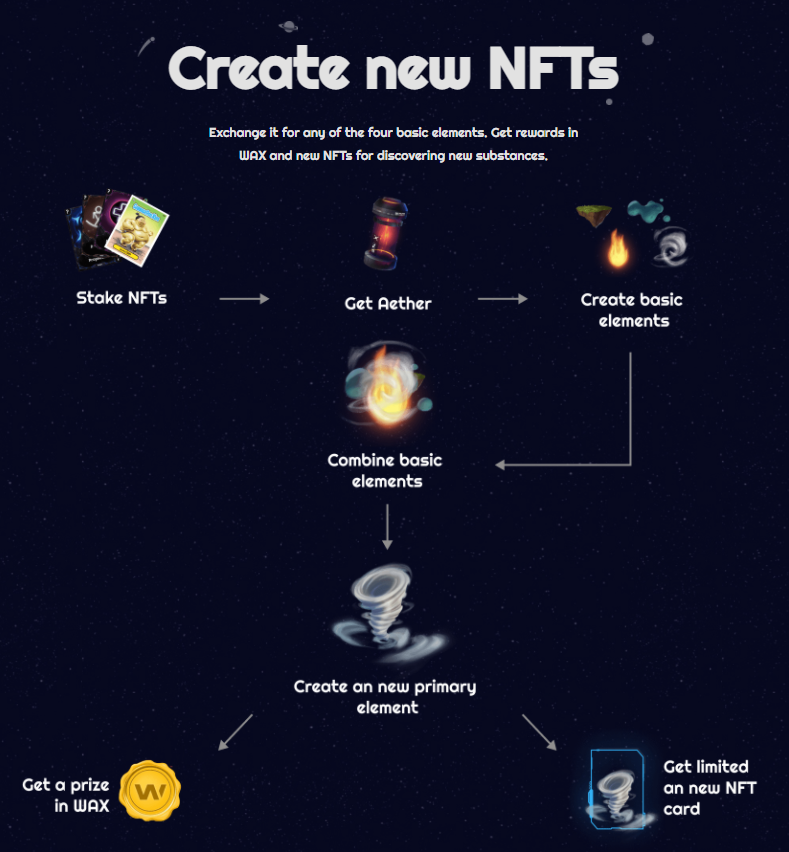 So basically, you turn Aether into basic elements which are then used to craft primary elements. These can seemingly be used for a WAX reward or to craft completely new NFTs. Either way, I think the concept is pretty cool and I'm really looking forward to see how this will look in a couple of weeks. Here's another screenshot taken from their Twitter, supposedly showing the crafting interface: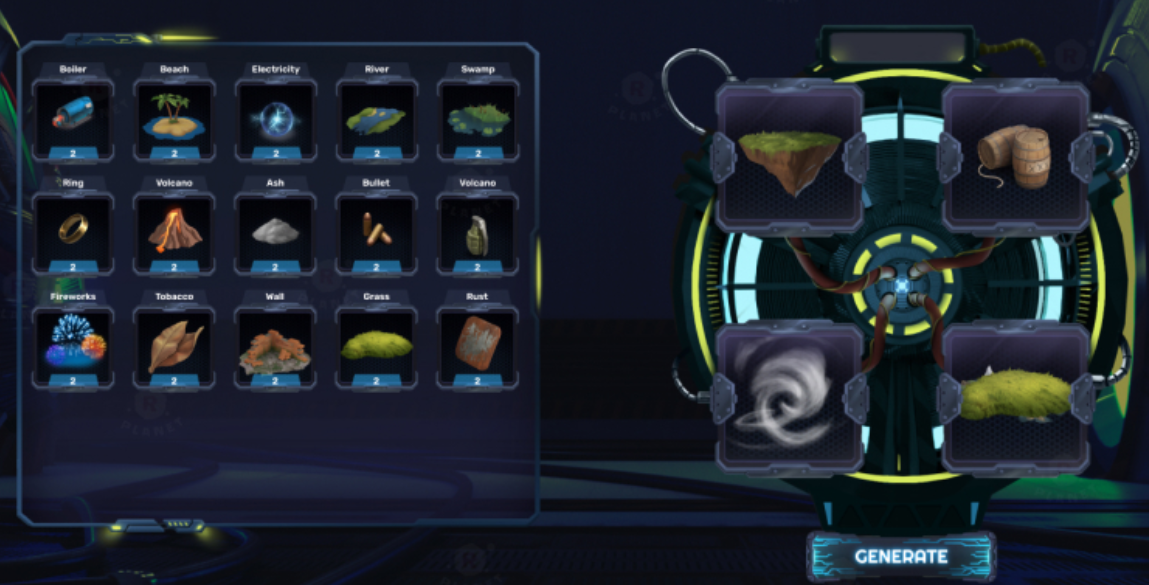 I like the concept for several reasons. First of all, it adds another layer of strategy and interaction between different projects to the WAX blockchain. Even if it only was a second layer on top of Alien Worlds, it would already be pretty exciting. But the outlook to have this work for NFTs from many different projects is really cool. Now keep in mind that Alien Worlds itself is working to set itself up to be at the center of a blockchain multiverse and things are really starting to come together. Potentially, you could earn NFTs from all kinds of projects and stake the ones you do not actively follow to R-Planet for additional rewards.
Secondly, and that's directly connected to the above, staking these NFTs gives them an additional use case. In Alien Worlds you can use exactly one avatar and up to three tools. Everything else would only sit in your account doing nothing. I was a bit worried that this would ultimately lead to declining prices for all cards. The ability to stake them for rewards should at least help to create a price floor where it becomes more interesting to just buy them up in order to stake them.
Lastly, the crafting process itself seems to be sufficiently complex to make it interesting on its own. There will probably be many different primary elements and different NFTs will require different amounts of different primary elements. So this whole process looks like it's going to be rather fun to play itself.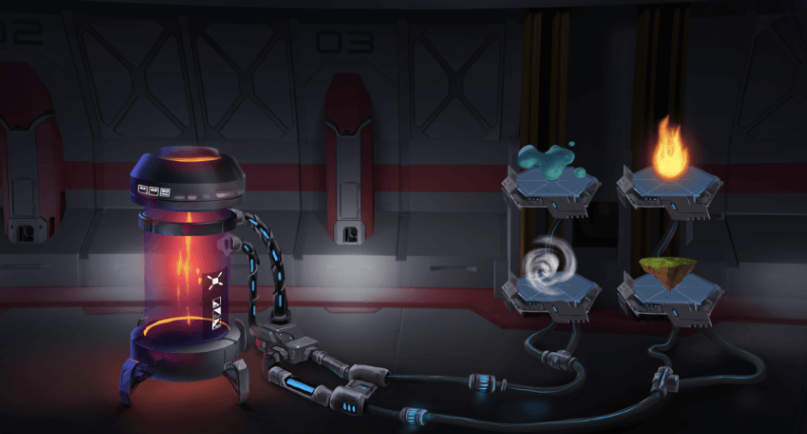 Now that you know the project, let's talk risks for a moment. When you stake a NFT in R-Planet, you actually transfer its ownership to the service. Remember, not your keys not your NFTs... or something like that. So while your NFTs are staked, they are obviously at risk. From what I've gathered about the creators of R-Planet, they are trusted and established developers both on WAX and EOS so the chances of them just pulling an Exit Scam are slim but you never know.
For that reason, I'd advise to only stake NFTs you are prepared to loose. In my case, for now I will only stake abundant NFTs to R-Planet as they are, well, abundant and thus not really worth a lot. Losing them would still suck but I wouldn't get too mad over it. If the project develops as I hope it does then I might revisit this policy and start staking rarer NFTs as well.
A good sign to me is that Aether is already tradable on Alcor. While there's not a terribly large amount traded right now, there's still some volume, indicating that there's at least some interest in the project. As of now, Aether is worth next to nothing which is to be expected at this stage of its development. Nevertheless, I think the underlying concept is pretty cool and could go off big this year. This might be one of the projects where it really pays off to be in early. It has been running for a while with other projects already but getting in now should still be super early compared to what might follow in the next months.
Wrapping things up, I feel like R-Planet is another exciting addition to what WAX has to offer. If you are playing Alien Worlds, there's literally no reason not to stake (at least) your abundant NFTs in R-Planet. You are bound to find a lot of them while playing and by staking them you put them to work for you, potentially generating additional returns in the long run. Things are at a very early stage for all of this, but we might be at the very beginning of a huge and complex ecosystem forming here. Don't miss it!
And that's all from me for today. Thank you all for reading and see you next time!