It has been incredibly amazing news this year that El Salvador has adopted Bitcoin as legal tender. One that spread positivity among the crypto community with many speculations that there are other countries on the verge of following suit, which is something that could kick off Bitcoin into a one-way journey to the moon. But, as is often the case, the US regulators and central banks seem to be eager to spoil the party...
In this post, I'm sharing with you guys some of these regulatory spats with some of my thoughts on the matter...
JPMorgan:

Speaking of central banks and regulators, JPMorgan is the first to come to mind since it is the largest bank in the US and is of course not a fan of Bitcoin, to say the least.
JPMorgan has issued several warnings since El Salvador's announcement to adopt Bitcoin as legal tender, most of these warnings revolve around repeated buzzwords such as volatility, money laundering, and transparency.
According to Bloomberg, a group of JPMorgan officials(Steve Palacio, Joshua Younger, and Veronica Mejia) warned that Bitcoin's volatility is a serious problem given that there is a small number of people controlling over the lion's share of its network
A large portion of Bitcoin is locked up in illiquid entities, with more than 90% not changing hands in more than a year -- with a "significant and rising fraction held by wallets with light turnover,"
JPMorgan also claimed to have conducted a survey that showed a majority of Salvadorans viewed the new law as "not at all correct" with a further 46% of those polled saying they had no idea what bitcoin was.
World Bank:

Last June, El Salvador officially requested technical assistance from the World Bank on its plan to adopt Bitcoin as legal tender. However, their request was predictably rejected due to "environmental and transparency" issues. According to World Bank spokesperson:
While the government did approach us for assistance on Bitcoin, this is not something the World Bank can support, given the environmental and transparency shortcomings
Of course, this news was neither happy nor convincing for the crypto community as some went so far as to call the bank obsolete, but I happen to think it was no surprise to see such refusal. After all, accepting bitcoin implies rejecting the Dollar, which is something the World Bank cannot do at all.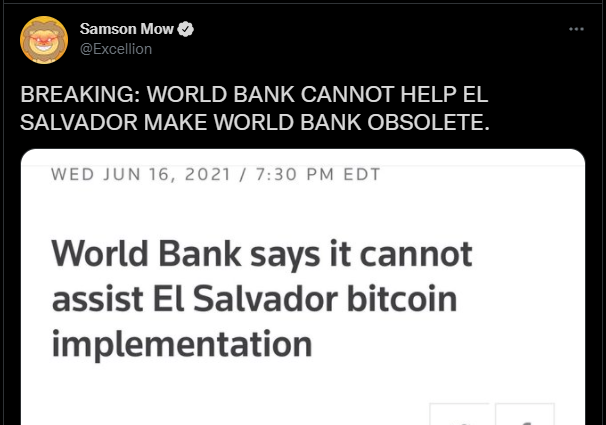 International Monetary Fund (IMF):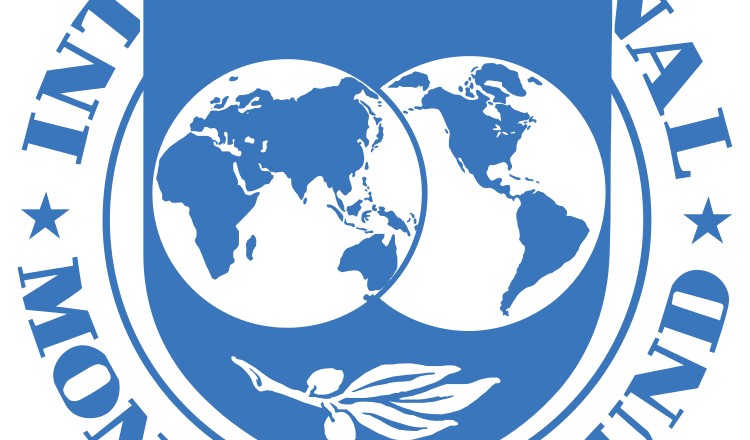 Another official financial entity that seems to be a bit upset with El Salvador's move to adopt BTC, warning of the consequences of making Bitcoin a national currency "could be dire."
According to Cointelegraph, IMF officials expressed concerns that cryptocurrencies could be a vehicle for "money laundering" and "terrorist financing" and have even passed on some veiled threats that such a move to legitimize Bitcoin could pose an obstacle to negotiations with the IMF over a $1-billion loan to support El Salvador's economy.
Granting crypto assets legal tender status risked domestic prices becoming highly unstable, also emphasizing assets being used contrary to Anti-Money Laundering and combating the financing of terrorism measures
Economic Commission for Latin America and the Caribbean (ECLAC):

It is basically a branch of the United Nations (UN) specialized in "supporting economic cooperation in the region". Needless to say, crypto is clearly not among the favorites, as it came out and jumped on the discrediting bandwagon to warn that the adoption of Bitcoin could have negative effects on El Salvador's economy.
"El Salvador's Bitcoin move poses a number of systemic risks as well as risks related to money laundering" . Said ECLAC executive secretary Alicia Bárcena
Fitch Ratings:

One of the most important metrics that should be considered by any country wanting to achieve economic improvements is "credit rating". This is because it is often the first thing foreign investors check out before coming and investing in any country. And this is where Fitch Ratings (a US credit rating agency) came in to warn El Salvador that the "Bitcoin Law" would pose a risk to local insurance companies, and it even lowered its credit rating as a consequence.



Final Thoughts:
El Salvador is the first country to have had enough courage to adopt Bitcoin as a national currency and I'm sure it will not be the last. However, given the fierce objections (and sometimes threats) El Salvador is receiving, I can't help but have the feeling that any country wanting to follow suit would think twice or more.
After all, we live under the dollarized financial system, and those dollar-backed institutions will not be happy to hand over their financial power if Bitcoin became mainstream.
And If I had my tinfoil hat on, I would predict that those global criticisms of El Salvador would continue into the near future, especially during the next bear market, where we might even see more coordinated assaults...
Despite that though, I really applaud El Salvador for their bold move, and regardless of any potential setback that could happen due to a Bitcoin price drop, I strongly believe that the long-term future will certainly be on El Salvador's side. And finally, we shouldn't forget that the success of this adoption means the beginning of the end of the traditional financial systems, and some would argue that we are already there...
THANK YOU FOR READING
---
You can also find me on these platforms:
Helpful links: