If you are in crypto, I'am sure that you've noticed the recent crazy price surge of THETA during this month. THETA which was at around $ 0.08 on April-20, soared to touch a peak of $ 0.40 on May-27, and now it is hovering around $ 0.32 level . We are talking about a surge of about 400% percent in just about 40 days!!
According CMC data, the recent surge has allowed THETA to climb up to be one of the TOP-50 coins by market capitalization overnight .
pretty insane, right?
THETA is an open source protocol that powers a decentralized streaming platform. It will allow for decentralized apps to be built on top of the platform to enable use cases that span esports, entertainment, and peer-to-peer streaming
You might be thinking that this must be another shit pump&dump scenario. I would have probably thought that too, had there not been a similar price surge with Theta Fuel (TFUEL) which is considered the Gas token for THETA blockchain...

So, what is going on with THETA? Is there genuine reasons for this rising or it is just a pump&dump game??
I did some research and found three reasons I'd like share with you:


1.) Lunching THETA 2.0 Mainnet Upgrad:

THETA has just lunch THETA 2.0 Mainnet Upgrad which changes the process of staking and integrates some great technical improvements in the protocol. However the main focus of this upgrade is Introduce Guardian nodes which will create second layer of security and will also help to prevent any single entity from controlling the majority of staked coins and that will help to establish a "real decentralized platform"
Binance have announced on Twitter that they would support the THETA 2.0 Mainnet




2.) Partnerships with high-profile enterprises:

It is obvious that the team behind THETA is obsessed with making high-level partnerships with prominent brands in in the crypto and non-crypto world alike. If you get into the official site you will see brands like Samsung VR , Cos.TV, pandora tv, Gfuel , ZNN ...and the list goes on.
On May-27, THETA has announcement another teaming up with another giant company which is Google cloud making Google Cloud as the Enterprise validator for THETA Blockchain.
This recent partnership has had a major positive impact on the price of THATA as it hit its all time high value in the same day of announcement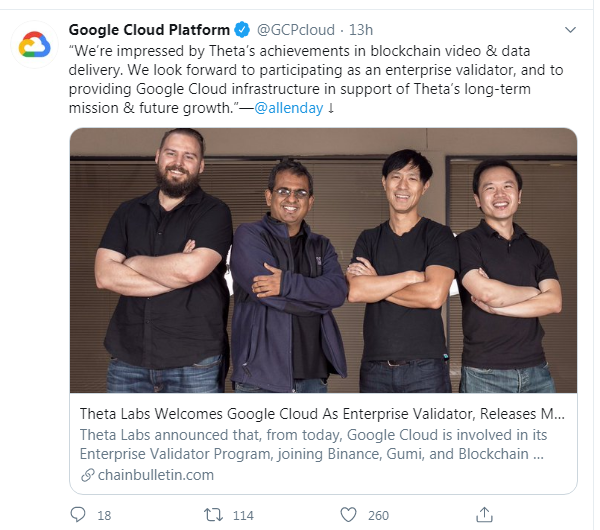 3.)THETA & SAMSUNG:

I've mentioned above that there is a strong partnership between THETA & SAMSUNG but it seems that this partnership is going to thrive more in the future as there has been news revealing that Theta.tv will be integrated into the new Samsung Galaxy Phones which means that tens millions of people will see Theta.tv app on their daily interface on their phones by default !!
Even more interesting, viewers can earn TFUEL tokens by watching and sharing videos of the Theta.tv app.
This recent news made a hype for THETA which contributes to pump the price THETA even more...



Conclusion:
In this article, I do NOT want to say that THETA will stay in the rocket ship forever.
Hype is just hype...
On the contrary, I think we will see some corrective decline in the coming months. So, for me, I won't be buying THETA right now in the midst of this mad publicity..maybe I will in the future but not now...
All I want to say is that, this recent rise has caught my eye on a crypto project I was not aware of previously...
For sure, I've been impressed with the great milestones achieved by the team behind THETA project...
I've also been interested with the gorgeous partnerships made by THETA and some of the biggest brands in the world ...
And of course, I can not deny that I get very bullish about the long term future of this project
It is fascinating to see what future holds for THETA
I'll definitely keep a close eye on it...
What do thing about THETA ?
Do you believe in this project?
Have you bought some coins of THETA before?
It's crucial for me to learn your opinion....
---
My other accoumts:
Very interested in reading comments