Bitcoin rallied again on Tuesday, reaching up to over the $59K level before pulling back a hair, closing the daily candle around $58.7K. This is of course a bullish candle as we retest resistance at $58K and look to $60K and higher later this week, possibly even overnight as Bitcoin is notorious for doing. 
(March 30, 2021  8:30PM EST)
Short-Term:
Bitcoin rallied another few percent on Tuesday, finding a bit of resistance around $58K but closing near the highs. Looking at this chart, Bitcoin is very well positioned to breakout higher from here in the short-term. Observe the clean uptrend with longer impulsive waves up and shorter corrective waves down, forming a series of higher highs and higher lows. Speaking of higher lows, look at the higher low Bitcoin made late last week/over the weekend, finding a local bottom around the $51K - $52K level.
Based on previous rallies, we should expect a subsequent rally of a similar magnitude as soon as this week in which Bitcoin rallies to at least the $65K or $70K level before finding any meaningful resistance. Remember, Bitcoin is now the 'megacap' crypto asset with a >$1T market cap so it doesn't move as extremely or have as volatile moves as we are accustomed to historically. However, we should continue to see moves in $10K intervals, taking us up to at least $70K in the near-term.
If Bitcoin were to get rejected around the $58K level and fall back lower, this could reopen the door back down to $50K where Bitcoin will need to find support else risk a drop to $48K where there's the 50 Day EMA.
As you can see below, every rally this year was followed by a subsequent correction, as we have just completed and come out of another one. However, amidst all the gloom and doom during each retrace, calls for a crash or the start of a new bear market have all been wrong as BTC completed a higher low and resumed the uptrend to new ATHs. We expect the same to continue in the near-term and well into 2021.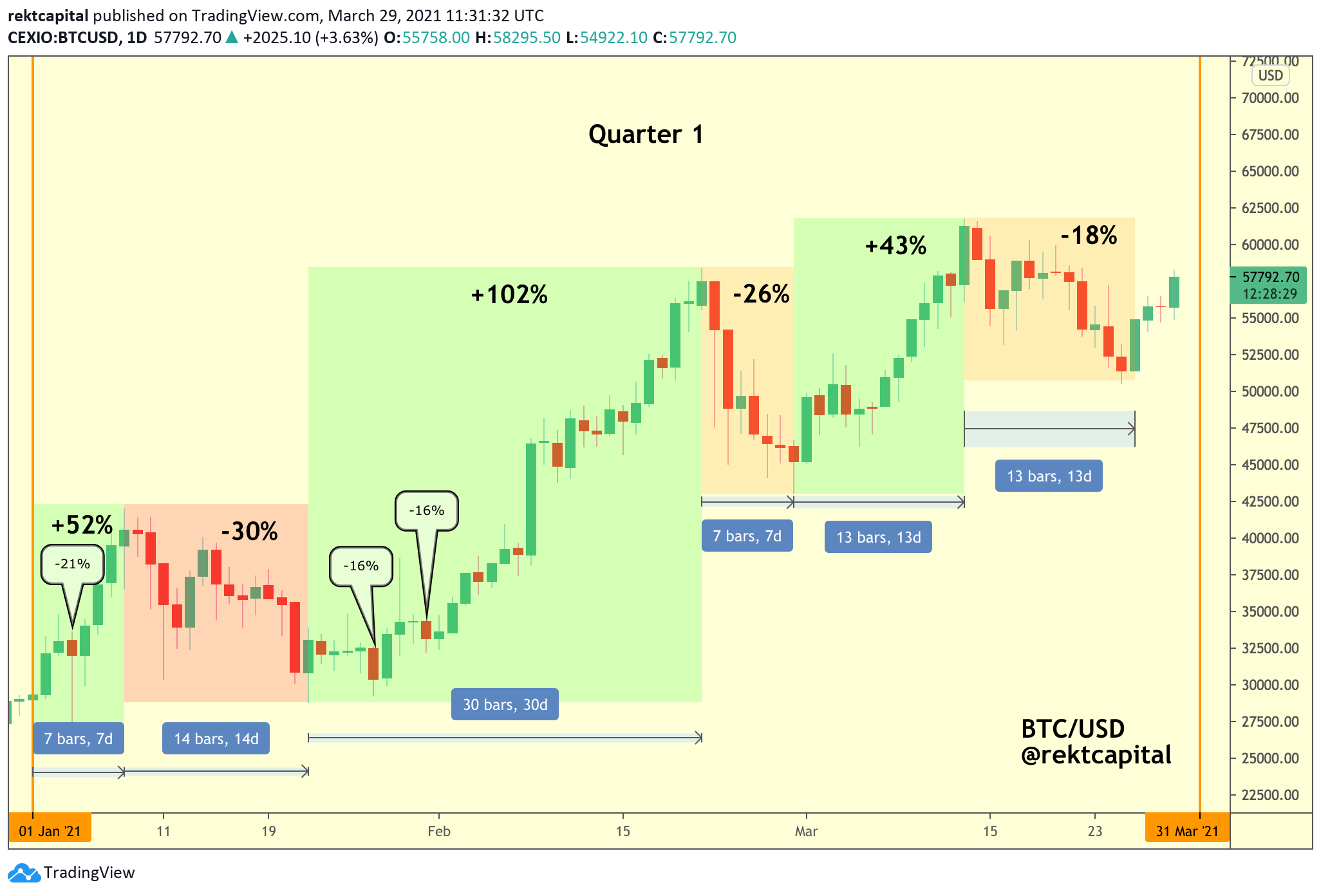 Support: 
$50K.
Floor: 50 Day EMA around $48K. 
Resistance: 
$60K, then $70K, then $10K intervals up to $100K.