I continue to bring a weekly update on both the Wink.org & Sportbet.one dividends along with my personal timing to buy or sell trying to get the most out of these as an investment.
Taking Profit on WIN
In my report 3 weeks ago (Link) I wrote how the price of WIN always lags behind on the Dividends which made me unable to resist buying more at a price around 75$ (for 1 Million WIN).

---
A couple of days ago, the Price of WIN Skyrocketed +90% compared to that price without it being backed by higher Dividends so I opted to unfreeze half of my bag and take profit (for BTC) selling at a price of 111.7$ (for 1M WIN). Quite a bit lower compared to the peak 143.6$ because of the unfreezing period but I'm fine with that. Right now, I still have half of my stack left (5M win) which based on what I invested after taking profit just cost 214.49$. I will continue to collect the daily dividends with that and make another move possibly buying again in case there is another signal. For now I'm happy how it all played out.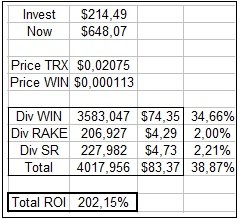 The Dividends calculated in percentage compared to the cost took quite a big hit because of the price increase. Right now based on the 21-day moving average, the expected daily dividends for 1M WIN is around 4.59 TRX good for 0.590% ROI which seems reasonable. 10 Billion WIN got unfrozen though and only 13% of the supply is getting Dividends which increases the pressure on the dividends in case it would get staked again.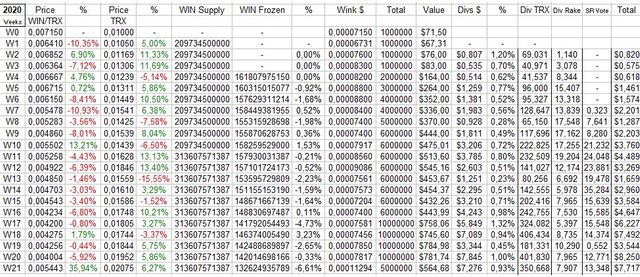 ---
Sportbet.one Dividends Back To Reality
So the Dividends from SBET have been carried by a couple of whales these last months which helped to pump the price up a lot. Last week, one of the whales didn't take all too many bets which got the Dividends back to a more realistic level and the price down a bit. I did sell 20% also taking some profit on the gains from the last few months. Based on the current price, the most recent dividends are around a 0.546% weekly return. A good thing is that the number of individual bettors went up a bit again from 126 to 133. I rather see more individual users with lower dividends instead of everything coming from a couple of whales.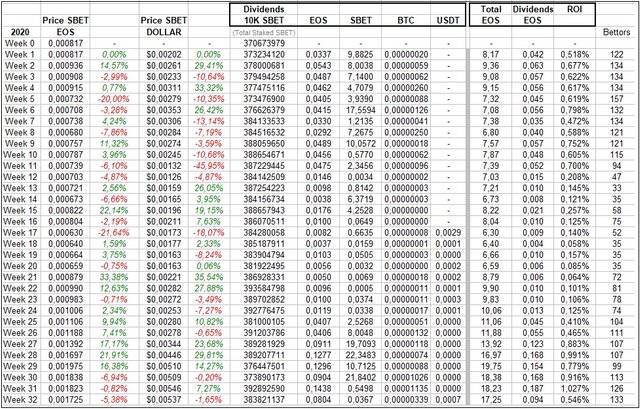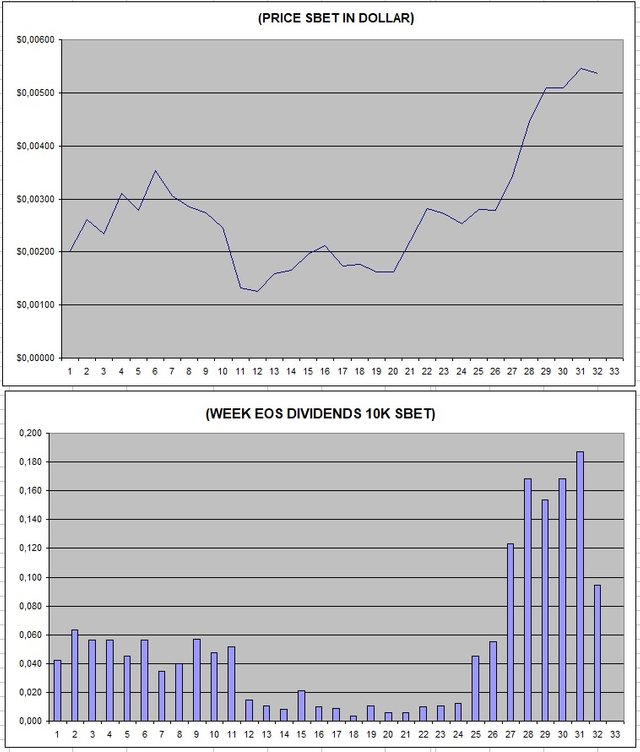 ---
Overall, a solid week and I'm looking forward to how things for these 2 projects will unfold in the coming months! I do intent to continue bringing a weekly report if I find the time to make them.
---
Hive: https://hive.blog/@costanza
Steemit: https://steemit.com/@costanza
Publish0x: https://publish0x.com/costanza
Uptrennd: https://www.uptrennd.com/user/costanza
Twitter: https://twitter.com/costanzabets