Another edition of the Share Your Battle Challenge and this week the Javelin Thrower is card is highlighted.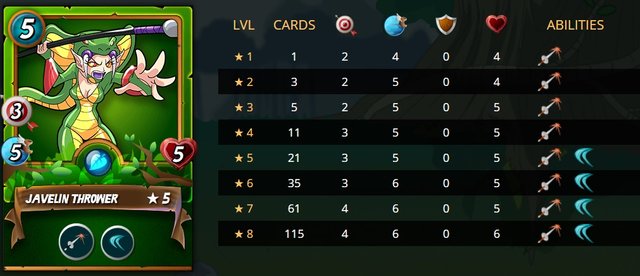 The Javelin Thrower is an old rare Earth summoner class reward card that has been fully printed so the only way you can own it is if you buy it off the market. I collected quite a few back in the day and own 30 of them including one at level 5. I currently have 21 of them leased out to players who signed up with my affiliate and 9 more available. It is quite a good card in both the early levels where 2 range damage is hard to come by and a great counter against the powerful armor ability. At the higher levels, it has the dodge ability making it suitable for the last position even though it remains vulnerable with limited health.

The card forms a great combo with the Mushroom Seer in matches where there is an Armored Up rule. It is one of those cards that doesn't need a specific ruleset in order to be useful and the game I played had the 'No Sneak / No Snipe' Rules.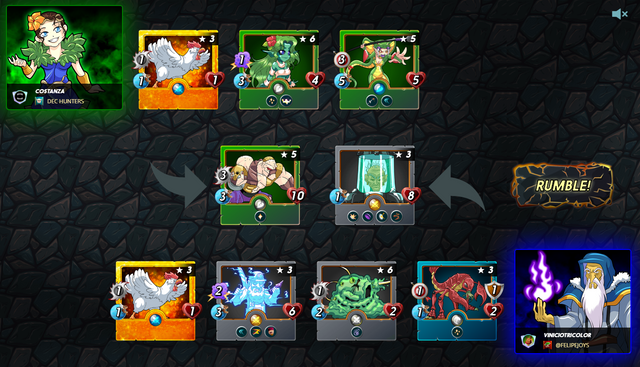 I tend to play this rule with max healing for the 1st Card which leaves it vulnerable if the opponent uses the affliction ability. If not, it's almost always a clear win which was the case in this match. I put the self-healing Flesh Golem in the first spot followed by the Golden Furious Chicken as a way to protect the healing Wood Nymph and the Javelin Thrower in last position. The opponent simply had not enough firepower to break through my healing while the 3 damage from the Javelin Thrower was good enough to break the Shield Ability of his Level 3 Lord Arianthus. Overall a clear win, the 2 Extra health from the Earth Summoner & Strengthen ability also helped.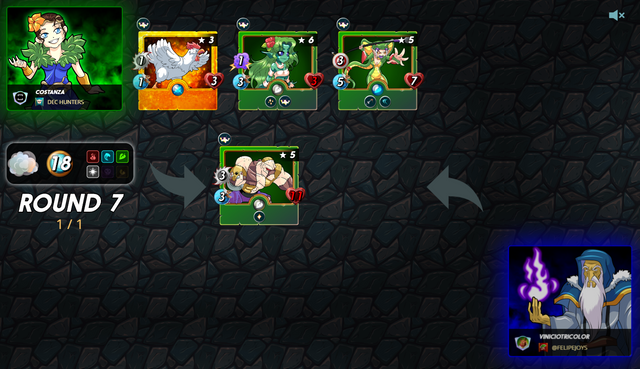 ---
Previous Weekly Challenges
Splinterlands | Giant Squid Challenge
Splinterlands | Serpentine Spy Challenge
Splinterlands | Goblin Mech Challenge
Splinterlands | Nectar Queen Challenge
Splinterlands | Manticore Challenge
Splinterlands | Undead Minotaur Challenge
Splinterlands | Spark Pixies Challenge
Splinterlands | Serpent Of Eld Challenge
Splinterlands | Gelatinous Cube Challenge
---
JOIN THE CHALLENGE + SINGUP PROMO OFFER
All Splinterlands players are free to join this Weekly Challenge (regardless of your rank) and will get rewarded by the team with Upvotes on both Steemit and Hive. My previous 5 Participations added up to a total of 30$+ net cross-posting on Steemit & Hive. If you haven't tried out the game yet, this is a great opportunity as it easily allows you to earn back the 10$ Price of the Summoner's Spellbook you need to get both your Steem and Hive Private Keys after creating an account, share in the game rewards, get Daily Quests, join tournaments, Earn DEC for each Ranked Win,... I am also leasing out a whole bunch of cards to everyone that is using my Affiliate link when you try out the game. (For more details check this post). 
Signing up with an affiliate link and purchasing the Summoner's Spellbook currently will currently also give you a Free Random Untamed card from the @sl-giveaways account which could be a 100$ golden legendary if you are lucky. I have 1 more Legendary Camila Sungazer Summoner available and the first to take up the sign-up deal next week will also receive a Level 1 Javelin Thrower Card.
Important: Treat games as games and not as investment opportunities, Splinterlands allows you to earn some money and get good returns but you are much better off flipping burgers in Mcdonalds if you are just in it for the money.
---
Hive: https://hive.blog/@costanza
Steemit: https://steemit.com/@costanza
Scorum: https://scorum.com/en-us/profile/@costanza
Twitter: https://twitter.com/costanzabets