NFTS are the hot topic in crypto right now but rather hard to get into given the high entry cost due to Gas fees and highly overpriced "artwork" on websites as superrare / rarible / opensea / niftygateway. The Hive Blockchain however has a really low entry cost for everyone who wants to experience and learn about NFTS first hand!
I am quite skeptical on the entire NFT space, I get how in-game items that can be used by gamers in their favorite game have some value to them, and the idea of royalties being attached to NFTS so the creators continue to earn when they get sold on the secondary market. This is one of the reasons why I got into Ultra at 0.045$ (See Reasons I'm Buying Ultra). The entire 'buy a jpeg that you then own' is/was quite beyond me though looking at some of the NFT marketplaces where they are going for thousands of dollars. Actually trying it out in a very affordable way did make me feel the buzz around it understanding it a lot more.
NFT Showroom
I kind of enjoyed browsing a site like superrare looking at the art that is put up. Yet, being able to actually participate and try it out was impossible since both the prices and the gas fees are just completely retarded. Unless you have the time, knowledge, and the funds to get a piece of the 'real artists' or potentially real artists, it most likely will turn out in burning a lot of money getting into it. The Hive Blockchain, however, offers a very similar experience with the NFT Showroom project where it is actually possible to participate both browsing the art that is being put up there by selected artists while collecting some of them at really affordable prices if you want.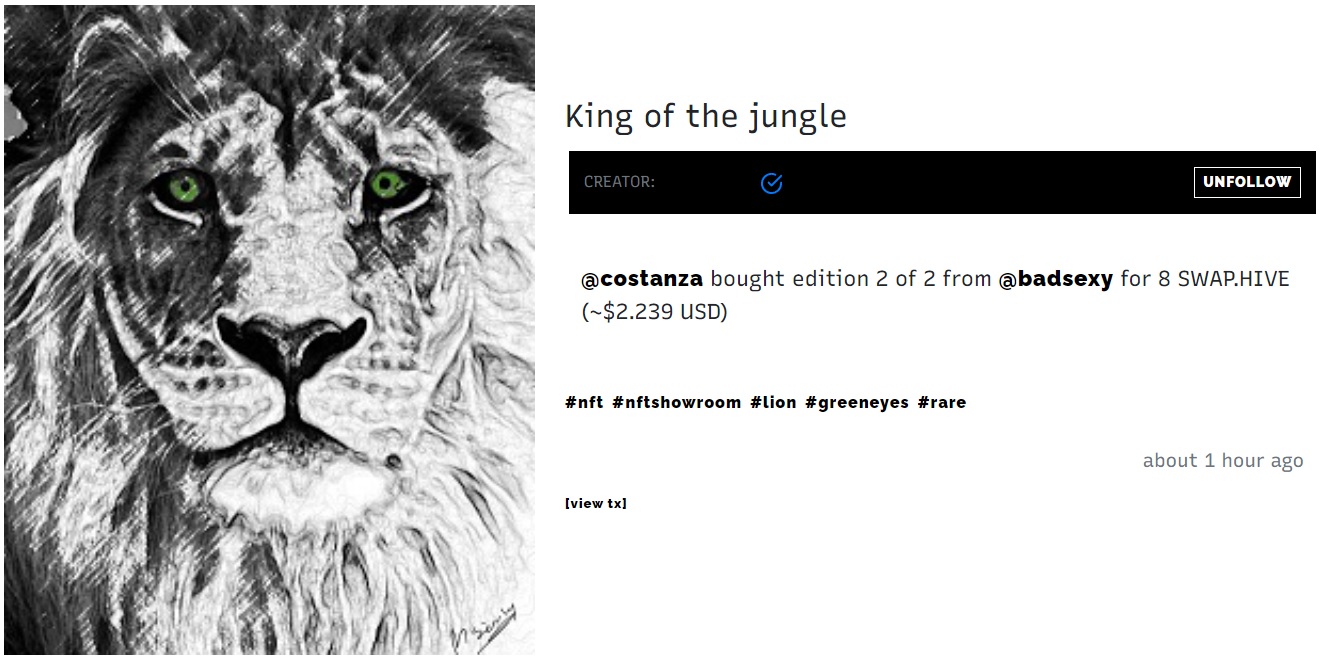 I recently bought my first piece on NFT Showroom, not so much because I believe I will be able to sell it for a higher price (I paid ~2$ for it) but more to test the platform and experience what it's like also supporting the one who put it up there. It certainly helped me to get a better grasp on the NFT space seeing its potential even though I still think most of what is going on in the space right now is one major bubble where everyone is just trying to make some money. Likely there will be just a handful of winners aside from the artists, celebs, and influencers that are able to sell stuff.
It feels really strange to say as a very rational person that I actually enjoyed buying an NFT I know is basically worthless which makes me quite bullish on the entire space. In the end, it is almost exactly the same as real-life art which is a concept that is time-tested.
To anyone who is interested in the space but feels priced-out to try it or participate, I could highly recommend checking out NFT Showroom
---
Splinterlands
I have been playing and enjoying the Splinterlands card game which also runs on the Hive Blockchain now for over a year collecting their NFTS building my card collection and using it to play the game and earn some rewards along the way. The 4325 cards I own on my main account currently have a market value of 1878$ and I have no urge to sell any of them actually collecting and earning more each day.

Splinterlands is also a cheap way to get into the NFT space as it can be tested for free and it only takes the 10$ Summoner's Spellbook to be purchased in order to start with the game earning from the rewards that are being given daily. I made a Complete Guide on how to build your way up toward earning 100$ a month with this game.
Individual cards are limited in the maximum amount that ever going to exist with many of them by now having been fully printed. The Card NFTS can be bought, sold or even turned for a fixed amount of Dark Energy Crystals which is the in-game currency which also can be bought and sold on the market. The prices range from 0.01$ for a common wave runner card (which also can be burned for 0.01$ in DEC value for in-game purchases) to 5000$+ for some Golden Legendary cards of which only a handful are in circulation.
The most expensive single card I personally own is a Golden Legendary The Kraken that goes for 120$ and can be burned for 75$ worth of DEC. I did once receive this card from a loot chest after completing the daily quest and have no intention of selling it anytime soon and there are only 94 in circulation.

---
SIGN-UP PROMO OFFER
I have been offering win-win sign-up deal for everyone that wants to starts out with the game using my Referral Link leasing a whole bunch of extra cards to give them a head-start and I will continue to do this in 2021. (See Full Sign-Up Deal)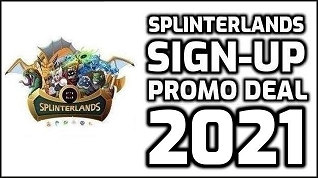 ---
There is a lot of hype around Beeple mostly because he is the first artist to really make a breakthrough in the NFT space with art investors expecting that this fact will make his work really valuable over time. Splinterlands has topped the ranking of gaming dapps with most users so who knows it might be considered to be the one who started it all making the cards now that can be earned and bought quite cheaply a lot more valuable in the future.
Being able to experience the NFT space using both NFT Showroom for NFT Art collecting and Splinterlands for NFT Gaming really helped me to better understand as see the potential of this space. They are also very accessible to everyone that has ~20$ to spare. Making a Splinterlands account takes less than a minute allowing players to try the game for free, the 10$ Summoners Spellbook allows sharing in the rewards that come from playing the game and also creates a Hive account that can be used to log in on NFT Showroom to try out NFT Art collecting. Both are perfect for those who are interested in learning about the NFT space experiencing it 1st hand without needing deep pockets and with the potential to actually earn something!
---
Hive: https://hive.blog/@costanza
Publish0x: https://publish0x.com/costanza
Twitter: https://twitter.com/costanzabets