It has been over a month since I made an Ethereum Trade (See Post) which I'm currently still holding on to and it's time for an update on how it has worked out so far...
I see these trades and posts most of all as learning experiences for myself and that is very much what this Ethereum-BTC trade is turning out to be as it perfectly hit a target but my rather long-term mindset had me just hold on to is seeing it drop all the way down again. Below are the original Ethereum chart images with how they progressed over time during the last 40+ days.
Weekly Ethereum-BTC Chart: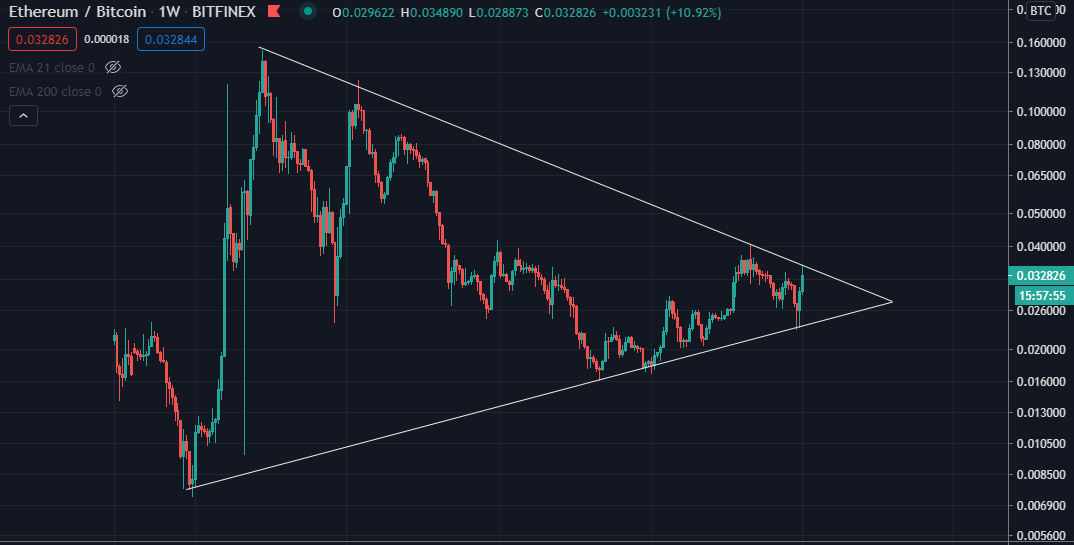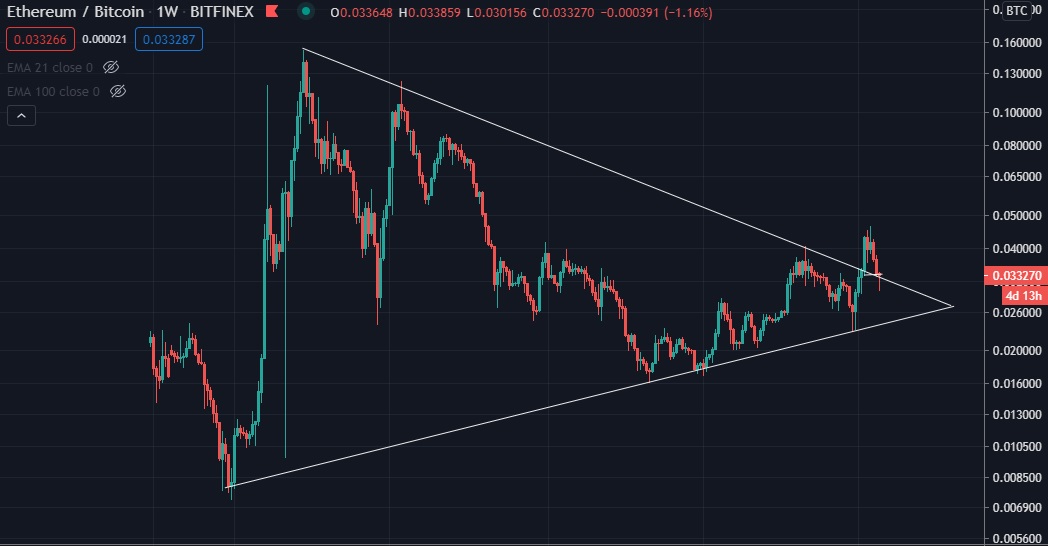 So Ethereum did break out against Bitcoin on the Weekly Chart going up about +33% to drop down again now retesting old resistance as possible support.
Daily Ethereum-BTC Chart: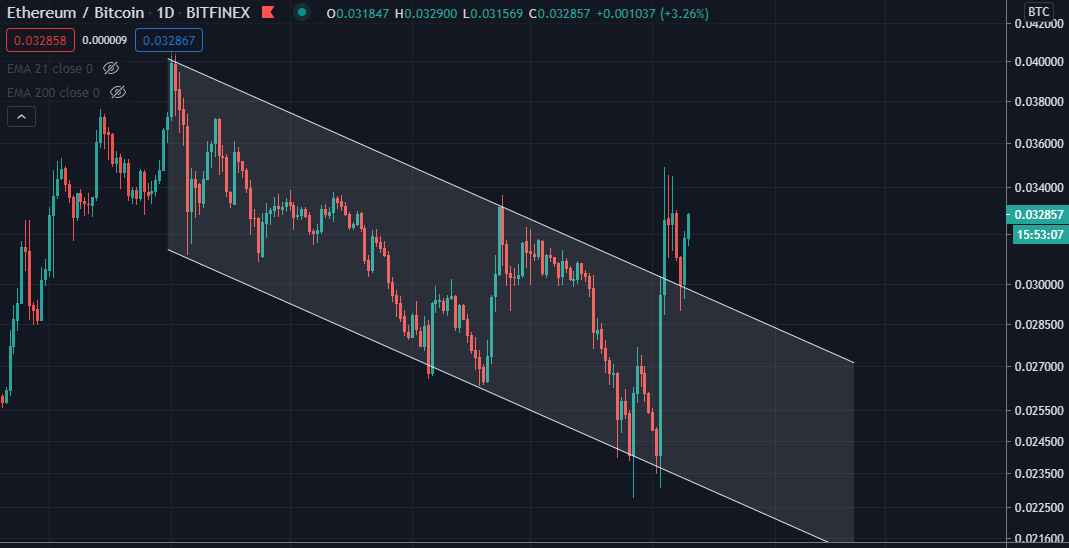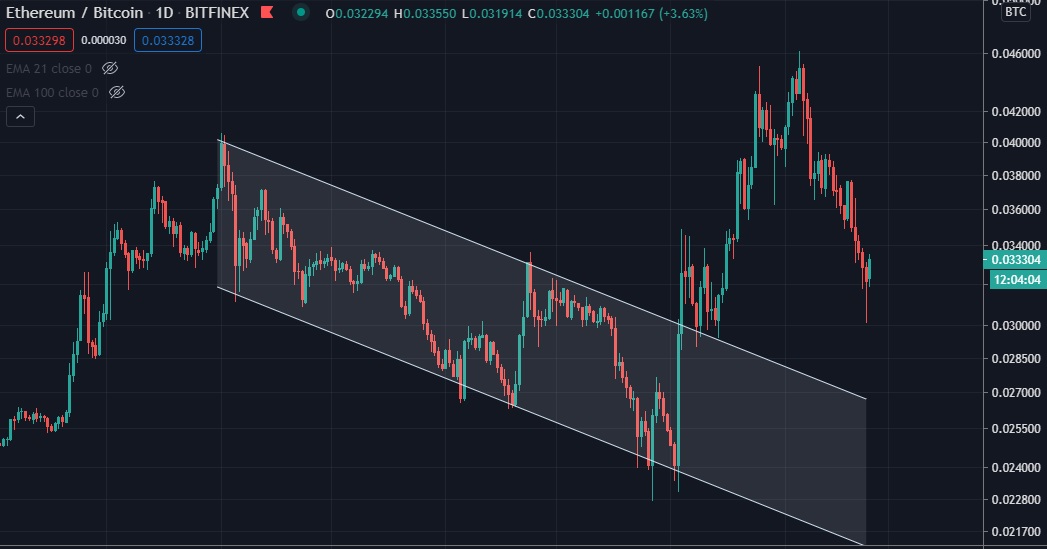 The 1-day chart also saw a break-out backtesting previous resistance as support to shoot up afterward (and come down again eventually)
4-Hour Ethereum-BTC Chart: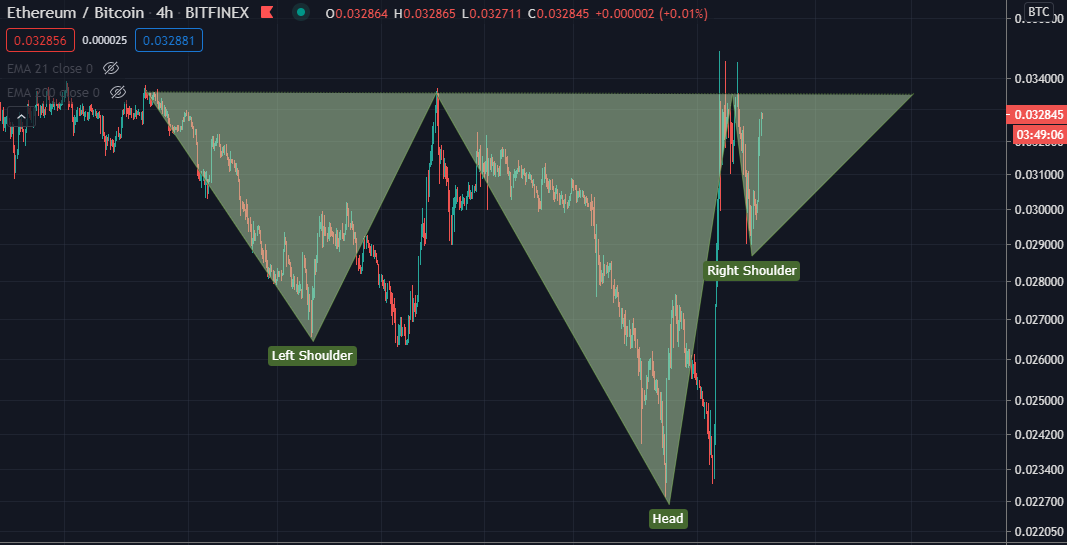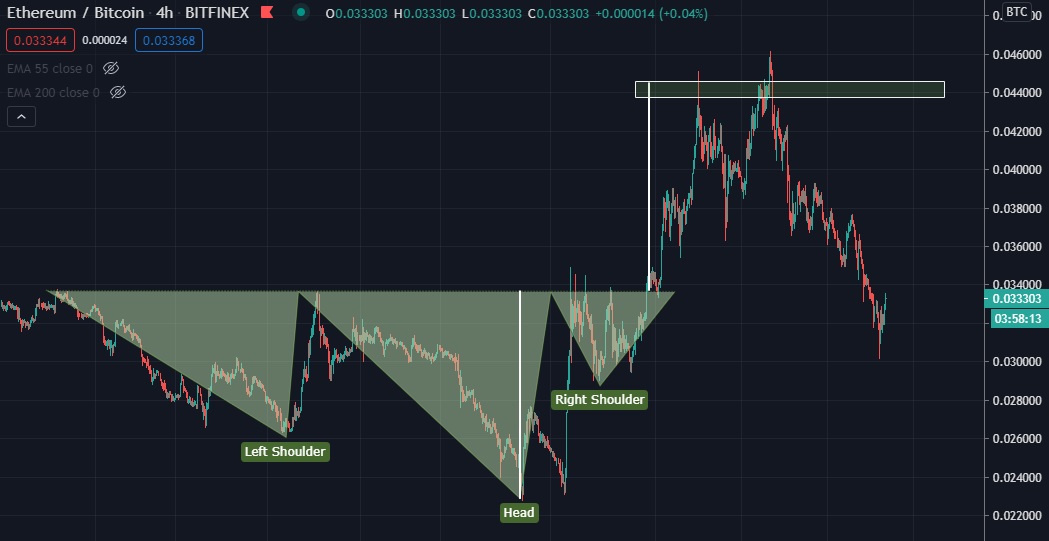 The bullish inverse head & shoulders pattern which formed turned out to give the perfect profit-taking target measuring the bottom of the head to the neckline. The price almost perfectly landed there and that could have been a +25% profit trade in 8 days.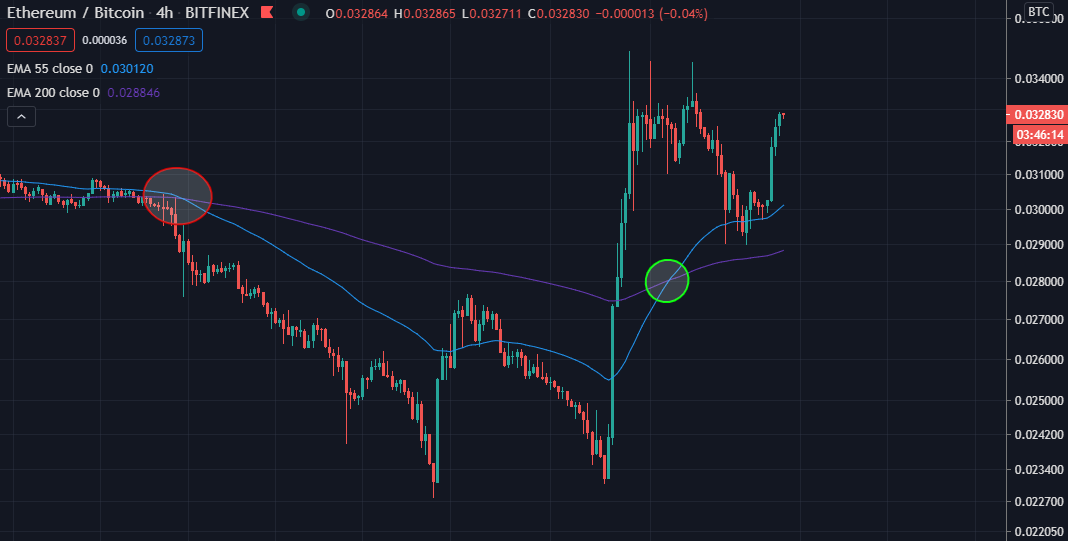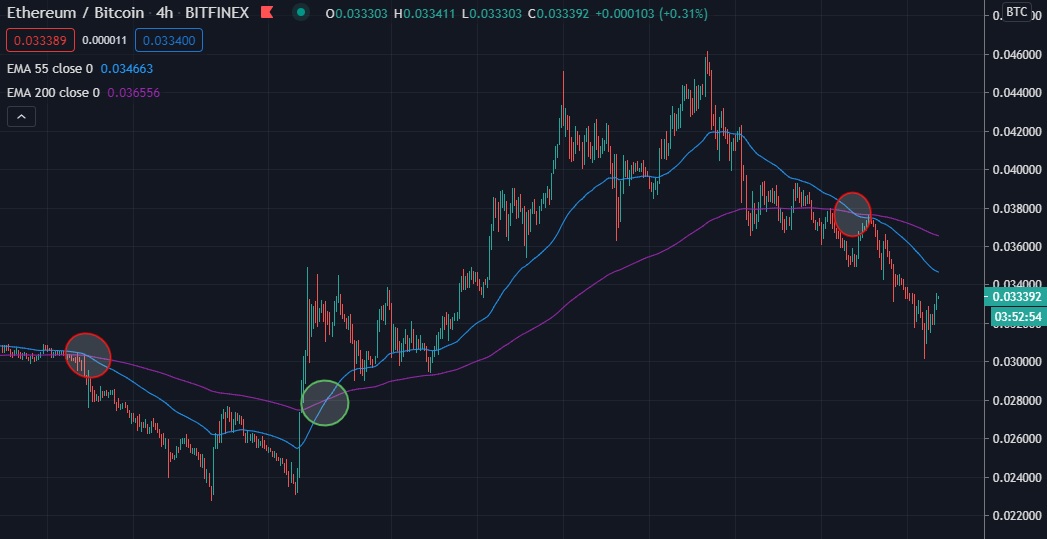 The bullish crossover between the 55 & 200 EMA on the 4-hour chart also started a trend to the upside but is recently crossed back to the downside, last time this happened, it didn't take all too long to cross back over.
Weekly Ethereum-Dollar Chart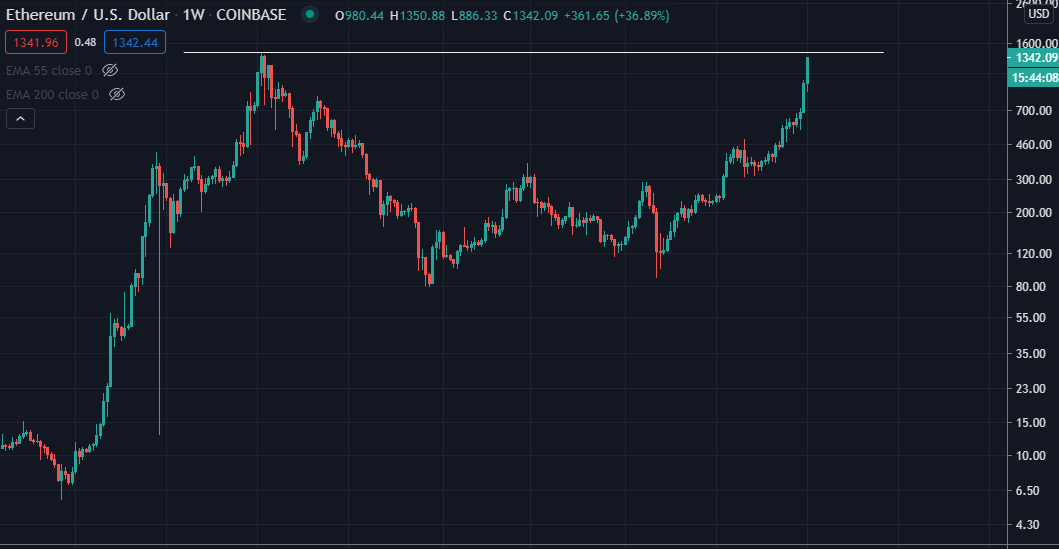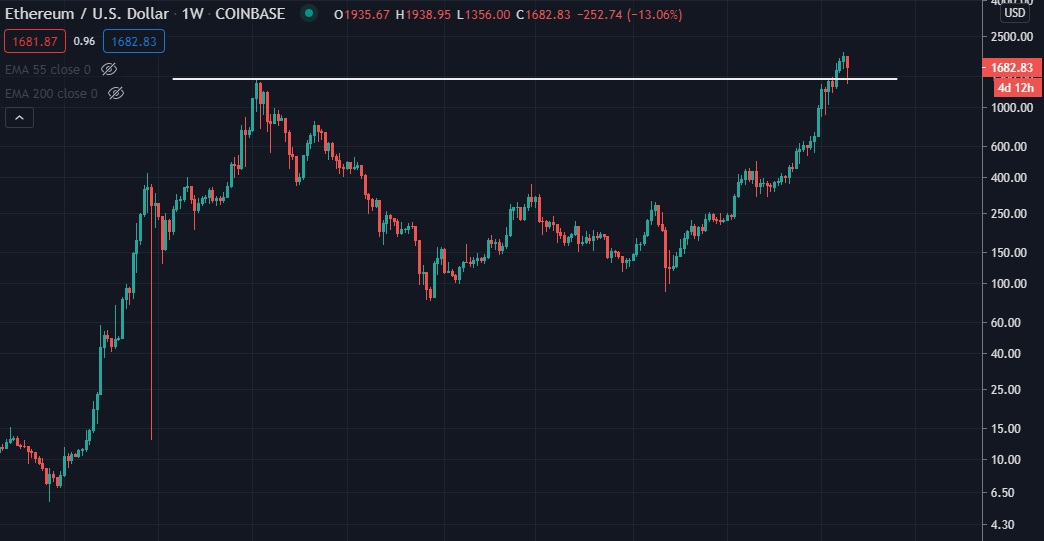 The dollar chart is where I got too greedy no as Ethereum has not seen a big push to the upside after breaking the 2017 all-time high (Similar to BTC/LINK see image below). The correction in the crypto markets in the past days made Ethereum test the previous all-time highs which seems to have turned into a big support zone.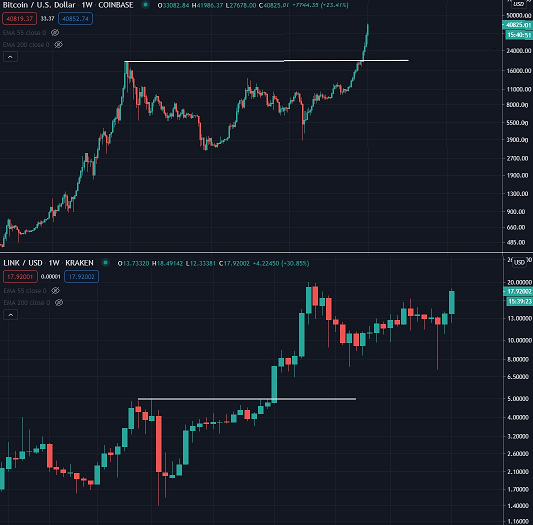 All this while the hype around Ethereum continuing to build with Bigger investors getting in predicting that Ethereum will outperform bitcoin during this Bull run. Google trends search also show a new peak for Ethereum Searches recently. The use of the network has increased which once again showed that the network simply can't handle the demand with fees having gone bonkers these past months making everything unusable for those who are not a whale. I guess a lot of the money that was expected to flow into ETH instead went to competitors like BNB.


Current Results
I'm sill holding on to the ETH that I bought for 0.032690 BTC which at this point has gone to 0.033277 BTC so a +1.8% price increase is still left from what at some point was just shy of a 40% increase. At this point, I will just continue to hold on to ETH as signs are still there that it will outperform or at least run along with BTC this bull market.
Lessons Learned
Going into this trade, I didn't really have a clear exit plan which should have been the inverse H&S pattern target. Mixing up charts against Both BTC and USD can get quite confusing as one of them can hit while the other is lagging behind. Greed is likely to take over at that point which certainly is a lesson to remember going forward. Overall, I'm quite pleased with how the chart actually played out as it did almost exactly as expected. I do plan to do more trading during the summer when the Belgian League is over which will give me a lot more time and I'm looking forward to it.
---
Previous Documented Trades
Documented Trade #1 | Chainlink  -> Complete +20.9%
Documented Trade #2 | Bitcoin -> Complete +0%
Documented Trade #3 | Zilliqa -> Complete -7.07%
---
Technical Analysis Lessons
Technical Analysis #01 | Basics
Technical Analysis #02 | Trends
Technical Analysis #03 | Bearish Patterns
Technical Analysis #04 | Bullish Patterns
Technical Analysis #05 | Symmetrical triangles
Technical Analysis #06 | Volume Indicator
Technical Analysis #07 | Moving Averages
Technical Analysis #08 | MACD
Technical Analysis #09 | RSI
Technical Analysis #10 | Fibonacci Retracements
Technical Analysis #11 | Candlestick Patterns
---
Free Software I use for Charts
Tradingview
Free Software I use for Trading
Binance
---
Don't take any of this as advice as I'm only still learning and seeing all this as a learning experience for myself!
---
Hive: https://hive.blog/@costanza
Publish0x: https://publish0x.com/costanza
Twitter: https://twitter.com/costanzabets