Welcome back, last time we looked at Black Sabbath's 80s albums and today it's time for the rest: the 90s and the 2013 reunion album.
Tyr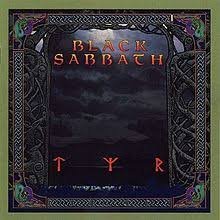 Retaining (almost) the same lineup as Headless Cross, Tyr (1990) is another great Tony Martin fronted effort. This album is very epic, incorporating many acoustic and atmospheric passages. Odin's Court in particular is completely acoustic and a fantastic buildup to Valhalla, my personal favourite song on the album. The Norse theme of the album also allows it to have a bit of individuality over the previous albums. It's something new for the band and it works well. The heavyness of previous guitar tones isn't present here but it goes for something new, a more anthemic, power metal styled release.
8/10
Dehumanizer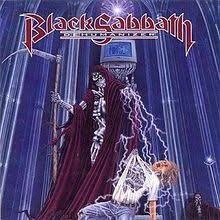 Dio is back! Dio rejoined the band in 1990, shortly after the release of Tyr. Released in 1992, Dehumanizer also features the return of Geezer Butler, the original bassist. The heavy guitar tones of earlier Sabbath is back and even the doom aspects return like in Master of Insanity. As ever, Dio's vocals and Iommi's solos are immaculate and there are some great riffs here. The album is very consistently entertaining and it's on par with Heaven and Hell in my opinion.
8/10
Cross Purposes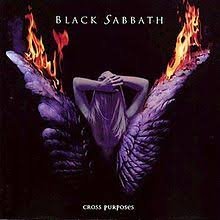 Dio then left the band in 1992 and Tony Martin rejoined for the release of Cross Purposes in 1994. Martin's vocals are fantastic as usual and there are some really great heavy riffs here. Cross Purposes is one of the darker and doomier releases from Sabbath since the departure of Ozzy (just have a listen to those riffs on Back to Eden and Evil Eye!) The album is good but there's just something that I can't identify that keeps it from being truly great.
7/10
Forbidden
Unfortunately, it's downhill again. Forbidden (1995) is really not good. Tony Martin's vocals are much worse than previous albums (he sounds quite tired) and the riffs are quite bland. Everything just feels so...soulless and boring. I think the drumming is partially to blame here, it's so slow and boring and weirdly mixed to me, it clashes with everything else. There's also a weird Ice-T feature for some reason. Kiss of Death is half-decent but this album is mostly a flop.
5/10
In 1997 the original lineup reunited and played several shows. Because the members of the band were busy (Ozzy especially, as he was working on his solo albums) they were unable to release an album for a long time. Instead Dio rejoined the band and went on tour with the other Dio-era members as Heaven & Hell, releasing an album in 2009.
13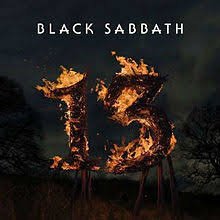 The original lineup reunited again in 2011 and released the final Black Sabbath album, 13, in 2013 (unfortunately without Bill Ward). I was actually very surprised at how good this album is. Like 70s Sabbath, 13 is very heavy and doom-influenced. Ozzy is in surprisingly good form and Iommi is excellent as always. God is Dead? is a bland overlong low-light but the rest of the album ranges from good to great. Age of Reason and Dear Father have fantastic sinister riffs and the experimental Zeitgeist hearkens back to songs like Planet Caravan from Paranoid. My main problem with this album is that the songs are mostly too long, but other than that this is really quite great!
8/10
And that's Black Sabbath! The band embarked on a final tour in 2016 and 2017 titled The End, concluding the tour in their home city of Birmingham on 4 February 2017. They announced that they had disbanded on 7 March 2017, although Osbourne and Iommi suggested that they might play at the 2022 Commonwealth Games in Birmingham if they feel up to it (after all, they're 70+ years old!).
Black Sabbath were a fantastic band and incredibly important to the development of the heavy metal genre. They had a lot of different members and lineups but through it all released mostly great albums!
Favourite Album: Master of Reality
Favourite Song: Children of the Grave
Least Favourite Album: Forbidden
Thanks for reading! What do you think of Black Sabbath?