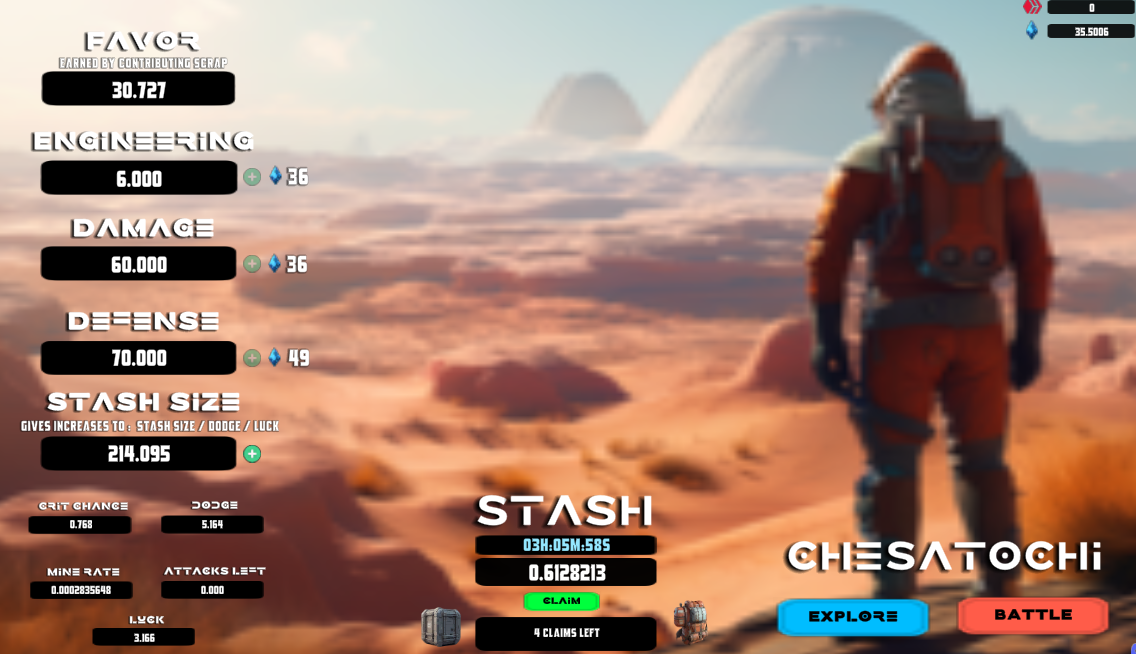 My latest update
A challenging week where I have less time on my plate to write articles as I would like. Sometimes we need to pay attention to the things that produce the most.
At least I keep my challenge of not putting more money into this game and only trying to upgrade my character with what I receive. I need to battle and claim my precious scrap multiple times a day.
You cannot sleep without expecting magically your character will get in good shape. Actions make an enormous difference in your success at Terracore.
What I am working on
I work on my defense because other players rob me often. As you can see, my success rate is 32.67% to 67.33%

This week I upgraded my defense to 70.000 and now working hard to get it to 80.000. It is not an easy ride because, for this level, I need to have 49 scrap!
I might upgrade it in two days, just need to have 14 more scrap and this will become a reality. With this strategy, I might keep more of my precious scrap from stealing hopefully.

My current stats
I have applied a new strategy where I can upgrade my favor and stash size at the same speed. I keep 50% of the income for upgrading my engineering, damage, and defense.
The rest I divide by two, so I put 25% in favor, and 25% to grow my stash size. This has the effect of increasing my crit chance, dodge, and luck.
Dodge and defense are so critical to protect your precious scrap.
My current stats:
Favor: 30.727
Engineering: 6.000
Damage: 60.000
Defense: 70.000
Stash size: 214.095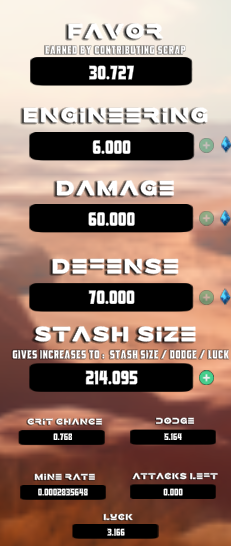 Where I will keep my focus for next week
I work hard to boost my defense to 80.000 before focusing on upgrading my engineering to 7.000. As you can see, I make slow and steady progress and this is the way I like to play a game.
As well as not putting any more money into this game. A personal challenge that I want to prove is possible to have success in a crypto play-to-earn game.
The scrap price is in decline
The more scrap I stake on my stash size, the lower my account value each week. As I write this blog post in Terracore, my account value is barely $1.64.

I love to see a progression, but is it not the case! My focus is to build a good foundation, then hopefully I could get more scrap by hours.
I have already 213.095 scrap staked!
Each week in the last 3 weeks the value increased but the scrap value declined!
Why this happen?
Because people sell more scrap than buyers available for having a good equilibrium. As well, burning and staking it is not sustainable with the Terracore economy.
I believe we might see this trend to keep going. At least I expect nothing from this game where I cannot pay my bills with the income generated from this game!

Have a beautiful and blossoming day!