Not all cryptocurrency projects have an easy beginning, and some face severe problems in their infancy, which was the case with Toncoin and The Open Network. Luckily, that's a thing of the past, and TON has overcome all obstacles put in its way.  
A robust blockchain should be scalable and have the capacity to support thousands and millions of customers at the same time. After all, this technology is expected to be the future of financial transactions. Besides speed, the network has to be secure and easy to use to acquire widespread adoption.
Toncoin was designed to meet all the stated criteria, but did the project succeed? Let's look closely at TON and what The Open Network is all about.
What Is TON?
TON is a decentralized blockchain solution whose development began in 2018. It was designed by the people behind the Telegram messaging app because they needed a reliable network for their ever-increasing user base. After searching for the appropriate blockchain, they realized nothing met their criteria. It would be best if they created a brand-new layer-1 chain.
That's exactly what happened, and it was named Telegram Open Network. The original ecosystem used Gram tokens as its native digital asset and offered them for sale through private funding rounds. The fundraising campaigns were hugely successful and netted the network $1.7 billion of proceeds.
Problems began in October 2019 after the SEC classified GRAM tokens as unregistered securities and prevented Telegram from distributing them to investors. It looked like The Open Network was done before it even started.
The court case was lost, investors received refunds, and in May 2020, Telegram ended its affiliation with The Open Network. A team of crypto developers wasn't ready to quit, so they continued their work under an open-source license and changed the project's name to NewTON. Lastly, in May 2021, NewTON rebranded to TON Foundation.
Today, the blockchain is known for speed and scalability, low fees, carbon neutrality, and simplicity of use. The goal is for the TON ecosystem to handle a whole economy consisting of millions of users and fully support any decentralized app built on it.
The Toncoin Team
TON was designed by two brothers, Pavel and Nikolai Durov – the co-founders of Telegram. Pavel is a businessman and software developer. He created another social network called VK. Nikolai is a mathematician, skilled programmer, and apparently the author of the Telegram Open Network whitepaper.
They were involved with the project until May 2020, when they had to call it quits. The software developers Anatoliy Makosov and Kirill Emelyanenko took over from the official creators and steered Toncoin to safer waters.
Another valuable team member and one of the founders of the TON Foundation is Andrew Rogozov. Andrew is a technology expert specializing in social networks, business, web, and mobile development.
The TON Foundation is a non-profit community of programmers who contribute to the growth of the TON ecosystem. At its peak, the company had over 40 developers situated worldwide who worked for it.
There is a second organization called the TON Society that should be mentioned. It's a gathering point for computer programmers and creators to come together, share ideas, and receive funding for services that will be built for the broader TON ecosystem.
Toncoin Roadmap
The official TON roadmap details the whole history of the coin since the beginning.
When the founding Telegram team gave up on their idea to further develop the network, the project was in a testnet stage. Testnet2 was a fully functional blockchain that received backing and was converted to mainnet. The decision was the right one because TON was both secure and stable at the time.
The most notable upgrade in Q3 of 2021 was the creation of the TON-ETH and TON-BSC bridges for quick token swaps from one blockchain to the other. The project received further acknowledgment by being listed on popular crypto exchanges.
In Q1 2022, staking was made possible, and a list of TON nominators and validators was made public for easier onboarding of users. Another feature that was developed is TON DeFI. This solution made DeFi scalable by creating separate smart contracts for each NFT or for each token stored in individual user wallets. Finally, the TON Developers Program went live around the same time.
Q2 2022 brought with it 2 innovations:
TON DNS allows giving customized names to TON-related services, like wallets, smart contracts, accounts, etc.
TON Payments is a platform that facilitates micropayments between two parties.
Additional features were introduced to the community in Q3 2022. Among them is TON Proxy, which adds an anonymity layer for TON nodes. There is also TON Sites, which represents websites accessible through the TON blockchain.
The development team has highlighted two points that will be the focus of attention in the future to further improve the network.
Ton Storage is a file storage service that utilizes distributed technology.
Bitcoin & EVM Workchains will be created to further improve quality cross-chain communication.
The TON Network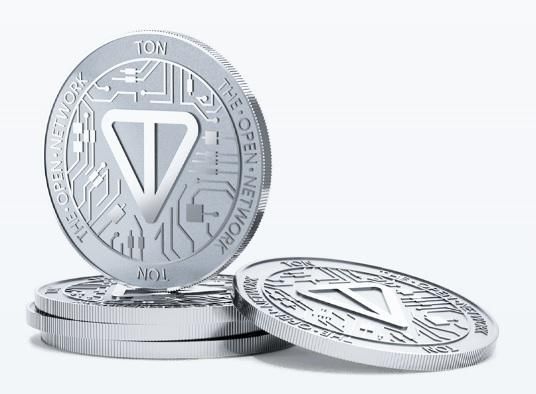 TON is a Proof-of-Stake (PoS) type of token that can scale to support millions of customers. The network's native currency is called Toncoin. The blockchain's block time is only 5 seconds, and it can achieve transaction finality in under 6 seconds.
The Open Network uses a technique known as blockchain sharding. That means the ecosystem is made up of multiple chains with various functions essential to its upkeep. Blockchain sharding makes it possible for TON to share the work duties across its constituents for better overall network performance.
On top of the ecosystem sits the master chain, but there are also work chains and shard chains. The master chain oversees everything. Without it, there wouldn't be a TON. It holds the block producers (validators) and hashes of all previously generated blocks. Smart contract interactions and non-native token transactions take place on the various work chains.
Performance-wise, the project can handle complex smart contracts and is Turing-complete, making it suitable for DeFi and DAO integration.
TON Components and Services
The developers have created and are still working on several unique services for the TON ecosystem.
TON Payments is a platform similar to the Lightning Network. It enables low-cost off-chain value transfers and micropayments between users, service providers, and automated bots.
TON Proxy improves the privacy of network participants by incorporating decentralized VPNs and TOR alternatives into the blockchain. This feature guarantees anonymity for dApps built and deployed on the network.
TON DNS changes the way we see wallet addresses, accounts, etc. These are usually made up of random characters that computer systems can interpret. TONs Domain name Service allows users to give addresses, accounts, nodes, smart contracts, etc., human-readable names. This is supposed to make the network as user-friendly as possible.
Ton Storage uses smart contracts to provide file storage services off-chain through a P2P network. The feature operates similarly to torrents.
TON Services is where developers launch their smart contracts and decentralized apps. The services are grouped into different categories, from wallets, exchanges, NFTs, mining apps, bridges, and chat apps to gambling, social networks, etc.
The TON Bridge
The TON Network uses decentralized crosschain bridges to transfer and swap tokens from one chain to the other. This feature currently works between the TON blockchain and Ethereum and TON and Binance Smart Chain. The team is planning to create a bridge to the Bitcoin blockchain in the future. This new bridge represents a significant milestone for TON Coin, as it will enable users to take advantage of the unique features and benefits offered by different blockchain networks, all while using TON Coin as a bridge currency.
Additionally, the new bridge is designed with security and reliability in mind. TON Coin has implemented a range of measures to ensure that users' assets remain safe and secure throughout the transfer process, including robust encryption and multi-factor authentication.
Toncoin Price Prediction
Toncoin was worth around $2.25 at the beginning of January 2023, and it's time to see what the future holds for this digital currency.
DigitalCoinPrice
Market analysts from DigitalCoinPrice have posted their thoughts for the same period.
Following a drop from the $3 point at the beginning of 2022, Toncoin looks set to regain strength and continue its attack toward new highs, but in 2023 there are no signs that the asset will go above $4.96.
The forecast suggests that values of over $5.80 could be registered towards the end of 2024. In 2025 and 2026, DigitalCoinPrice market experts predict that trading will be in the $8 to $9 range.
Where To Buy and Store TON
The official Open Network website offers plenty of suggestions for wallets and exchanges for Toncoin. Let's see what is on offer.
The safest crypto wallet for TON that allows buying, storing, and staking on mobile and desktop platforms is NOW Wallet. It's a non-custodial and privacy-focused service that features instant crypto-to-fiat or crypto-to-crypto swaps.
TON is supported in several other wallets, both custodial and non-custodial. The coin can be stored in Tonkeeper or Tonhub, for example. This digital currency can also be transferred using the Wallet or CryptoBot Telegram bots. Other popular platforms include Trust Wallet, MetaMask, and the Binance Chain Wallet.
ChangeNOW is a cryptocurrency exchange platform that offers users the ability to swap TON coins instantly, with the added benefit of favorable exchange rates and no upper trading limits. In addition to this, ChangeNOW also provides users with the option to acquire TON coins using VISA or Mastercard, making the process of investing in TON coins quick and hassle-free.