BlockBurn $BURN Token project will be in AMA conference at the Telegram channel group of BW Exchange on Friday 23 at 19:30 Hong-Kong Time,there is a reward of 30 $BURN Tokens for each approved question that will be sent to the Group that will be made to the Devs of BlockBurn Project and will be deposited direct into your BW Exchange account.
BlockBurn is listed since last week in BW Exchange a top 10 Exchange in CMC and trading just started in 19.08 and withdrawals will be enabled 21.08.
Participate and make your question in your native language and get a chance to get rewarded free $BURN tokens. Participate here https://t.me/BW_support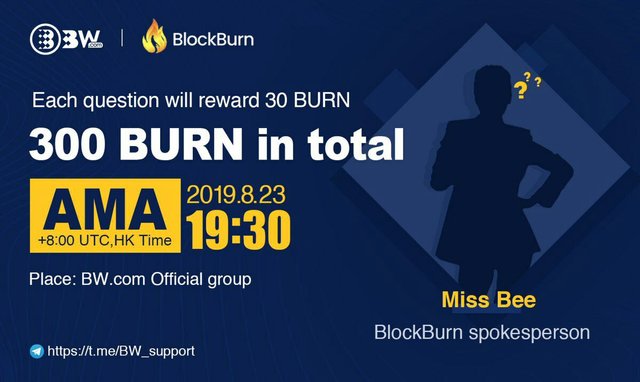 What's BlockBurn $BURN Token?
BlockBurn is a unique cryptocurrency that self-destructs a portion of it's supply whenever a transaction is made, It was invented to solve the recurrent cases of oversupply in the cryptocurrency market, BlockBurn has a Total Supply of 2,000,000 $BURN with 2% of every transaction amount burned immediately after each transaction.
BlockBurn Mission:
Blockburn is a Self funded project, and no ICOs, IEOs or any form of sales was conducted. It's a Community Driven Project and 50% of total supply will be distributed thru airdrops and bounties periodically. The project was propounded to enact a better store of value and equipped with an anti-inflationary architecture to help combat inflation induced depreciation.
BlockBurn $BURN Partnerships:

The Blockburn Team is partnered with the SWFT Blockchain where you can swap your $BURN Token for almost 180 crypto currency of your choice and also Joined Forces with the $FUZE Team to include the token into the Blockburn App that will be released in the Q.3 that will enable members to:
Store value in the App
Stake the Tokens to get profit
Play built in game to get rewarded free tokens
Read Crypto news and get free tokens for the time spent browsing the App.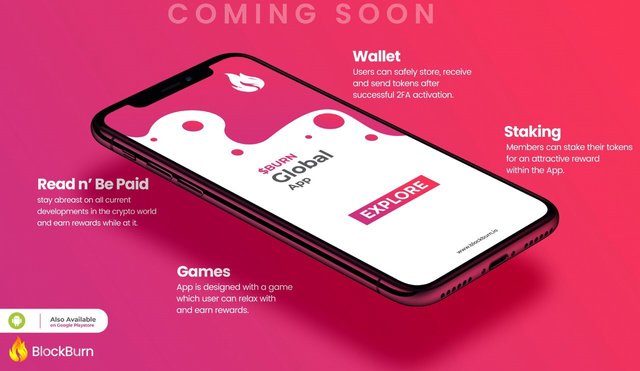 BlockBurn $BURN is listed on the following Exchanges:
✓BW Exchange:
http://www.bw.com/newTrade/spotTradding/burn_usdt
https://www.bw.com/newTrade/spotTradding/burn_btc
✓Mercatox:
https://mercatox.com/exchange/BURN/BTC
https://mercatox.com/exchange/BURN/ETH
✓Ddex:
https://ddex.io/trade/BURN-WETH
✓Altilly
http://www.altilly.com/market/BURN_ETH
https://www.altilly.com/market/BURN_XQR

✓Coinlim:
https://www.coinlim.com/#/dashboard
✓Metamorph:
https://app.metamorph.pro/#/trading/BURN_WETH
https://app.metamorph.pro/#/trading/BURN_METM
✓SWFT Blockchain
https://exchange.swftcoin.com/swft-v3/swft-v3-m/index.html
Track your $BURN token in real time:
•Coinmarketcap:
 https://coinmarketcap.com/currencies/blockburn
•Livecoinwatch:
 https://www.livecoinwatch.com/price/Blockburn-BURN
•Coingecko:
 https://www.coingecko.com/en/coins/blockburn
•Coincodex:
 https://coincodex.com/crypto/blockburn
•Coinaprika:
 https://coinpaprika.com/coin/burn-blockburn/
•DeflationaryCoinmarketcap: 
https://deflationarycoinmarketcap.com
•BlockBurn (BURN) Smart Contract:
 https://etherscan.io/token/0x91ca1146073b0cc9f57a1dde38a0ccb1ab2a3317
♨ Social Handles:
🔹Website:
https://BlockBurn.io
🔹Twitter: 
https://twitter.com/BlockBurnHQ
🔹Medium:
🔹Discord:
https://discord.gg/9GAYzHG
BlockBurn is innovative,transparent and believe in equal Participation of any member of the Community and aim to become one of the 100 top CMC token in valorization before the 2020, with great Community members support and Amazing Team all those objectives will turn into a reality very soon...stay tuned!
Original posted at Steemit