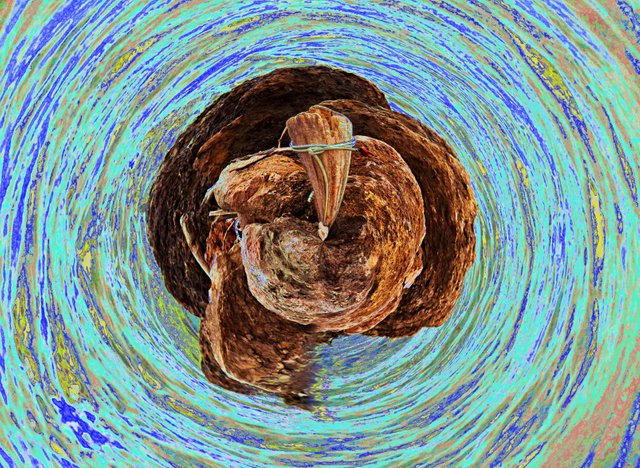 A rebel... a warrior... a... alone! The life of a loner horn is not easy! He woke up one day stuck in those rocks with that telephone cable wrapped around him. He have no memories of what the hell happened to him or who he is. Maybe he's the horn of a bull, maybe he's the horn of a big demon, maybe he's just a bamboo stuck in the stones at the beach and it looks like this cause I edited this way... who knows! The only certain thing is that he is drifting through time and space in the blockchain forever... or until someone unplug this thing!
He thinks he is capricorn, cause of the horn shape, sometimes he feels like a shark tooth and that makes him worry about cavities, plaque and tooth decay cause he's obviously not white! He doesn't want to think he's a bamboo cause he fears being eaten by a panda.... even tho there's no panda around but he have all the time of the world to think bullshit cause he's stuck in those rocks!.... One thing is for sure, he IS a renegade.... he even have the telephone cable wrapped in his "forehead".... if he's not a renegade why he have that cable then? Cause being a hippie is not an option... no respectable horn would be hippie! An when does this trip through time and space inside the blockchain will end? He feels dizzy as hell!
This is my entry for #TrippyThursday the day I don't need to be a renegade tooth horn make sense at all. Yay for nonsense!