Well, I am still a baby in the crypto business so don´t take my advice, I will just take my own advice and run with that.
As mentioned in my previous article I made a huge mistake in the past.... I started buying ALTs on the way down from the last ATH. Probably started when we dipped below 50K and kept buying the dip till we hit the low at 35K.
So what´s wrong with that?
As I explained, buying the dip is fine. But buying ALTs coming from the top was not such a great idea. The thing is that once BTC stopped bleeding....my alts did not. They kept bleeding throughout the weeks Bitcoin was stabilizing around 38K.
Now I 've learned my lesson and if we ever get another bull run, I know what to do when the bulls stop running. I will still buy the dip but limit myself to BTC, ETH, and LUNA. And only when those have been bottoming out for some time and there is a bit of light at the end of that very dark tunnel, only then will I buy back into the Low Cap ALT coin market.
Great I learned another expensive lesson, but that is not what today is about.
What is it about baby?
Today is about minimizing those losses a bit. I gave the example with Exeedme (XED) last week. There was some bullish news and XED shot up 140%. Now I am a simple spot trader, and all my XED is set to sell at profitable prices. Because it ain't a loss until you sell. That was my motto....WAS!
Because I sold some XED at a nice profit, but even 140% did not reach far enough to sell all of it. XED reached about 40 cents and I needed double that to sell all my expensively bought XED.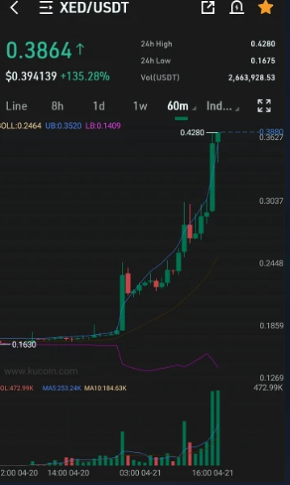 The sell the news took less than 24 hours, meaning that XED shot up, and came down to a 20% up within a single day. And within a couple of hours, it went from 140% to less than 60% up. It was at that moment that I realized I had been a foolish baby.
Why did I not sell all my XED??? I´ve had enough experience with pumps like these to know they do not last 20-30% might remain, but there will be a drop. I could have done so much damage control if I would have thought about that sooner. I could have made an additional 20 cents on each XED I was holding reducing my loss with 33% in a matter of hours, just by selling at 140% and buying them back the next day.
Next Time Gadget
Like Nick Kamen I promised myself next time I would sell them all and buy back the dip. Would that be selling at a loss? Not in my book, because I would end up with the same bag of worthless shitcoins but make a quick 60-100 dollars.
I did not expect next time to come so soon, and especially not to impact the biggest mistake I am currently holding, well biggest mistake next to Safemoon. But Safemoon I bought to prove a point.
UnFederalReserve
UnFederalReserve or ERDSL in short is a coin I heard about on Noise, bought $10 and sold for $12.50. Bought a bit more, sold a bit more....and by the time we dipped I was holding almost $100 of it. The coin went from 0.11 cents to 0,009 cents and this baby was the biggest loser.
Now don´t ask me why but yesterday it pumped from that 0.009 cents to 0,023. It did come close to that 140%. From 0.009 cents to 0.022 cents on a coin like that is great damage control. So I sold all my ERDSL which ended up being $24.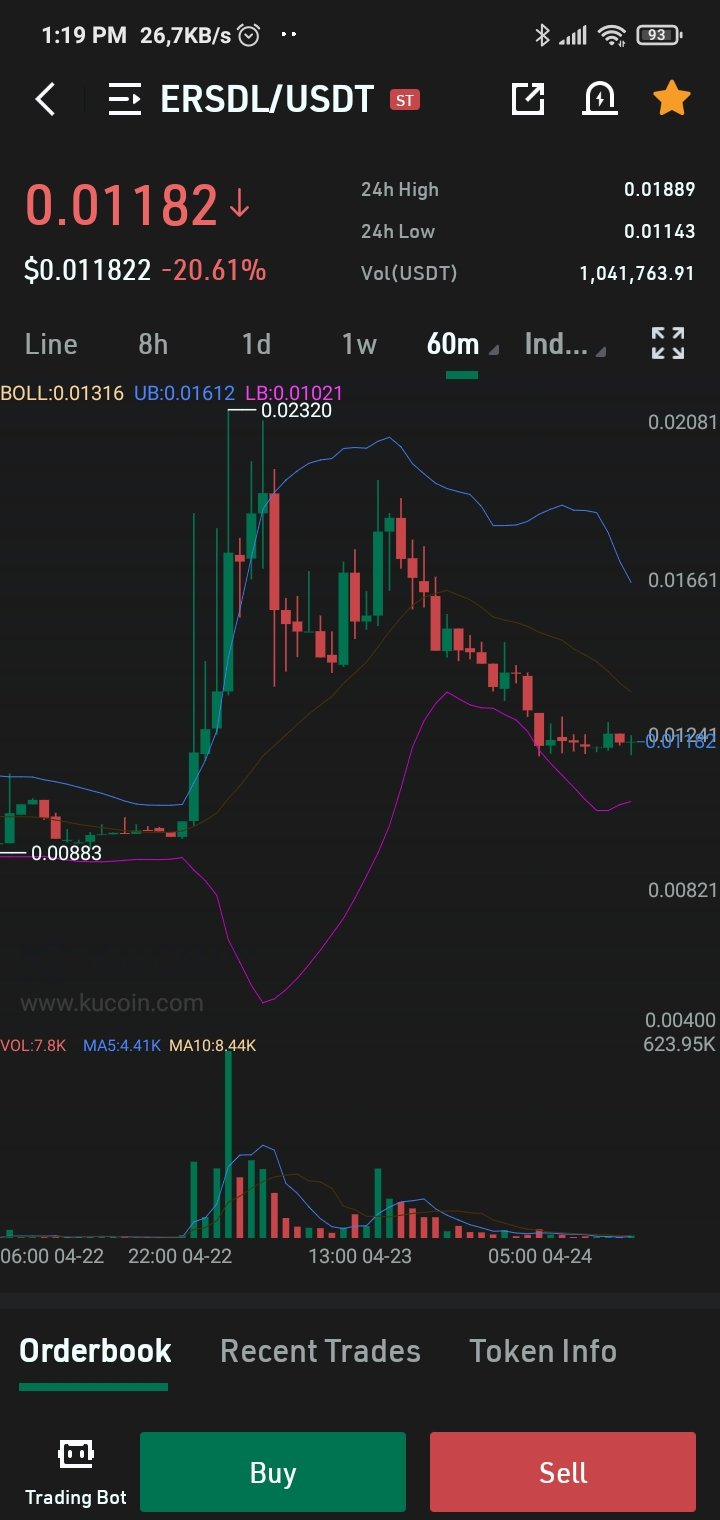 Now I ran into a dilemma, I now have a loss of $75 instead of $88, should I take the loss and not look back?
I waited a day, my theory worked out perfectly because within a day the coin was at 0,01 just 10% up. I made a 90% profit, which only resulted in 12 dollars but still, I made a buck.
To Buy or Not To Buy
Let me not drag it out & keep it short. I bought back all 1200 ERDSL for 12 dollars today.
I listed them again at a price that would get me some profit based on my original buy. Part of me is really skeptical, as this is truly a shitcoin that might never surge again. But I am a stubborn baby, I rather die holding the bag than truly sell at a loss.
Just look at what happened to DOGE, the crypto space is a weird place where anything can happen. If I can do a sale like this just 8 more times, I am in profit.....
I did not dyor, but does anybody know a coin that did a 100% surge and then dropped back to its previous price 8 times in a row?
Nobody?
Well, I did not expect that to play out, but one can always snore the hopium.
I made a big step, selling at a loss, something I never planned on doing. But I am still holding the bag, a little less expensive bag but still, a bag that would still be at a severe loss if I sold today.
Dear reader,
What is your take? Sell at a loss a do at least some damage control.... or inhale that hopium and have faith that one day your bags will all pump?
I have Hopium that you enjoyed this little lesson learned, that you will hit the like button and I hopium to see you next time.