You might be seeing new headlines talking about the cryptocurrency Safemoon and how it's beating out dogecoin. This post dives into everything you need to know about Safemoon.
SafeMoons Start
Safemoon is a relatively new cryptocurrency. It launched in Q1 of 2021 and as of right now there's not much news about the cryptocurrency and how it all functions. Most of it is currently under wraps and is expected to have many expansive capabilities.
The initial launch was March 8th 2021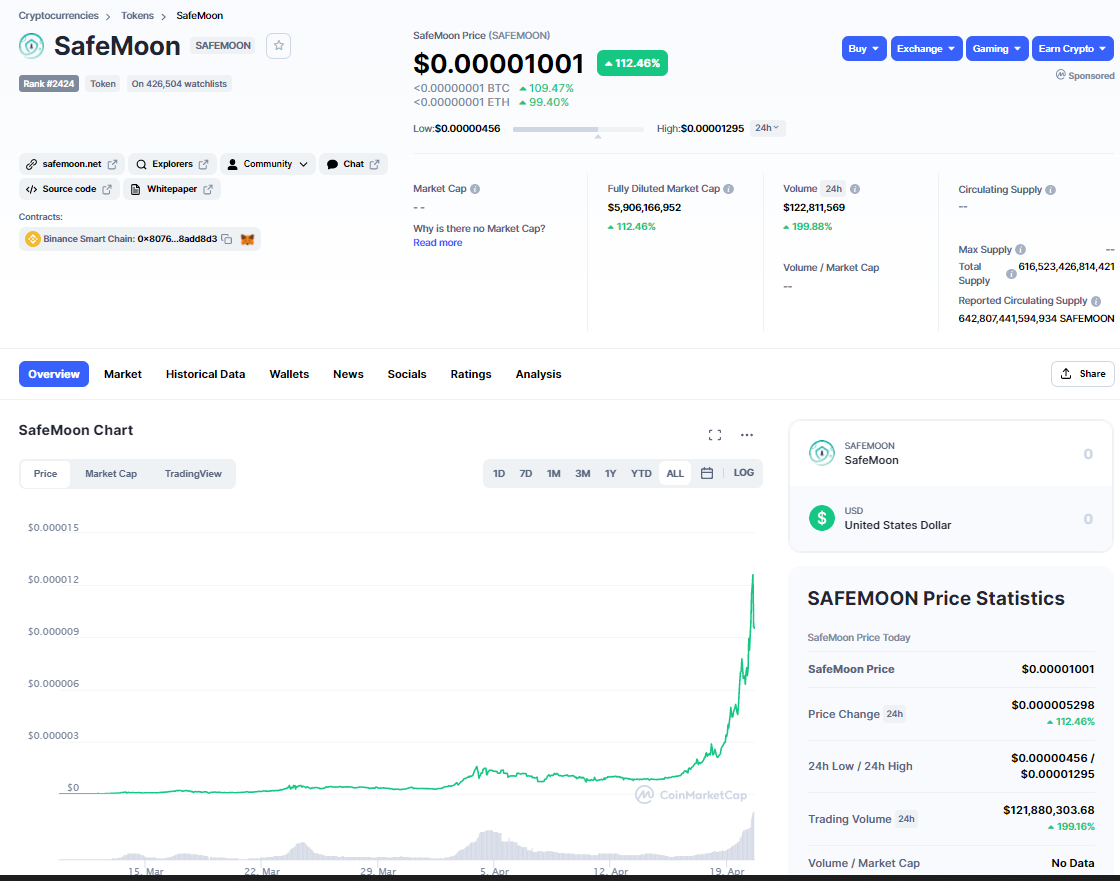 *Screenshot taken from CoinMarketCap

If your interested in a better platform check out https://www.coingecko.com/ I just prefer the chart layout at the moment on the other for screenshots.
You can view their website at https://safemoon.net/
From the looks of it the entire project is just hype and is fueled by hype at least at the start. The roadmap even says this lol. It's primary focus is African markets and to be a base of operations to create jobs and I guess payout in their crypto.
There seems to be an endless supply of this crypto with billions so pretty much think of it as Dogecoin when Dogecoin was priced around these levels.
The biggest difference with this coin is to try and reduce volatility making the crypto more stable. They do this by charging a 10% transaction fee in which 5% of it is redistributed to the rest of those who hold the token. Think of it as POS but from what I can tell you don't actually need to be connected to the network like a POS system would. Again there are still few details on it all.
Expansion
This token is totally hype right now and most are rallying behind it because of the increased expansion of it. There are talks of it being added to WhiteBit, BitMart and PancakeSwap.
Via PanCakeSwap though you'll need to have or buy BNB-USD and swap it that way.
There are also talks about Safemoon launching their own exchange and its only $300,000 away from the funds it needs in order to do so. These expansions are making this coin very bullish and everyone is currently looking for the next big thing for 1000% + gains.
The Roadmap
You'd currently be in very speculative and early adopter phase right now.
Safemoon Exchange goes live
Exchange functionality that will support NFTs
Educational app
They also stated they will start fundraising for listings on Coinbase, Binance and Kraken.
My Personal Opinion
To me this is just a jump to try and find the next low cost crypto and hold on to it and see what happens. You could put $100 down on this token right now and land yourself roughly 10,000,000. It does at least have a planned roadmap and the hype around it could last a bit as the company continues to push news out on their twitter feed.
However for me this is far to speculative for me to invest anything real into it and the amount of tokens seems to be just nuts as it's even higher than dogecoin which making it pairable to something like Bitcoin or Ethereum seems not possible.
*At the time of writing this I don't own any Safemoon. This is not financial advice