Preamble

I love bodybuilding and as @rmsbodybuilding will tell you, it is not an easy feat. It always comes at a price; you have to prepare your mind and body.
There's only one reliable gym in my area and it is a chore to get there. Other than the #3000 monthly membership charge, I also have to transport myself there. This is why I had to find an alternative
My brother and fitness junkie @skiwzz gave me the idea that I could construct my own equipment by using metals from a *junkyard* and this led me to embark on this expedition.

 The Journey
At about Noon today, I set out on this adventure that has been incubating for months. I resolved in my mind that I was not going back home without dumbbells today. All I had was #3,200 naira and pure grit.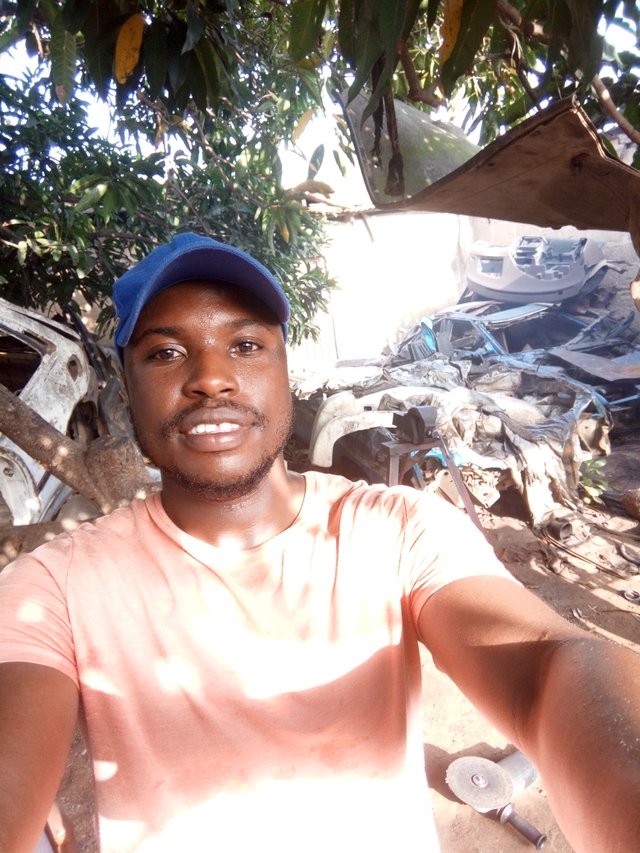 I enquired from people around me about where I could get scrap metals and got referred to the local market. I spent over an hour walking around the market and the closest I saw to what I was looking for were Bicycle sprockets.

The plan was to assemble 20 of them; 10 on each side of a short rod, that ought to give me weight that's worth my time. Sadly, I could only find 4 sprockets in the entire market and in hindsight, I'm glad it went this way. Shop after shop, I enquired and they all gave me negative responses. A lot of people even discouraged me by talking down my chances of locating my target.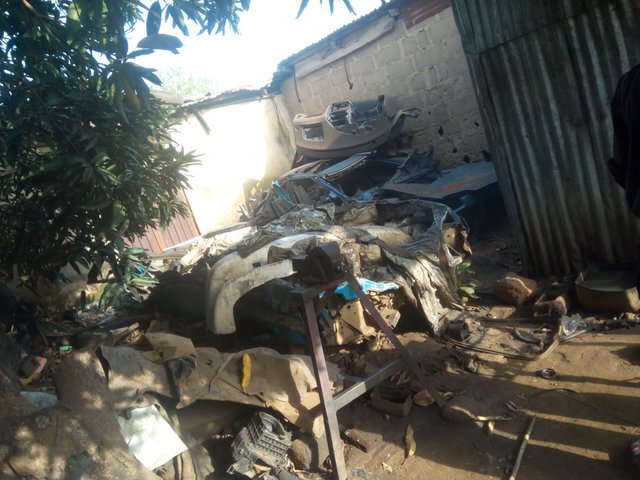 The Location

After nearly two hours under the scorching hot sun, ignoring all the funny looks I got when I went to shops and asked "please do you sell scrap metal?", I finally got a relevant lead that led me to a vehicle graveyard littered with auto repairmen.
My God the place is massive. There were all sorts of activities going on there and in hindsight, I should have taken a photo for you to get a clearer picture but I was overwhelmed by the scenary. Lets say it was like the Wallstreet for mechanics, the champions league for dead cars or the super bowl of greasy metals. It was huge.

Lost in Translation

The first challenge I faced was the language barrier. I'm relatively new in this part of the country, so I only speak the common tongue sparsely and that's putting it generously. I can say a few words at best and understand a few more. After roughly 30 minutes of trying to explain what I meant to bystanders with idle time to no avail, lady luck smiled on me by sending an acquintance that speaks Hausa(the common tongue) to help me get directions.

Scrap aint Cheap

I followed the direction and it led me to a spot that felt like it was at the very end of the world. Beyond the spot was a stream and trees... The first pieces of metal he brought were probably from a ship or something, they were massive I told him I wanted two and he quoted #15,000 Naira.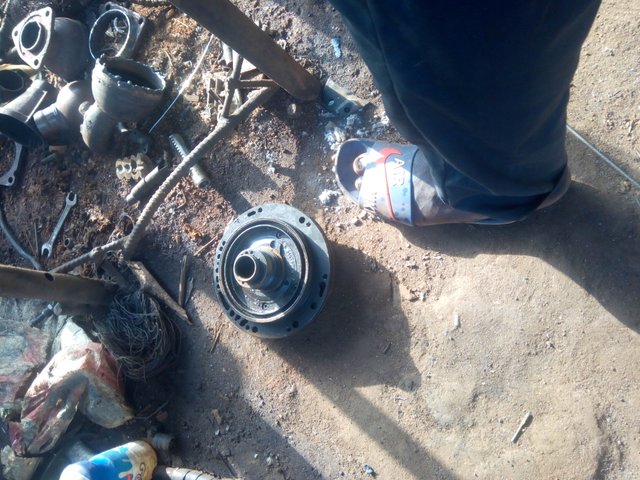 Well damn, I thought this was suppose to be a scrap yard. I found out the hard way that scrap metal comes at a cost. I schemed through his scrap inventory and found these sexy identical twin pieces of metal(Gearbox Pumps they were called). He quoted #3,000 for them but after a period of back and forth, my super haggling skill brought it down to #1,500 and a further #500 for a shaft.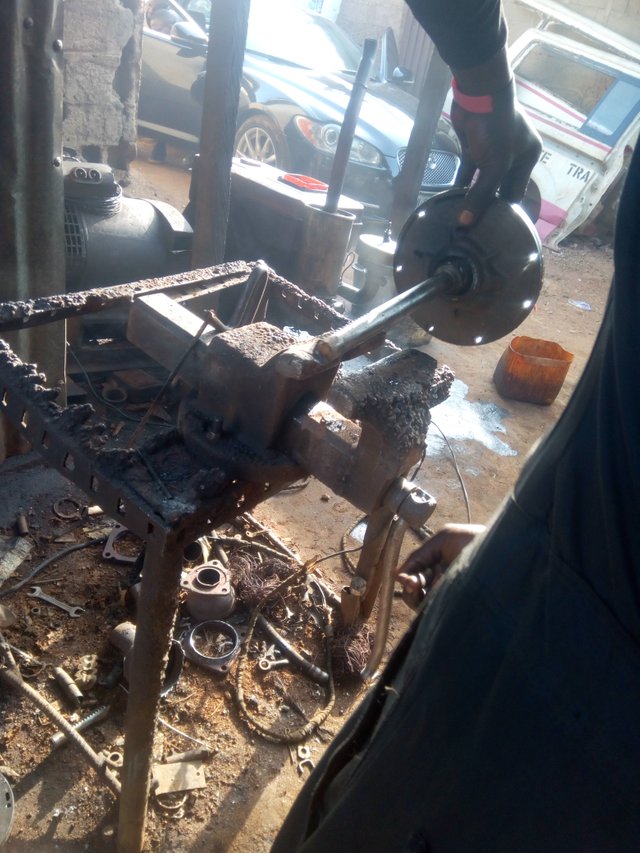 The Pain

The next phase was to weld these pieces of metal into a dumbbell. All that requires, of course, is carrying these heavy pieces of metal for a measly 20-minute walk through greased mud, cow shit, hordes of people and under the scorching hot Sun.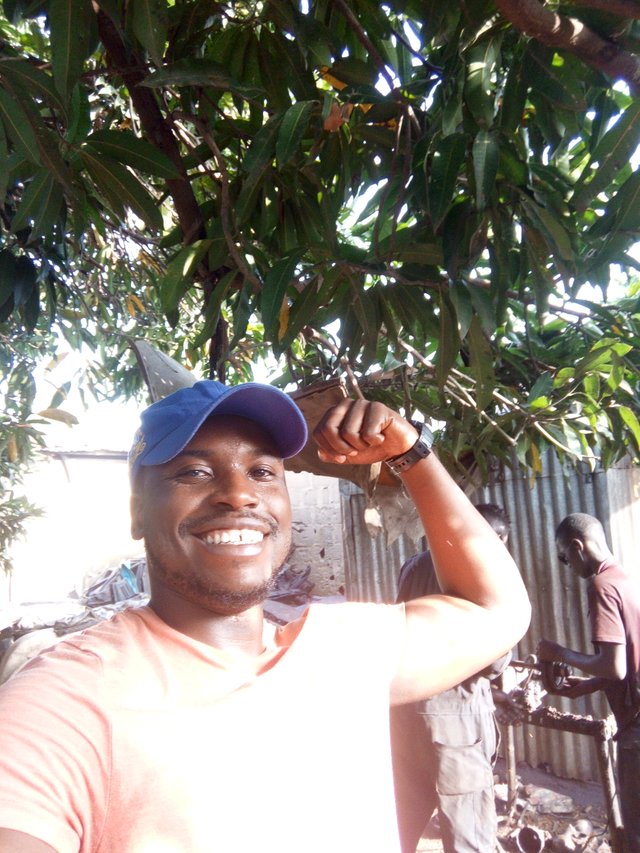 I got to the welder with only #1,100 in my pocket. I explained what I wanted and he quoted #2,000 naira, I went into haggling mode once more and he caved in at #1,000(this was the maximum I could afford because the rest was for transort)

 Sweet Victory

Welding was completed and I gathered the pieces of myself my self home. It is impossible to describe how stressful this was but you know what? I was covered in grease, sweat and aching all over,but the overwhelming feeling of pride in my achievemnt and happiness didn't let me feel the pain. Hell yeah, the sweet feeling of victory.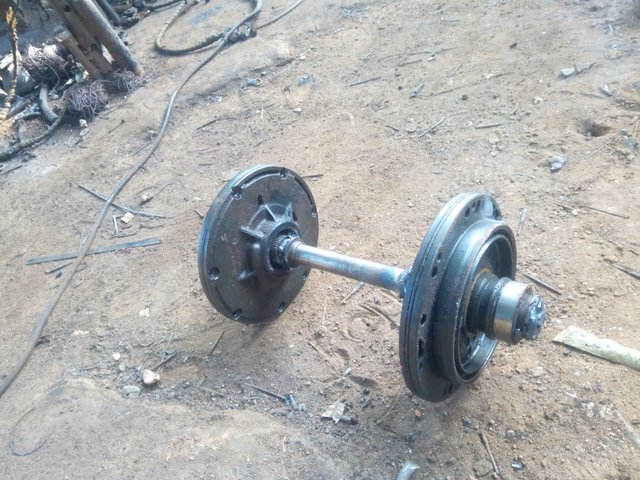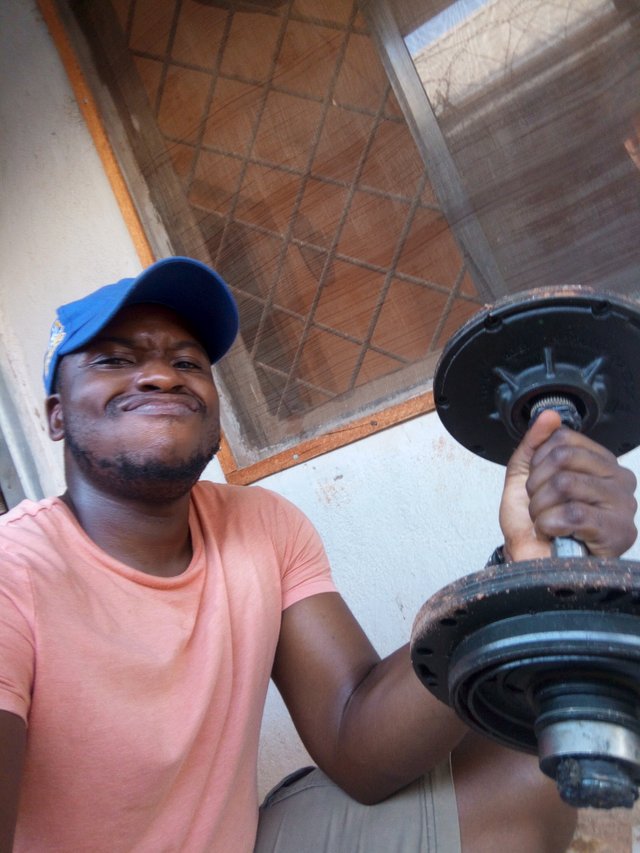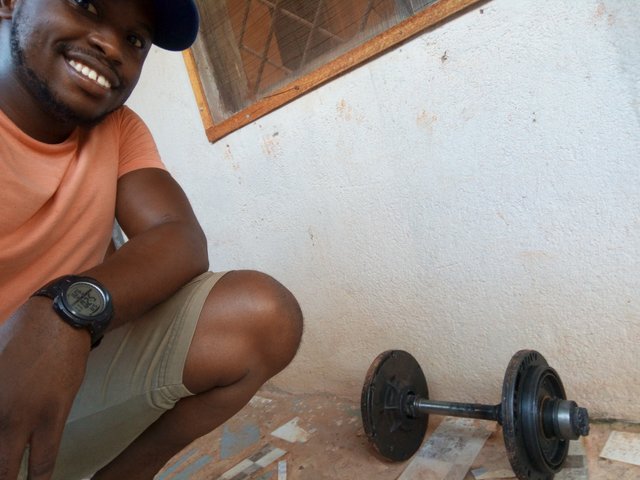 I actually thought I'd be too exhausted to do anything on getting home but adrenaline and excitement had other ideas. I took off my sweaty clothes, washed my face and hands and slipped into something else. I took my new baby to the tap, washed off all the grease and took her for a spin.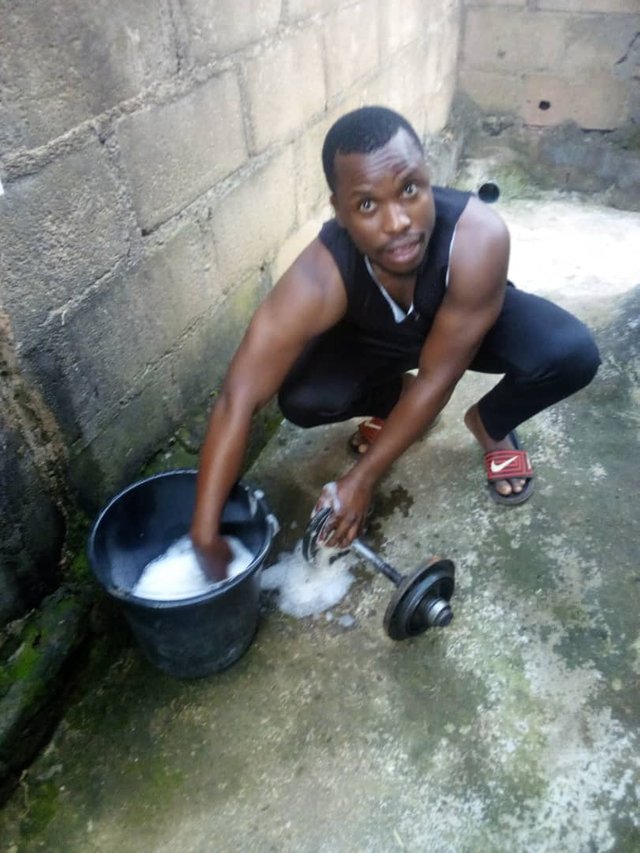 Getting a standard dumbbell of this weight range would normally cost anywhere between #10,000-15,000 naira in a sport equipment shops, while on eBay, there was one for sale at $23 and that's without shipping fee. To put it into perspective, it costs me roughly $8 or #3,000 Naira..
I'm glad I set out on this adventure, I got back home with an empty pocket and heart filled with joy. I'm already planning towards getting bench weights, the bar and of course the bench itself. You'll be the first to hear all about it and hopefully, it won't be as tedious as this one.
So @steemmatt, You can clock me in for 100 reps of curls every day from now on for the fitness challenge, thank you for reading
So there you have it. You can also make something similar for yourself as well. Here's all you need;
Gearbox Pump x2
1m Shaft x1
Electrodes for Soldering x 4\
100% Determination
You can View post on Steemit and join me there